1

3d Chess Set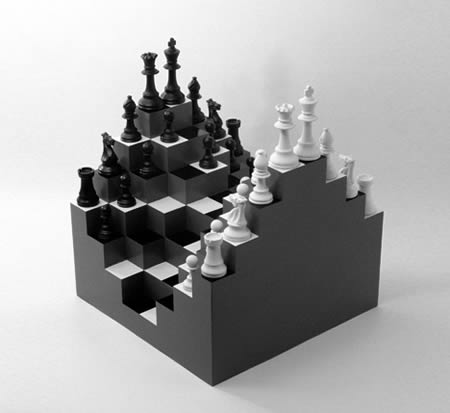 This is a unique chessboard which comes with 3D terrain. Thanks to this different design, it will make you have a better chess experience, just like in the real battlefield, maybe.
2

Amorphous Organic Chess Set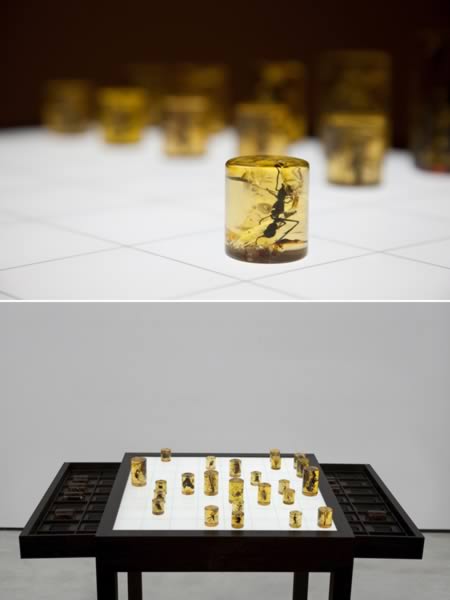 According to its designer, Alastair Mackie, it's kind of a logical evolution from his previous set of dices. Each chess piece encapsulates a single suspended insect; the "white" pieces are represented by flying insects and the "black" side by ground based insects. The chessboard designs a light box set into the surface of the table to illuminate the insects trapped in the clear amber pieces.
3

Art of War Chess Set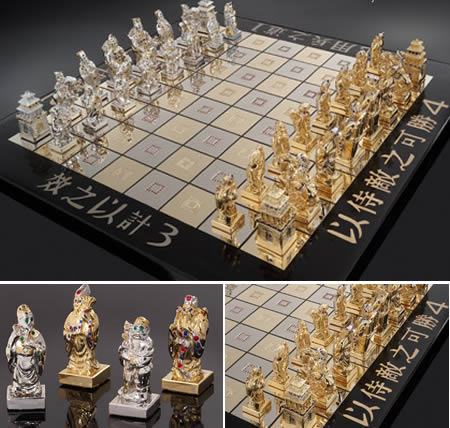 Victor F. Scharstein has designed a glittering chess deck that deserves more than fair game: its pieces are made of gold and lined up on an ebony board to be appreciated. Every pawn is painstakingly decorated with diamonds, rubies, emeralds, sapphires and other semi-precious stones. The legs of the board as well as its key, hinges and handle are carved out of gold, and decorated with rubies and diamonds.
4

Renault F1 Team Chess Set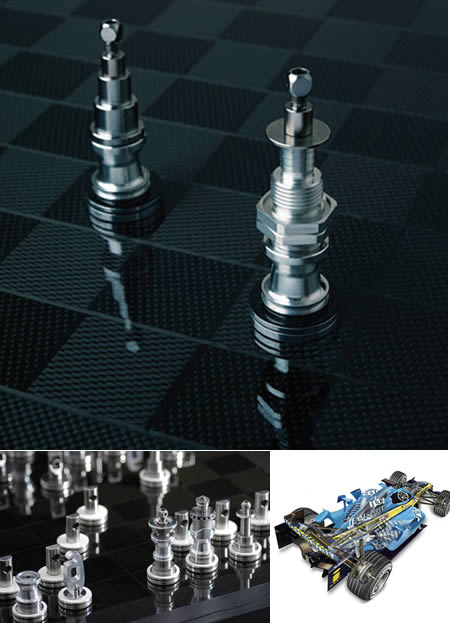 The chess table and the pieces you play with are made from parts of the suspension, hubs, uprights, wings and cockpit of the F1 car. The materials used are titanium, stainless steel, aircraft specification aluminum, carbon fibre, sterling silver and leather. Now that makes some unique, but also quite expensive chess game. The price of the Renault F1 Chess Set RTC/CHS is 28,890 Euro or $37,000.
5

Good and Evil Chess Set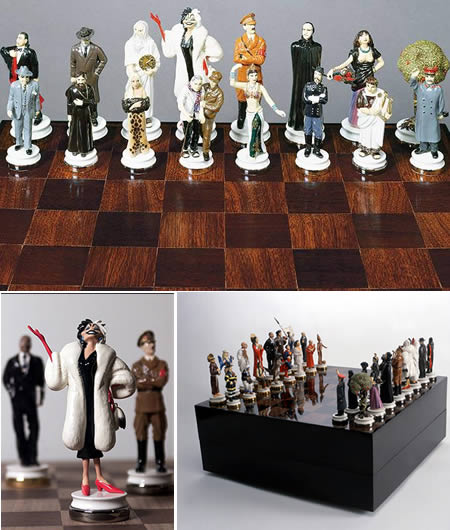 Designed by artist Mauricio Cattelan, with hand painted porcelain figures representing people he admires and despises like "White King" Adolph Hitler and "Black King" Martin Luther King, surrounded by characters like Rasputin, Donatella Versace and Gandhi.
6

Star War Chess Set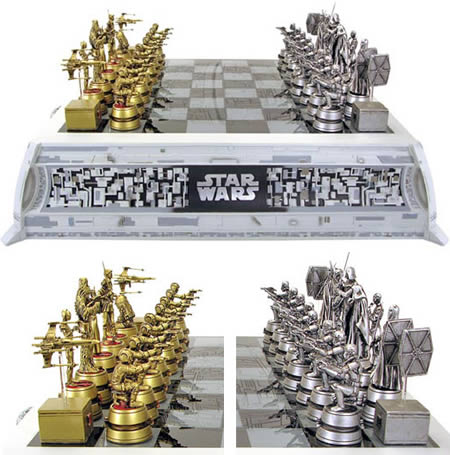 Available for pre-order over on the Star Wars Shop for an introductory price of $539 (USD), this Gentle Giant's detailed chess set pits Dark vs. Light. The set includes 32 collectible pewter figurines, with the Jedi wearing gold and the Empire donning a silver finish. Darth Vader, Boba Fett, C3-PO, R2-D2, and all your favorites are ready to do battle on the chess board.
7

Wiggly Chess Set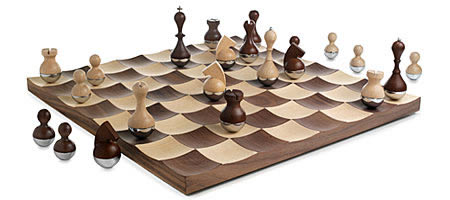 Give your chess game a shiver of sophistication with this modern chess board that makes the game come to life. Designed by Adin Mumma, this beautifully made concave board causes the rounded pieces to wobble and quiver, providing an unexpected element to a timeless favorite. Made in China with cherry and maple wood. Price $250.00
8

Alice Chess Set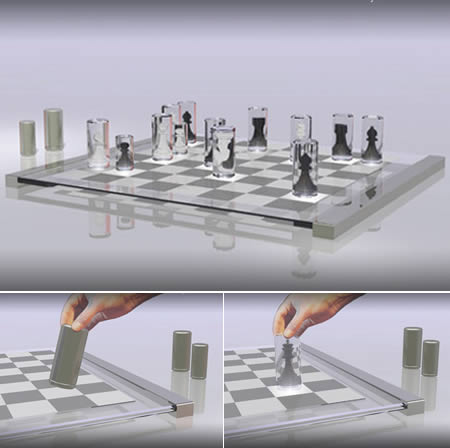 Inspired by the Lewis Carroll's classic "Alice through the Looking Glass", Yasmin Sethi has designed a chess set in which the pieces are opaque cylindrical blocks and hide the identity of the pieces until they are placed on the board. The idea is to show that chess pieces have no intrinsic value and when removed from the board, a pawn and a queen are equal and neither has any value. Embedded within the glass chessboard are LEDs (LightPoints) while the chess pieces are made of clear glass with the shape of a traditional Staunton chess piece enclosed within it.
9

Lego Chess Set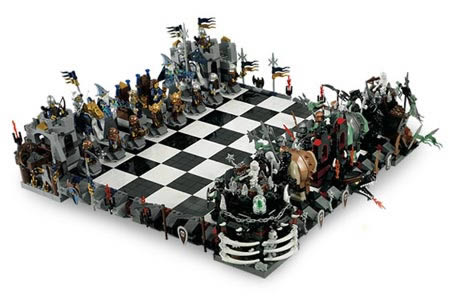 We'll never tire of featuring Lego products, like this official Lego Chess Set. Measuring in at a considerable 17"/24 cm squared, this official, medieval themed Lego chess set comes complete with thirty-one mini figures, two giant trolls, two horses, two skeleton horses and two dragon heads all of which come complete with accessories such as armour and weapons and all of which need to be constructed prior to the game commencing. The Official Ultimate Lego Chess Set retails for around £140 (circa $300).
10

3-Way Chess set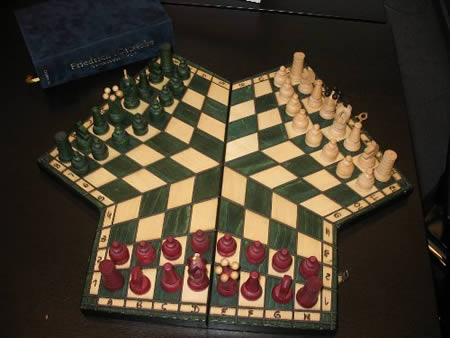 A chess board recently unearthed in the Czech Republic takes a fresh look at the classic game by adding a third player into the action. Apparently, the game starts out like regular chess, but somewhere near the middle all hell breaks loose in an orgy of complex diagonal moves. Moreover, because there are three players, a certain amount of cooperation must take place to determine a winner. For example, two players can gang up on the third to speed up elimination and two players must compete for the right to check mate the third.
11

Wild Animals Chess Set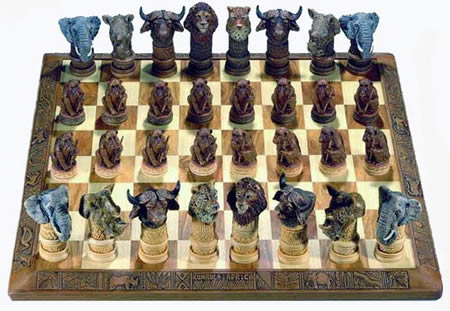 Made with chess pieces featuring the most dangerous wild African animals of Africa, with baboons as pawns, rhinos as knights and white and black buffalo as bishops.
12

Angels vs Demons Chess Set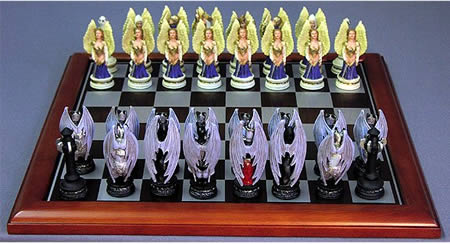 Fantastically designed polyresin Angels and Demons Chess Set with detailed, hand-painted pieces. The board measures 10.25 in by 10.25 inches.