1

Alarm Clock Piggy Bank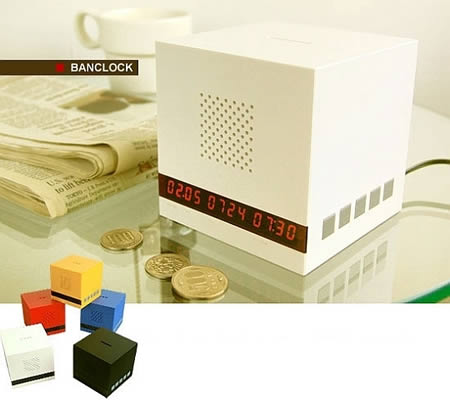 There's nothing worse than an alarm clock on Monday morning! So imagine now an alarm clock that won't stop ringing every morning until you give it some money. Your worst nightmare has arrived with the Banclock, which is, as you have guessed, an alarm clock that needs a coin every day to shut up.
2

Face Bank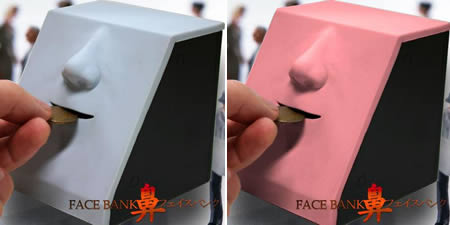 The Face Bank piggybank robot will literally eat your money in order to save it! I hast an object-sensitive Censor in the eyes, and once you reach your hand to feed it a coin, wow!, it opens the mouth!
3

Coin Bank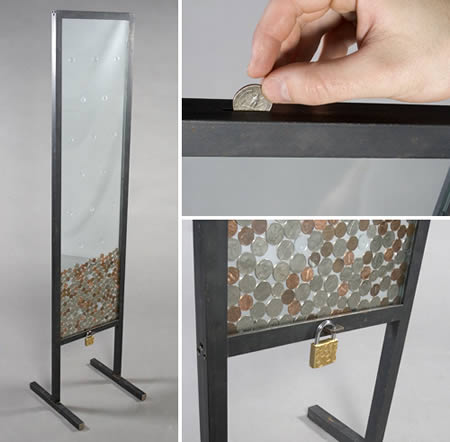 This coin bank is an attractive and unique replacement to the coin jar. Coins are dropped into the top and bounce chaotically off clear spacers on the way down. Coins can be released from the bottom when the custom lock is removed. There's now a Kickstarter campaign to put it on the market.
4

Coin Factory Bank
This piggy bank is so much fun you won't wait to save. It shows a mesmerizing display of mechanical wonder every time you drop a coin. It is so addicting you won't be able to stop dropping coins into this machine. You can insert up to 3 coins at a time, press the Start Button and watch as each coin individually: 1: Travels up a belt 2: Drops through a series of slides 3: Is lifted again up a spiral chamber 4: Is dropped into a moving arm & carried across the bank, where... 5: Another series of slides receives the coin, then... 6: A second moving arm comes to pick up the coin, deposits it into a slot, then onto a track on the outside of the bank then into the bank for safe keeping. Once the coins are safe, the electronic brain automatically shuts off the bank, waiting for the next coin to be deposited. Uff, it sounds like a lot of work for a dime!
You can buy it in Amazon, for $19.99
5

Superbitus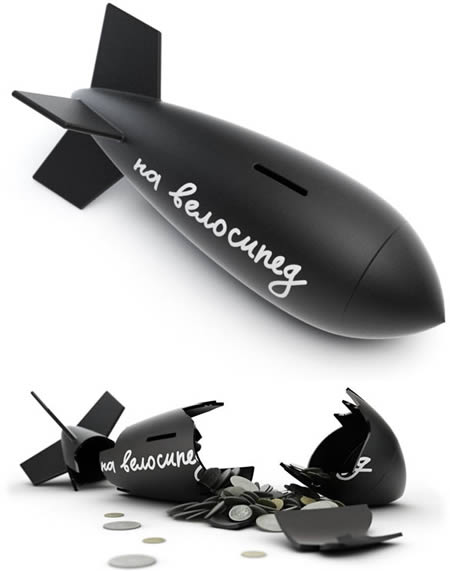 Artlebedev's Studio is taking preliminary orders for this ceramic jar "Superbitus." It's made in form of a black nuke. White marker is supplied as part of the kit - so you could draw the savings goal on the jar. After it's full - drop the bomb! Then, pick up the money and buy what you've planned along with this piggy.
6

Mini Arcade Piggy Bank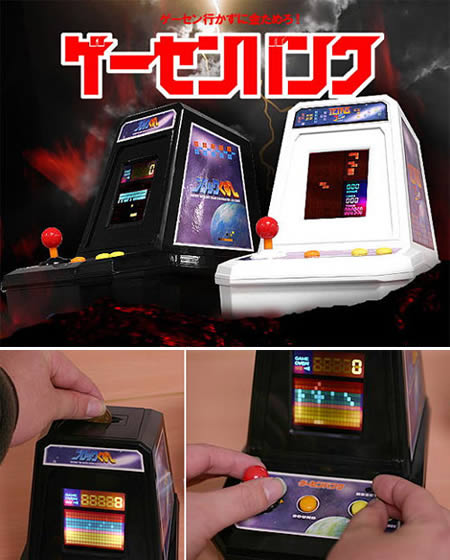 Remember when it cost just a quarter to play your favorite arcade games? Now you can play two Atari arcade classics for just one red cent a game. While these pint-size versions of Breakout and Tetris aren't totally faithful to their arcade counterparts, they only charge a single shiny copper penny to play. Each mini-machine is actually a piggy bank, which encourage you to deposit coins in exchange for games. Every coin you drop triggers the start of a new game, which is a whole lot more fun than putting your pocket change in the back of a porcine ceramic bank.
7

Credit Card Piggy Bank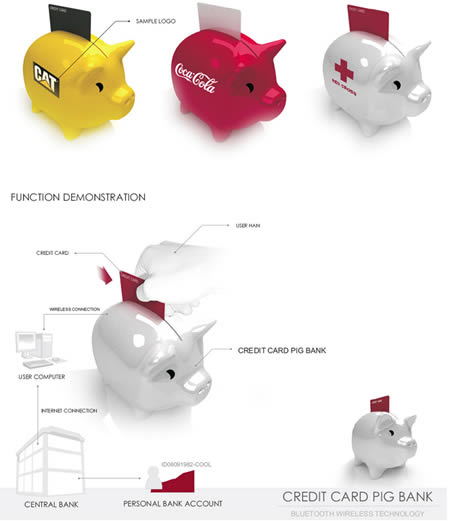 This piggy bank will deposit a given amount of money, which is preset by yourself, to your private bank account. Moreover, it is also a good alternative to collect donation in public places.
8

Darth Vader Piggy Bank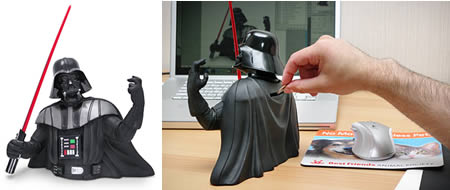 If Star Wars fans have any money left after all the collectibles, movies and games created for the Star Wars saga, then here is a cool piggy bank, I mean bust bank with the Sith lord Darth Vader to watch over your money. The cool bust bank starring Darth Vader as its guard is actually an inexpensive way to keep your change secured…right next to all your other Star Wars geeky toys.
Along with the so many other Star Wars toys, this is a real find, for it is only $14.99 and small enough to be placed anywhere within eyesight.
9

Robby the Robot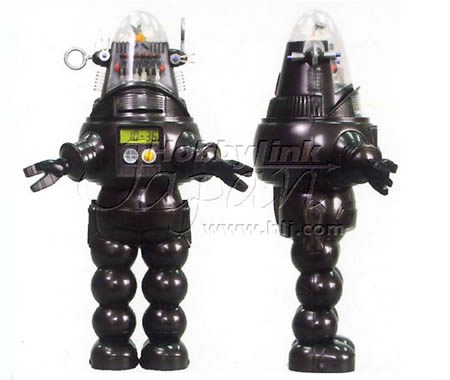 Robby, one of the all-time coolest robots in world of SciFi, is now here to take your money! That's right, Robby's a piggy bank, ready to accept and even count your coins (Japanese coins, that is... But wait, there's more! He also speaks--in English--when you deposit a coin! When he speaks, his "mouth" lights up, too. Plus, he's also a clock with alarm (the alarm is Robby saying "Good morning, gentlemen"), and...get this...he's a slot game, too! If you hit "lucky 7," he'll add a catchy Robby phrase to his repertoire (will add up to three new phrases)!
10

Spiral Piggy Bank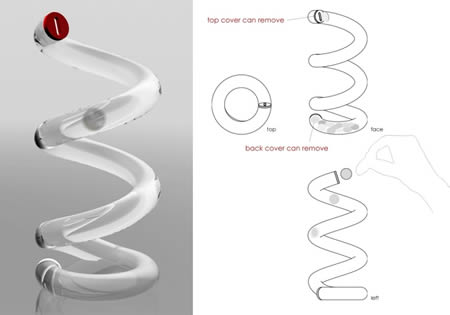 This spiral-shaped piggy bank can be more fun than normal ones. Just put a coin into it, the coin's gonna go around the piggy bank. With the transparent design, you could also know how much you have saved easier.
11

Money Savvy Pig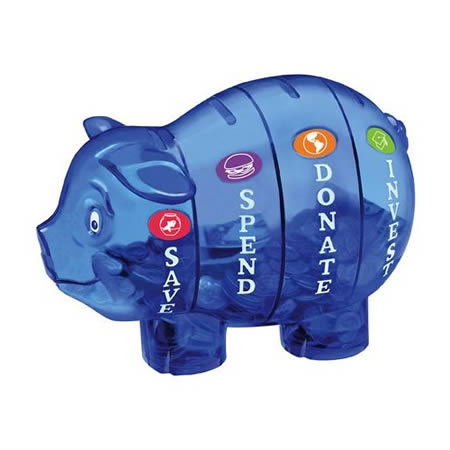 This coin bank is for truly investor, it has four compartments - Save, Spend, Invest and Donate so you can decide where their money goes. Blue, Pink, Red or Green colors available.
13

Bomb Piggy Bank

This piggy bank is not merely shaped like a bomb, but also blasts like a real one!!! It will wait for you to add coins to it every day. If not, it'll explode, sending coins all over your desktop. But before exploding, it will remind you by vibrating and flashing.
14

His/Her Money Piggy Bank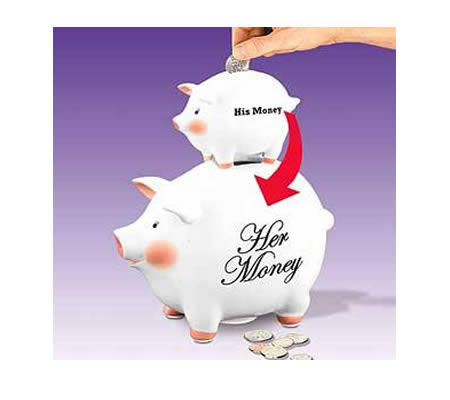 For some husbands, this may look a lot like their "real life" bank. Even if you put coin in his money piggy bank, it will still drop down to her money piggy bank. Do you have the same experience?