If you ever find yourself in Dubai, and aren't too afraid of heights, be sure check out these "sky-high" attractions...
Dubai is no stranger to breaking world records, boasting some of the most unique attractions. From the most phenomenal dancing water fountains to its towering skyscraper buildings, the city of gold is one that continues to impress with its awe-inspiring showcases. Let's get up close and personal with some of Dubai's most renowned attractions that have broken world records.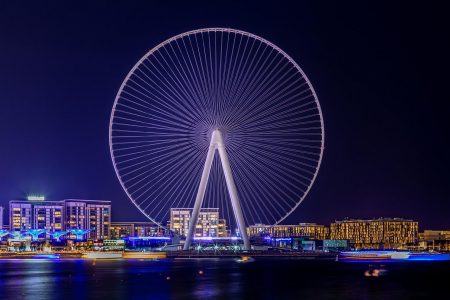 The Palm Fountain
Located on the man-made archipelago of islands shaped like a palm tree and known as the Palm Jumeirah, the Palm Fountain is the world's largest choreographed dancing water fountain. Snapping up this world record from the Dubai Fountain, tourists and locals alike flock to this incredible showcase of water jets that span two giant floating platforms. With 3,000 LEDs dancing to hit songs from around the world daily from sunset to midnight, this is a definite must-see spectacle.
The Dubai Frame
Meet the world's largest building in the shape of a picture frame! The Dubai Frame beckons explorers and history buffs to enjoy a glimpse of Dubai's past, present and future from its iconic large-scale picture frame that is an architectural landmark located in Zabeel Park. Coming in at 150 meters tall, soak up the impressive views of Old and New Dubai while enjoying a daring ride up its elevator for a picture-perfect moment.
The Burj Khalifa
Whether having visited Dubai or not, almost everyone is acquainted with the mighty Burj Khalifa. The Burj Khalifa's design was inspired by the Hymenocallis flower and the onion-dome design that frequents Islamic architecture. Standing tall at an impressive 828 meters, it is the world's tallest building and breaks a number of additional world records that include the highest number of stories in the world, the highest occupied floor in the world, the world's highest outdoor observation deck, and the elevator with the longest travel distance in the world! Visiting its outdoor observation deck also offers unmatched views of Dubai.
Ain Dubai
At 82 meters taller than the High Roller in Las Vegas and almost twice the height of the London Eye, Ain Dubai is the world's largest observation wheel. Hopping into one of its 48 high-tech glass cabin pods will seat you at 250 meters above ground level and offer some of the most impeccable 360-degree views of the Dubai skyline and the Arabian Gulf.
At.mosphere
The world's tallest restaurant can be found in none other than the Burj Khalifa! At.mosphere is located on level 122 of the world's tallest building, beckoning visitors to enjoy a unique fine dining experience at 442 meters above the ground. Taste your way through contemporary international cuisine while taking in the views of the Arabian Gulf.
Deep Dive Dubai
If you've ever wanted to swim inside the world's deepest and largest underwater attraction, now's your chance. Deep Dive Dubai breaks the world record for the deepest swimming pool, beckoning divers to explore its sunken city at a daring 60 meters underwater. Whether you free dive, scuba dive or experience this mind-blowing attraction from 'dry land' thanks to its 56 underwater cameras, the possibilities are endless. Water temperatures are at a comfortable 30°C and the pool is filled with 14 million liters of water!
Aquafun
Visit the world's largest inflatable water park that also happens to spell out the word "Dubai" from a bird's eye view! Aquafun is a multi-award winning aquatic attraction that also doubles up as an inflatable obstacle course. Located on the popular Jumeirah Beach Residence (JBR) Beach, it features over 110 obstacles that welcome people of all ages.
Experience it all from Rove Hotels
Each of the 9 Rove Hotels peppered across Dubai are conveniently located near metro stations and excitable attractions, making navigating through the city a breeze. Stylish yet affordable, the selection of hotels give you the choice to stay near the beachfront in La Mer, downtown in the vibrant city, within the cultural heart of Deira, or in the all-new future-centric District 2020, to name a few exciting locations.
Explore all you need to know about Rove Hotels and its convenient facilities here.
With so many incredible attractions to visit in Dubai that continue to bewilder travelers from around the world, this city is a bucket-list destination for many. If you enjoy trekking to world record-breaking attractions, then Dubai will certainly not disappoint with its many iconic sight-seeing opportunities – all you have to do now is experience it for yourself.