Presented by: Gifteee.com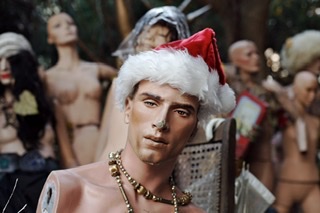 'Tis the season, well almost! These are all the oddest, making them the best, white elephant and secret Santa gifts to give.
Unicorn Poop Soap
Because if people don't love unicorns these days, what do they love? The smell is so good, you'll want to eat it. According to the packaging, one unicorn is on a strict diet of rainbow sherbet ice cream, making their poop the most delicious yet. There is even some glitter sprinkled in for that extra unicorn effect. Buy Now!
Merry Christmas Flipbook
This flipbook is made by the Japanese artist Mohiken, and filled with Christmas decorations. The decor turns into stars that then change into a small jingle-bells. And what is Christmas without jingle bells? Buy Now!
Rock Climbing Mug
This mug has a rock-climbing hold attached as the handle. You can fill it with 12 ounces of tea or coffee, no matter if you're an expert or novice climber. This mug is the company's bestseller, and each climbing-hold handle is made to order. You can even choose your own color and a swirl pattern, if you like. The socket cap screw is solely decorative, but is made of metal, so make sure not to use this mug in the microwave or dishwasher. Buy Now!
Wine Stocking Flask- Christmas Holiday Drink Dispenser
Does this white elephant, or better yet, secret Santa gift, even need an explanation? Wine lovers want anything that dispenses wine, and at Christmas time, what could be more festive, than a stocking that wine comes out of? Also, the brand that sells it is called Sneaky Santa. Anyone who loves wine has to have this wine-pouring Christmas stocking. Buy Now!
NSFW Fortune Cookies, Inappropriate Edition
These would be perfect stocking stuffers along with the typical candies and scratch-offs. NSFW stands for "not safe for work." These fortunes are offensive and insulting, and each one is individually wrapped. Not only are they great stocking stuffers, but also fun for parties, gag gifts, birthdays, and even graduations. Buy Now! 
Self-Stirring Coffee Mug
Coffee lovers everywhere will love a self-stirring mug. And not just them! If you love warm milk and honey, hot chocolate, eggnog, or really anything that needs to be stirred, this mug is perfect. Some say it's for lazy people, while others think it's just the best of the best for beverage mixing. It's got an easy-to-use and conveniently located power-on button, too. Buy Now!
Christmas Spin-a-Song Musical Toilet Roll Holder
For a festive and funny flair, add this Christmas accessory to your bathroom for classic songs, and if that's not enough, fart noises. Yup, as it spins, it farts. As a gag gift or white elephant trade, this is pretty much perfect. The more you spin it, the more you hear; just make sure you use the required AAA batteries, so the sound works. Buy Now!
Half-Wine Glass
Barbuzzo centers around fun and happy gifts and bar ware for home (or office.) Their design strategy influences are inspired by combining function and humor to create innovative lifestyle products for fun gift-giving. The company's philosophy is "LIFE'S TOO SHORT TO BE SERIOUS!" This glass looks half empty, but if you see it as half full, that just means there is more room for wine! Buy Now!
Beetle Tea Infuser
There are pooping babies and, now, hanging beetles, all for steeping tea into your cup. This beetle is made of food-safe silicone and is dishwasher safe. Fill the beetle with your favorite loose tea and enjoy. Buy Now!
Kid-Repellent Lavender Vanilla Scented Soy Candle
Have kids? Want to get rid of them? This kid-repellent candle is what you need. The smell is great, and the label will make anyone laugh. Well, maybe not. If you are offended or dislike this candle, it makes it even more perfect for a white elephant trade. Plus, the candles are made from pure soy, are handmade, and a reflection of the makers' love for New Orleans and the South. Buy Now!
There is nothing better than a stocking filled with wine, but maybe you like the obscene fortune cookies better? Either will fill your stocking, and both will be enjoyed by whomever receives them. Get started on your Christmas shopping today!