You'll never guess why this puppy was so easy to spot compared to the rest.
A farmer welcomed a litter of puppies earlier this month in Italy. And wouldn't you know it, one of the puppies stands out against the rest, because it was a green puppy.
Yes, you read that right. A green pup.
Christian Mallocci was shocked when one of the puppies was born with green fur. Mallocci's dog that gave birth, Spelacchia, gave birth to four puppies with white fur, the same color as Mama.
But that puppy with the green fur? Even Spelacchia being a mixed-breed doesn't explain why the puppy was born green. 
The strange pigmentation could be from the biliverdin  that puppies sometimes come into contact with in the womb. Biliverdin is also the pigment that sometimes creates a green color in bruises. 
This puppy won't always be green though. Eventually, with time,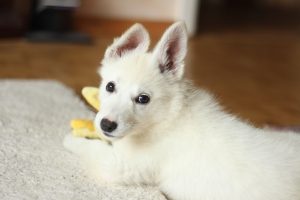 the pup will essentially grow out of its coloring as it gets older. 
Even so, Mallocci's farm on the Island of Sardinia quickly decided on a name for the cute little peanut, I mean puppy. They've named their green puppy, Pistachio. 
Well it is rare for a puppy to be born with green fur, it does happen. In Massachusetts in 2017, a green puppy was born.
A little boy with his own rare condition adopted the puppy, with its own rare condition. Aww.
And of course 2020 brought a green puppy "into the world" when it was born in Asheville, North Carolina. The family named him, The Hulk.
Pistachio lucked out as the green pup, and will stay to live on the farm. Mallocci plans to raise Pistachio like his mother, and will soon train him to look after the sheep.
"Green is a symbol of luck and hope, so it may have been meant to be that the dog could make people smile amid the COVID-19 pandemic," Mallocci said.