Because he felt bad, of course.
A Utah man stole a truck because he said he wanted to rendezvous with aliens, but then he felt bad for taking it. He later returned the truck to the 7 Eleven store.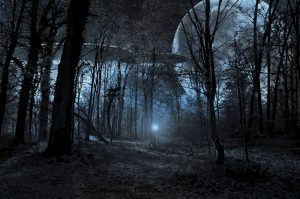 Bryce Jerald Dixon has been accused of theft and three attempts to escape an officer custody.  He told police that he needed the red pickup truck that he returned so that he could, "get to the Colosseum to get on a flight with alien diplomats."
Dixon planned to drive the pickup all the way to the Colosseum, but upon feeling bad for taking the vehicle, he returned it. The owner of the vehicle called it in stolen after leaving it unlocked for a quick stop into the store.
He called 911.
Police responded to the call and got to the scene to investigate. Once an officer arrived at the convenience store, he was met by the owner of the truck.
The owner told him that the man suspected of taking it, returned it, and that he was running from the location. The officer used his radio and another officer took the suspect into custody. 
The suspect was taken to the hospital for an injury due to the owner of the truck punching him in the face. Once in hospital care, Dixon tried to slip past officers several times. 
Dixon apologized to the police but told them that the aliens needed him to get to the Colosseum. He has been booked in the Utah County jail on suspicion of theft of a motor vehicle and for the three counts of attempted escape. 
He won't be making it to the aliens, but at least the truck was returned. If you didn't think this year could get any stranger, just wait.
Halloween hasn't even happened yet and it's clear that 2020 will be anything but normal.