We'd call this thing weird, but really, it's about on par with the rest of 2020.
If you like video games, you know that these days you need a powerful machine to get the most out of them. You'll also know that an extended gaming session requires snacks to sustain a hardcore gamer.
But what if instead of the usual Doritos and Mountain Dew, you'd like something more substantial? Something like a bucket of finger-licking good chicken?
Despite the obvious grease-slick controllers and keyboards such a treat might produce, there's another problem. How are gamers supposed to keep their chicken warm over several hours of intense gameplay?
Don't fret, KFC has the solution to the problem. And that solution comes in the form of the brand new KFConsole gaming system.
The KFConsole was announced originally back in June, in the aftermath of Sony revealing its long-awaited Playstation 5. At the time, everyone thought it was just a joke – what business would KFC have dipping into the console market, after all?
But nope, as confirmed Intel's PR representative Mark Walton, this is a real, 100% authentic game console with latest Intel technology. But that's not all.
In addition to cutting-edge gaming hardware, the KFConsole includes a chicken warmer. You heard that right. It boasts what its manufacturer Cooler Master calls the "world's first built-in chicken chamber" in a gaming console.
"Never risk letting your chicken go cold again thanks to the patented Chicken Chamber," Cooler Master claims.
"Utilizing the system's natural heat and airflow system, you can now focus on your gameplay and enjoy hot, crispy chicken between rounds."
What a time to be alive.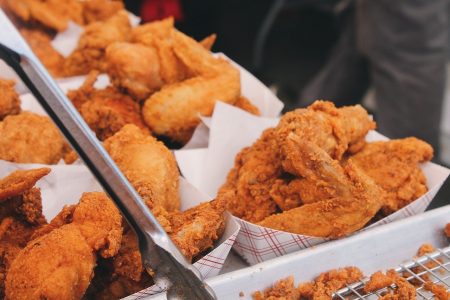 Nice Specs
As ridiculous as it sounds, the KFConsole actually doesn't actually seem like a complete joke. Inside the proprietary, bucket-of-chicken-shaped Cooler Master NC100 chassis is some decent gaming hardware.
The whole shebang in powered by the Intel NUC 9 Extreme Compute Element. Though Cooler Master doesn't specify which version of the element they're using, a look at Intel's specs reveals that the KFConsole will have between 4.10 GHz and 5.0 GHz of computing power.
As default, the KFConsole will ship with an unspecified Asus graphics processing unit (GPU). If that doesn't sound like something you'd like, that's alright – the console also features a hot-swappable GPU slot so you can plug in whichever compatible video card you want.
Running out of storage space for your games would be a real issue. To make sure you can fit plenty of entertainment on the system, the KFConsole comes with two 1TB Seagate BarraCuda SSD drives.
With the included hardware, Cooler Master claims that the system will run games at 240 frames per second, with support for 240hz output at 4k resolution. That's twice the FPS that either Playstation 5 or Xbox Series X can provide.
The console is also VR Ready, and claims full ray tracing support for some mindblowing visuals.
"This machine is capable of running games at top-level specs, all on top of keeping your meal warm for you to enjoy during your gaming experience… What's not to like?" said KFC UK & Ireland's head of PR and social media, Mark Cheevers.
As further proof of the machine's capabilities, KFC claimed on Twitter that the new Cyberpunk 2077 runs better on the KFConsole than on any other consoles. Then again, considering the game's performance issues, that's not necessarily a very high bar.
Tongue Firmly in Cheek
In all seriousness, the chicken-warming game console seems like a pretty stupid idea. Stuffing grease-dripping chicken coated in bread crumbs into your gaming system doesn't sound very sanitary – not to mention the fact that electronics generally don't like being showered with food particles.
The ridiculousness of the whole concept isn't completely lost on KFC. Just check out their overtly bombastic announcement trailer on Twitter.
Indeed, KFC is pretty tongue-in-cheek about the whole project.
"If Sony or Microsoft want any tips on how to engineer a chicken chamber for their efforts next time, they'd be welcome to get in touch," Cheevers quipped.
Even the manufacturer Cooler Master seems to have tackled the console development more as a good challenge instead of a dead-serious tech project.
"When we were approached by KFC Gaming to make the KFConsole, we jumped at the chance to get involved and enter the console war," said Cooler Master's global PR and influencer manager Stephen James.
"The KFConsole has been custom-built with the gamer at the front of mind. The last thing we want is anyone to go hungry while playing!"
A History of Oddities
The KFConsole isn't KFC's first foray into video games, though. In September 2019, the company released the dating simulator game I Love You, Colonel Sanders! on Steam.
In the game, your character – a promising culinary student – gets to woo an uncomfortably attractive, anime-styled Colonel Sanders. So yeah, just like the new console, this wasn't necessarily the most serious, hardcore competitive gaming product.
In 2014, the chicken purveyor released a KFC-themed keyboard, which replaced all keys with a small plastic chicken nugget – except, of course, the K, F, and C keys. Unfortunately for any Western weird tech enthusiasts, the keyboard was only ever available in Japan.
Other weird KFC promotions from the past include a fried chicken-scented sunscreen, nail polish that tastes like KFC chicken, and KFC-branded Crocs.
Compared to all these, a game console with a chicken warming chamber seems almost like a good idea.
Almost.