1

Pizza Pool Float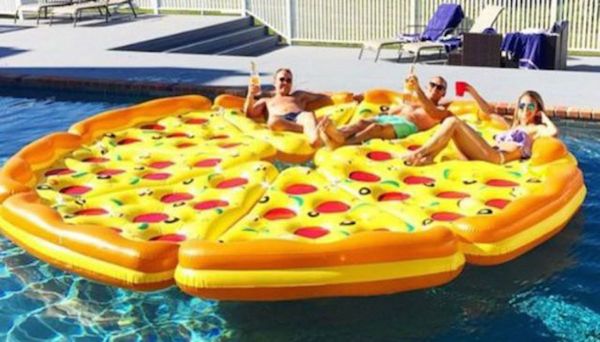 Addicted to pizza? Now you can actually BECOME a topping with this deliciously bizarre pizza float.
If you're worried about trying to get eight pieces to stick together like that, relax. Swimline designed the toys with bungee loop connectors so you can link multiple slices together. The floats also come equipped with cup holders, and the crust doubles as a pillow. A single slice goes for just under $40.
2

Tropical Tahiti Floating Island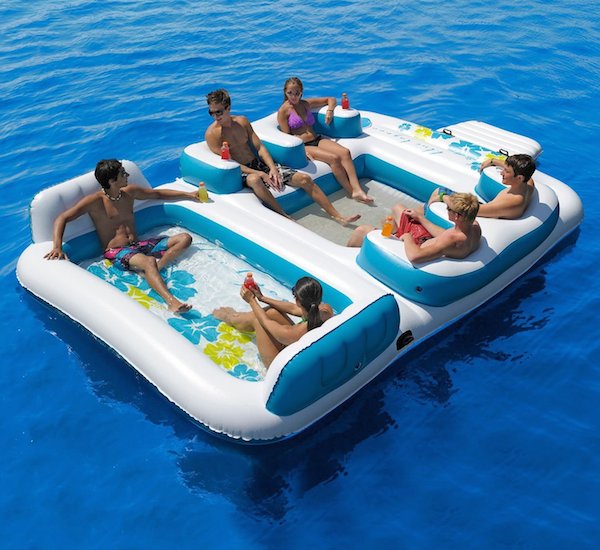 Invite your friends to escape to your private island with this six-person floating raft. It comes with contoured sofas, a suntanning deck, cup holders, built-in coolers and a boarding platform. Buy it !
3

Modul'Air®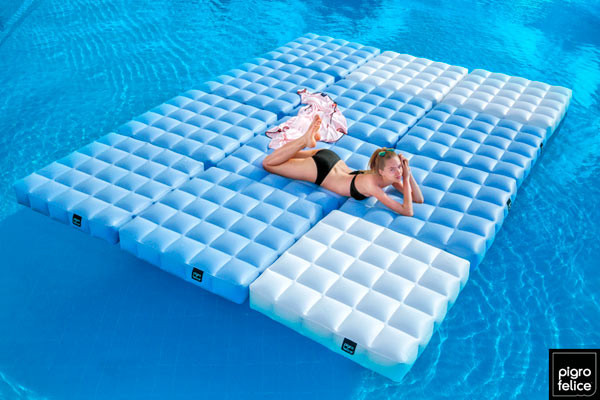 Check out Modul'Air® by Pigro Felice, a modular system of inflatable outdoor furniture that doubles as floats for the pool. Mix and match the pieces to create your very own custom pool float or an island of floats. The options are pretty endless!
4

Sci-Fi Hot Tub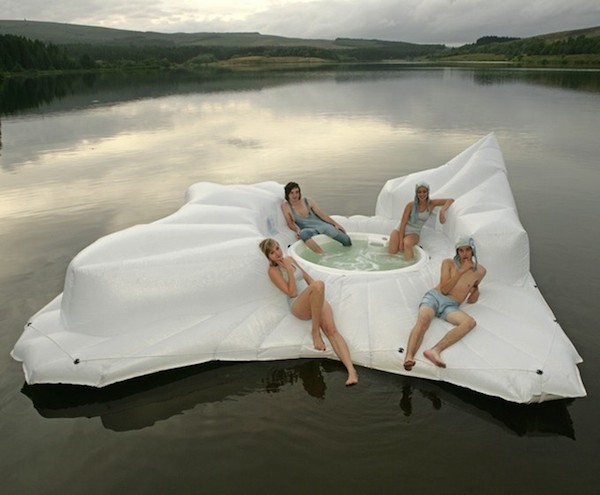 Look and be cool on this floating inflatable iceberg, complete with hot tub by artists Zoe Walker & Neil Bromwich.
5

Floating Golf Green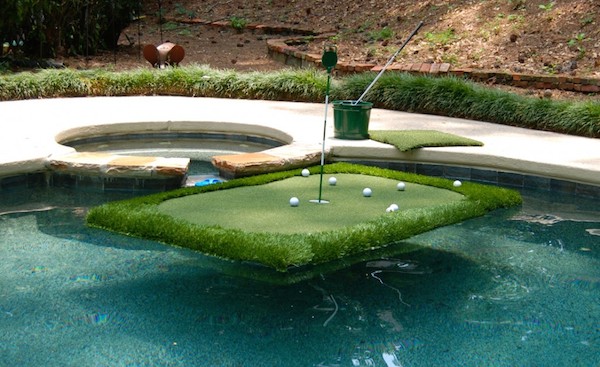 Can't sacrifice your golf game for a day in the water? Now you don't have to! Created by IntelliTurf. Inc., a company that specializes in synthetic grass, the Floating Golf Green was created to satisfy a need. The greens start at $350, and custom orders are always welcome.
6

Floating Jellyfish Pool Lights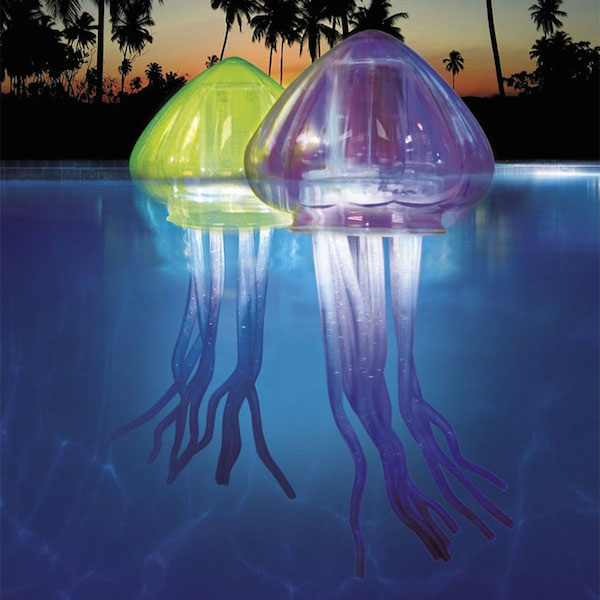 An innocuous way to scare your party guests and light your pool at the same time. These unique, realistic, fiber optic-tentacled pool lights float around in a kaleidoscope of color. Best of all—no stings!
Buy 'em here.
7

7' Aquascreen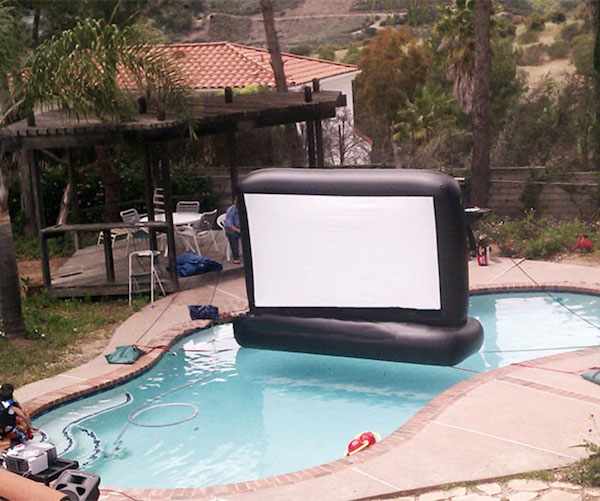 This may be the ultimate way to see a movie in the summertime. Once this floating screen is inflated, it measures 7? and provides a premier entertainment spot for family and friends to enjoy without succumbing to the brutal heat.
8

Poop Emoji Float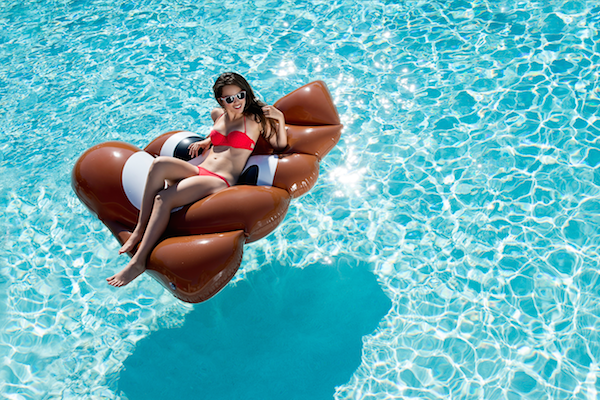 Even without your phone nearby, emojis are always present in some fashion. This delight poop emoji float is available on Amazon for around $30.
9

Remote-Controlled Floating Pool Tray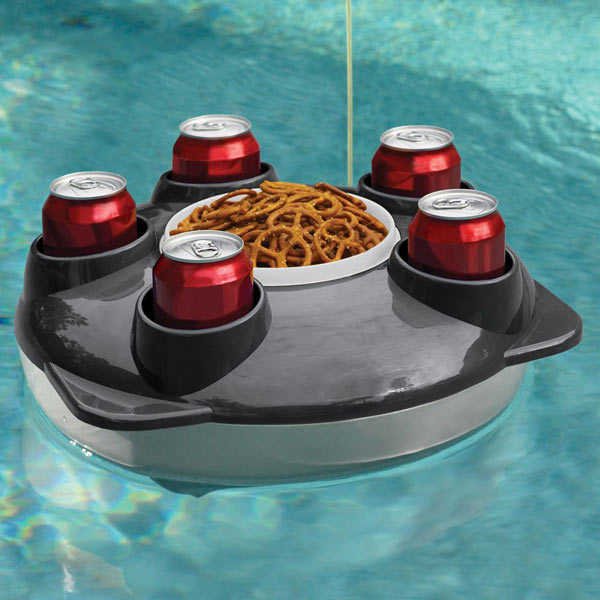 Instead of going to get your food, have it come to you with this awesome floating pool tray. It features 5 cup holders with a 16 oz. serving bowl in the middle. Drive it around the pool in any direction with the included remote control. And when you run out of food and drinks, just send it to the edge of the pool and call out for a refill.