1

Ciera Swaringen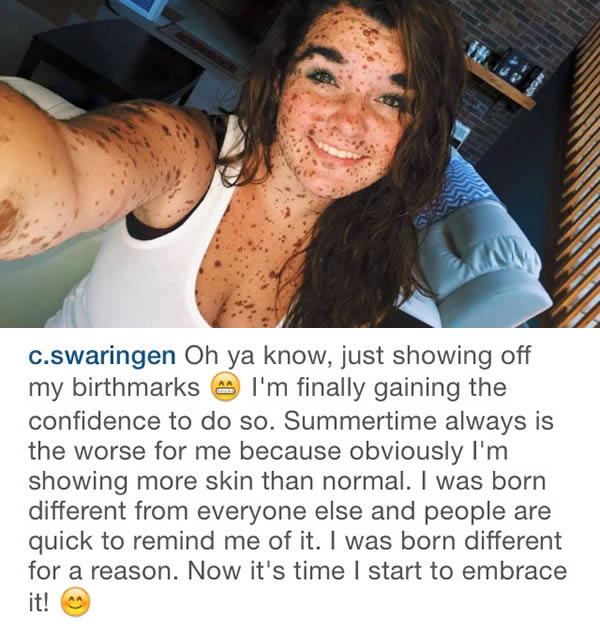 One fearless teen decided to use social media to show bullies they weren't breaking her spirit. Nineteen-year-old Ciera Swaringen was born with a rare skin condition—giant congenital melanocytic nevus—leaving her body covered in growing moles and birthmarks.
She tells HotSpot Media, "One day I remember being on the school bus and hearing a young boy laugh at me and call me a spotty dog. That really knocked my confidence. I was young, and it made me feel different than the other kids—like something was wrong with me."
Now, Ciera is taking to social media to stare adversity in the face, embracing her body and showcasing it with inspirational posts.
Her positive attitude is contagious, causing many of her posts to go viral. Luckily, she's had the support of her mom on her emotional journey; as a child, she told Ciera that her birthmarks were simply angel kisses. *Presh!*
2

Paige Billiot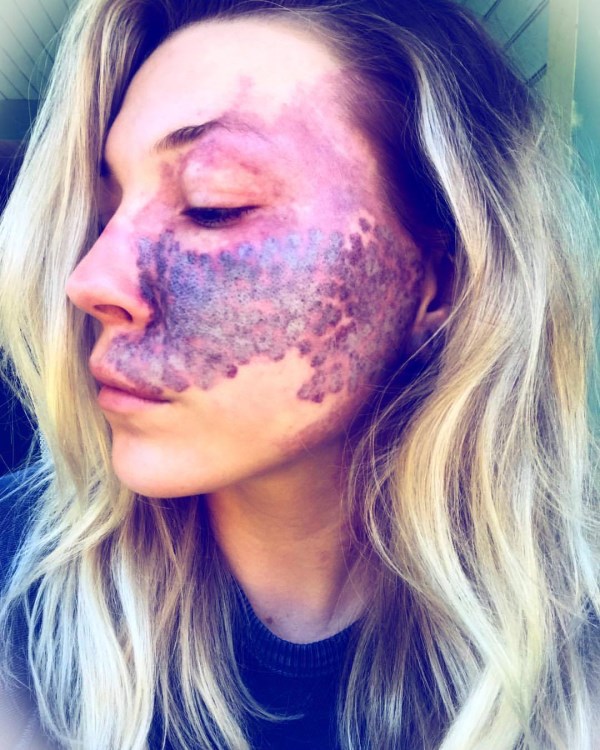 In April 2016, this woman unveiled a candid photo shoot to celebrate the prominent facial birthmark she wears with pride. Paige Billiot, an actress and filmmaker from Los Angeles, was born with a dark red mark covering most of the left side of her face. The 23-year-old collaborated with different photographers to bring positive attention to skin discolorations.
Paige, who starred in the movie Road To Hell, said she has never let her birthmark get in the way of her dreams and now hopes to inspire others with her message. She launched her own project, the Flawless Affect blog, to tackle stigma around flaws in body appearance. "It's 2016 and being different is the new normal," she claims on her page.
3

Giorgia Lanuzza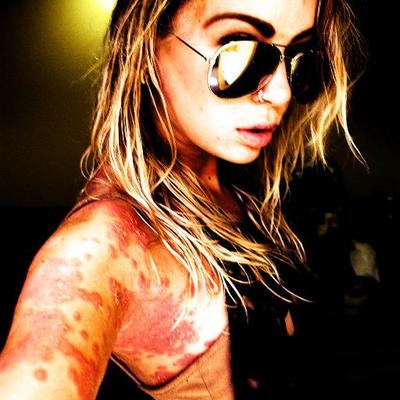 For almost a decade, Giorgia Lanuzza has endured people stopping and staring at her. She has faced cruel taunts from schoolmates as well as strangers and claims she was left feeling like a "freak"—too scared to look at herself in the mirror. The 24-year-old has suffered from psoriasis since she was 13.
While most people endure small red patches on parts of their body, Lanuzza said 97% of her body is covered with painful red welts. She hid her "ugly" skin in shame for years but has finally learned to love it and is proudly showing off her body to encourage other women battling psoriasis.
Psoriasis is a common long-term condition that causes red, scaly and flaking patches of skin. The spots can be small in size and number, but on some people, they are more extensive and troublesome. Psoriasis is not contagious.
4

Imgur user Mneneon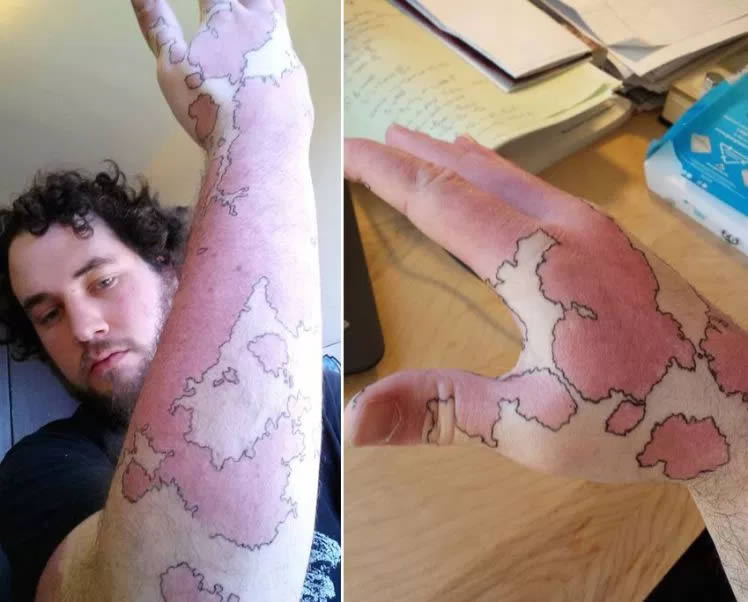 Redditor Mneneon is a New York college student called Jacob who has transformed his birthmark, which covers his right hand and arm, into a map of an imaginary world. Instead of covering up the red patches (which resemble little islands and vast continents), he likes to draw around them to create borders.
In 2015, he became famous after he posted pictures of what he calls his "birthmap" on Reddit with the comment, "I was born with a map of places that do not exist on my arm and hand. Outlined with pen for your convenience."
The images have been shared thousands of times. Jacob says he's always seen his birthmark as a map—he believes the red skin is land, and the white is ocean (at least on his hand). It takes around about an hour and a half to draw the whole map. When asked if he's ever considered turning his artwork into a permanent tattoo, he said he's not sure he wants to.
5

Lexxia Harford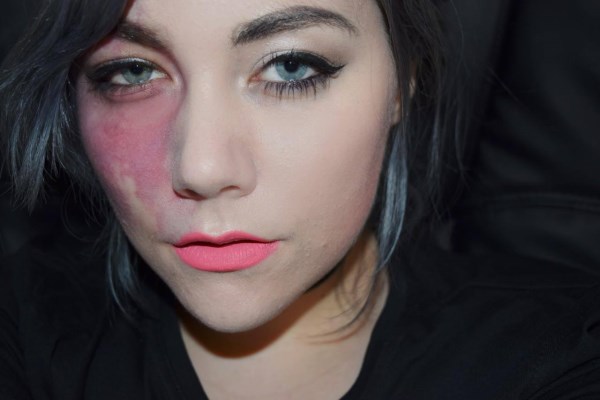 Lexxie Harford, a 23-year-old woman from Staffordshire, has received heaps of well-deserved praise after sharing photos of her birthmark on Imgur. She published a series of inspiring pictures of the red mark on the right-hand side of her face, explaining that she's proud of it and "like[s] to show it off."
The beautiful pictures serve as so much more than your average selfie. Lexxie hopes that sharing them will raise awareness of birthmarks, open up a discussion, and encourage others to stop covering them. She said that she used to put makeup over her mark when she was younger but decided to ditch the concealer and embrace her natural appearance after leaving college.
Now, Lexxie has reposted the photo series and included a FAQ for some of the most common questions that have been sent her way.
6

Harley Dabbs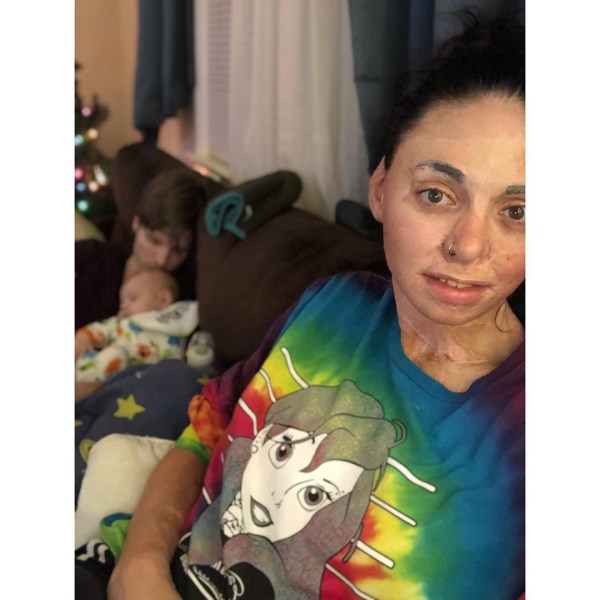 A burn survivor who once battled suicidal thoughts has learned to accept her scars and plans to become a motivational speaker. North Carolina native Harley Dabbs was two years old when a house fire left 85% of her body covered in burns. Despite her horrific injuries, she defied medics who believed she only had a 2% chance of survival.
Her badly scarred skin made her a target for bullies. As a teen, she struggled with depression and suicidal thoughts. Now 21, Dabbs has beaten her demons and got a phoenix tattoo to mark her personal change.
In January 2016, Kylie Jenner shared a photo of Harley on Instagram, and the post received over 500k likes. Along with the photo, Kylie wrote, "I look at stories all day that inspire and encourage me. #iammorethan is a way to share these stories with you guys in hopes that it could help you too. Bullying other people is not the answer. Be kind to everybody. You are the dopest for this @harleydearest thanks for sharing...."
7

Patience Hodgson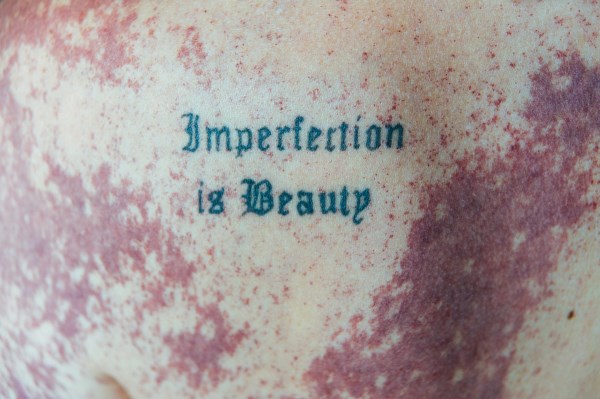 Australian photographer Natalie McComas created the series "In This Skin" in conjunction with VSCO's Artist Initiative. Her goal is to travel the world meeting people who have lived with a birthmark and tell their stories.
Her first subject was Patience Hodgson, lead singer of the Australian band The Grates, Hodgson has a large, rare port wine stain birthmark, otherwise known as Klippel Trenaway Syndrome, covering half of her upper body. Hodgson says, "I love my birthmark's spectrum of color. When I'm warm, it's a red-purple, like the color of some plums. When I'm cold, it's a vivid, almost neon, blue. I also like how it's a kind of protective barrier protecting me against non-accepting and unthoughtful people." Natalie McComas also created a Facebook Group that celebrates unique skin formations.
8

Cassandra Naud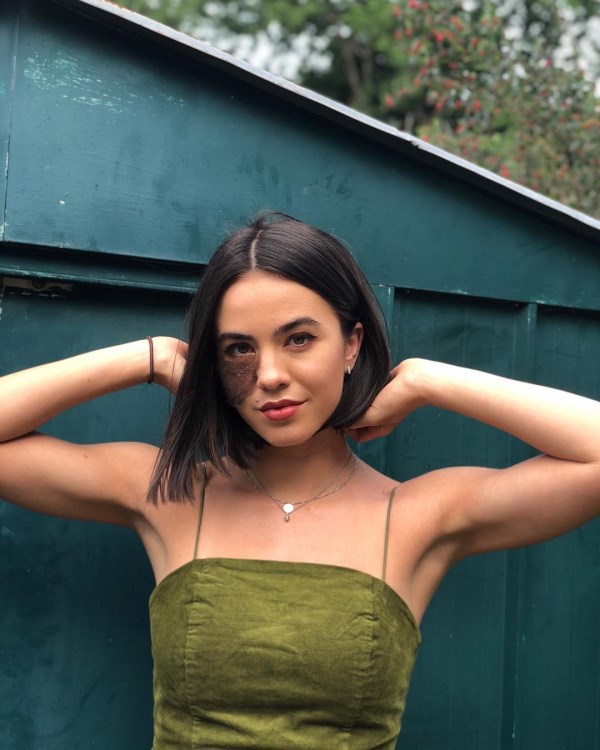 The entertainment industry can be ruthless and unforgiving. It is particularly important for a person to be physically flawless, but Cassandra Naud, a native of Alberta, Canada, decided to break stereotypes regarding how a person has to look.
Cassandra has a birthmark on her face that is easy to spot. The mole, which is technically a nevus, extends from below the eye extending down to her cheek and is covered with hair. It is so prominent that sometimes strangers ask her about it. Cassandra doesn't mind. She is not ashamed of it because she knows that it's this mark on her face that sets her apart from everyone else.
Her parents were given the option to remove the birthmark right after she was born, but they were concerned that it might be dangerous, and she might be left with a scar on her face. While growing up, she was bullied and considered having surgery to remove it as a teen. Eventually, however, Cassandra overcome all hesitations regarding the uniqueness of her face. While most people are anxious about their looks, Cassandra's unique look had, in fact, further boosted her conviction to strive for her dreams.