1

The Vietnamese airline that has bikini clad flight attendants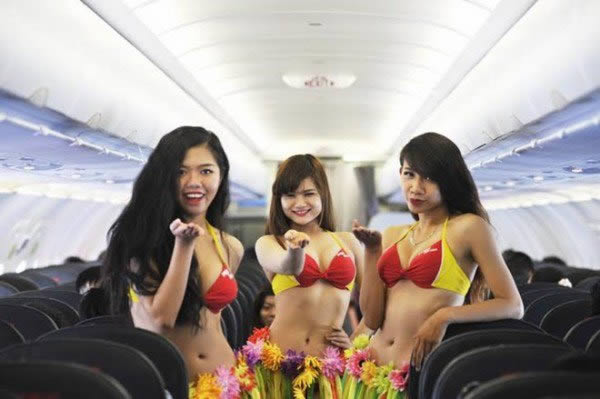 VietJet Air, Vietnam's only privately owned airlines, has caused quite a stir in the aviation industry with its young, attractive, bikini-clad flight attendants. Female VietJet employees don colorful bikinis and even put on a performance for passengers, during inaugural flights to beach locations. The marketing gimmick has earned the company huge profits, and plenty of criticism to boot.
These 'bikini performances' are not a standard practice on all flights— they're more like a featured bonus on certain routes. One of the earliest shows was staged on a 2012 flight from Ho Chi Minh City to the coastal city of Nha Trang. As reported by ABC News, "Clad in vaporous string bikini tops and sarongs that flaunted the company colors of red and yellow, young, beautiful women filed down the plane's aisles for a bikini show."
Although the airline managed to delight passengers on that occasion, Vietnamese aviation authorities were not amused. The Civil Aviation Administration of Vietnam (CAAV) slapped VietJet with a $1,000 fine for holding an "unapproved show" on the plane—but because the jet had reached a safe altitude before hosting the three-minute show, the airline was allowed to continue with the practice.
Airlines in countries like Thailand, Mexico, and even the UK have used calendars featuring bikini-clad flight attendants to promote their businesses; no other has been as bold as to adopt the skimpy attire during actual flights—that makes VietJet unique.
2

The German company that launched nude flights

In 2008, a German travel agency took the country's love of naturism to the skies—literally. The world's first nude airline offered flights for passengers keen to disrobe at 30,000ft. Although fliers had to be fully clothed when they boarded and disembarked the aircraft, they're free to wander around the cabin in the buff after take off. The flights were a part of a summer day trip from the German city of Erfurt to a popular Baltic Sea resort.
3

The Icelandic airline that launched a giant pink plane called "GAY"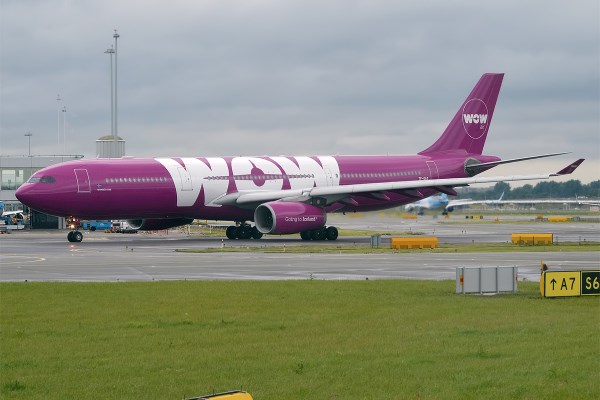 Iceland's WOW Airline is the latest entrant into the gay vehicular contest after unveiling a giant pink plane called "GAY." The airline, which is known for its pink-and-purple themed planes, announced in February 2016 that its new Airbus A330, which will serve a route to San Francisco, had been named in honor of the gay movement.
CEO Skúli Mogensen explained the decision to christen the plane TF-GAY, saying: "One of our pilots came to me and suggested this name, and I thought it was a cool idea, so we went ahead with it." He added the name is a nod to the history of San Francisco and fits with the company's naming system, following TF-MOM, TF-DAD, TF-SIS, TF-BRO, TF-SON and TF-KID.
Asked about if there were people who might not want to travel on a big pink gay plane, he answered: "If I were worried or scared of what people might say about me or what I do, then WOW air wouldn't exist."
4

The airline that offers free massages to economy passengers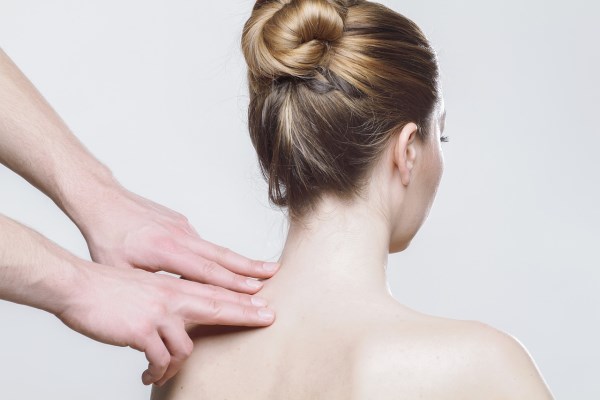 Not even first class air passengers can expect a personal masseuse to ease flying nerves and provide some distraction from the children having a tantrum in the next row. But Air Malta travelers in economy cabins are being treated to relaxing head rubs and hand massages on flights between Gatwick and Malta—completely free of charge.
On July 2015, two professional therapists welcomed passengers to flights to and from Gatwick with various beauty product samples, and later provided hand, feet and neck massages to relaxing music piped in through headphones. Passengers on the two flights were also given Myoka Spas vouchers worth €20 ($35).
The national carrier says the spa offerings are "just the beginning" of a series of similar projects that it will be launching shortly "aimed at enhancing customers' experience."
5

The New Zealand airline that offers a "cuddle class"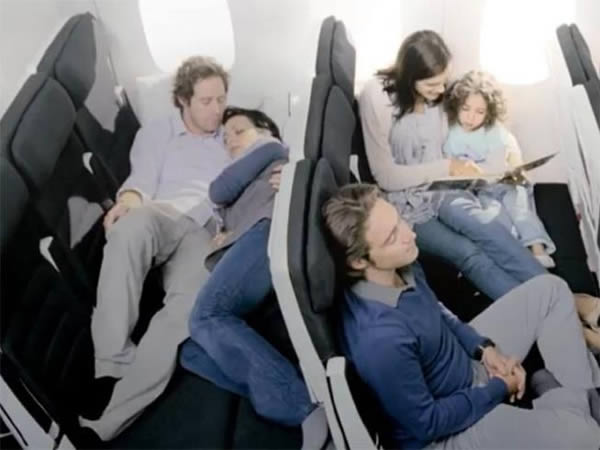 If you're flying from Los Angeles to New Zealand, you can travel much more comfortably. In 2011, Air New Zealand began offering customers the chance to purchase seats that could turn into couches or beds.
According to the airline's website, the seats, called "Skycouches," would be perfect for couples who want some extra room, or families with small children. The Skycouch is a trio of economy seats that together create a flexible space for whatever you want it to be—an area to relax and stretch out in, or for the kids to play in. It's like having your very own couch on the plane.
6

The first airline to offer virtual reality headsets to passengers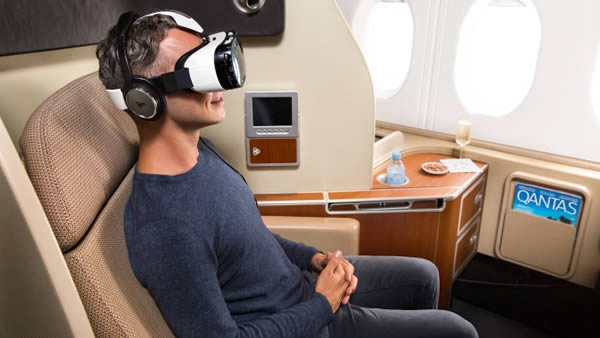 In 2015, Australian airline Qantas paired up with Samsung to offer the company's Gear VR headset to first-class passengers on long-haul flights. The airline became the first to provide a virtual reality entertainment experience in flight. The goggles were available in Qantas' first class lounges in Sydney and Melbourne and on select A380 flights between Australia and Los Angeles.
The Gear VR, produced with Oculus, operated using a Samsung Galaxy Note 4. Samsung designed an app for Qantas that provided exclusive content to the headsets. Qantas sees VR experiences as a way to showcase the airline's destinations and services to passengers.
Featured programming includes 360-degree views of Qantas' first-class lounge at LAX, runway-side videos of the company's massive A380 planes landing and a 3D look at Kakadu National Park in Australia.
Samsung's deal with Qantas was part of a three-month trial run to assess customer feedback on how this kind of VR offering might add to their overall travel experience on long flights, the airline said.
7

The airline that launched an in-flight art gallery for its business class passengers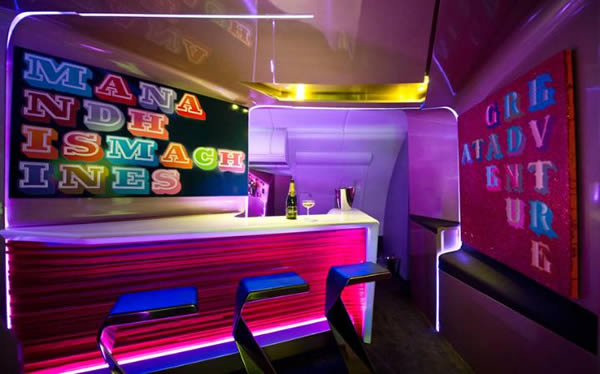 Passengers traveling on Virgin Atlantic Upper-Class flights between London and New York in February 2013 had the unique opportunity to enjoy the first ever airborne commercial art gallery.
The Gallery in the Air exhibition featured 10 of Ben Eine's trademark typography-style works, with prices ranging from £2,500 to £15,000. The British artist came to global prominence when David Cameron presented one of his works to President Obama as a gift on the Prime Minister's first state visit to Washington. Canvases were on display in Virgin Atlantic's London Heathrow, JFK and Newark Clubhouses. Once on board, Upper-Class passengers were able to take a virtual tour of the Gallery in the Air and see "behind the scenes" footage of their construction, before buying the pieces in the same way as they would make a duty-free shopping purchase.
8

The airline that became the first to offer Uber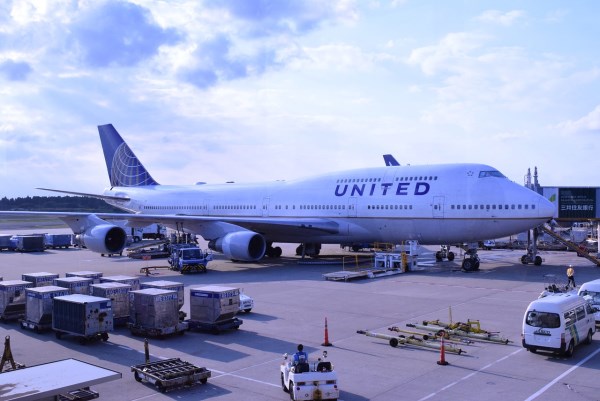 Sick of waiting in the taxi line at the airport? Since 2014, you can Uber straight from United Airlines' mobile app. The app displays Uber information, including types of available vehicles, estimated wait times and prices. After selecting a ride, the app automatically transfers passengers to the Uber website to sign up for an account to complete the transaction. Customers who signed up for Uber via the United app and completed their first transaction were given 1,000 MileagePlus award miles to promote the service.
9

The transatlantic airline with massage chairs, a Michelin star menu and tablets for all passengers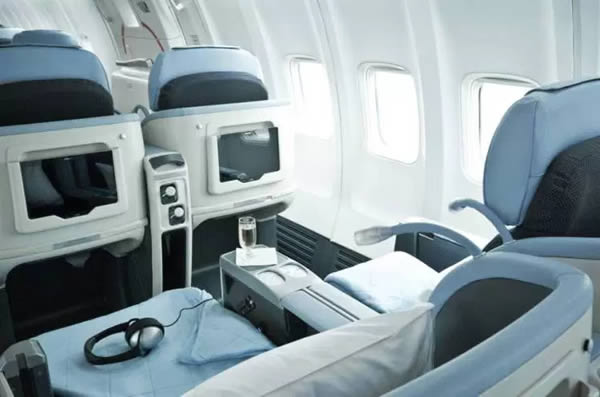 It may only fly between New York and Paris, but La Compagnie is pretty much the only airline we ever want to travel with. With massage chairs that recline into beds, Michelin star food, and Samsung entertainment tablets for every single passenger, you're treated like royalty.
OK, so it's not exactly dirt cheap for a one-way Transatlantic flight. The standard fare when the flight was launched was €1,200 (about $1,400), but that's still a fraction of the cost of a business flight from one of its competitors—British Airways and Air France both offered the same service for more than $2,800.