1

Airplane Apartment (Amsterdam Airport Schiphol, North Holland, Netherlands)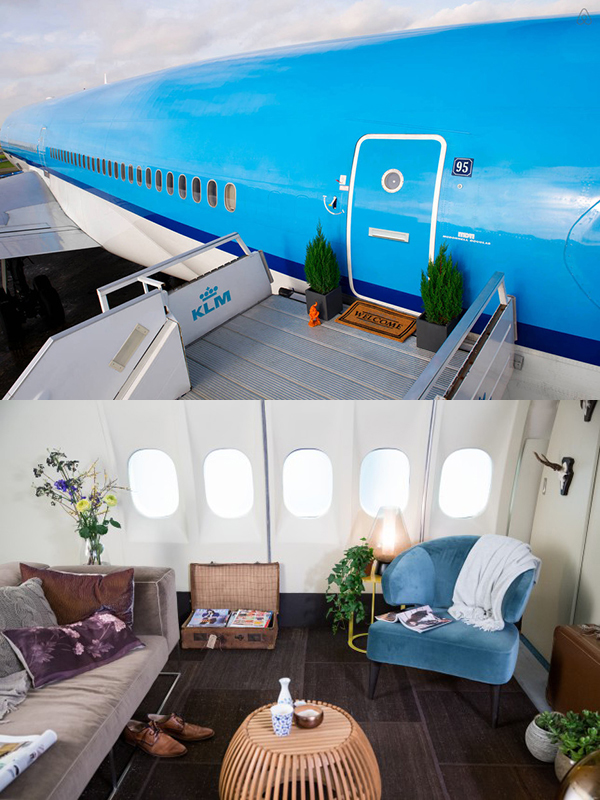 Dutch carrier KLM has teamed up with Airbnb for a promotion in which aviation enthusiasts can win a night's stay in Amsterdam.
The KLM MD-11 wide body jet is a Wi-Fi equipped two-bedroom lodging option that also comes with two kitchens, a living room, eight "small" bathrooms, 116 windows and "a giant cockpit panorama window."
The plane does have "house rules" that include the following:
• "No flying."
• "Don't use the inflatable emergency slide."
•  "Smoking is not allowed when the non-smoking sign is on."
• "No marshmallow roasting with the jet engines."
• "Please water our plants and feed our fish."
• "The consumption of alcohol is not allowed."
• "Please treat our plane like you treat your own plane."
The promotion is available for three nights only, Nov. 28-30, 2014, but we're certain there will be more opportunities like it in the future.
2

Train Caboose (Agoura Hills, CA)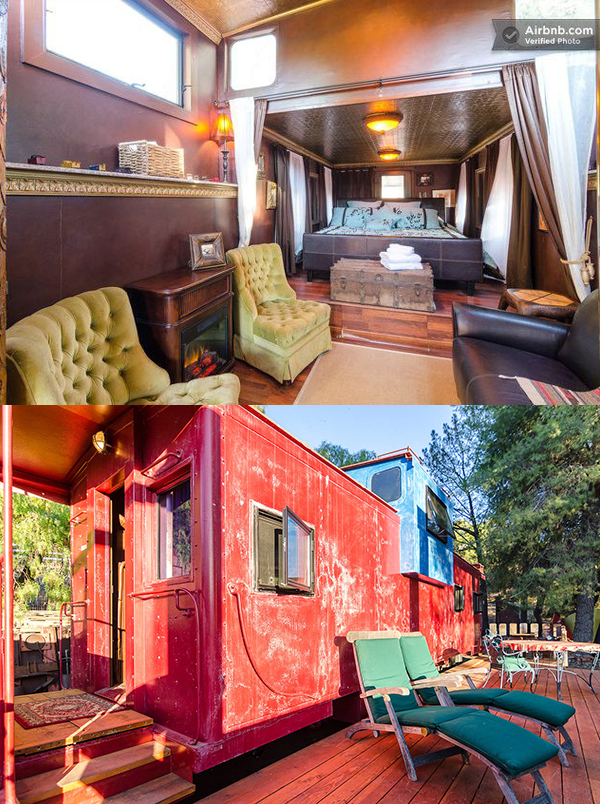 Originally located at the rear of a freight train, the caboose once provided shelter for the train crew. This one has been lovingly renovated to create a cozy and comfortable place to stay in the Agoura Hills area of Los Angles and is the perfect place for a romantic getaway in a beautiful rural setting, with stunning views of the Santa Monica mountains.
Unlike the simple accommodations of a rail crew, this luxury caboose is fitted with a California King bed, a shower, toilet, vanity and a lounge space with a comfortable couch, chairs and an electric fireplace. Take in breathtaking views, wonderful sunsets and native flora and fauna right from your private deck. The caboose can be yours for $245 a night.
3

200-Year-Old Church (Athenry, Galway, Ireland)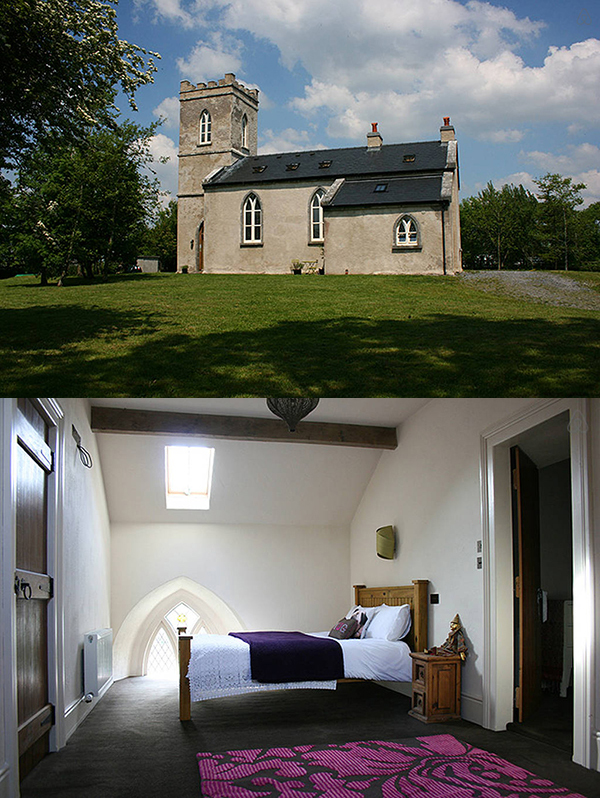 Looking for a quiet, contemplative place to rest your weary head? Check out Bookeen Hall, a former Church of Ireland Chapel, built in 1808. Part of the Dunsandle estate, the church was used for services by the estate's Church of Ireland congregation. Built in stone, the rectangular hall with its large gothic windows and solid bell-tower can be seen across fields and woodlands, making it a distinctive and well known local landmark.
It was deconsecrated in 1920, and in 2008 it was given a new lease of life and converted into a two bedroom home. The guest bedroom is available to visitors who even have access to the bell tower/reading room with great views of the surrounding countryside.
4

Cubehouse (Rotterdam, Netherlands)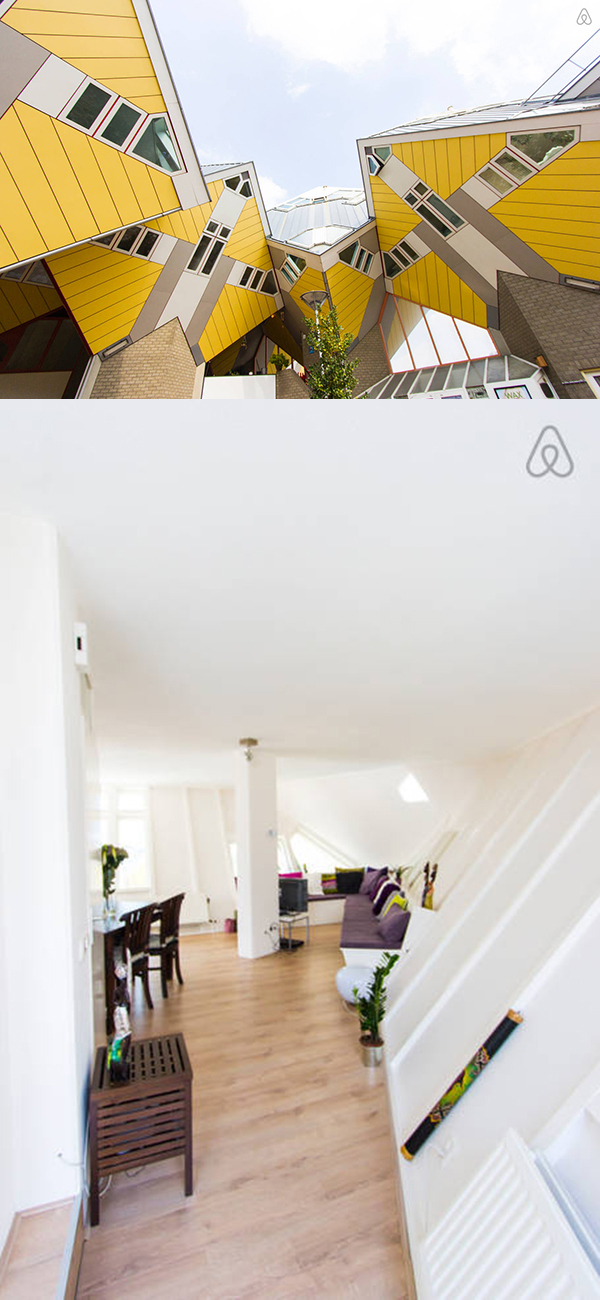 One of Rotterdam's famous Cubic Houses is available for rent on Airbnb. The houses were conceived and constructed by architect Piet Blom during the 1970s after Rotterdam town planners asked Blom to solve the dilemma of building houses on top of a pedestrian bridge. After having built similar houses in another town, Blom chose to repeat the design in Rotterdam.
Each cube sits tilted on a hexagonal pole. They are made up of concrete floors, concrete pillars and wooden framing. Inside, the houses are divided into three levels, accessed via a narrow staircase. The lower level is a triangular area used as the living room. The middle level houses the sleeping and bathing area, and the highest level is a spare area used either as a second bedroom or another living area.
The walls and windows are all angled at 54.7 degrees, providing an excellent view of the surroundings. However, despite a total area of 100 square meters, the angled structure means only a quarter of the space is actually usable.
5

Igloo Village (Plagne Mâcot-la-Plagne, Rhone-Alpes, France)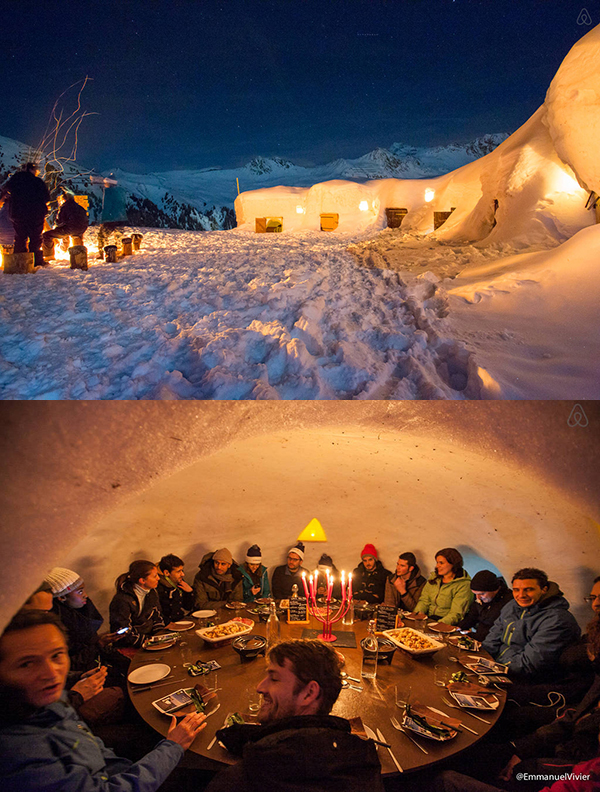 Ever wanted to sleep in an igloo village? Well, now you can. Spend a night immersed in a natural world of snow and ice for an unforgettable experience at an altitude of 2118 meters, facing the Mont Blanc La Plagne Paradiski resort in the heart of the Tarentaise.
For $154 a night, enjoy an aperitif (hot wine) around the fire after a 15-minute walk on a marked trail. A hot Savoyard meal will be served in the igloo restaurant, before vacationers retire to their "igloo multi," which can accommodate up to 5 people in one big bed.
6

Nanuku Levu (Fiji)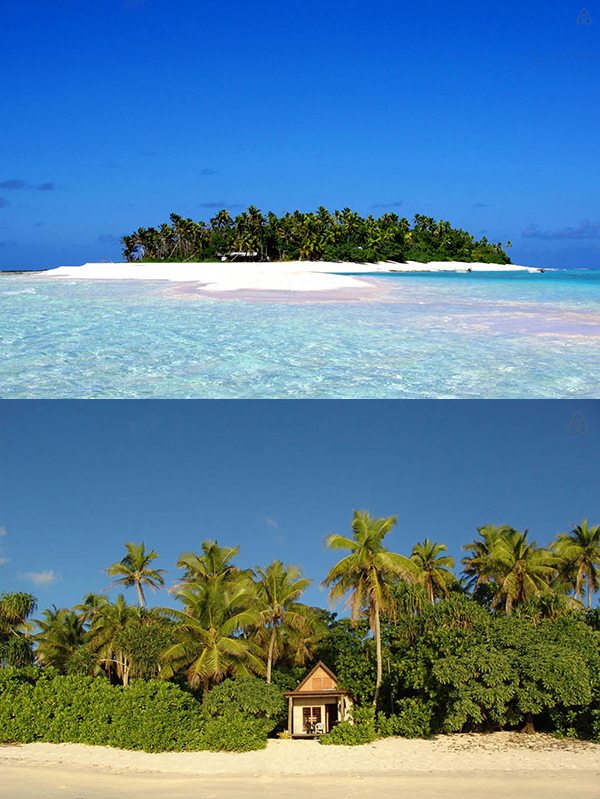 For the relatively low cost of $500 a night ($3000 a week) you can rent Nanuku Levu, a private island in Fiji.
15 miles of the South Pacific's signature sapphire sea lies between you and your closest neighbor (Red Bull's exclusive 7-star Laucala Island Resort).
This tiny 10-acre paradise is where time stands still. A marine and wildlife sanctuary, the sandy shores and surrounding reef of Nanuku are home to some of Fiji's most exotic creatures. Hundred year-old coconut trees burst from the jungle floor while fabled Hawkesbill and Leatherback turtles return year-after-year to bury their precious eggs in the sun-warmed sand. Giant clams rest securely within the safety of the Tuna and Trevally patrolled reef, and many of Fiji's rarely glimpsed sea birds retire to Nanuku to rest their weary wings.
Accommodations consist of two bures (Fijian-style homes) which are no more than ten steps from the sea. A local guide and housekeeper are provided, as are snorkels, a kayak, handline fishing gear and bed linens.
7

Conroy's Old Bar (Aglish Co, Tipperary, Ireland)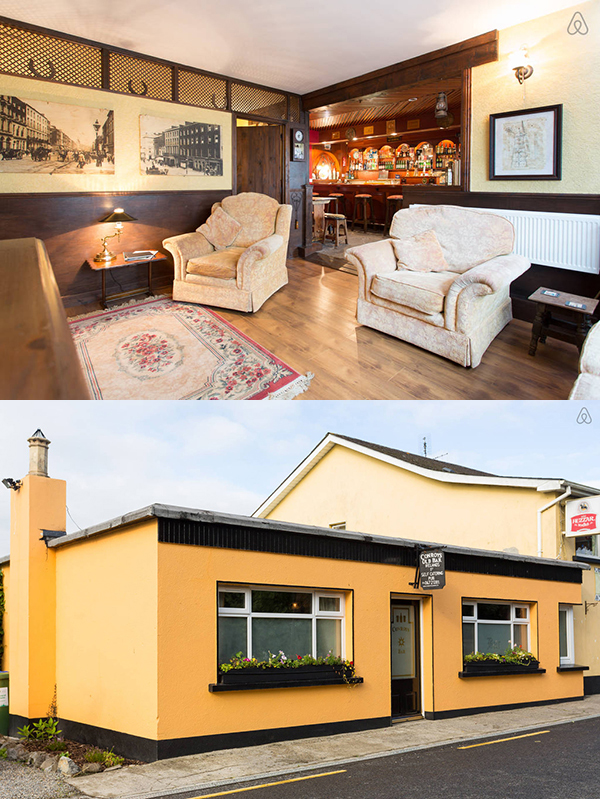 You can't get drunk at Conroy's Old Bar anymore, but you (and up to three others) can sleep it off at Ireland's (and the world's) First Self Catering Pub.
The Old Bar has retained all of its charm and character, including its open fire, and the original, highly polished mahogany bar, complete with bar pumps, optics and the original till. Neatly hidden behind the bar is a fully functioning kitchen, with fridge and full size cooker. The bar area with its Liscannor stone floor is also home to the dart board and skittles game.
At $128 a night, the Old Bar is a steal and is centrally located to the counties of Clare, Galway and Offaly. Nearby outdoor activities include fishing, swimming and boating, and if you do feel like stumbling home, there are pubs still serving alcohol nearby.
8

School (Groningen, Netherlands)

If you feel like the best years of your life were your school years, this accommodation in Groningen, Netherlands will bring you right back to the days of reading, writing and arithmetic.
This school turned colorful family home was built in 1927 and is listed by the council of Groningen. It's situated in an old neighborhood of the city and is near a beautiful old park. The home also features a south facing garden and 2 roof terraces.
The school can facilitate a maximum of 10 people and the price is relatively cheap at $147 a night.
9

The Seashell House (Isla Mujeres, Mexico)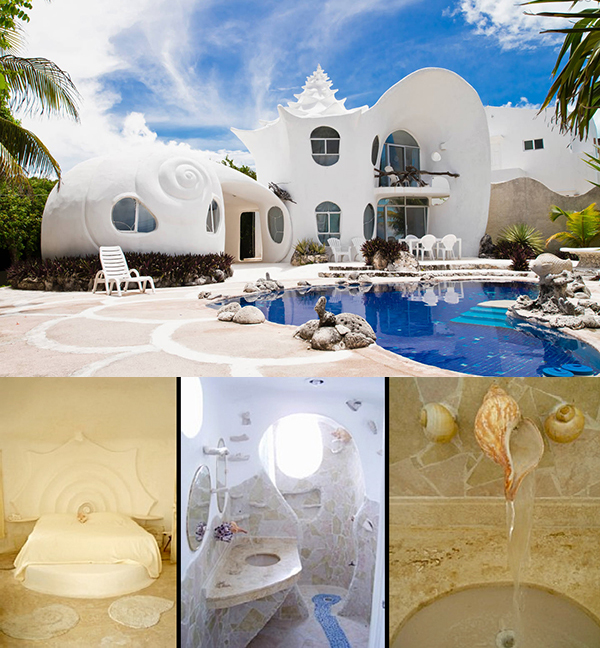 Seashell House owners, architect Eduardo Ocampo and wife Raquel, designed and built this unique residence in 1994 as a vacation home for Eduardo's brother, but the unique residence is now available as a vacation rental on Airbnb.
Located on the Isla Mujeres in Mexico, the Shell house has a sunken living space on the ground floor with a circular couch, AC, and a convenient half bath. The kitchenette is perfect for light meals and snacks can be enjoyed on a large patio with a private pool. Circular stairs lead to the master bedroom and a small balcony with an incredible view of the grounds and the Caribbean in the distance.
The baby shell next to the main house also has a shell themed king size bed, AC, full bath with shell fixtures, and a single bed that doubles as a couch. A tropical steal at $225 a night!
10

Tipis on a Farm (Meitar, Israel)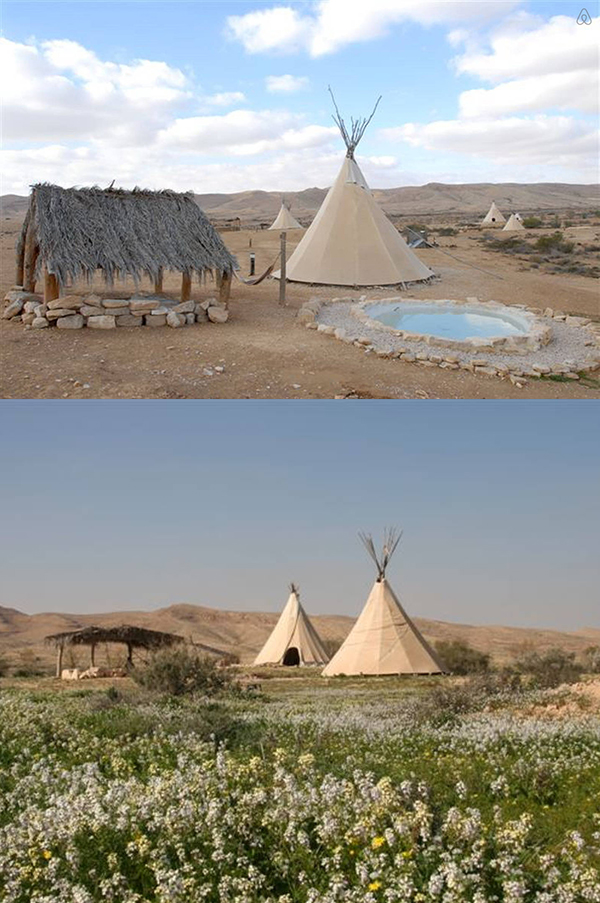 They look like they are right out of the American west, but these tipis are located
at The Desert Olive farm in Meitar, Israel.
The farm, established as part of a project called "The Wine Road," is situated at the foothills of Ritma Ruins - a fort dating back to the ancient Jewish period. There, along water streams, are scattered private tipi tents, shades booths, and a natural water reserve.
The tipis are well equipped with beds and heating (in winter), and are safe, cosy and comfortable.