1

Baby throws up in mother's mouth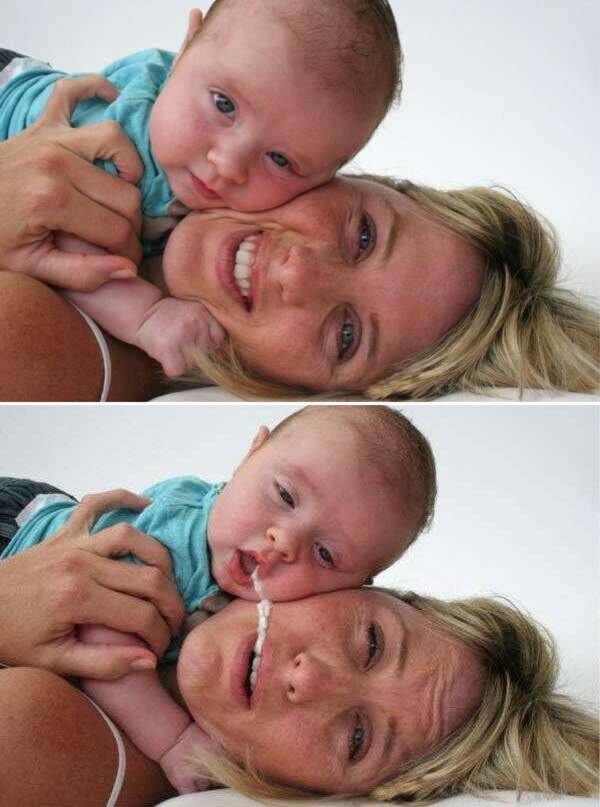 Imagine getting in front of a professional photographer ready to shoot some pictures that you plan to send out to everyone you know and this happens.
Kinda, ruins the whole mood, doesn't it?
2

Bridge collapses under teens taking prom pics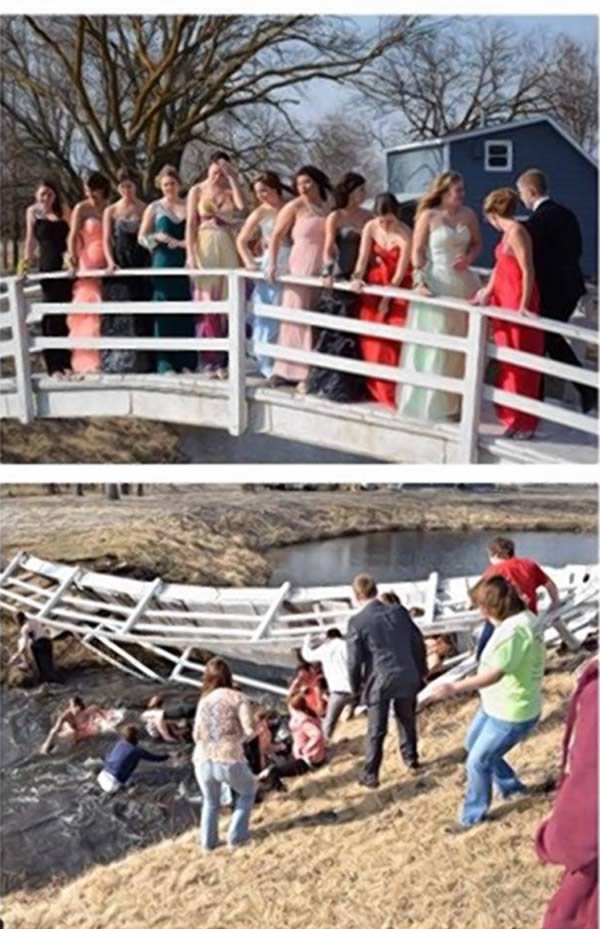 In 2014, seniors at a Nebraska high school made a real splash before their spring prom, but not in the way they were intending. Some Pierce High School students were posing for picturesque pre-event snaps on a rickety old white bridge when it collapsed and sent them all splashing into the 4-foot-deep water. Luckily, no one was seriously hurt.
Despite the incident, the group still managed to attend the prom — with many of the teens changing into older outfits for the bash.
3

Newborn baby poops on his father's arm during tender b&w photoshoot

In one black and white photo, the father's smiling face gazes serenely at the camera, an image of pride and joy as he cradles his sleeping infant son in his forearms like a football. The naked baby's gangly arms and legs dangle, his little head pillowed comfortably in the palm of his dad's hand.
The chaos that ensued an instant later — as the baby pooped — reminded Al Ferguson that the hazards of handling a sleeping, naked newborn are very real, and very messy.
"It happened within a second," said Ferguson, a 26-year-old blogger from Kent in the United Kingdom. "As I felt his stomach tense, in the back of your head you know he's about to go poo, and then before you know it … he's doing it."
Photographer Kirsty Grant somehow caught it all in pictures that have since gone viral: the little smile on baby Ted's face, the sudden shock as dad looks down, the projectile stream coating dad's arm on its way to embedding itself in the shag rug in the Ferguson family sitting room.
4

Wedding photoshoot is interrupted by charging bull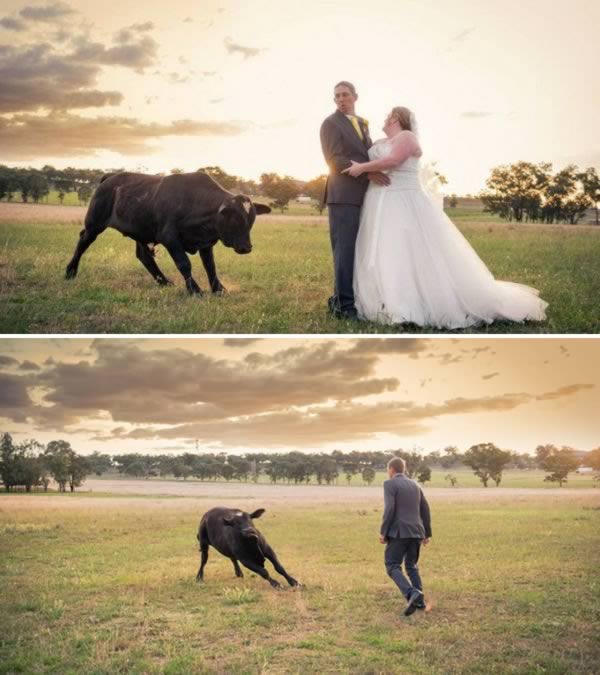 We've seen many inopportune photobombers crashing wedding shoots -- but never have we seen a crasher quite as scary as this bull.
Rachel Deane of Finishing Image Photography was shooting a wedding in Tamworth, Australia. A bull wandered into the scene and charged at the couple. Brian, the groom, rose to the occasion. He charged right back at the much larger bull, chasing it away.
Well folks, apparently, chivalry is not dead!
5

Bride drowns in shallow water during last photo shoot in dress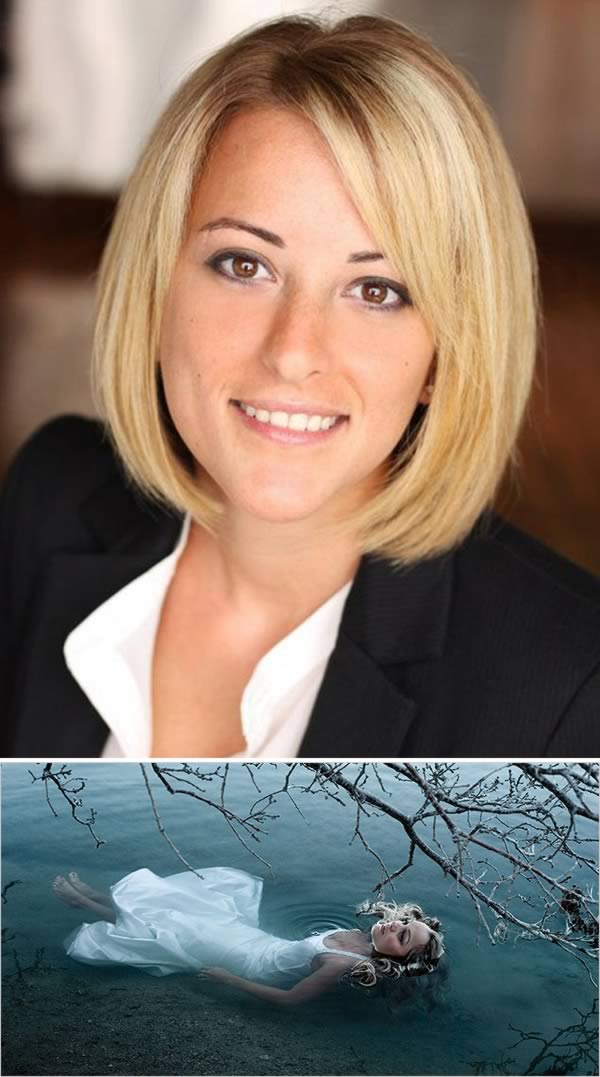 In August 2012, a Canadian woman modeling for wedding photos a month after her nuptials drowned after her dress got wet and dragged her into the depths of a lake.
Maria Pantazopoulos was being photographed for a "trash-the-dress" session — a relatively new fad where brides will take photos of themselves in their bridal gowns in messy situations with the reasoning that the dress no longer needs to remain in mint condition.
Pantazolpoulos, in this case, was standing in a lake near Dorwin Falls in Rawdon, Quebec, when the current dragged the 100-pound woman under the water. Her last chilling words were: "I can't anymore, it's too heavy."
The photographer, Louis Pagakis, cast aside his camera equipment and attempted to save her with the help of a passerby, but they couldn't lift her out of the water or stop her from being carried away, simply because her dress was so heavy.
6

Groom kicks bridesmaid in the head plus splits his pants during wedding photos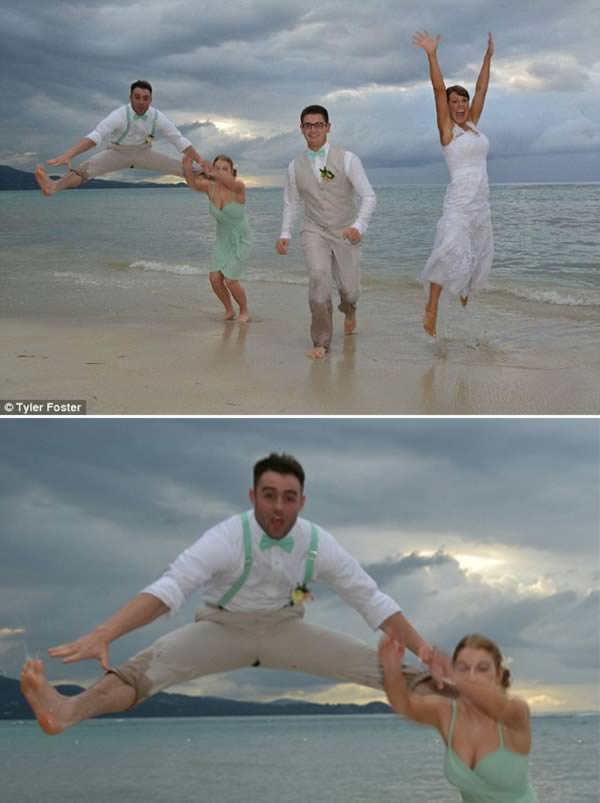 A groomsman's attempt to do a split in the air for a wedding snap has become memorable for all the wrong reasons.
Tyler Foster, of Spokane, Washington, decided to do an impromptu jump in a photo session on the beach – but ended up kicking a bridesmaid in the head and ripping his pants.
Luckily, the woman in question wasn't hurt by the 28-year-old's acrobatics.
It seems the only damage done was to Mr Foster's pride... and pants.
7

Dog serving as ring bearer ruins wedding photos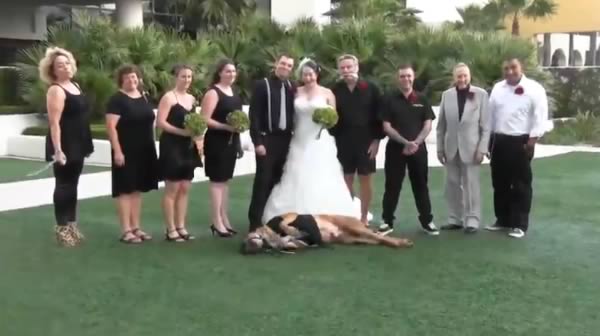 Wedding planning can be stressful, and we know you may not welcome tips from complete strangers (although one Facebook user has a great idea for how to explain invites), but allow us to offer up one piece of advice: Don't ask your dog to serve as your ring-bearer.
We say this after watching Jethro do anything except lie still and face the camera while his owner tried to pose for her wedding pictures. Even though, as she tells him, master and canine talked about his behavior prior to the shoot. It didn't appear to have much of an effect, however.
It could have been worse. The dock on which she and her entire wedding party were standing could have fallen into the water. Like the next photoshoot on our list.
8

Dock collapses during group portrait at a wedding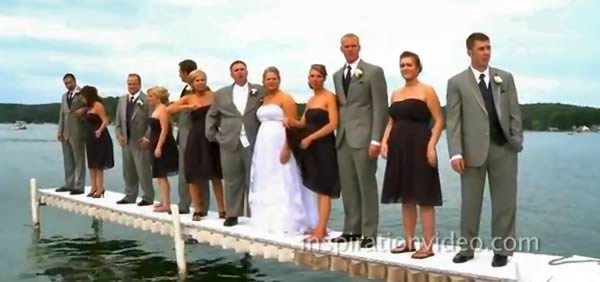 No matter how many times we warn photographers not to pack a large group of people onto a rickety bridge or dock for a massive group portrait photo, no one seems to listen.
The entire bridal party got a soaking when a dock at the Bay Pointe Inn on Gun Lake in Shelbyville, Michigan, collapsed. What's worse, when Eric and Maegan Walber fell into the water during a photo shoot, Mr. Walber swam for shore, rather than rescuing his dunked bride.
9

Family beach portrait sums up parenthood in hilarious way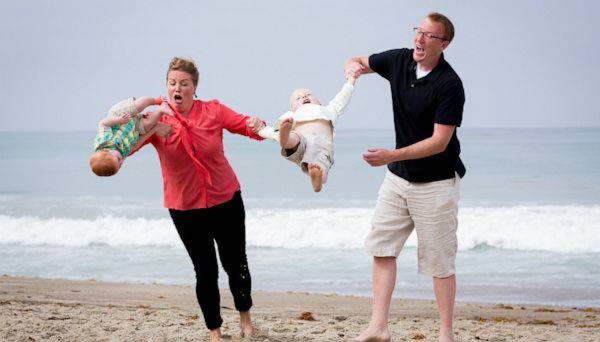 What started as a leisurely, enjoyable family reunion beach photo shoot in San Clemente, Calif., quickly turned into one of the most horrifying, yet candidly hilarious moments caught on camera.
"In my family we have about 18 of us, and a lot of kids," Steve Cramer, 32, of Castle Rock, Colo., told GoodMorningAmerica.com. "We started out taking the large photo getting everyone to smile, but as you can imagine, getting all those kids to sit and smile doesn't go so well.
"When we finished with that, my 4-year-old was done. He had had enough. But my wife and I were all on the beach in the coordinating outfits and we really wanted to get one good picture to show off our happy family, but it wasn't going so hot."
To help ease the children's nerves, someone suggested the family try to do a candid pose to distract the young boys with some fun.
"We swung them around a couple times, but the final time I heard my wife just go, 'Ahhhh!' so I turn around and I see my son just gracefully and peacefully doing this full layout back flip, landing flat on his back in the sand," Cramer explained. "We were just shocked."
Fortunately, their 6-month-old son Edison was perfectly fine and after a few tears, bounced back within minutes.
Once the family had regained composure, Cramer and wife Elizabeth took a peek at the pictures the photographer had captured, curious if the spontaneous moment had been caught on camera. It had, and the photo now raked in nearly 2 million views after being posted to Reddit.
10

Toddler refusing to smash up his birthday treat for photoshoot turns into viral time-lapse video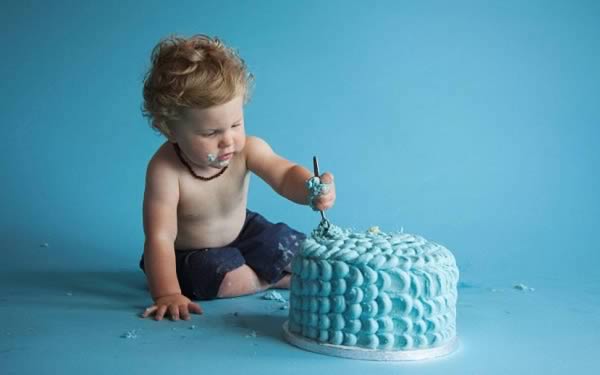 It should have been a piece of cake, but this was the hilarious result when a studio photographer tried to get a toddler to smash a cake to mark his first birthday.
Instead of happily getting messy, little Josh Holford did everything but, and spent an hour crawling around the studio.
Bradley, who runs Blinc Photography in East Grinstead, East Sussex, came up with the idea of shooting children bashing cakes after seeing pictures of messy babies. The photographer – who also works in marketing – has been shooting for the last ten years, but reckons little Josh was his most trying client.
The youngster eventually ended up covered in some of the cake, although he didn't fully demolish it as planned, but Bradley turned the session into a funny time-lapse video which went viral.