1

#FreeTheNipple Bikini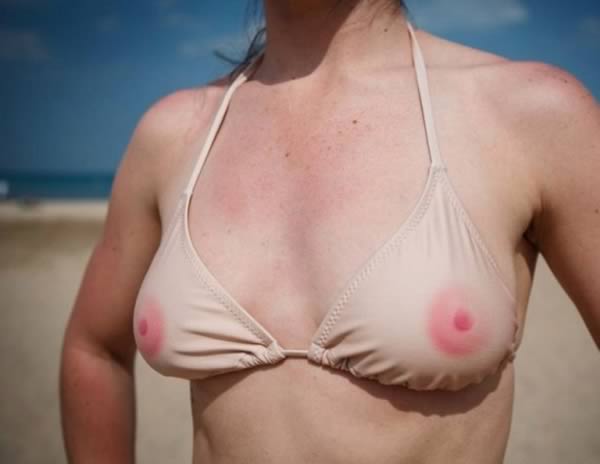 While men are free to walk as shirtless as they please, being a topless woman is illegal in some American states. With that in mind, this bizarrely realistic garment, created by Robyn Graves and Michelle Lytle, has been created in order to tackle the lack of gender equality when it comes to bearing all.
Although not directly associated, this bikini hits (online) shelves in the wake of the #FreeTheNipple movement. The campaign – originally started by filmmaker Lina Esco – has seen hundreds of women parade topless around New York to end gender-specific double standards.
2

Bubble Wrap Bikini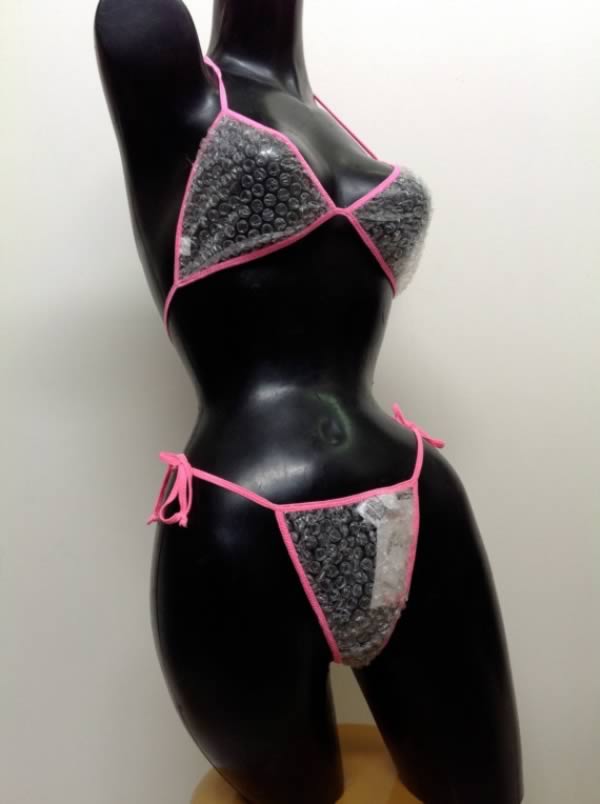 People are pretty much obsessed with bubble wrap and people love bikinis, so it was only a matter of time until someone came up with the Bubble Wrap Bikini. As you can see, the bikini leaves nothing to the imagination.
The bubbles on the bikini aren't the only thing that'll go pop when you wear it to the beach, that's for sure.
3

3D-Printed Bikini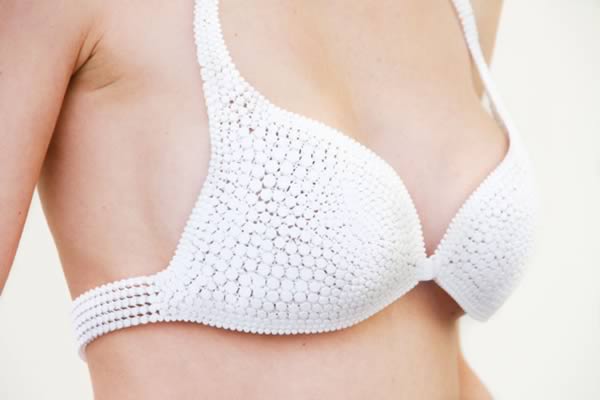 Behold the N12, the first 3D-printed bikini ever, a high-tech garment that's the result of a collaboration between Continuum Fashion and Shapeways. For something that's completely customized to your own shape, the price isn't even too bad – the top will set you back about $260. As well as being the first 3D printed bikini, it is also the first bikini that actually becomes more comfortable when it gets wet.
The N12 is named for nylon 12, the waterproof material it's printed from.
4

Evil Devil Bikini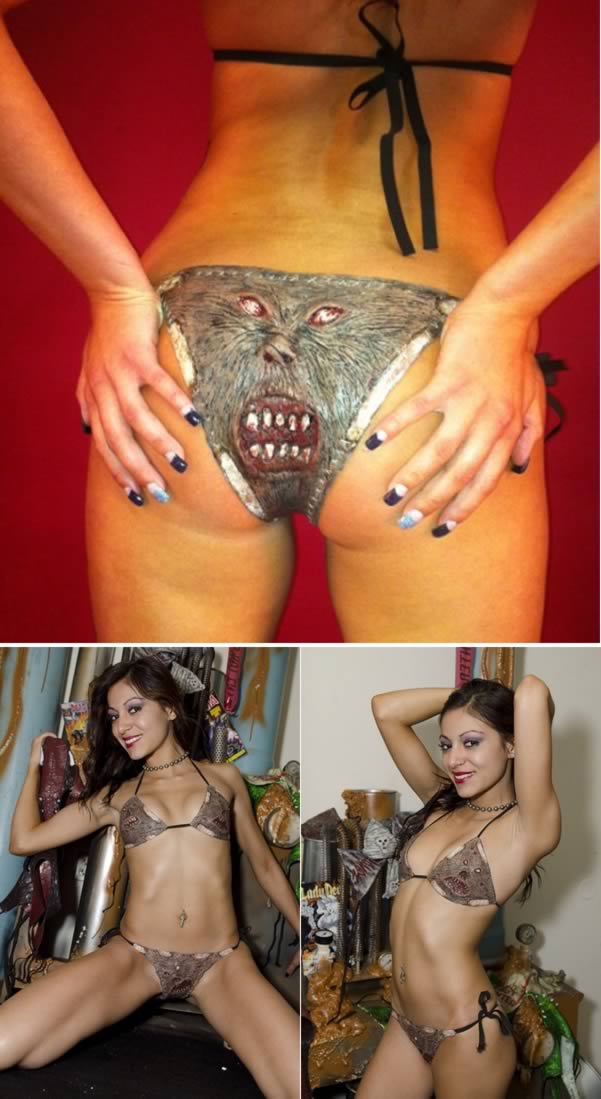 Geek gals are always looking for cool apparel, especially when it comes to comfortable swimwear. So, here's some good news: Now, there's an Evil Dead-inspired Necronomicon bikini that's supposedly "super comfortable," according to its makers.
The made-to-order Brazilian-cut silicone bikini, available through Etsy by Bloodlust Productions, is styled after the human flesh-bound Book Of The Dead, the Necronomicon Ex-Mortis from Sam Raimi's original Evil Dead movies.
5

Swarovski Bikini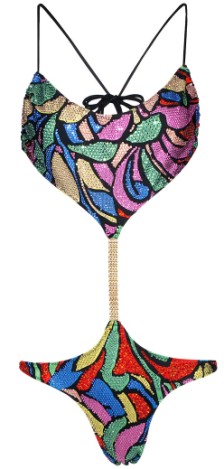 In 2009, Designer Pistol Panties created the Swarovski crystal-coated Bling-kini, which was on sale at Selfridges for £2,000 (almost 3,500 U$), or £100 (U$ 170) per square centimeter.
6

Sharkini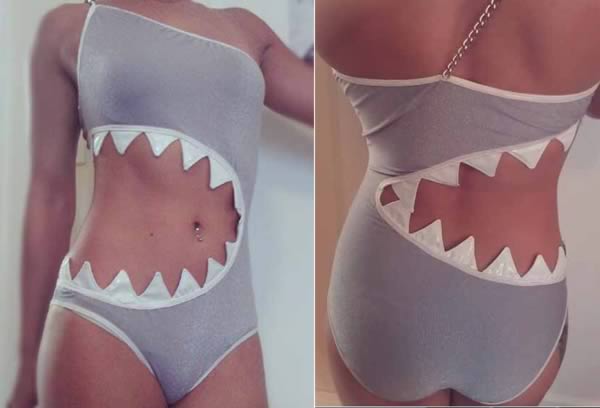 Check out this totally jawesome Sharkini. The toothy swim suit was designed by Bad Aby Designs and is being sold over at Storenvy for $100.
7

TARDIS Monokini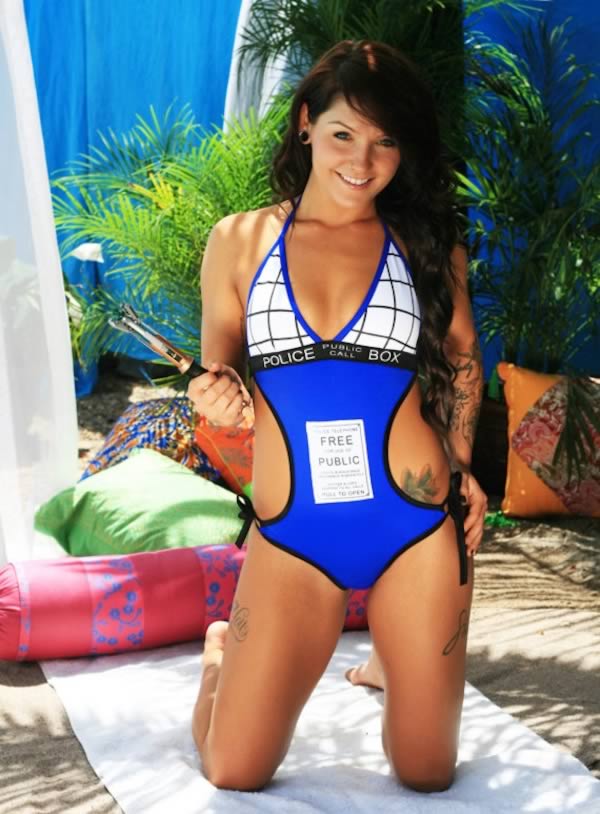 Turn yourself into a time-traveler this summer with a TARDIS swimsuit. Available as a bikini or a monokini, it's made from TARDIS blue swim fabric with a top that's designed to look like the famous blue box's windows. Now, you just have to wait for The Doctor to find you and you'll be all set.
8

Geekini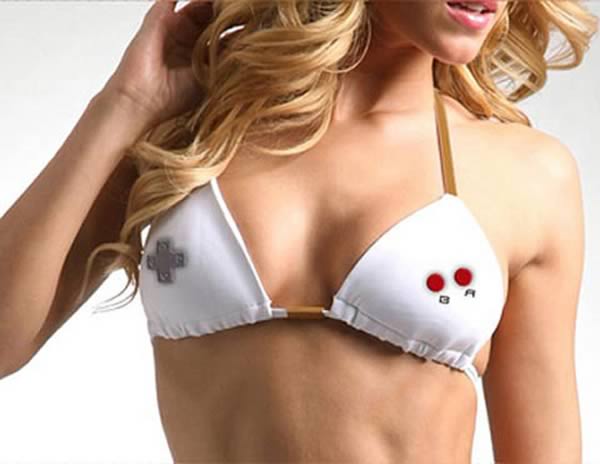 French clothing designer John Nouanesing knows few things are hotter than a sexy geek and keeping the geeky ladies in mind, he's designed the Geekini, a two-piece bikini with appropriately placed buttons, resembling an old school Nintendo controller. You can find the start and select buttons on the bikini's bottom.
9

Duct Tape Bikini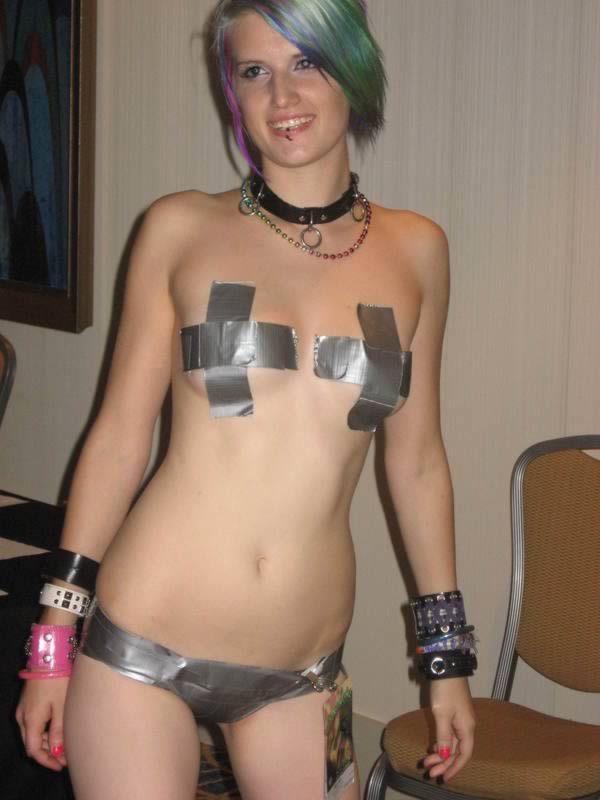 Duct tape has a variety of uses and has come a long way since its original use for sealing duct work and repairing household items. One fun use for duct tape is to make clothing and other craft projects. There are contests for duct-tape clothing items, such as the duct-tape prom contest sponsored by Duck Brand duct tape. You can make a duct-tape bikini in a few hours using approximately two rolls of duct tape.
10

Chainmail Bikini Tops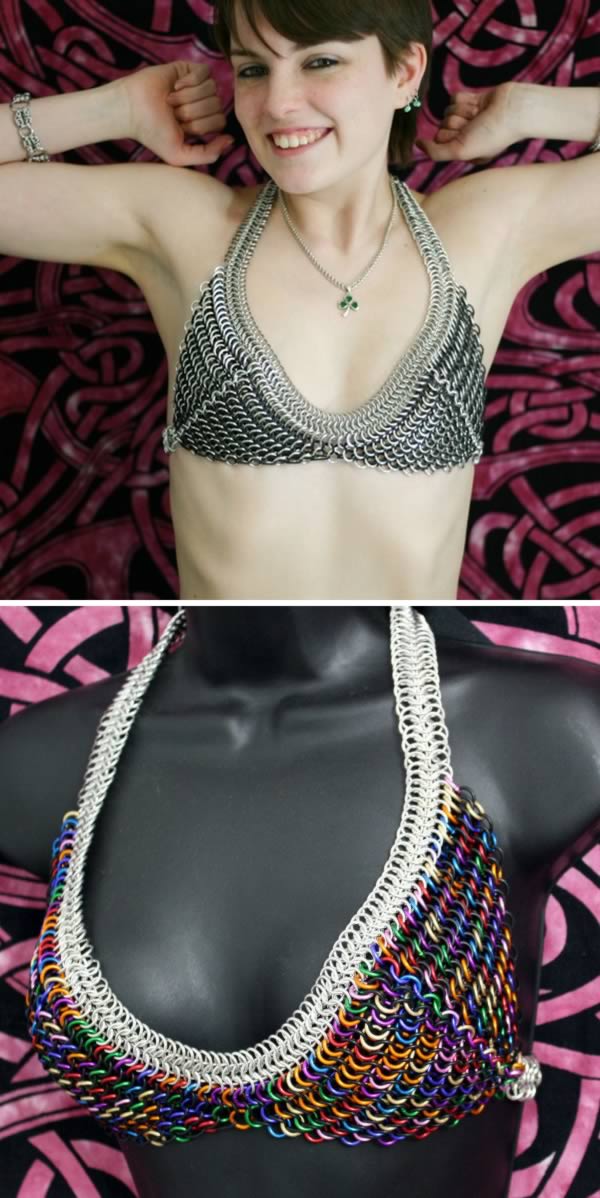 These are chainmail bikini tops custom made by Etsy seller UtopiaArmoury. They are handmade, swim-friendly, waterproof and made from saw-cut bright aluminum and latex-free EPDM rubber. These are supposed to be "extremely comfortable" and light, weighing only a half pound, and tie in the back and at the neck with a wide satin ribbon for the ultimate in comfort and adjustability.
A custom top like the one pictured above will set you back $175.