1

Atuk (never produced)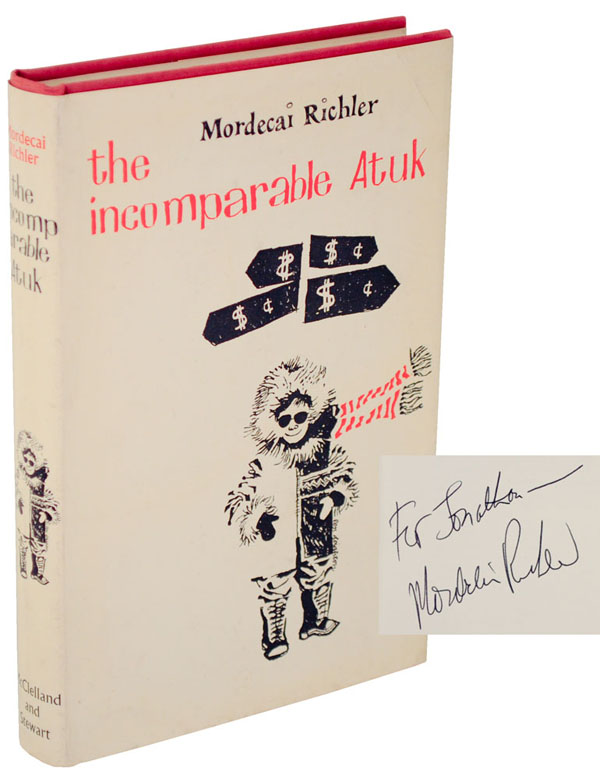 Atuk, written by Tod Carroll, is an unproduced screenplay based on the 1963 novel The Incomparable Atuk by Mordecai Richler. The premise of the story involves an Inuit Eskimo who finds himself adapting to the language, culture and fast-paced life of New York City. Hollywood believes that the never-made screenplay is cursed, as proven by the unexpected deaths of several major actors considering taking part in the film. Let's take a look at Atuk's many victims:
Comedian and actor John Belushi read the script and was reportedly enthusiastic about taking on the the role of Atuk. Shortly thereafter, in 1982, he was found dead of a drug overdose. He was 33 years old.
After Belushi's death the part was offered to Sam Kinison. Kinison lived long enough to film a scene, but was not happy with the result and halted production on the film for extensive rewrites. Just as production started ramping up again in 1992, Kinison died in a head-on collision at just 38 years old.
Two years later, John Candy was approached for the role of Atuk. Candy read the script and was considering playing the part when he died of a heart attack at age 43. Several months after Candy's death, writer and performer Michael O'Donoghue died unexpectedly of a cerebral hemorrhage. It was reported he read Atuk with Candy.
Hollywood wasn't yet ready to give up, and offered the role to SNL alum Chris Farley. Aware that John Belushi had been previously attached, he immediately expressed interest and was about to accept the offer when he died of a drug overdose. Like Belushi, he was only 33 years old. Farley's friend, comedian Phil Hartman was interested in taking a supporting role in the film after reading the script at Farley's insistence. He, too, died unexpectedly after being shot by his wife.
With the body count at six and holding, a terrified Hollywood has since shelved Atuk with the likelihood that it will never be made.
2

Rebel Without A Cause (1955)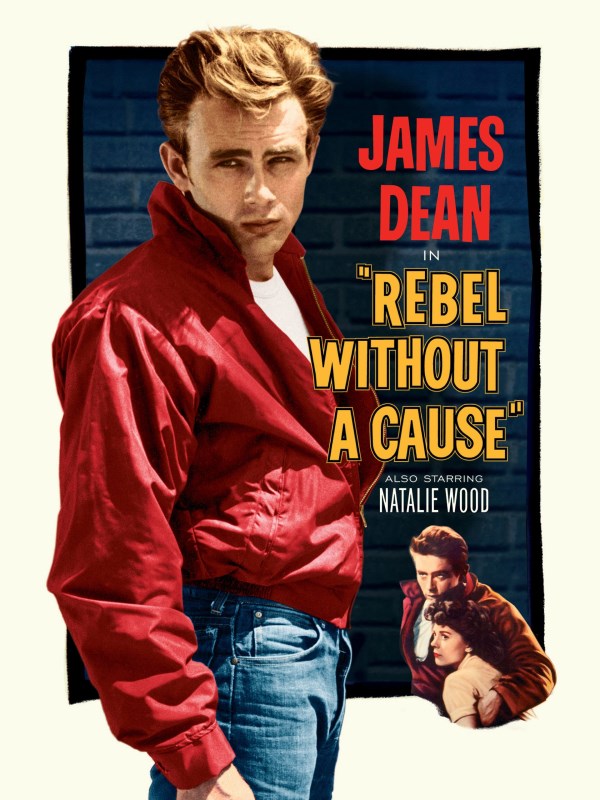 Is the 1950's classic Rebel Without A Cause cursed? It may be. Four of the film's stars – James Dean, Sal Mineo, Nick Adams and Natalie Wood – all died unexpectedly. Rebel's success may, in part, relate to the fate of its budding stars, particularly James Dean.
On September 30, 1955, Dean was driving his newly purchased Porsche 550 Spyder to an auto rally in Salinas, CA. Dean liked to drive at high speeds, a hobby some feared would end up costing him his life. On this particular trip, he was pulled over by police and issued a speeding ticket before being sent on his way. Two hours later, Dean was traveling again at a high rate of speed and involved in a head on collision with an approaching car. Dean died instantly. He was 23 years old. Rebel was not yet in theaters.
Rebel co-star and Dean confidante Nick Adams also died under mysterious circumstances. His body was discovered by his lawyer at his home on February 7th, 1968, after he failed to show up for a dinner meeting. The cause of death was listed as accidental suicide.
Less than 10 years after Adam's death, actor Sal Mineo was stabbed in an alley behind his apartment building and killed instantly. A pizza deliveryman was arrested and convicted of the crime, and several motives for the murder were considered including robbery (although Mineo was left with money, jewelry and car keys on his person), drugs and sexuality, but his death remains shrouded in mystery. The man who eventually confessed to the murder didn't match any of the witnesses' descriptions, and claimed he had no idea who Mineo even was.
In 1982, Natalie Wood also died under mysterious circumstances during a weekend getaway with husband Robert Wagner and actor Christopher Walken. It was initially ruled that Wood died from accidental drowning, but the case has since been reopened.
None of the main actors from Rebel lived past the age of 43.
3

Poltergeist (1982)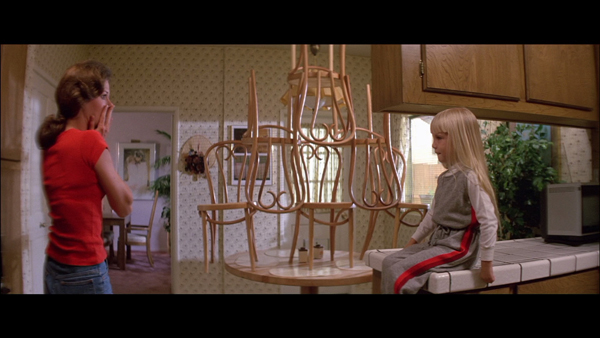 Released in 1982, Poltergeist was a smash hit which spawned two sequels (neither of which are as good as the first film). The film follows the story of the Freelings, a middle-class family whose life is turned upside down when a number of paranormal events occur in their California home.
The majority of the fuel for the alleged curse stems from the deaths of multiple cast members. Four actors died during or immediately following filming. Heather O'Rourke played Carol Anne, a little girl abducted by ghosts. In 1988, the 13-year-old died of cardiac-pulmonary arrest and septic shock, the result of an undetected intestinal blockage. Dominique Dunne, who played her older sister in the film, was strangled by her ex-boyfriend during a brutal argument. She never regained consciousness and died at 21.
Two other cast members met with tragedy during the the franchise, but their deaths were not at all mysterious – they both died from long standing illnesses. Still, other creepy legends surround Poltergeist. It's been rumored that producer Steven Spielberg insisted upon using actual human skeletons as props in an attempt to save money – at the time they were cheaper than fabricated skeletons. Actor Will Samson, a Native American shaman, performed an on set exorcism for Poltergeist II after learning that the skeletons for the first movie were real.
4

The Man Who Killed Don Quixote (never finished)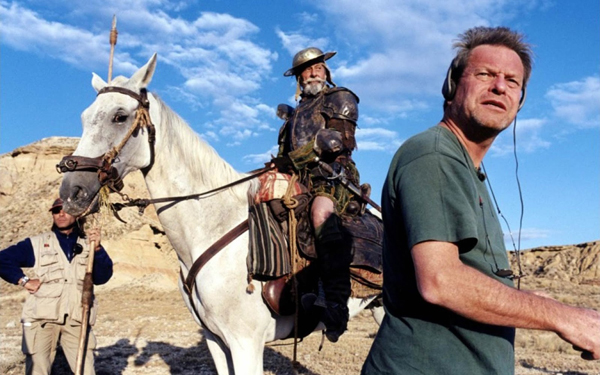 There is a rumored curse that befalls directors who attempt to adapt Don Quixote for the screen.
Orson Welles began filming the classic story in 1957, but the project was so blighted by financial crises, Welles had to stop filming every so often to take on other acting and directing jobs just so he could resume filming. Welles died in 1985 never having finished the movie.
Enter Terry Gilliam, visionary director and animator of Monty Python fame. In 2000, Gilliam started work The Man Who Killed Don Quixote, starring Johnny Depp.
Almost immediately Quixote was doomed – while on location in Spain the cast and crew endured NATO planes constantly buzzing overhead (many of the pilots just wanted to get a good look at Depp), a severe back injury to the actor playing Don Quixote (Jean Rochefort) and a flash flood that ruined the location's landscape and damaged equipment. This bad luck set the production back $16 million and it remained in limbo for nearly a decade.
In 2009, Gilliam announced he would resume work on Quixote with different actors, but the financing never came together.
Gilliam has tried 10 times to get The Man Who Killed Don Quixote off the ground and has been met with some form of back luck every time. However, he's trying yet again and says he will resume shooting on September 29, 2014 in the Canary Islands. Gilliam says, "It's obsessive…desperate…pathetic…foolish...it's this growth, this tumor that's become part of my system that has to get out if I'm to survive."
Check out the documentary Lost In La Mancha, a behind-the-scenes look at Gilliam's Quixote saga:
5

Fitzcarraldo (1982)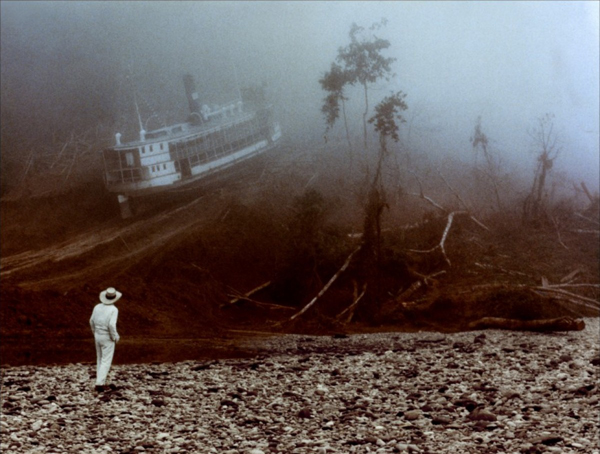 Fitzcarraldo, the story of a charismatic rubber baron who drags a steamship over a mountain, was a doomed and ambitious production from the start.
Shot entirely on location in the Peruvian jungle, Klaus Kinski played the role of Brian Sweeney Fitzgerald, a music-loving Irishman who is determined to bring opera to the jungles of Peru. Kinski replaced Jason Robards who came down with dysentery while filming. Director Werner Herzog had to rewrite the lead roles and reshoot the four months of work already completed as a result of his illness.
The jungle in which production took place was fraught with dangers. There were stories of swollen limbs, pus-filled appendages and two of the native extras were attacked in the middle of the night. The filming occurred during one of the driest summers on record and scavenging Amahuaca tribespeople launched a hit-and-run raid on the film camp. One woman was shot through the stomach with a foot-long arrow and a man's carotid artery was nicked as another arrow lodged in his throat. Both survived.
There were two plane crashes, in which five people were critically injured and one was paralyzed, and the death of a young highland Indian who drowned after borrowing a canoe without permission. Among more than a thousand extras, a few perished from disease. A Peruvian logger bitten by a deadly snake made the dramatic decision to cut off his own foot with a chainsaw to prevent the spread of the venom.
All these events were peppered with daily tantrums from Kinksi. The angry outbursts of the raving actor were incomprehensible and terrifying to the Native Indians and at one point a local chief approached the director and offered to have Kinski killed.
Fitzcarraldo was miraculously completed and Warner Herzog won Best Director at the Cannes Film Festival in 1982.
Check out one of Klaus Kinski's legendary on-set meltdowns below:
6

The Exorcist (1973)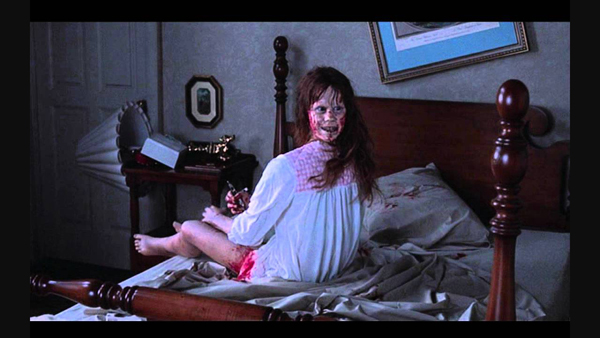 The Exorcist is based on a novel of the same name by William Peter Blatty, which in itself is based on an actual event involving the reported possession of a young boy. The novel was extremely successful and spawned a film in 1973.
Depending upon who you talk to, there were between four and nine deaths – accidental and natural – associated with the production including cast, crew, and relatives of those working on the film. Actress Ellen Burstyn addressed the deaths in her 2006 autobiography.
The interior sets of the main residence, except for Regan's (Linda Blair's character) bedroom, were destroyed by an inexplicable studio fire and had to be rebuilt, causing production to be delayed by six weeks. Director William Friedkin has claimed that a priest was brought in numerous times to bless the set. There were also injuries on set – Blair's harness broke when she was thrashing on the bed, permanently injuring the actress. Burstyn also received a spinal injury when her character was thrown from the bed by her possessed daughter.
In a strange coincidence, post-production for the film was done at 666 Fifth Avenue in New York City.
When The Exorcist was released, first public screening reports were flowing in of fainting, vomiting, heart attacks, and at least one miscarriage. In Berkeley, a male patron received injuries when he threw himself at the screen to "get the demon." Later, the Toronto Medical Post reported that four women had been confined to psychiatric care after seeing the film.
7

The Omen (1976)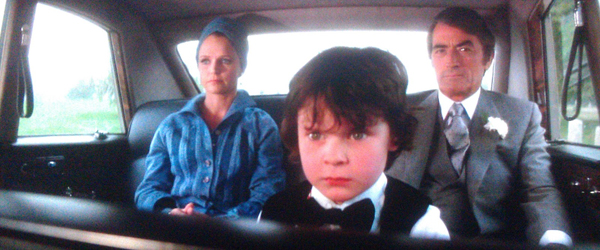 The Omen is the mother of all cursed film productions. Star Gregory Peck and screenwriter David Seltzer took two different flights to the U.K. and both were struck by lightning. Producer Harvey Bernhard was almost struck by lightning while shooting in Rome. (For those of you who have not seen the film, a priest is impaled by a piece of a cross loosened by bolt of - yes, you guessed it – lightning.)
Oh, but we are not finished with plane mishaps! Director Richard Donner and some of his crew also planned to charter an airplane. The company needed the plane that day and offered Donner a discount if they waited an extra day or two. Donner agreed and the airplane that they would have been on had engine trouble and crashed, killing all on board. The plane crashed into a car and killed all of its passengers. Ironically, the passengers in the vehicle were the wife and two children of the pilot.
Near fatal accidents continued to plague the cast and crew. During production, a restaurant Donner and Bernard were meeting at was bombed by the IRA and on another occasion, Donner was hit by a car. Months later, while the film was in post production, special effects supervisor John Richardson was driving on a road in Belgium with his girlfriend and was involved in a head on collision. His girlfriend was beheaded (Richardson came up with the beheading sequence that was used in the film). He survived and when he regained consciousness he saw a sign that read next town was 66.6 kilometers away.
Animals also behaved strangely during production. The dogs that were featured in the film's cemetery scene attacked their trainers and a security guard was attacked and killed by lions after the crew had finished filming (the lion sequence was never used).
8

The Wizard Of Oz (1939)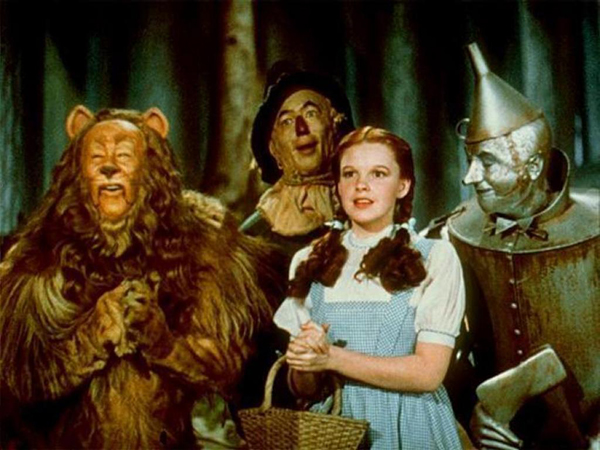 This timeless classic was once a doomed Hollywood production. For starters, there were no less than 5 directors (each with different visions) at the helm. No fewer than 17 writers had an uncredited hand in it, among them poet Ogden Nash.
Once The Wizard Of Oz began filming, there were a series of on set mishaps. The original Tin Man, played by actor Buddy Ebsen, had to step down after an allergic reaction to the aluminum dust used on his costume caused his lungs to fail. He was replaced by Jack Haley who also had an eye infection from the makeup. The Wicked Witch, played by Margaret Hamilton, was badly burned while filming a scene in which she explodes into flames. Her stunt double didn't fare much better and was also burned while Hamilton was recuperating. The wires holding the flying monkeys also gave way and sent several actors crashing to the ground. The dog who played Dorothy's loyal companion, Toto, misbehaved resulting in take after take, and even broke her paw when one of the witch's guards accidentally stepped on her.
The Wizard Of Oz was considered a flop upon its initial release, but thanks to television, it is now part of our cultural DNA.