In the early 20th century, people who were born with deformities would join (or be forced to join) circus sideshows – attractions that were popular all over Europe and the US. For most of them, this was the only way they could earn money.
The golden age of American and European freak shows – traveling exhibitions and carnival attractions, often of disabled or disfigured entertainers – spanned about a century, from roughly 1840 to 1940.
1

Isaac W. Sprague, The Living Skeleton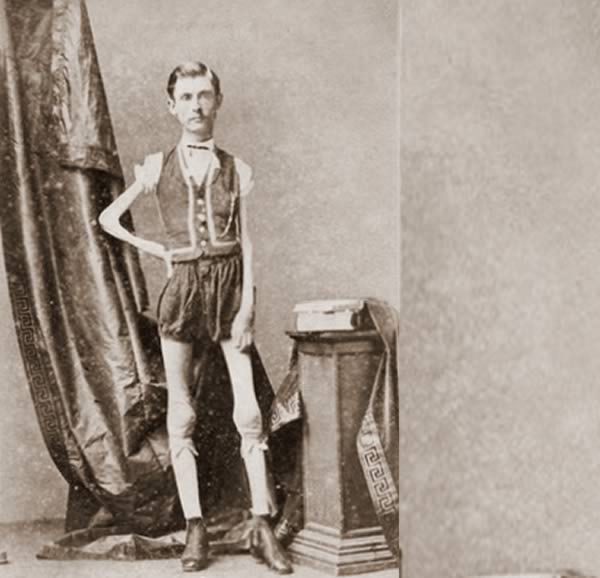 Isaac Sprague, born in 1841 in East Bridgewater, Massachusetts, was famously known as the Living Skeleton. He was a normal kid until age 12, when he started to lose weight. By age 44, he was 5'6'' and weighed only 43 lbs. Sprague was examined by many eminent physicians who gave no diagnosis other than a general wasting syndrome. He ate as much as two normal sized men and carried a flask of sweetened milk to revive himself when he felt faint. He married twice and had 3 average sized sons.
Sprague died at age 46 after working in sideshows since he was 24.
2

Stephan Bibrowski, Lionel the Lion-Faced Man
Stephan Bibrowski (1891–1932), better known as Lionel the Lion-Faced Man, was a famous sideshow performer. His whole body was covered with long hair that gave him the appearance of a lion; this was likely due to a rare condition called hypertrichosis.
Bibrowski was born in 1891 near Warsaw in Poland with one-inch hair covering his body. His mother blamed the condition on the mauling of his father by a lion, which she witnessed while pregnant with Stephan. She considered Stephan an abomination and gave him to a German impresario named Meyer when he was four. Meyer gave him his stage name and started exhibiting him around Europe.
By the time he was put on exhibit, Lionel's hair had grown to eight inches (20 cm) on his face and hung about four inches (10 cm) everywhere else. His body was almost entirely covered with hair, the only exceptions being the palms of his hands and the soles of his feet. In 1901, Lionel traveled to the United States and started appearing with the Barnum & Bailey Circus.
By the late 1920s, Lionel abandoned his sideshow career and moved back to Germany. He was reported to have died in Berlin from a heart attack in 1932 at the age of forty-one.
3

Otis Jordan, The Frog Boy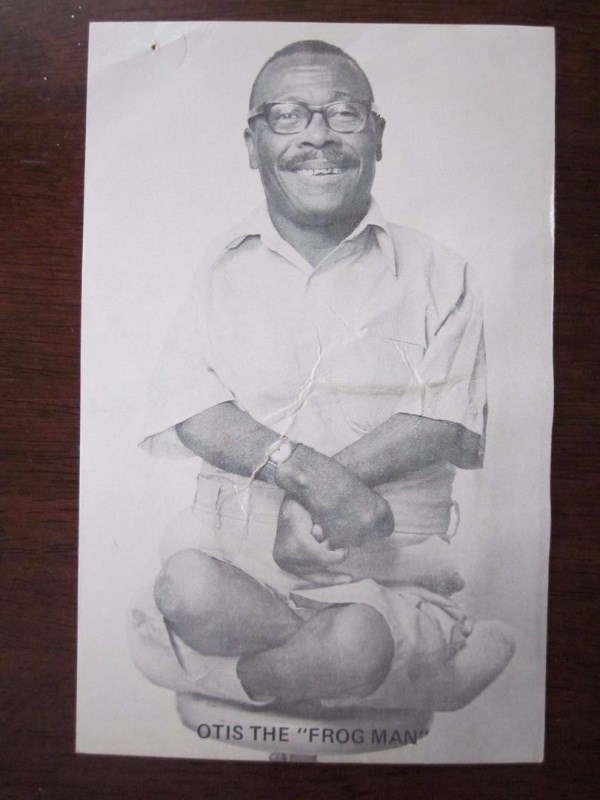 Otis Jordan was an African-American who had (according to one of his many admirers) the body of a four-year-old, but a normal head with "a noble, scholarly face."
Beginning in 1963, he performed as "Otis the Frog Boy," with part of his routine being to roll, light, and smoke a cigarette using only his lips. When his act was shut down in 1984 after a woman complained about the exhibition of disabled people, Otis moved to Coney Island where he continued working with the more politically correct billing, "The Human Cigarette Factory."
4

Ruth Davis, The Penguin Girl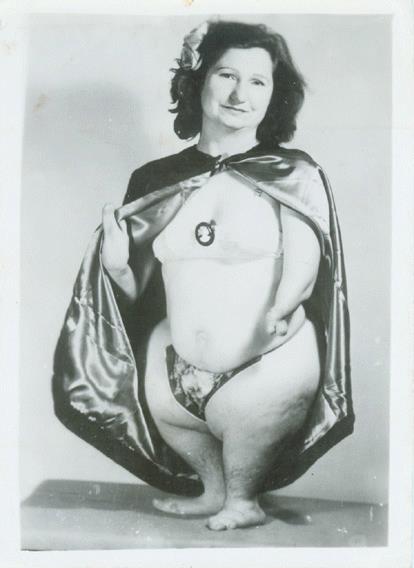 Circus performer Mignon was born with the birth defect a phocomelia, (or "seal limbs"), in 1910. All four of her limbs were affected, leaving her looking very much like a penguin.
Mignon's real name was Ruth Davis. Short and stout with a waddling gait, she began to exhibit herself in the early 1930s as Mignon, the Penguin Girl ("mignon" is French for "cute"). To give the act a little pizzazz she played the marimba. In addition to sideshows, she worked the world's fairs held in New York and Chicago during the 30s. She married twice – once to a man named LaArgo, and then to Hoppy the Frog Boy (Earl Davis) with whom she performed for the last decade of her career. She left the sideshow life around 1965.
5

Millie and Christine McCoy, The Two Headed Nightingale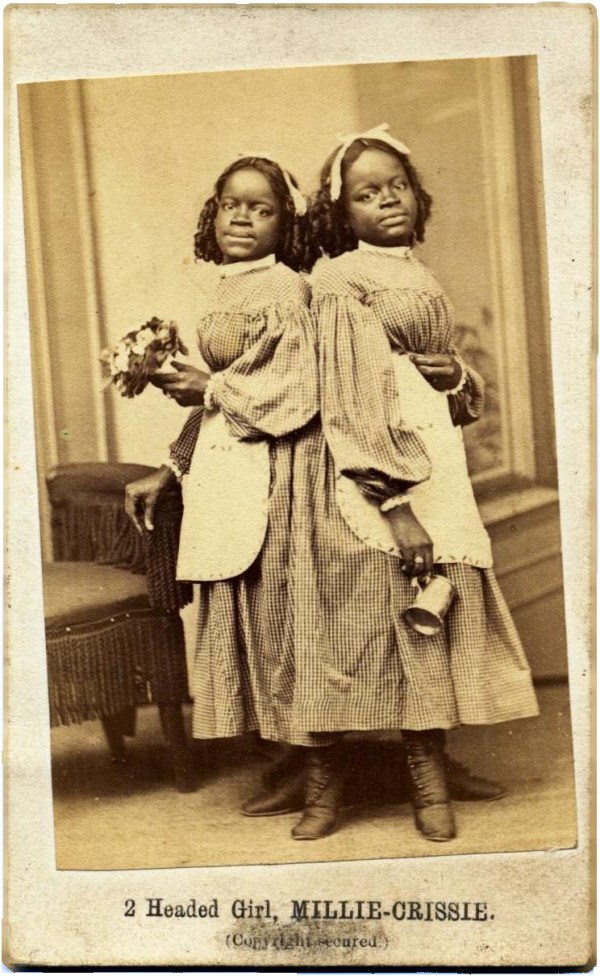 Millie and Christine McCoy (1851-1912) were conjoined twins born into slavery. They and their mother were sold to showman Joseph Smith. Smith and his wife educated the girls; they eventually learned to speak five languages as well as dance, play music, and sing. They were known as "The Two Headed Nightingale."
In the 1880s, they retired and purchased a small farm. Millie died of tuberculosis at age 61, with Christine following hours later. They remain one of the oldest-lived sets of conjoined twins.
6

Felix Wehrle, The Elastic-Skin Man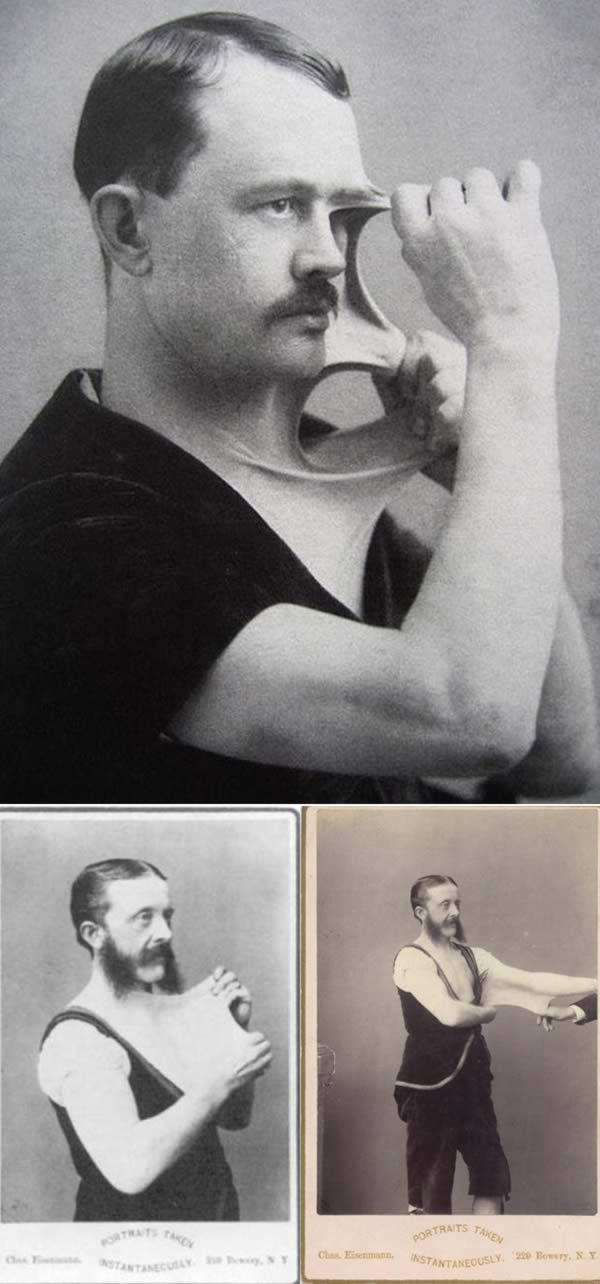 Felix Wehrle (1858) known as "The Elastic-Skin Man," could stretch his skin out on any part of his body and could also bend his fingers backwards and forwards.
Wehrle suffered from Ehlers-Danlos Syndrome, a condition that makes your skin very flexible. He performed at many Barnum & Bailey shows.
7

Louise, The Leopard Girl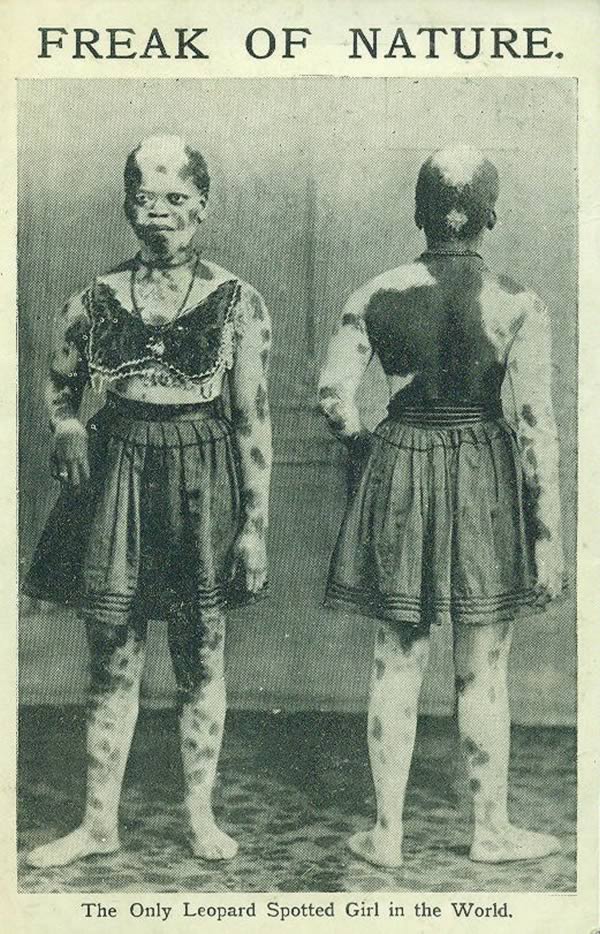 Louise The Leopard Girl was an African American who suffered from vitiligo, a skin disorder which causes spotting.
Louise was far from being unique. For more than 200 years natural philosophers, scientists and showmen have exhibited the bodies of African Americans with white or gradually whitening skin in taverns, dime museums, and circus sideshows. The term "White Negro" has served to describe individuals born with albinism as well as those who have vitiligo.
8

Susi, The Elephant Skin Girl
Charlotte Linda Vogel, born in Charlottenburg, Berlin, on February 26, 1908, was the only person in her family with her peculiar skin condition. Hers was a different type of ichthyosis than that of her "alligator-skinned" contemporaries – Charlotte was not scaly, but rather covered all over in a thick, leathery, grey skin that formed deep creases at the joints. Epidermolytic hyperkeratosis (EHK) seems to be the most likely diagnosis.
Charlotte toured Europe before going to the United States in 1927. At Coney Island's Dreamland Circus Sideshow (then under the management of Carl J. Lauther) Charlotte adopted the name "Susi, the Elephant Skin Girl." Scantily costumed in a bikini, or sometimes even just a strategically-draped veil, pretty Susi told her life story to a captivated crowd.
Susi left Coney Island in 1933 to be featured in the Ripley's Believe it or Not?! exhibit at the Chicago World's Fair, where she gave no fewer than eighty performances to a million curious viewers.
When those shows became too exhausting for Susi, she traveled to New York and took a low stress job with the Gorman Bros. Circus as a member of the menagerie, performing for just an hour a day next to an elephant named Lou.
In the 1960s Susi opened her own show as "The Swamp Girl," an improbable cross between a woman and a "swamp lizard."
Suzi died in New York City, just short of her 68th birthday.
9

Leopold, The Admiral Dot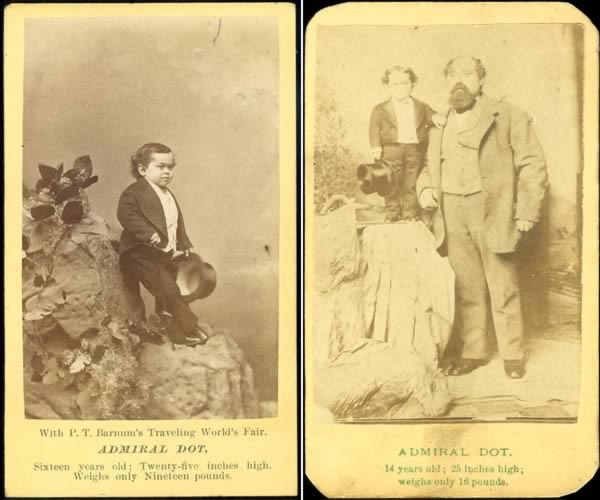 In 1870, Phineas Taylor Barnum traveled with friends by train across the western United States. In San Francisco, he met a German named Gabriel Kahn who offered the showman his dwarf son, Leopold. Barnum was quite taken with the little fellow, whom he said was "a dwarf more diminutive in stature than General Tom Thumb was when I found him." Barnum promptly signed up Leopold under the new name of "Admiral Dot," otherwise known as the "El Dorado Elf" because he was such "a valuable nugget."
Admiral Dot was prominently featured in the museum tent alongside some of Barnum's best known old friends.
As early as 1872, Barnum had already coined the phrase "The Greatest Show on Earth," and now referred to his circus as P. T. Barnum's Great Traveling World's Fair, as is the case on this pitch card. At the time, Admiral Dot was touted as being sixteen years old, twenty-five inches tall, and a mere nineteen pounds.
Admiral Dot's career lasted for approximately twenty years, despite the fact that as he aged and grew taller he was soon eclipsed in size by smaller performers such as Major Atom, with whom he occasionally performed. Not one to rest on his laurels, Dot developed a stage persona that at one time saw him billed as "The Smallest Character Actor in the World."