1

Disguised As Fake Nuns
Police in San Adres, a Colombian island in the Caribbean, arrested three women posing as nuns. They had $35,000 worth of cocaine underneath their habits as they entered the island at the San Adres airport. "They weren't really religious, they weren't nuns. On the contrary, they were taking advantage of this situation," San Andres police commissioner Jorge Gomez told RCN TV.
According to the police official, the drugs — 60,000 doses — had a street value of $35,470 and were probably going to be distributed locally. The suspects, ages 20, 32, and 37, were jailed and are awaiting trial.
2

Disguised As A Hill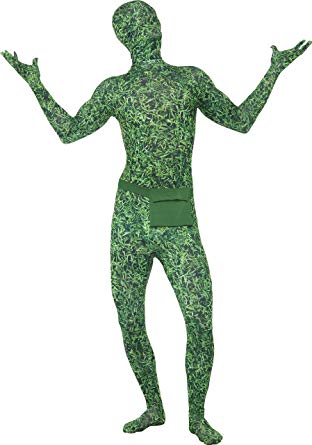 No, this Pacific Northwest man didn't hide on a hill; he became a hill. Dressing up in a moss/grass-like ghillie suit, police say he blended in with Oregon's wilderness in order to steal a huge piece of gold from the Rice Northwest Museum of Rocks and Minerals. He apparently wanted to become one with nature.
3

Disguised With A Permanent Marker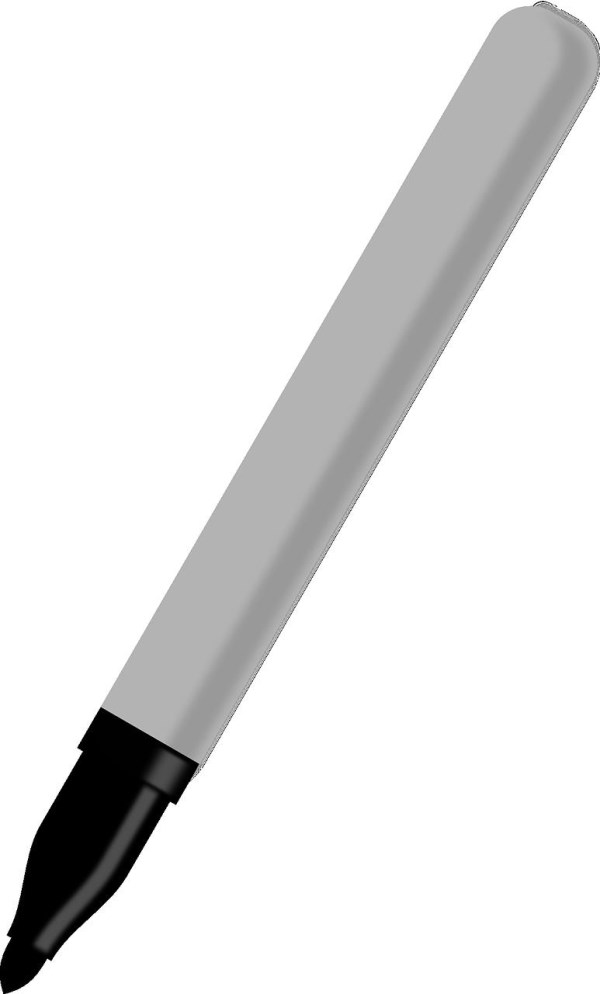 There was little to disguise what these two had been doing moments before police pulled them over. Would-be burglars Matthew McNelly and Joey Miller's master plan had one tiny flaw --their "disguises" were comprised of masks that were drawn on their faces using a permanent marker.
American police stopped their car after a witness reported that two men "with painted faces" were trying to break into a flat in Carroll, Iowa. The caller added that the pair were wearing dark, hooded tops and had driven off in a big white car.
Police soon spotted a 1994 Buick Roadmaster matching the description and stopped it at gunpoint. They found the two men, both of whom had what appeared to be masks, beards or moustaches scrawled onto their faces. McNelly, 23, and Miller, 20, were both charged with attempted second-degree burglary and were released on bail.
4

Disguised With Duct Tape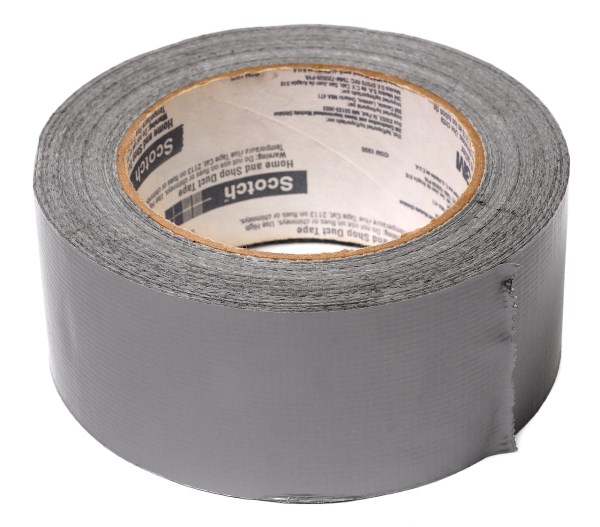 The man, now known as the "Duct Tape Bandit," reasoned with fearsome logic that nobody can identify you if you wrap your head up in duct tape before robbing a store.
Unfortunately for the Bandit, his meticulous plan went a bit wrong when the store manager at Shamrock Liquors in Ashland, Kentucky spotted him stealing rolls of change and chased him out of the store. Ironically, he chased him with a wooden club wrapped in duct tape. The Bandit was then wrestled to the ground in the parking lot by another store employee, who held him until the police arrived. When they got there, the cops had the fun job of peeling the duct tape off the man's face.
Revealed beneath the Duct Tape Bandit's disguise was his true identity. He was not a masked supervillain, but an ordinary man with the deeply implausible name of Kasey G. Kazee, who was charged with first-degree robbery.
5

Disguised As A "Crusty Old White Man"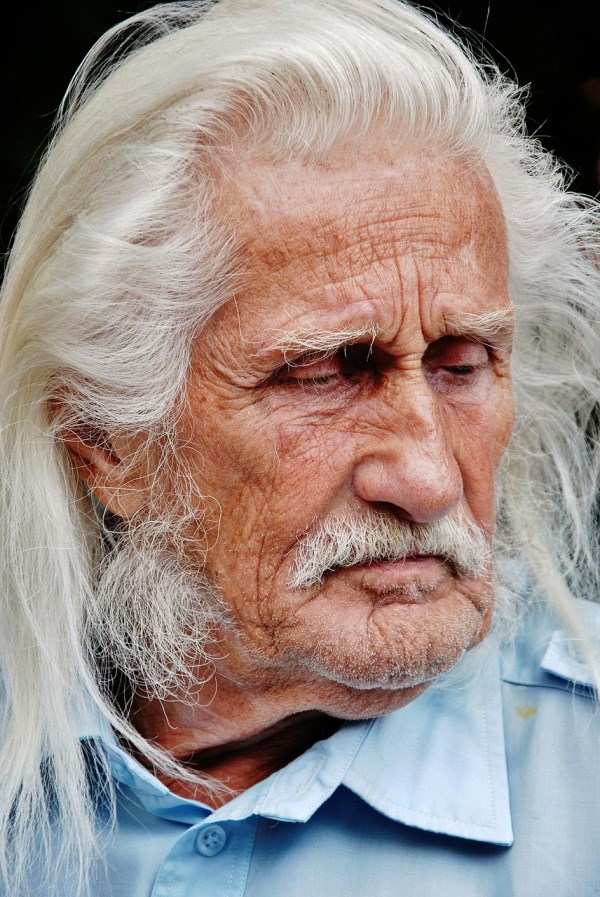 This costume was actually pretty clever, except for one tiny mistake: he forgot to disguise his hands.
In 2010, an unidentified Hong Kong man boarded Air Canada flight AC018, bound for Vancouver from Hong Kong, disguised in an old-man mask and carrying a boarding pass of a U.S. citizen born in 1955. Unfortunately, suspicion arose around the fact that his hands looked surprisingly young. Later during the flight, he was seen going to the bathroom and emerging as an Asian male in his early 20s. Border Service agents took him into custody when the plane landed in Vancouver.
He has since requested refugee protection and remains in a Vancouver prison.
6

Disguised As Spiderman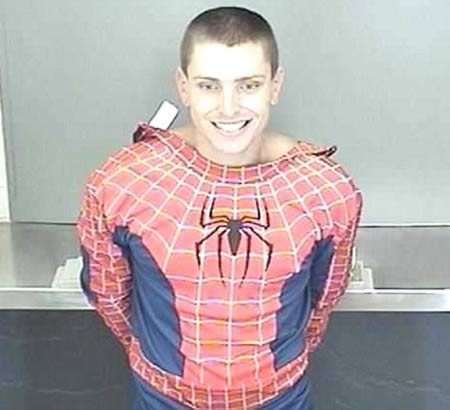 A man was arrested after allegedly attempting to steal a woman's purse while dressed as Spiderman. He told police that his costume was part of a cunning "disguise." Daniel James Bradley, 22, was spotted in the red and blue superhero outfit following a botched street robbery in Merced, California. According to police, the victim, a 24-year-old woman, said she had just parked her car when the suspect began staring at her and then walked towards her. Bradley, who was wearing a brown and green jacket over his Spiderman suit, allegedly said, "Give me your purse." The victim said she thought she saw him holding a gun underneath his sleeve and ran off, screaming for someone to call police. At this point, Bradley is believed to have panicked and fled the scene. He dumped the jacket and metal bar he was carrying behind a bush, and was later spotted racing down the sidewalk in the Spiderman suit.
7

Dressed As Smurfs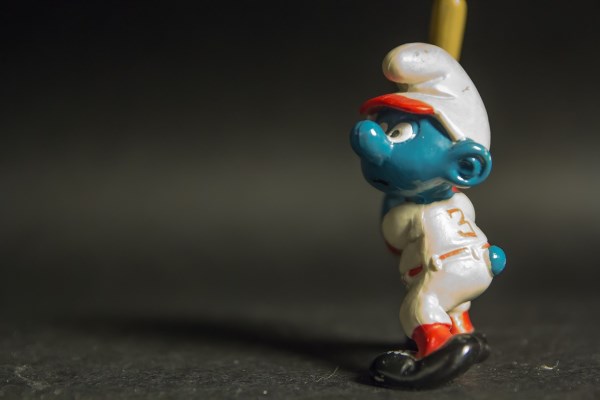 Fa la la la la. Four guys, dressed as Smurfs, were arrested in connection with a convenience store assault in Melbourne. Allegedly, the blue guys roughed up a 37-year-old man because he refused to light one of the Smurf's cigarettes. I know you're thinking that Smurfs are peaceful creatures, even Jokey. They would never do that! Why were these men dressed as Smurfs? That's inconclusive.
Camera footage from the convenience store (featured above) shows the Smurfs moments before the alleged assault took place.
8

Disguised As The Sun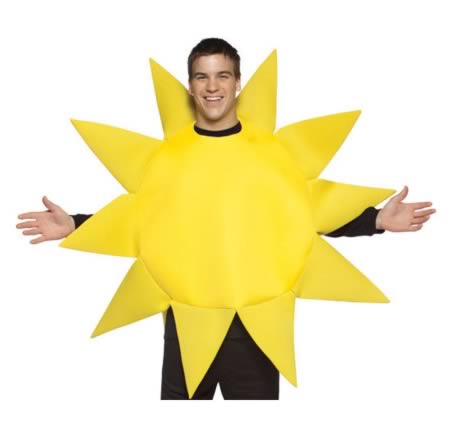 He's not the brightest star in the Solar System. Brett Eric Drachenburg, 51, is accused of stealing a towel and then trying to disguise himself as "The Sun." Drachenburg allegedly entered a private home in Walton County, FL and proceeded to steal a towel. According to an arrest report, Drachenburg "did unlawfully deprive the owner of the use of the towel."
When deputies were investigating the incident, Drachenburg was "disguising himself as 'The Sun' with the intent to obstruct the due execution of law." The report does not specify how Drachenburg attempted to pull off such a deception.
Additionally, it is unclear whether or not the man was trying to pass as the actual sun or as a copy of a publication, such as the Sun Sentinel, which might be referred to as "The Sun." When queried about these two matters, a spokeswoman for the Walton County Sheriff's Office said, "[It looks like] 'The Sun' ... is the name he gave for himself to the deputy."
9

Disguised As The Picture From A Stolen Driver's License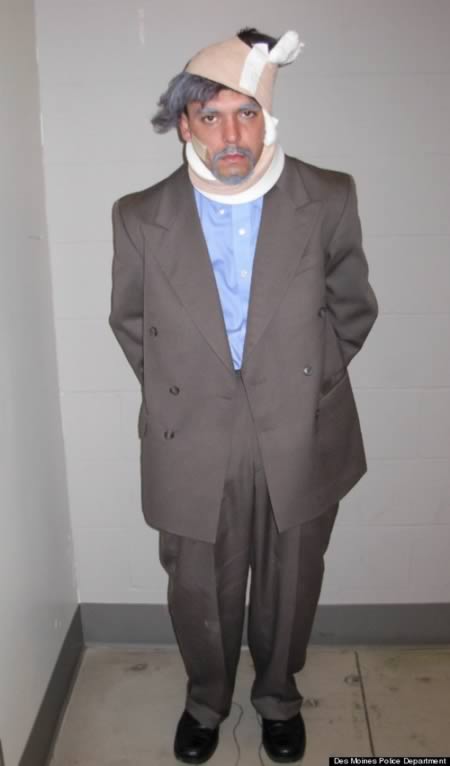 Joshua K. Pinney allegedly tried to commit identity theft while sporting what may be the worst disguise ever. Cops say he was trying to impersonate the man whose picture appeared on a driver's license that he had stolen.
10

Disguised In A Gumby Costume
Apparently, Pokey's sidekick just wasn't cut out for a life of crime. A man botched an attempt to rob a Rancho Penasquitos convenience store while clad in a full-figured Gumby costume -- actually losing a bit of money instead of stealing any.
The would-be thief, disguised as the famed green claymation character, entered the 7-Eleven on the 9700 block of Carmel Mountain Road along with an ordinarily dressed cohort shortly after midnight, according to detectives.
"Gumby said, 'This is a robbery,"' Detective Hassen said, "and the clerk thought it was a joke. He said, `I have cleaning to do, and I don't have time for this."' The man in the costume -- complete with Gumby's trademark steeply slanting head and cheerful, yellow-and-red facial features -- then replied that he had a gun and began struggling with the unwieldy suit, as if trying to retrieve a concealed weapon.
Fumbling with the outfit for several moments, the bandit only managed to drop 26 cents' worth of change, which he then was unable to retrieve from the floor.
His companion, meanwhile, had wandered out of the store and gotten into a white or silver minivan, which he pulled in front of the business. After the driver honked his horn a few times, the frustrated man in the Gumby getup walked out, got into the vehicle, and the pair drove off.
The victim, still unconvinced that an actual robbery attempt had happened, did not report it. A manager who arrived for his work shift about 6 a.m., however, decided that a crime had transpired and called the police.