1

Waterfall Restaurant (Philippines)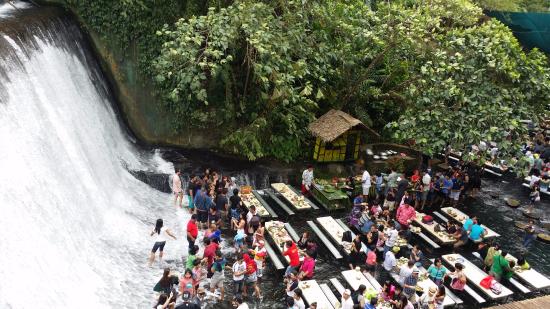 Located in the Quezon province of the Philippines, Villa Escudero is a nice hacienda-style resort with cozy rooms and an exotic atmosphere. However, what brought its international fame is the waterfall restaurant that allows tourists to enjoy a nice meal right at the foot of a small waterfall.
In most cases, getting too close to a waterfall can prove deadly, but not at this particular restaurant at Villa Escudero. Here, people are actually encouraged to take off their shoes and get as close to the falls as possible. Set right at the foot of Labasin Falls, this special place invites customers to taste popular Filipino dishes while fresh spring water from the falls flows under and over their feet, making this an unforgettable experience. As you can imagine, it's nowhere near as impressive as Niagara, but visitors who don't mind getting their clothes wet can sit right under the rushing waterfall and get their pictures taken.
2

Floating Restaurant (Sweden)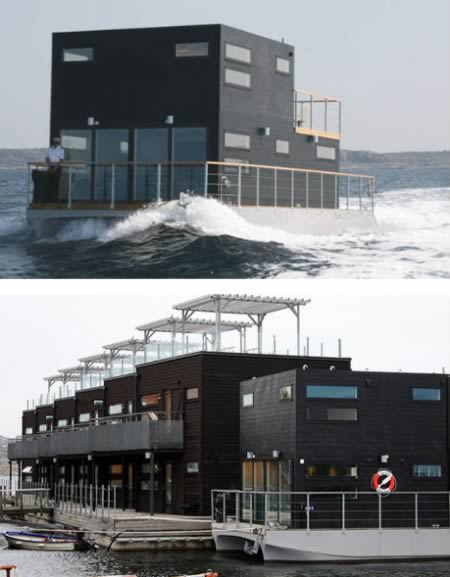 The Salt & Sill is a minimalist 23-room barge that also serves as a top-notch seafood restaurant specializing in herring and fresh local produce. All 23 rooms have their own outdoor seating areas, but the hotel's sole suite has an extra-enticing benefit: a private roof-top jacuzzi. The hotel's location on the lake, by the way, is not a gimmick: the adjacent land simply didn't have any room.
3

Mineshaft Restaurant (Finland)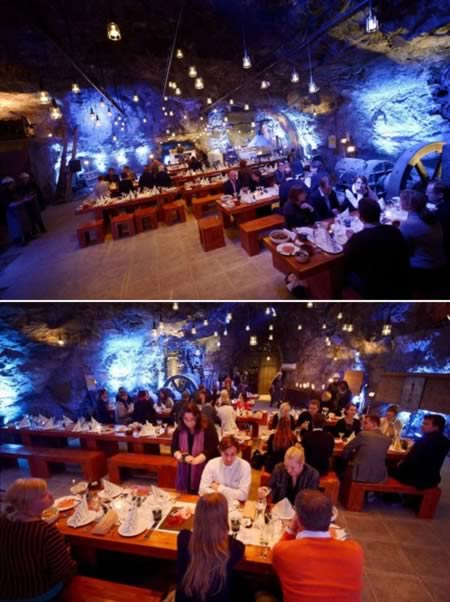 "Pop-down is such a unique idea that I just had to do it," chef Timo Linnamaki said, before his first clients descended to the bottom of the mine shaft in the town of Lohja, Finland. "It's great working down here because you are totally cut off from the world, so nothing distracts from the cooking." The idea of preparing food so far below ground was all part of being close to the earth, but the talented cook admits this is by far the weirdest place he has ever prepared his dishes and that it would be very difficult to find something on par. The 115-year-old mine chosen as the location for this unique pop-down restaurant goes down to a depth of 1246 ft., where limestone is still mined for the chemical industry. But that didn't seem to scare off customers, as the 64-seat restaurant was already fully booked when the crazy underground cooking experiment began.
4

Airplane Restaurant (England)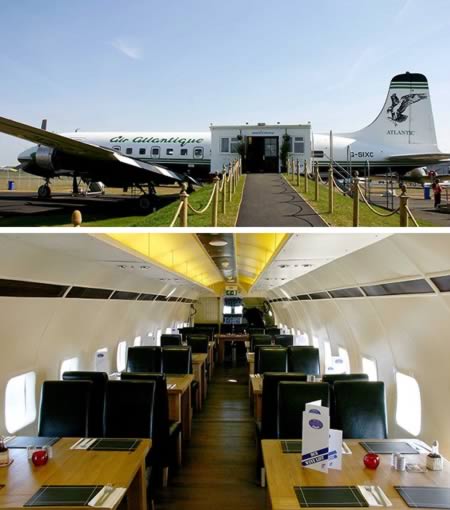 Airline food served on little plastic trays is always sure to divide opinion - but one unique restaurant is redefining what you'd expect to eat onboard a plane. This unusual eatery, which is the first of its kind in the UK, is set inside a Douglas DC6 aircraft and run by 35-year-old chef Tony Caunce at Coventry Airport.
With a fully-functioning bar onboard, visitors can enjoy draught beers and wines with food from under a tenner up to just £15 for a fillet steak...meaning the owners can brag that the prices aren't too sky high.
The 40-seater restaurant opened two weeks ago with an aviation-themed menu including an 8 oz. Rapide, Vampire gammon steak, Bomber T-bone steak and a Meteor marinade fillet. Punters can also have a look at the original cockpit to see what the plane was like when it was flying. Waiters can be called to tables using the original call buttons, just as you would use them on a flight to call a stewardess.
5

Bank Vault Restaurant (Colorado, US)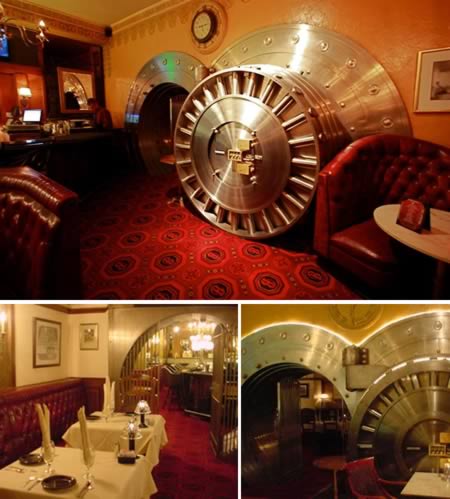 Located in the old Denver National Bank building, this Old World steakhouse offers dining in private cherry wood booths once used by bank customers to view their safety deposit boxes. You can actually experience some of Denver's most romantic private dining inside the 100 year old bank vault. Tour the wine cellar, located 35 feet below ground in the original cash vault.
6

Cave Restaurant (Africa)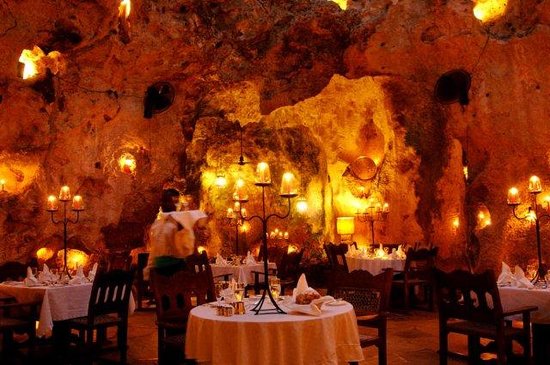 What do you think of dining in a cave, with stalactites looking down on you, surrounded by walls embedded with fossil shells? Sounds exciting, right? Then Ali Barbour's Cave Restaurant in Diani Beach, South of Mombasa, is the place.
These caves were formed in coral limestone over half a million years ago and have been gradually modified by tidal action since then, together with the assistance of George Barbour, the owner of the land where the caves sit.
The entrance to the cave complex is a bar area, covered with a makuti –palm tree branche roof, which is supported by a gum tree. From this point, two lower dining caves are revealed. These open up to a starry African night sky.
7

World's Smallest Restaurant (Italy)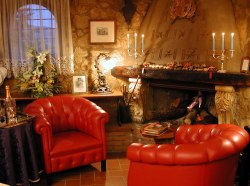 SOLO PER DUE - or "Just for Two" - is the smallest restaurant in the world: it has only one table and it takes just two people at a time. Only two guests per night are treated to an opulent Italian feast, during which they are waited on hand and foot. The waitstaff doesn't linger, though: you'll need to summon them with a bell. They'll even take care of special requests, like a private fireworks show or chauffeur service. At the end of the meal guests can even spend the night. The price for a meal, needless to say, is astronomical — starting at €250 ($325) per person.
8

Cardboard Restaurant (Taiwan)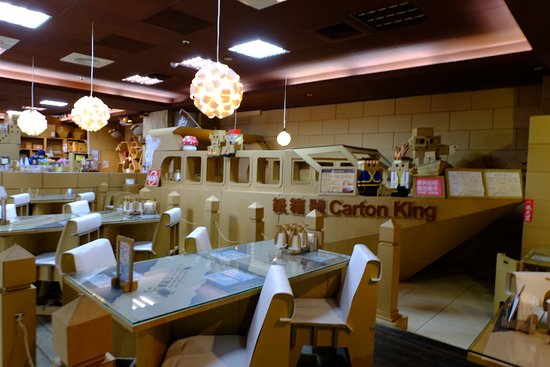 Unless you've actually been to Taichung, I'm sure you haven't seen anything like the Carton King Restaurant before. Except for the food, the waiters, and some cutlery, everything inside this place is made from cardboard and paper. It seems almost impossible, but you actually sit on cardboard chairs, sip drinks from cardboard cans, and eat your food out of cardboard bowls at a cardboard table. The food is pretty average, a bit on the pricey side, but that's to be expected considering the amazing venue where it's served. What's great about this place is the recycling potential. In case anything breaks or becomes damaged, it's simply recycled. That was actually the point of the whole Carton King Creativity Park, to show the real power of paper and cardboard and convince people it can be used for a lot more than generic packaging.
9

MuvBox Shipping Container Restaurant (Canada)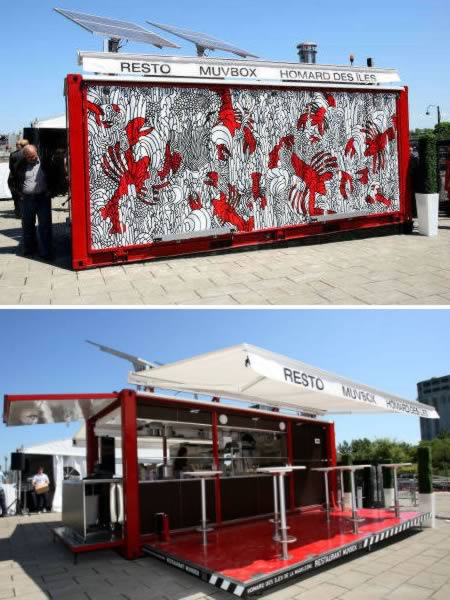 Tucked in a corner of the Old Port in Montreal is Müvbox, a portable restaurant powered with solar panels that unfold from a sleek rectangular shape into a beautiful modern cafe with outdoor tables and a canopy. Owner Daniel Noiseux of Montreal's Pizzalolle restaurants fitted a kitchen and seating for 28 guests into a standard 28-foot shipping container with a floor made from recycled tires. It serves fresh, local and gourmet foods including local specialties like Madeleine lobster and Brome Lake duck.
10

Monkey Restaurant (Japan)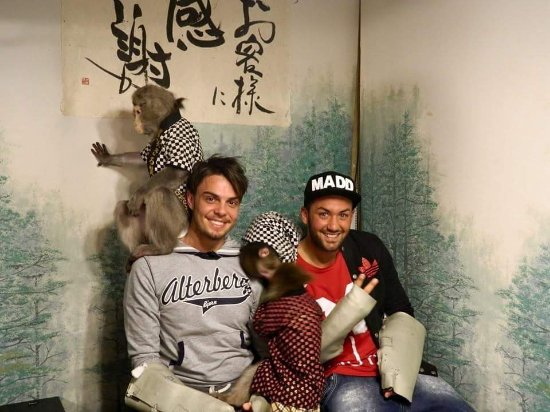 The Kayabukiya Tavern is a traditional-style Japanese "sake-house" restaurant (izakaya) located in the city of Utsunomiya, north of Tokyo, Japan. The location attracted international attention in 2008 when the Western media reported on the tavern and its news movies were uploaded to YouTube.
The tavern's owner, Kaoru Otsuka, owns two pet macaque monkeys who are currently employed at the location. The first monkey, twelve-year-old "Yat-chan," is dressed in a shirt and shorts while he takes customers' drink orders and delivers them to the diners' tables. The restaurant's owner, Otsuka, reported that he never initially taught the monkeys; Yat-chan first learned from watching him work. Otsuka said, "It all started one day when I gave him a hot towel out of curiosity and he brought the towel to the customer." The younger macaque, named Fuku-chan, is currently four years old and has the main duty of bringing the attendees hot towels to clean their hands before ordering drinks. Fuku-chan has only two years of experience, while Yat-chan has reportedly been performing the job for a longer time.
Both monkeys receive boiled soya beans from customers as tips for their service.