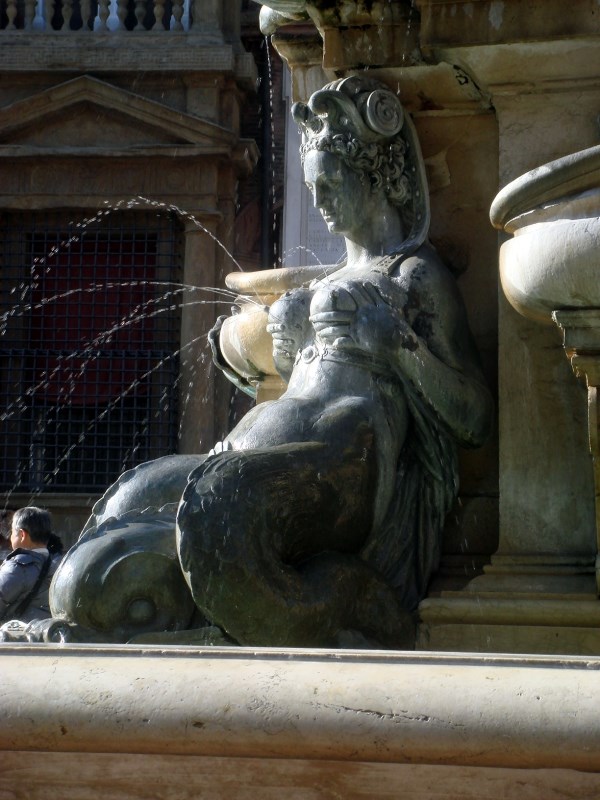 The Fountain of Neptune is a monumental civic fountain located in the eponymous square Piazza Nettuno, next to Piazza Maggiore, in Bologna, Italy. The fountain has a statue of Neptune on top, but just below him are four women, one on each corner of the fountain, leaning back, emphatically squeezing their bare breasts and launching an unholy squirt of liquid out of their nipples into the fountain.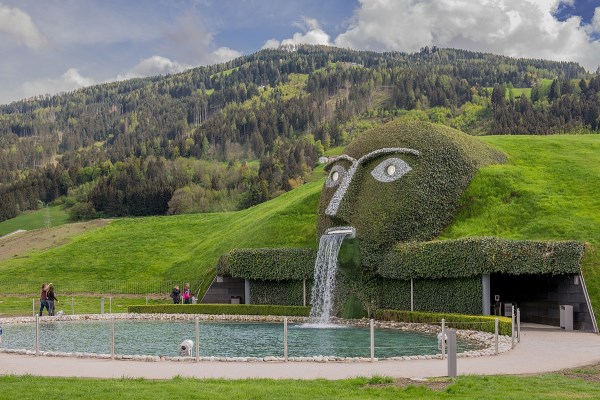 Swarovski, a manufacturer of glass crystal, has a museum and garden in Wattens, Austria. This enormous fountain stands in front of it.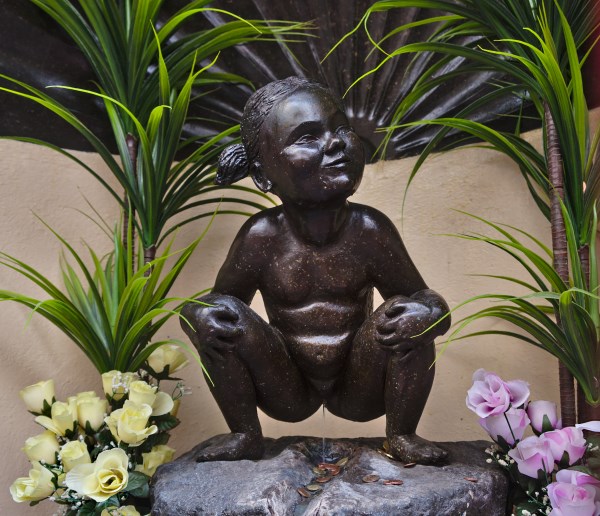 Jeanneke Pis is a modern fountain and statue in Brussels, which forms a counterpoint in gender terms to the city's trademark Manneken Pis at the Grand Place. It was made by Denis-Adrien Debouvrie in 1985, erected in 1987 and endowed with its own instant legend, the better to amuse strollers. This half-metre-high statue of blue-grey limestone depicts a little girl with her hair in short pigtails squatting and urinating, apparently very contentedly. It is unsurprisingly much less well known than its male counterpart, being a new addition instead of a centuries-old symbol of the city. The sculpture is now protected from vandalism by iron bars.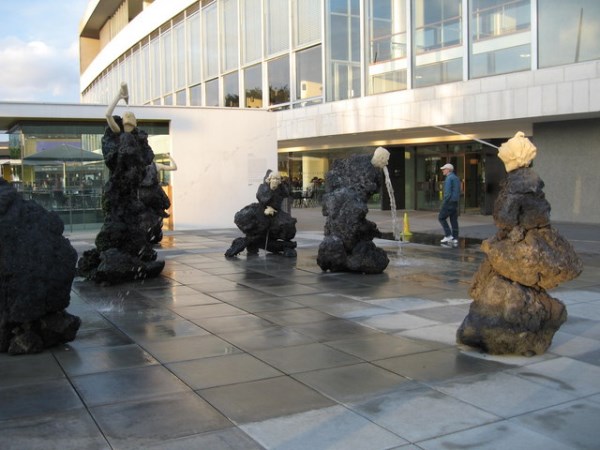 The newest Weber sculptures to grace London's South Bank are engaging, to say the least. The artist, Klaus Weber, a self-proclaimed "Fountain Artist," pokes fun at the less attractive side of the human race in an eco-friendly way. These fountains, entitled "The Big Giving" are a series of sculptures that appear to have come to life from mounds of rocks. Klaus Weber's statues have water pouring out from every imaginable orifice including mouths, ears, eyes and even armpits. It's also a neat fact that these intriguing sculptures are also eco-friendly as all the water that spews from them is recycled.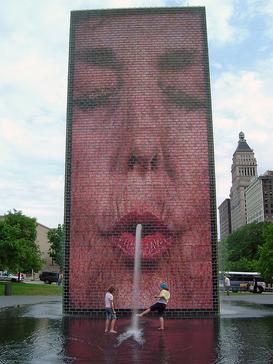 Crown Fountain is an interactive work of public art and video sculpture featured in Chicago's Millennium Park, which is located in the Loopcommunity area. Designed by Catalan artist Jaume Plensa and executed by Krueck and Sexton Architects, it opened in July 2004.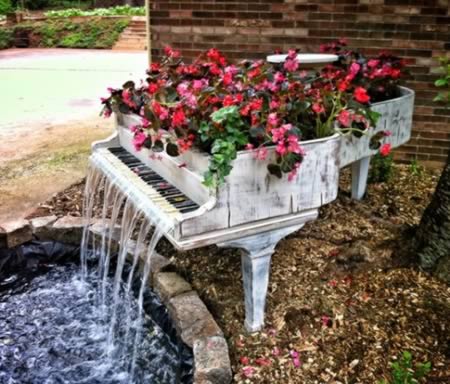 An employee of PianoWorks, a piano dealer in Atlanta, found a creative new use for a wrecked piano. It's now a planter and a fountain that pumps 2,000 gallons an hour.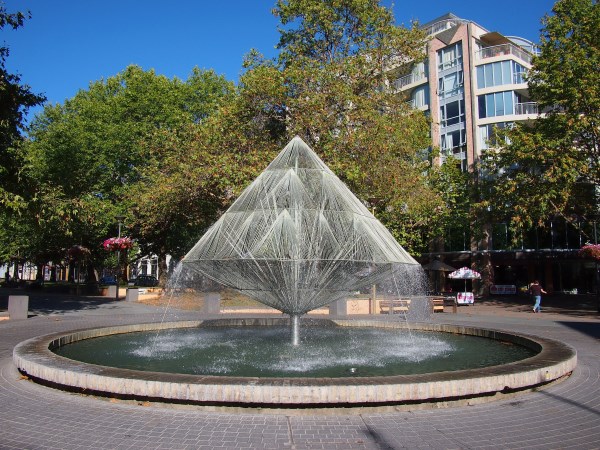 The Canberra Times Fountain by Robert Woodward is located at the Intersection of Ainslie Avenue and City Walk in Canberra, Australia. The fountain was commissioned by Federal Capital Press as a gift to the people of Canberra on the occasion of the 50th anniversary of The Canberra Times newspaper. Installed in 1979 and standing nearly 5 metres tall, the fountain is made of tube and rod fabricated stainless steel.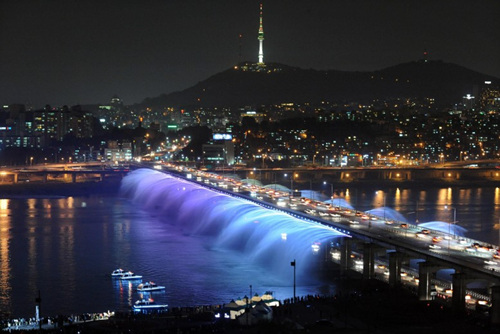 Banpo Bridge in Seoul, South Korea utilizes 9,380 nozzles to spray out colorful, wing-like fountain sprays on either side of the bridge. We've all heard the story of Moses parting the Red Sea — this is probably what it would feel like to drive through it.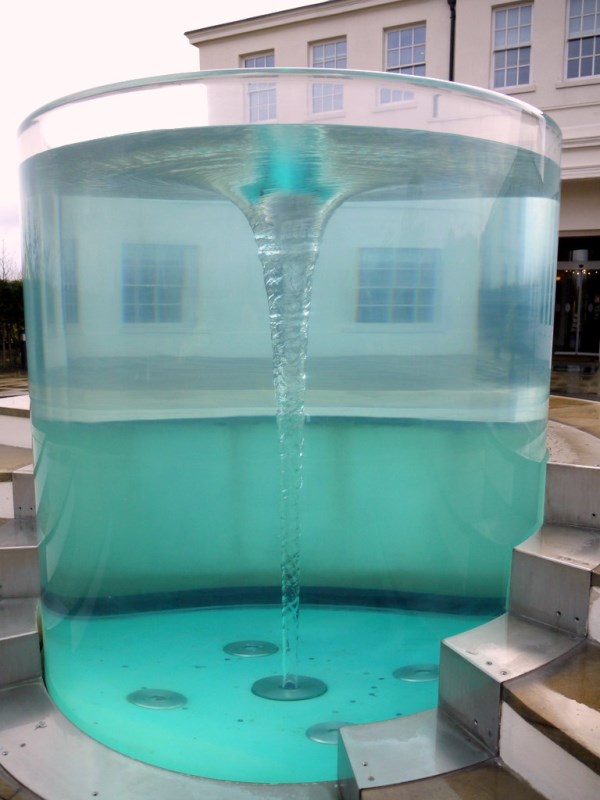 This mesmerizing water fountain was designed by British sculptor William Pye and sits in front of Seaham Hall in Sunderland. The clear cylinder holds filtered water that rushes around to create a beautiful air-core vortex. Thanks to the stairs on either side of the cylinder, viewers are able to climb up and look down into the eye of the vortex.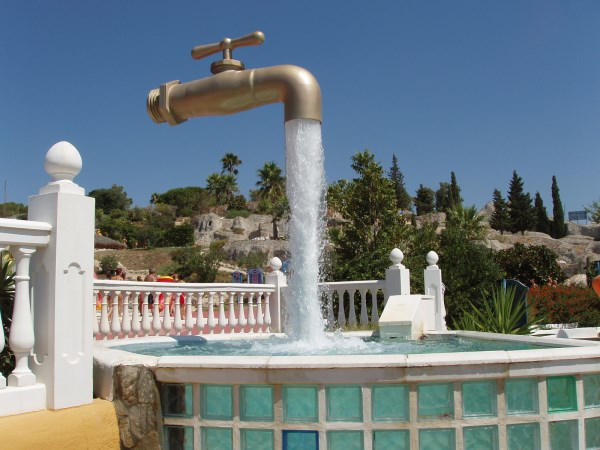 It may look Photoshopped, but this Magic Tap fountain actually has a pipe hidden in the stream of water. Located in Aqualand, Spain.