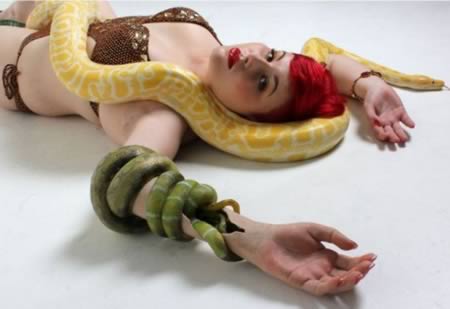 The Alternative Limb Project gives people who have prosthetic limbs the chance to stand out uniquely. Paralympian and swimming champion Jo-Jo Cranfield, pictured above, wears an arm with a realistic-looking snake coiled around it. `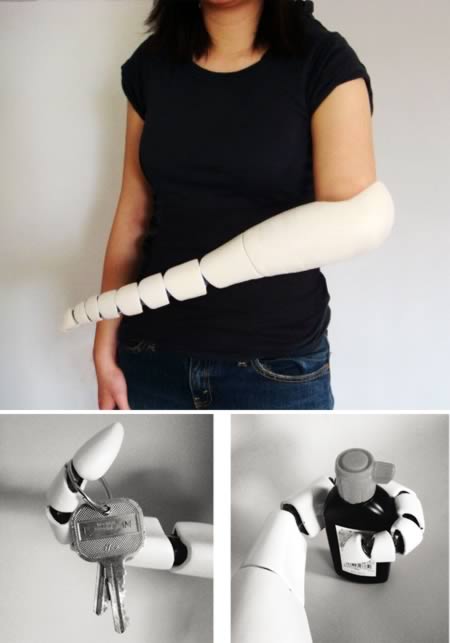 Novel prosthetic design offers a remarkable opportunity for persons to do better, or be just plain different, than normal. Hence this imaginative 'tentacle' design by Kaylene Kau, a recent graduate of the Industrial Design Department at the University of Washington. Like an octopus, users of this appendage can wrap their limb around an object to pick it up or manipulate it--a qualitatively different approach to interacting with the environment.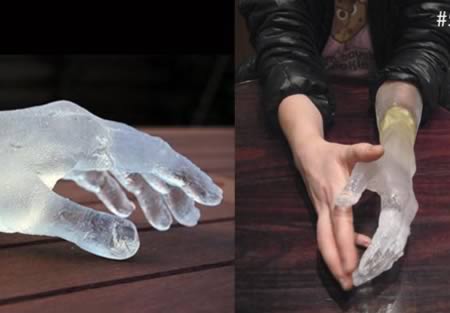 Becky Pilditch and Holly Franklin started an art project for Holly's arm recently. In the meantime, their Super Prosthetics Project has yielded a number of very cool results such as this transparent hand.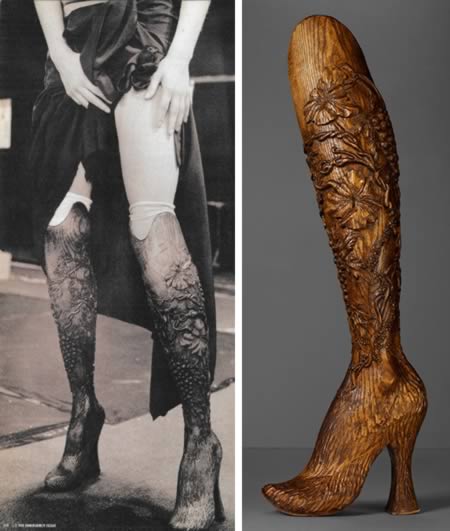 McQueen made this ensemble with carved prosthetic legs for Aimee Mullins. Mullins is a world-class Paralympic athlete, and she modeled the boots for his 1999 show, No. 13.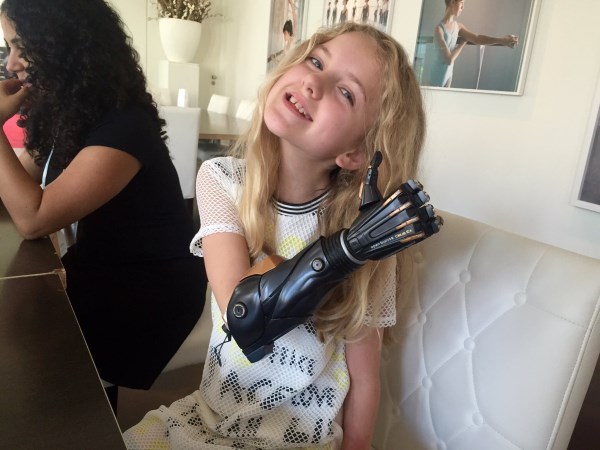 A six-year-old girl who lost both legs is a real-life Cinderella after becoming the first child in the country to have specially-made prosthetics to wear to the ball. Olivia Story was just two when she was struck down by meningococcal meningitis, losing both limbs below the knee and an arm to the deadly disease. It meant she could only dream of dancing with her friends in a pair of sparkly pink heels at parties. In fact, she thought she would always be different.
But now medics have organised for her to be fitted with unique prosthetic legs made with special arched feet, allowing her to wear her favorite princess-style shoes at parties. The £7,000 prosthetics were made from plastic, foam, wood and metal by a team of engineers and medics.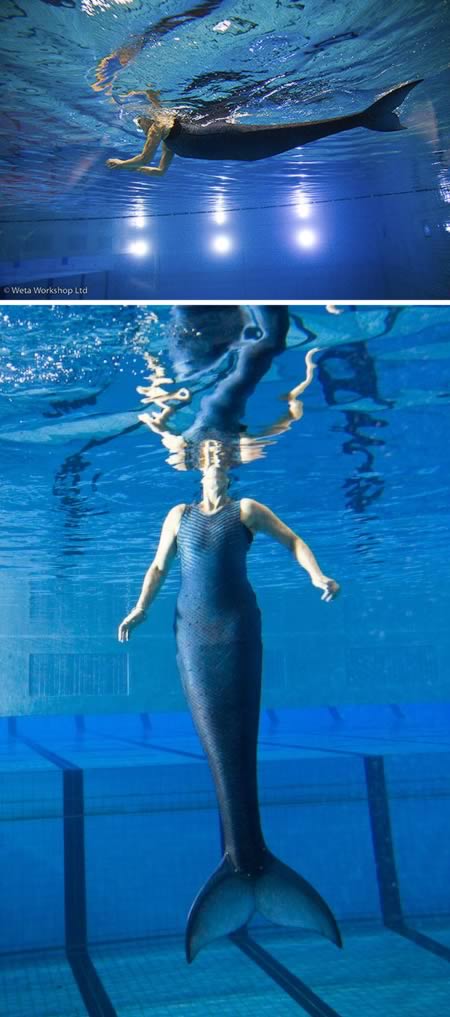 I am certain that you have heard of Weta Workshop before, since they are the group responsible for the special effects for "The Lord of the Rings" and "The Chronicles of Narnia" movies. They also did the effects for that live action Peter Pan film that involved mermaids. In the film, they created tails for actresses, and now they have created this fully functional mermaid tail for a double leg amputee.
The amputee, Nadya Vessey, was at the pool one day and a little child saw her with her prosthetic legs. The child asked her a lot of questions, and she jokingly referred to herself as a mermaid. This gave her an idea, and she consulted Weta Workshop's prosthetic department to make the mermaid tail. They gave Nadya a "mermaid makeover", and she was able to swim quite well in the pool.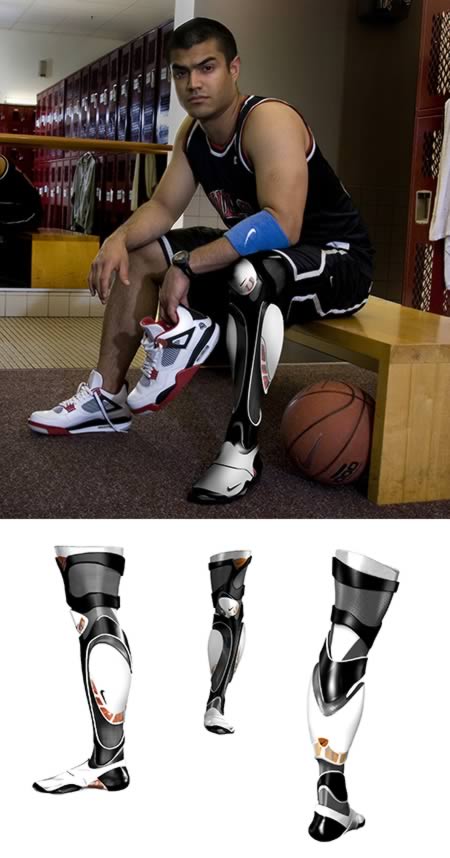 3D printing has become an incredibly powerful tool to customize one-off products for differing applications. This project was based on using this technology to design a customized prosthetic leg for a specific user- a young, urban, male athlete. Nike was chosen as an appropriate brand to bring form to the leg. It also required familiarizing oneself with the emotional, medical, lifestyle, and physical changes the user would encounter. Designer: Colin Matsco

Reddit user captaincripple lost his leg in a motorcycle accident and has since had a custom-painted prosthetic made. This is it. It looks half-human, half-robotic, 100% something that would freak me out if I saw it fall off.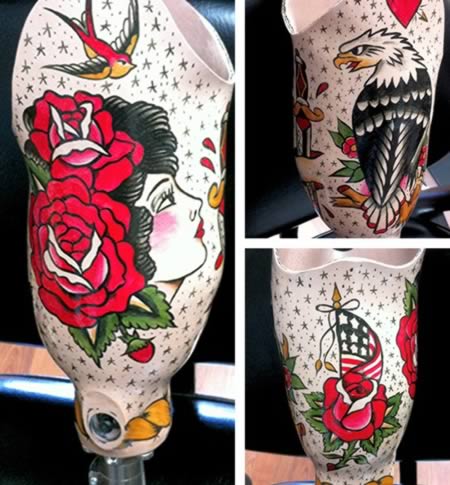 Tim Beck painted these prosthetic legs for a client.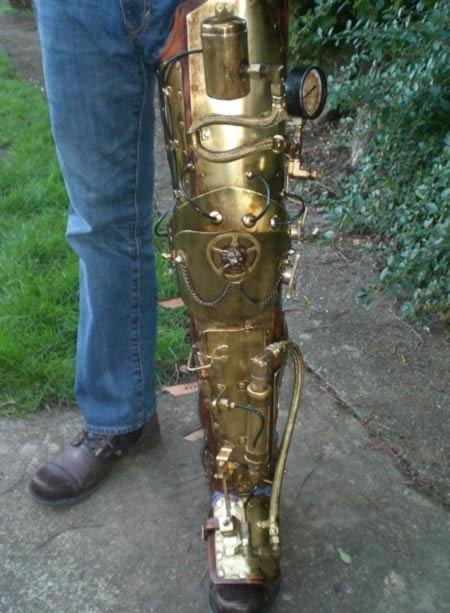 Skinz-N-Hydez made this 13-14 pound leg that looks prosthetic but is actually only a shell. He has finished the job and has added one more creative piece of art to his gallery, which is already full of his earlier works.