1

Concrete Chair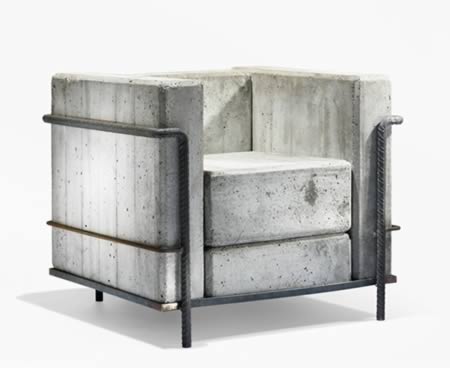 That sure looks comfy! Swiss designer Stefan Zwicky re-created the iconic LC2 armchair by Le Corbusier with rebar and concrete.
2

Concrete Desk Accessories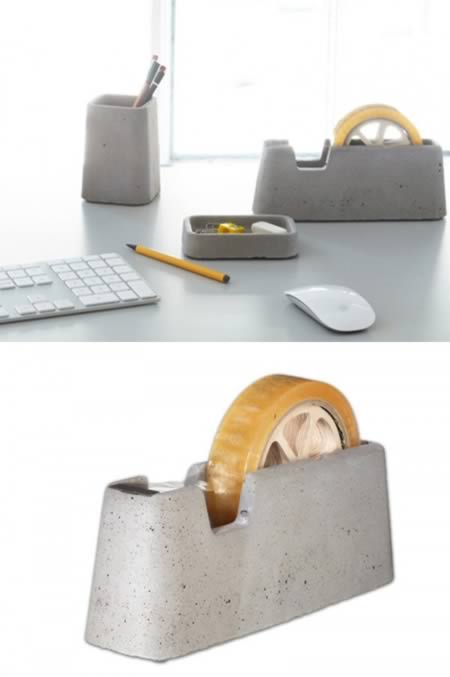 Your desk looks empty? Boring? There's nothing cool enough to accessorize it? Maybe this idea can help you. You can try this Cool Concrete Desk Accessories Collection. Concrete is also one of the best materials for craft because it looks cool even if it's raw and gives a wide choice of ideas to realize. Such a piece would look great at any modern and minimalist working space. They look amazingly casual and don't distract your attention to help you stay focused on your work.
3

Concrete USB Flash Drive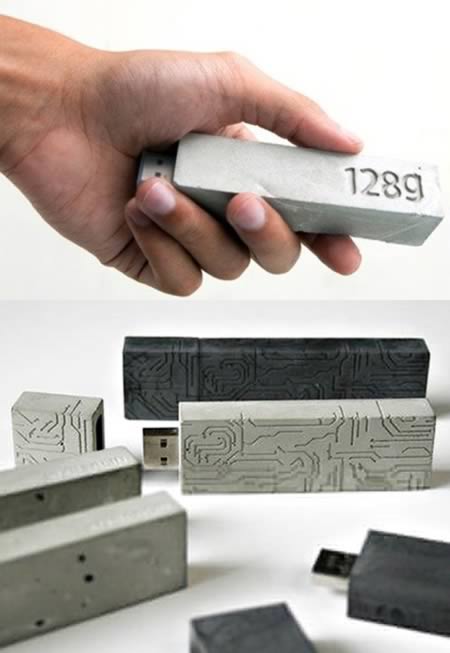 Shu-Chun Hsiao designed a new form of durable flash drive which is made from concrete. These flash drives can withstand almost any form of hard usage. Don't just look at how hard it is, because you have a rock amount of storage with 64 GB, 128 GB and 256 GB. The weight seems to vary, or you can say it depends on the storage capacity. That's not all, because the flash drive uses USB 2.0 interface. As for availability, you won't find them in the market. These are just concept.
4

Concrete Coffee Machine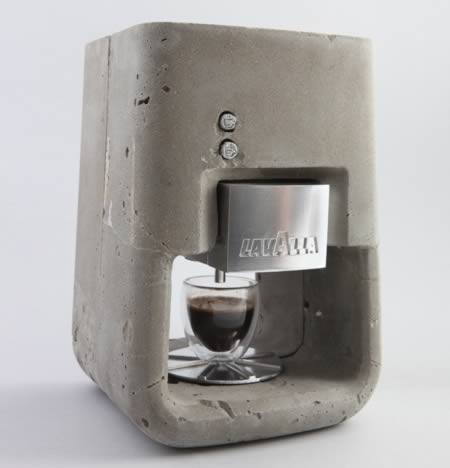 Concrete is an emerging fashion! Imagine a Coffee Machine made of cement. Well it does exist, and looks mystically enigmatic. Israeli design student Schmuel Linkski came up with this concrete-encased Lavazza unit, which makes a bold description of the appliance's durability. Linkski explains his vision behind using concrete. "Concrete is in the kitchen, and not only as a wall or decorative part. I wanted it to be a desirable consumer product." But wouldn't it be too heavy to handle? Also, one doesn't expect it to be just a decorative item. What's your take?
5

Concrete Coasters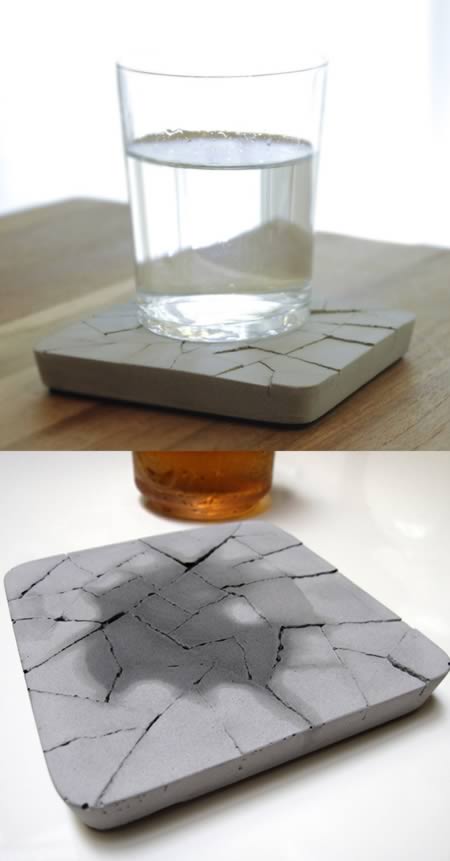 Concrete is cool. Coasters are just good manners. Combining the two is obvious, but this particular coaster goes one step further because the cement has enough non-toxic recycled ash in it to make the coaster water absorbent. Most coasters prevent your cold one from leaving a ring (that's kind of the point), but this one will actually help counteract the fallout from overzealous pours and accidental cup jostles. It also happens to be heavy enough so that it won't stick to your glass. This isn't rocket science, but it's pretty close.
6

Concrete PC Case
Modder D. Heiße decided to make the Concretronic for a recent modding contest.
Yes, the case for the PC is made from a single, seamless layer of concrete wrapped around a curvy metal structure made from welding rods and steel sheets, with embedded plexiglas windows so you can see inside. The substructure of the Concretronic was made from hand-cut aluminum sheets that were powder-coated white.
He even managed to come up with cast-concrete power and hard-drive indicators on the front of the case. I also really love the custom HDD and SDD covers on the drives. What a nice design touch.
7

Concrete Sofa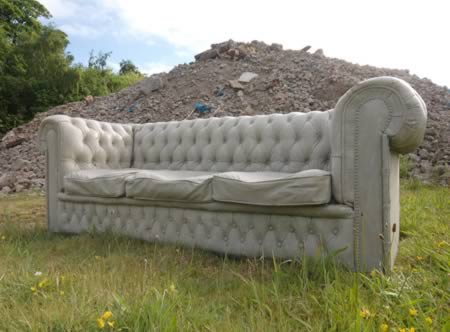 While this chesterfield sofa might look like it's made from a bland gray leather, believe it or not it's actually made from concrete. It was created by a UK-based company called Gray Concrete, appropriately enough, for the 100% Design exhibition in London, and the incredible amount of detail in it was captured using the company's special molding techniques. Not only does it look like it's made from actual leather, but they went the extra mile by ensuring the cushions have 'bum prints' and you'll even find a concrete fifty pence coin stuck behind one of them. Now obviously the piece was created to show just how versatile concrete can be, but I think you could really class up a city by replacing its traditional park benches with durable, concrete reproductions of famous pieces of furniture.
8

Concrete Sink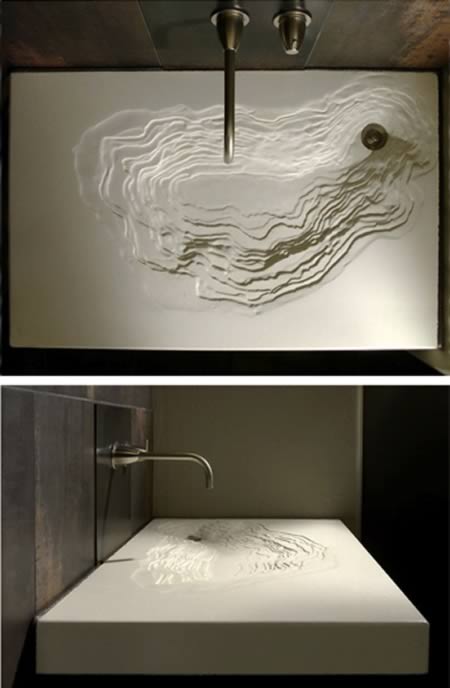 The environmentally dedicated and innovative team at Gore Design brings a new twist to custom, recycled concrete sink design with their Signature Erosion Sink. This intriguing design caught the attention of green architecture and research firm organicARCHITECT, who honored the sink in their ORGANICAWARDS for 2007.
9

Concrete Bar Stools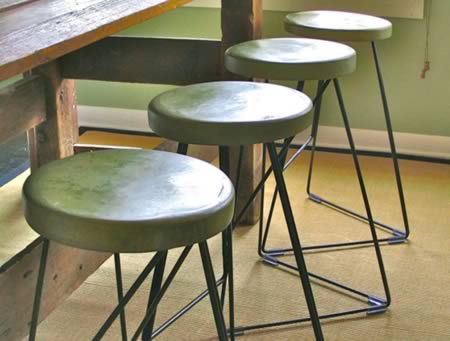 We ran across some of the coolest bar stools ever on Etsy made of—you guessed it—concrete. We stumbled upon the work of Greta de Parry, an artist who makes furniture and other lovely things such as these stools.
10

Concrete Rings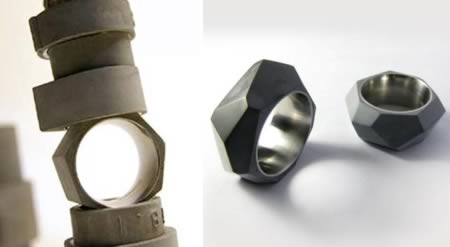 Taking their design cues from modern architecture, 22 Design Studio creates some of the coolest pieces of jewelry for men ever. Their concrete ring collection defines modern style through materials like cement and stainless steel. Each handmade ring has its own story to tell like the 7 days rings with one side to represent each day of the week and the Rock which embodies rich character and versatility.