1

SarcasticRover (@SarcasticRover)
What: The Curiosity Rover currently rolling around, blowing up rocks on Mars.
Great Tweet: Mars is a lot like Arizona… red, desolate, everyone's obsessed w/ trying to find aliens. Also, I regret visiting both.
2

Bronx Zoo's Cobra (@BronxZoosCobra)
What: The cobra that managed to escape his cage at the Bronx Zoo last year. The Twitter account first described the hijinks the snake got into while he was loose, but since his capture, it focuses on his miserable life in the zoo and his future escape plans.
Great Tweet: Mice for dinner again? Can't we be a little more creative in here people? Could really go for a Bloomin' Onion. Never get appetizers.
3

Fresco Jesus (@FrescoJesus)
Who: The horribly botched "restoration" of a Jesus fresco performed by an 80 year-old church-goer with no artistic training.
Great Tweet: THAT AWKWARD MOMENT WHEN YOU REALIZE THE SECOND COMING OF JESUS LOOKS LIKE A HAIRY BLOW-UP DOLL
4

The Dark Lord (@Lord_Voldemort7)
Who: He Who Shall Not Be Named, the no-nosed villian from the Harry Potter franchise.
Great Tweet: Lance Armstrong stopped fighting the U.S. Anti-Doping Agency & will have his 7 Tour de France medals stripped. They destroyed his horcruxes!
5

Dr. Tobias Funke (@drtobiasfunke)
Who: The nevernude, wannabe-actor from Arrested Development, who can't help but constantly say things that make him sound like a homosexual.
Great Tweet: Accidentally stuffed christmas stocking into the wash. You can imagine how surprised I was when I pulled out my load and saw a pink sock!
6

KFUCKINGP (@KFUCKINGP)
Who: Kenny Powers, the loud-mouthed, ex-ballplayer-turned-high-school-gym-teacher from East Bound & Down.
Great Tweet: Rock beats Scissors. Paper beats Rock. Scissors beats Paper. Nothing beats a Blowjob.
7

Jesus Christ (@Jesus_M_Christ)
Who: God's son who died on a cross for everyone's sins, at least according to the Christian faith.
Great Tweet: I admit it. I tried communion once. I taste really bland.
8

The Batman (@God_Damn_Batman)
Who: The Dark Knight, aka Bruce Wayne.
Great Tweet: Horrible experiences make you stronger. Like your parents getting murdered. Or having AT&T.
9

Darth Vader (@darthvader)
Who: The main enemy of the original Star Wars films, and Luke Skywalker's baby daddy.
Great Tweet: Come on Mega Millions, Annie's clone army needs 2,300,000 new pairs of shoes.
10

Cobra Commander (@CobraCommander)
Who: The supreme ruler of the COBRA terrorist organization from G.I. Joe who happens to talk with a snake-like hiss.
Great Tweet: The CobraCare health care plan is quite simple. You pay me money and I don't kill you.
11

The Universe (@theunIverse)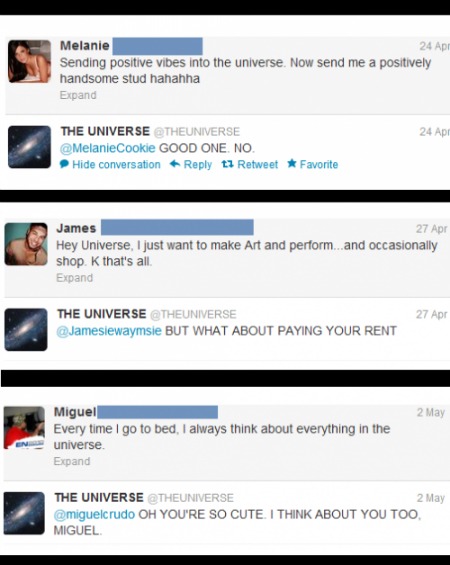 Who: You know, the entire universe out there. Unlike the other accounts on this list, The Universe was pretty much just created to post replies to people who write tweets to the universe –as you can see in the picture.
Great Tweet: SPEAKING OF TATTOOS, GOD DO I REGRET HAVING THE HORSEHEAD NEBULA MADE. WHAT WAS I THINKING?
12

Big Ben (@big_ben_clock)
What: The famous clock in the heart of London. Need to know what time it is in England? Just check the BONGS.
Great Tweet: BONG BONG BONG BONG BONG BONG BONG BONG BONG BONG BONG BONG
13

Fake AP Stylebook (@fakeapstylebook)
What: The official formatting and style guide for the Associated Press and news organizations worldwide. While this joke is mostly limited to journalists and journalism students, those that get it find the parody to be hilarious.
Great Tweet: As "Mexcellence" is taken by El Pollo Loco, we recommend "Hispaniriffic" and "Chicano-a-go-go" as alternatives.