After weightlifter Seen Lee shocked the world during the 2012 London Olympics, we decided to take a look and see who else was busted with her arms up.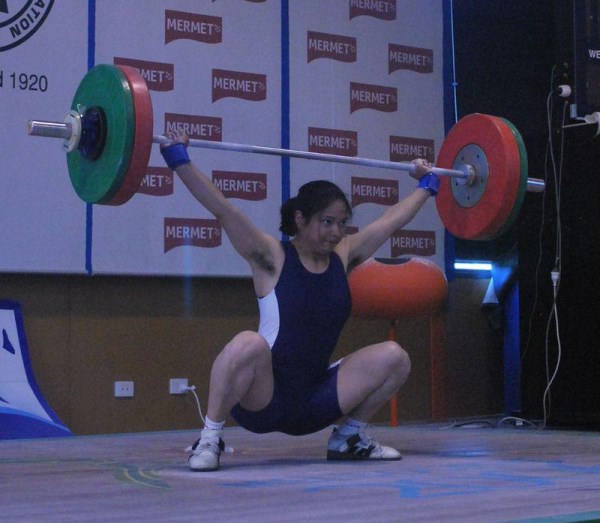 Her name is Seen Lee and the Australian didn't leave the London Olympics with a medal, but the rookie definitely left her mark on Twitter via her insanely hairy armpits. Competing in the 63kg division, Lee finished seventh and "couldn't clear 86kg in the snatch, while her attempt at 106kg in the clean and jerk also failed," according to Australian media.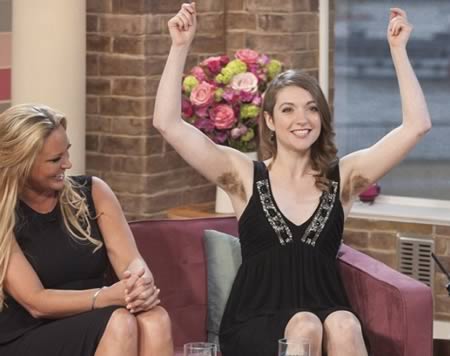 You have to hand it to Emer O'Toole. Not many 28-year-olds would go on national TV wearing a little sleeveless black frock if they hadn't shaved their armpits for 18 months. Yet the incredibly pretty Emer proudly raised her slim arms on "This Morning" to reveal that she doesn't shave, or wax, or pluck. And we're not talking a bit of fluff here — she revealed underarm beards that would have made Osama bin Laden proud.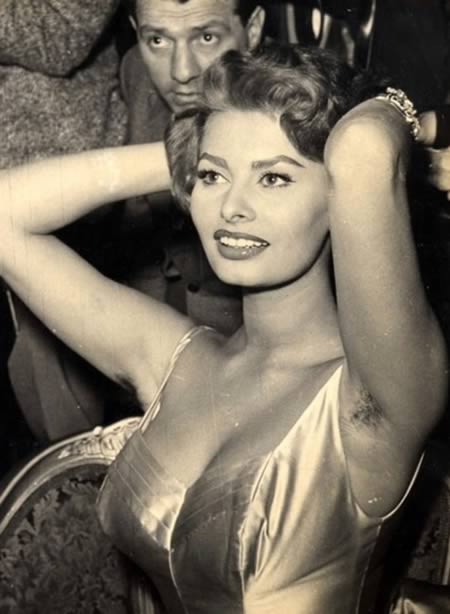 Who among us hasn't, at some point in our adult lives, forgotten to shave our pits for a day or seven? If only we looked as glamorous as Sophia Loren when we ditched our razors. She was proud of her arm bush and rightly so.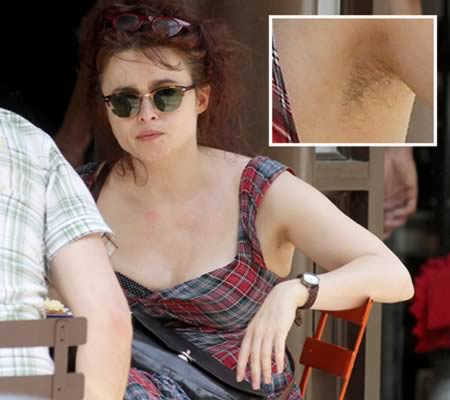 Helena Bonham Carter's tacky plaid dress wasn't her only disaster during lunch.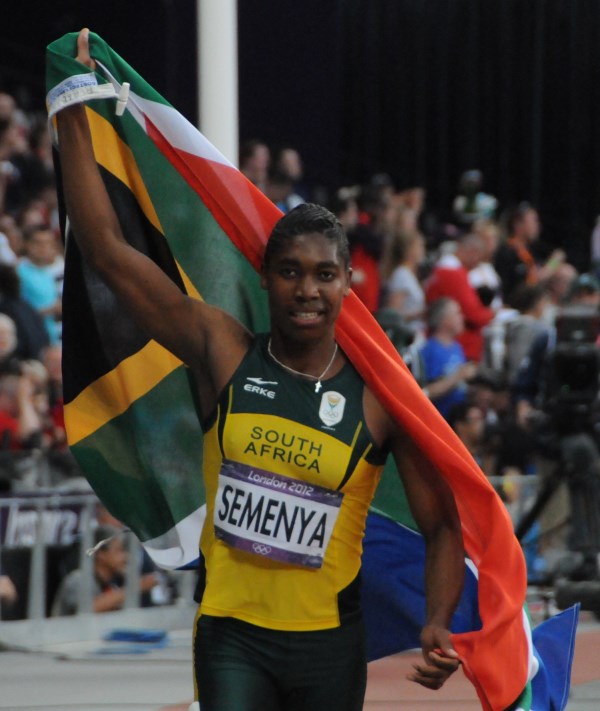 Caster Semenya is an 18-year-old South African athlete who won the women's 800-meter race at the 2009 IAAF Athletics World Championships last August 16, 2009 in Berlin. Not only did she win the race, she also clocked the fastest winning time — 1:55.46 — at the world championships since 1993.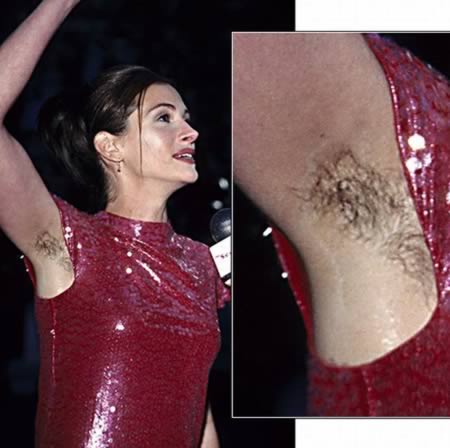 Very much overgrown hair here that probably took a couple months to grow out to this length. It's none other than Julia Roberts' armpit hair, confidently waving at the Grammy awards. Maybe she was making some kind of statement. But wow, you can see those underarms a mile away.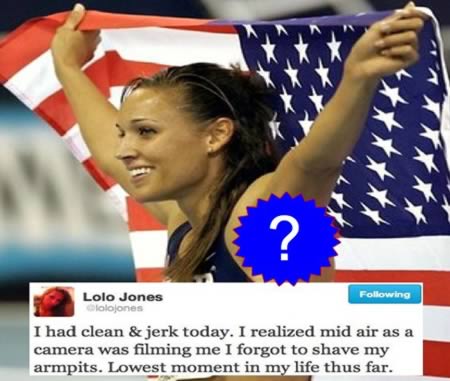 Track star Lolo Jones, aka one of our main Olympic boos, found herself in quite the embarrassing situation recently, as a memory lapse exposed her hairy pits.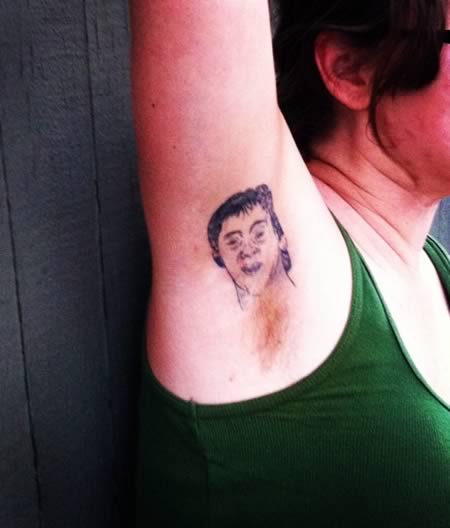 Thanks to the intrepid photography work of one Ryan Malia, who uploaded the above photo to Instagram, we have evidence of one ladylike Los Angeles Kings fan's way of supporting the team: by growing out her armpit hair.
You see, this particular fan, for some mind-boggling reason, has a tattoo of Kings legend Luc Robitaille, a Hall of Famer who spent 14 seasons during three stints with the team. And to do her part, not to mention honor the tradition of hockey players growing playoff beards during the Stanley Cup Playoffs, she eschewed the razor in order to grow an armpit hair playoff beard for her Robitaille armpit tattoo.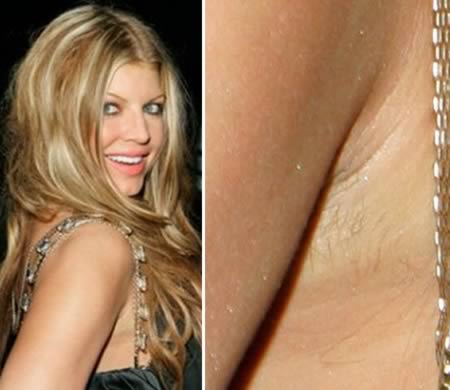 Fergie has hot dance moves and a decent voice, but she's quickly becoming known as the queen of mess ups. First, The Black Eyed Peas front woman peed herself on stage during a concert in San Diego and then, she showed off these long hairy-hairy underarms. She may be a fashion forward fashionista, but this is one fashion faux pas she should try not to repeat!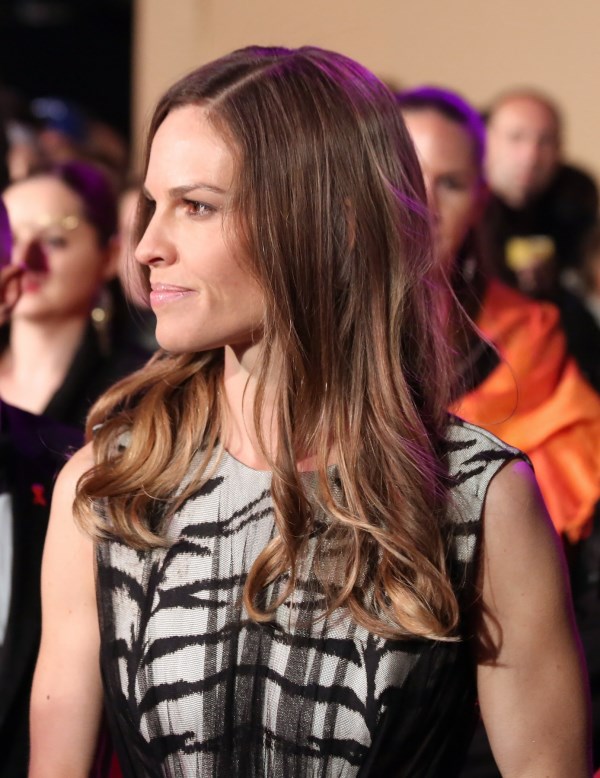 Hilary Swank walked the red carpet wearing a gorgeous gold dress and excess armpit hair. Unfortunately, there is nothing that will detract faster from an actress starring in a great movie—like the new Erin Brockovich true-life tale "Conviction"—than pit hair.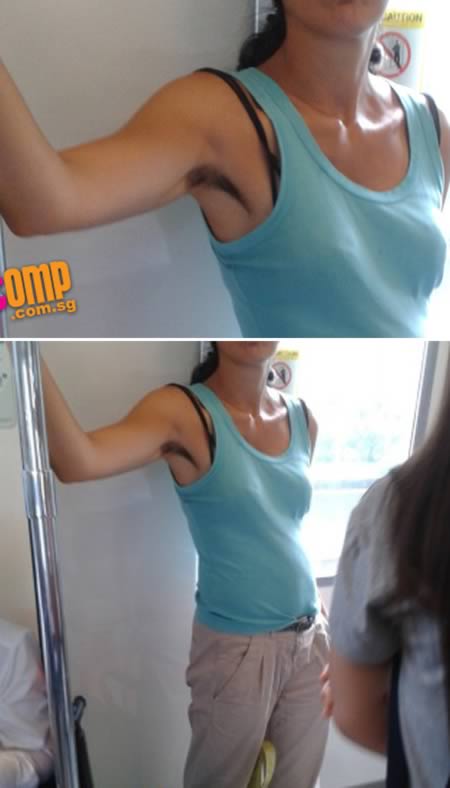 STOMPer Jerlina spotted this woman with unshaved armpits on the MRT, just one day after female Australian weightlifter Seen Lee's bushy armpits had caught the attention of the whole world.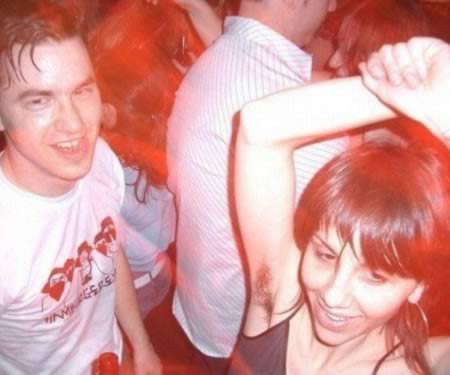 Too much fun at the disco.