1

Monopoly
A group of anonymous artists known as 'Bored' has created a life-size version of Monopoly using the streets of Chicago as their giant game board. Sidewalk blocks are painted to mirror the various properties in the classic board game (renamed with Chicago streets), while various pieces of the game - the Chance and Community Chest Cards, six-sided dice, and houses and hotels dot the city.
The Chance and Community Chest Cards, painted yellow to match the game version, are made of plywood and are printed with obscure comical messages - 'Go To Jail for Public Douchebaggery' is printed on one while another reads 'Carissa, Will You Marry Me? If yes, advance one block south to nearest church.' The messages on the cards are periodically changed, keeping the 'game' interesting and interactive.
2

Bowling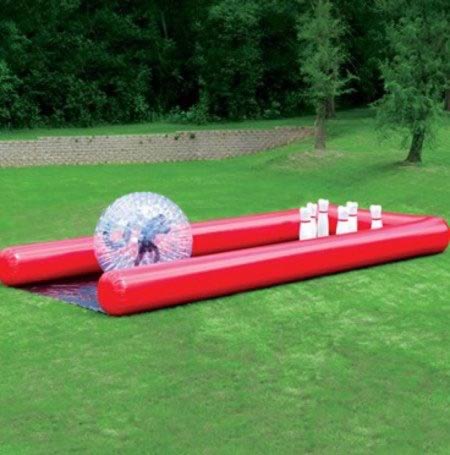 Bowling lovers who love venting their frustrations on a bowling ball might want to see what it feels like when the tables are turned, thanks to the $4,500 Human Bowling Ball. This inflatable bowling game will challenge players to assume the "roll" of the ball when it comes to knocking down a set of pins. Too bad adults are unable to participate, as it is meant only for those aged 5 to 12. The transparent PVC ball can be inflated to its full 7? diameter by an adult, not using lung power (thankfully), but with the included blower. All you need to do is run forward inside the ball to generate the necessary momentum required to knock over six 5?-tall foam pins.
3

Candyland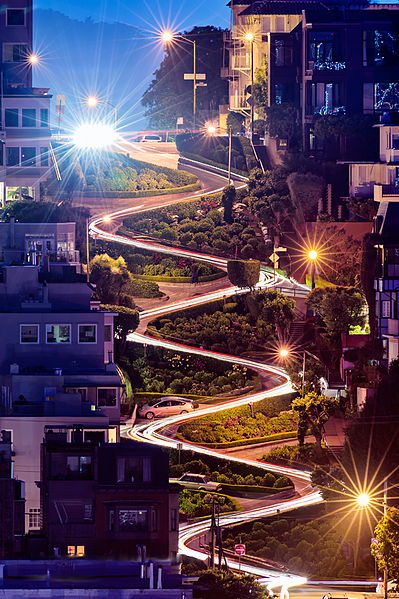 In honor of the board game's 60th anniversary in 2009, the crookedest street in the U.S., Lombard Street, San Francisco, was transformed into the sweetest board game around. The city's own Ted Weinstein, who was live on the scene, reports that the event was commercial yet charming, and the kids really loved it. "Capitalism meets childhood," he told us.
4

Chutes and Ladders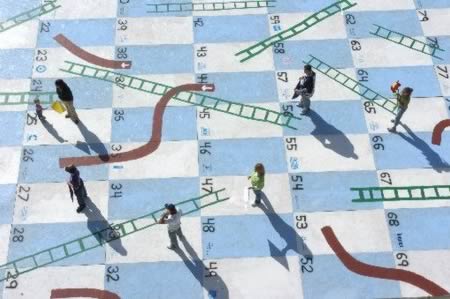 During the 3rd annual Michigan Fallapalooza in 2007 - a day of games, music and sidewalk sales, this life-sized game of Hasbro's popular Chutes and Ladders was perhaps the most noticeable event. The huge board consisted of alternating white and blue squares, with hand-painted ladders and slides for participants to traverse if they landed on corresponding squares.
Fifty of the board's squares were sponsored by area businesses or groups. That money, and the suggested $2 donation per two-person team, were donated to SOS Community Services, a local nonprofit agency that serves homeless families and others in need.
5

Hot Wheels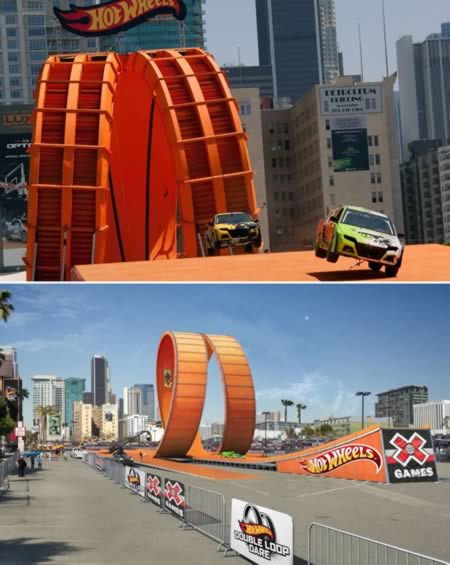 Practically a rite of passage for American boys, Hot Wheels cars have been part of the American toy scene for more than four decades. Many of us probably had a set of the plastic stunt tracks to get our toy cars to do all sorts of cool stunts. Of course, those scale-level stunts could never happen in the real world, right? Well, fantasy became reality with professional drivers Tanner Foust and Greg Tracy successfully completing the Hot Wheels Double Loop Dare at the X-Games in Los Angeles.
Twin 60-foot metal loop tracks were built to facilitate a side-by-side competition between Foust and Tracy. In order to create enough centrifugal force to keep the cars on the track during the stunts, the drivers had to take the loops at 52 mph, which exerted 7 Gs on the drivers.
Tracy took first place, with Foust coming in right behind him. Tracy is a six-time Pike's Peak champion and has been a Hollywood stuntman since 1991. Foust, a well-known formula drift driver and co-host of Top Gear USA, will go on to compete in the RallyCross competition at the X Games.
6

Scrabble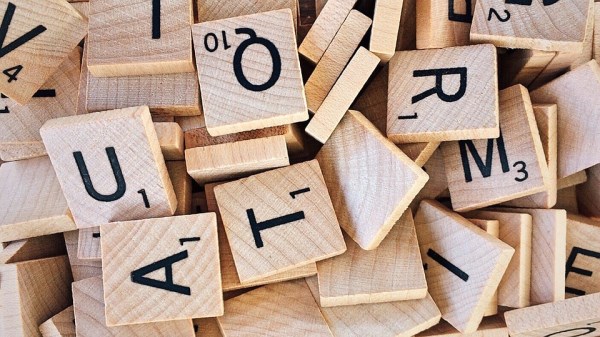 Scrabble - Definitely a Place for Standard English. The world's biggest game of Scrabble was played out on the pitch at Wembley stadium. The board game covered most of the pitch where top football matches are usually played, with teams from the armed services lifting the letters - the size of dining room tables - to where they were needed.
7

Chess Set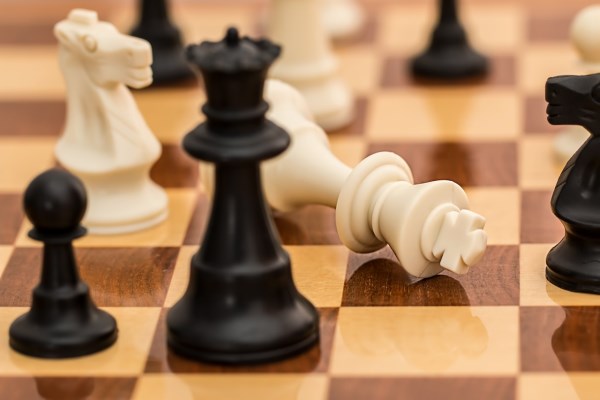 Recognized as the world's biggest chess set by Guinness, you'll be sure to impress your friends with this in the backyard. With its tallest piece, the King, coming in at 48 inches high, you can't help but drop your jaw at its beauty. It does have the world's highest price tag (not recognized by Guinness) - it will set you back 6 grand - and that's without the board.
8

Fussball Table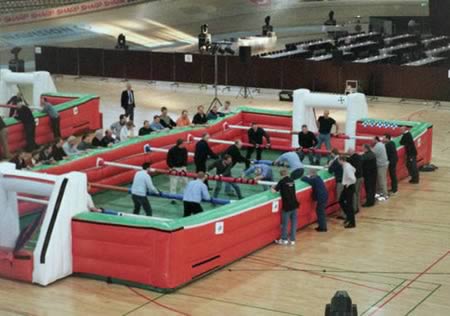 The Human Table Football is a giant inflatable version of the popular pub table football game and is hilarious fun! Human players are attached with Velcro to plastic poles, which slide from side to side across a giant pitch with inflatable sides.
9

Mousetrap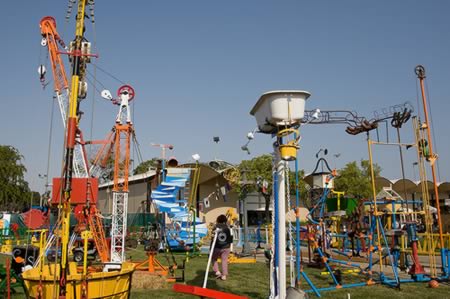 If you've been to a Maker Faire in recent years, you've no doubt noticed the Mark Perez's Life Size Mouse Trap holding center stage in one of the outdoor areas just waiting to go for a spin.
If you haven't already seen it, this giant "toy" is a Rube Goldberg machine come to life. Weighing in at two tons, the mouse trap takes four days to set up, and a one day breakdown with a 10-person crew. Inspired by the board game Mouse Trap, this talented troupe has been delighting audiences with their giant kinetic sculpture since 2008.
10

Angry Birds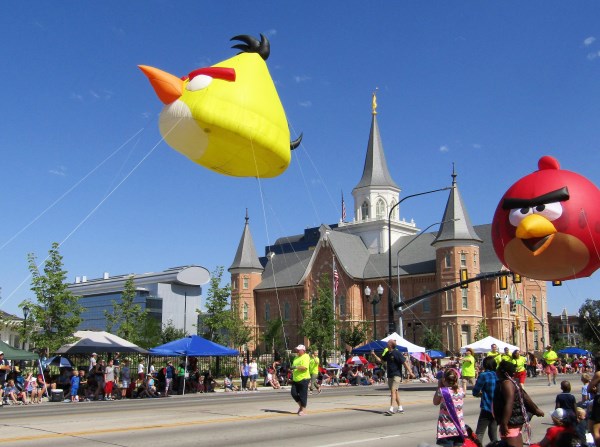 The global phenomenon, Angry Birds, has crash landed atop Mount Faber in Singapore and it is super fun! Come and play a life-sized Angry Birds game! How cool is that?