1

The Hashtag Tower (Seoul, Korea)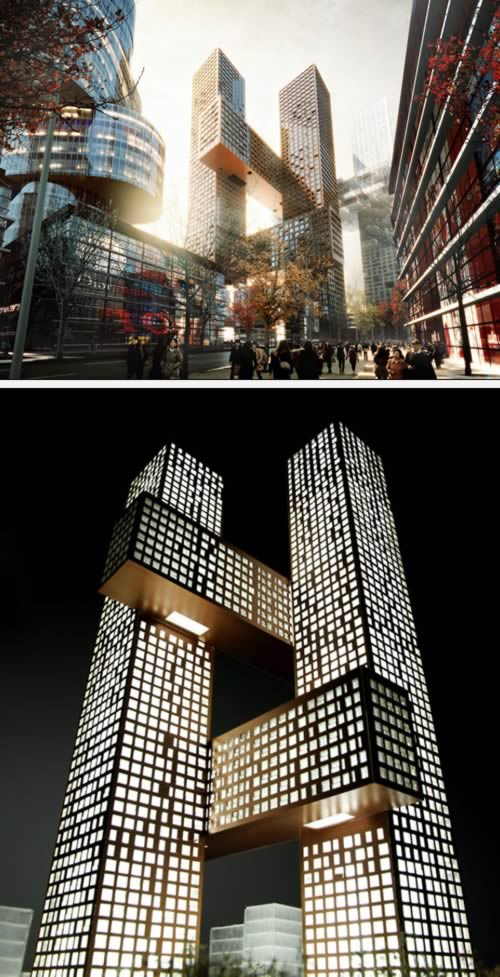 Now this is something to talk about: Danish architects BIG have designed an apartment tower complex that looks like a hashtag.
The Cross # Towers constitute a three-dimensional urban community of interlocking horizontal and vertical towers. Three public bridges connect two slender towers at different levels – underground, on the street and in the air. Catering to the demands and desires of different residents, age groups and cultures, the bridges are landscaped and equipped for a variety of activities traditionally restricted to the ground. The resultant volume forms a distinct figure on the new skyline of Seoul – a "#" that serves as a gateway to the new Yongsan Business District, signaling a radical departure from the crude repetition of disconnected towers, leaning towards a new urban community that populates the three-dimensional space of the city.
2

Elephant Building (Bangkok)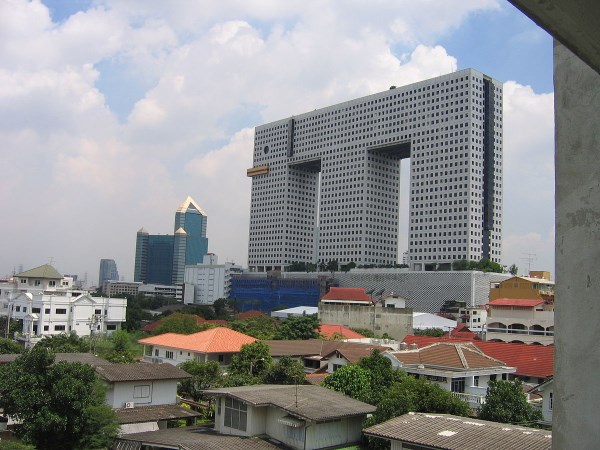 Meet the Elephant Building in Bangkok, Thailand. Designed by Sumet Jumsai and completed in 1997.
3

Ren Building (Shangai)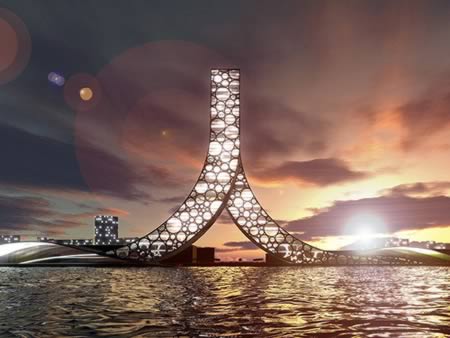 The Ren Building is an interesting design by PLOT, which has since split up into BIG (Bjarke Ingels Group) and JDS (Julien De Smedt). The project was a proposal for a hotel, sports and conference center for the World Expo 2010 in Shanghai. The building was conceived as two buildings merging into one. The first building, emerging from the water, is supposed to be devoted to activities of the body, and houses the sports and water culture center. The second building, emerging from land, is to be devoted to the spirit and enlightenment, and houses the conference center and meeting facilities. The two buildings are to meet in a 1000-room hotel, a building for living. The building becomes the Chinese sign for "The People", and a recognizable landmark for the World Expo in China.
4

Swastika Building (California, US)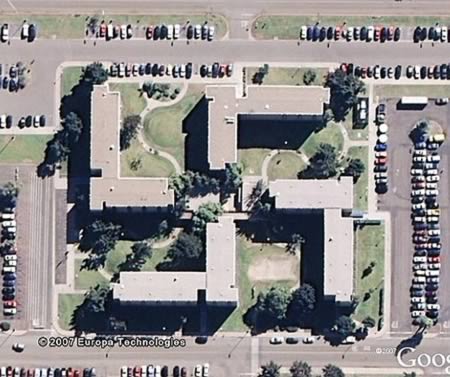 This is a US Navy building in Coronado, CA that was unintentionally built in the shape of a swastika. Now, because of a public uproar, the Navy will be spending $600,000 to alter the shape of the building.
5

Wing Shape Zayed National Museum (UAE)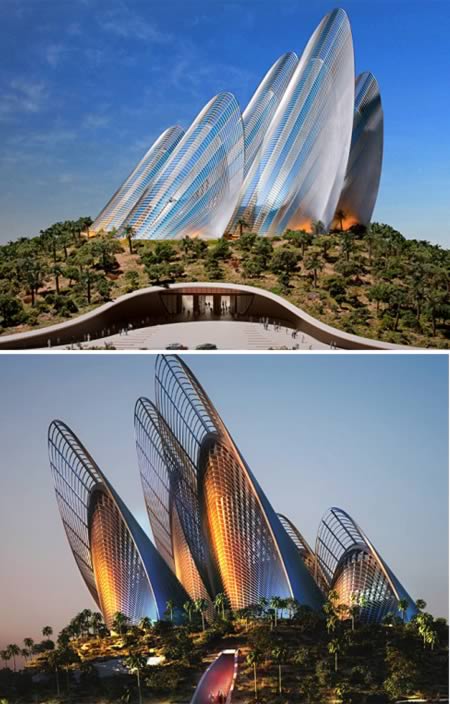 This wing-shaped building is the Zayed National Museum designed by Foster + Partners. It is located on Saadiyat Island, Abu Dhabi, UAE, and will be the first museum completed for the island for showcasing the history, culture and more recently, the social and economic transformation of the Emirates.
The museum features five wing-shaped towers protruding from a man-made, landscaped mound that houses the galleries. The towers act as thermal chimneys and draw cooling currents through the museum without any need for electricity. Fresh air is captured and drawn through underground ground-cooling pipes and then released into the museum's air. Since the towers heat up at the top, air is pulled up vertically through the galleries due to the thermal stack effect, and is then pushed out of the air vents.
6

The Dancing House (Czech Republic)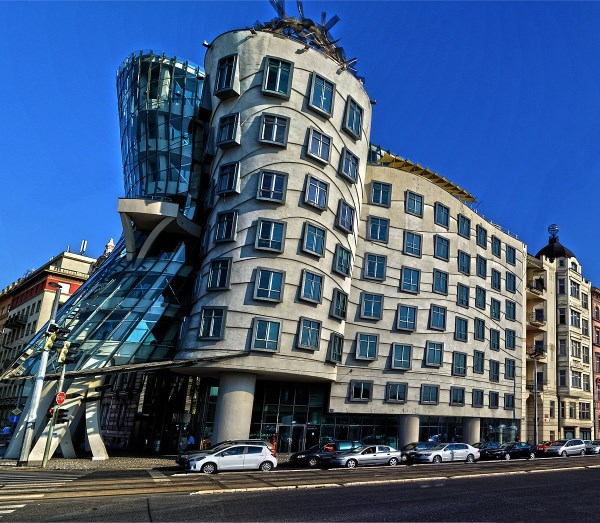 The Dancing House, aka the Dancing Building, is an architectural masterpiece in downtown Prague. It got its name due to its shape. The original name was Fred and Ginger (after Fred Astaire and Ginger Rogers) as it resembles a pair of dancers. It was designed in 1992 by Croatian-Czech architect Vlado Milunic and finished in 1996.
7

"COR" building (Miami, Fl)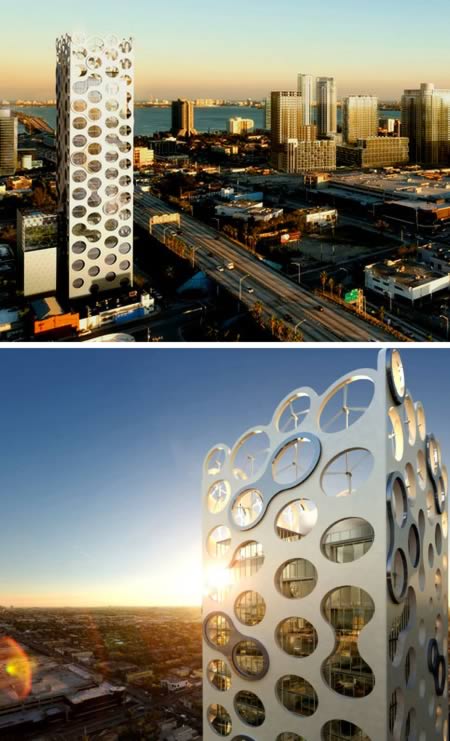 A new high rise is going up in Miami's design district, and its a lean, green, eco machine. A collaboration between Chad Oppenheim architecture + design, energy consultant Buro Happold, and structural engineer Ysreal Seinuk, the $40 million, 25-story, "COR" building will incorporate mixed-use residential and commercial space, integrating green technologies including wind turbines, photovoltaic panels, and solar hot water generation. The building's exoskeleton is a hyper-efficient structure that provides thermal mass for insulation, shade for residents, and architectural elements such as terraces and armatures that support turbines.
With the aim to attract creative and design-oriented businesses and professionals, the interior of COR features sleek commercial and comfortable residential spaces ranging from $400,000 to $2 million. Each residential unit will include Energy Star appliances, recycled glass tile flooring, and bamboo-lined hallways. In total, COR will play host to 113 residential units, 20,100 square feet of office space, and 5,400 square feet of retail space (which already includes a café and furniture store).
8

Wood Skyscraper (Vancouver)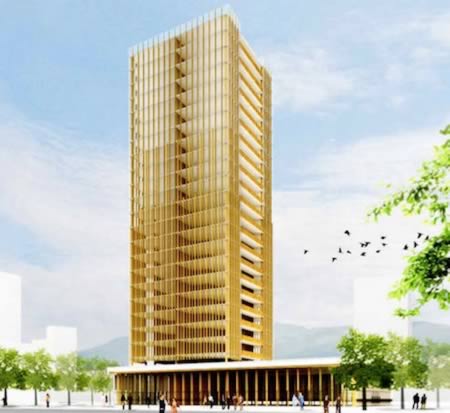 The seemingly radical idea of building a skyscraper out of wood is not so strange after all, as architect Michael Green is quick to point out, because of two main advantages that wood has over concrete and steel - it's eco-friendly and cost-effective.
'Tallwood' would be made of large panels of 'laminated strand lumber'—a composite made by gluing together strands of wood. Trees are a renewable resource, and they help to reduce air pollution. Sourcing from sustainably-managed forests could be deemed more environmentally sensitive, according to CNN.
Unlike concrete—which produces about 6-9kg of carbon dioxide for every 10kg of concrete—wood sucks carbon out of the atmosphere. And contrary to popular belief, wood actually is quite fire-resistant.
9

Coin Building (UAE)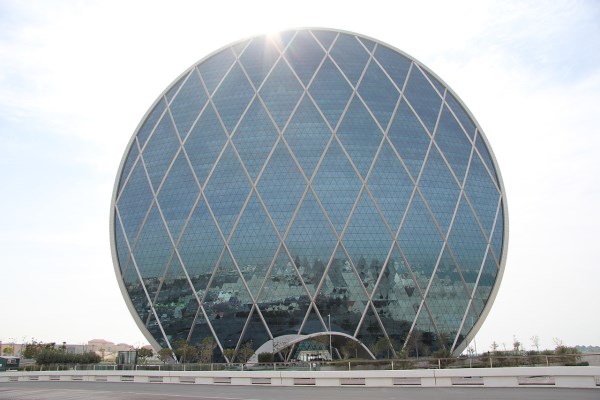 Aldar headquarters building in Abu Dhabi. Designed by MZ Architects and opened in 2010. This coin-shaped building is the world's first circular skyscraper.
10

Egg Building (China)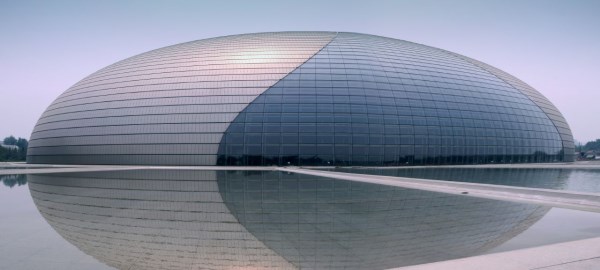 This beautiful structure known as "The Egg" is China's National Centre for the Performing Arts. This dome-shaped building is submerged in water and contains an Opera House, a Concert Hall, and a Theater. Remarkably, this building is just as massive and intriguing below the surface of the water. "The Egg" is home to underwater corridors, an underwater garage, and even an artificial lake. The structure took over five years to build.