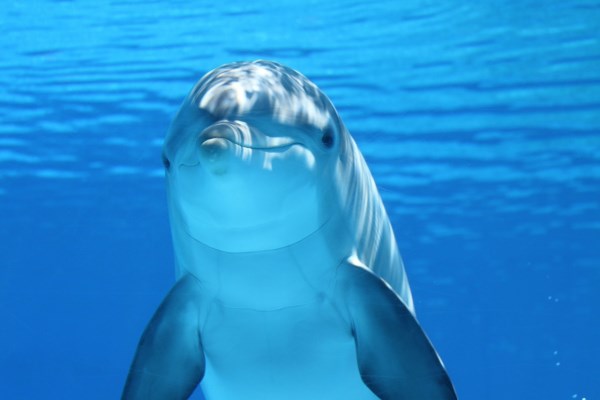 A man who lost an arm in a freak accident, has had his stump transformed by a tattoo artist into the head of a dolphin. Heine Braeck, 33, hated his stump, caused by a childhood accident on a train track. The Norwegian realized the shape of it was identical to a dolphin's head. So he asked Bulgarian artist, Valio Ska, to turn the stump into a 3D tattoo, with amazing results. Valio spent over three hours on the meticulous ink job.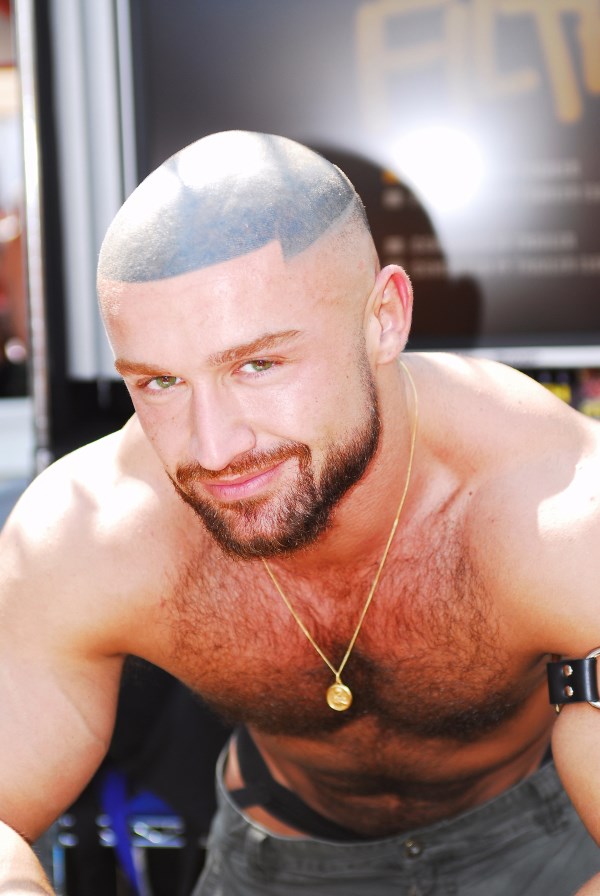 Toupees. The comb-over. Now, a head tattoo? If a UK company has its way, men suffering from hair loss will turn to needles and ink to mask their baldness. His Hair Clinic, based in Birmingham, England, uses what it describes as "a mild form of medical tattooing" to simulate the look of shaved or closely cropped hair. The procedure, which His Hair Clinic calls "hair follicle replication," takes three hours to complete and requires an additional follow-up session.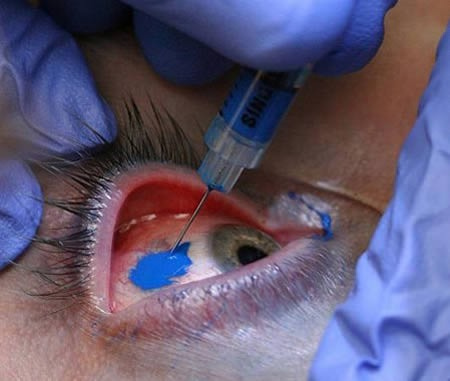 Perhaps one of the most dangerous types of tattoo: eyeball.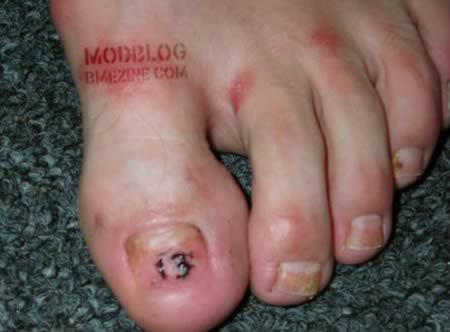 Under toenail tattoo. Ugh, that looks extremely painful. Done by John at Holdfast Tattoo Co. in Atlantic City, NJ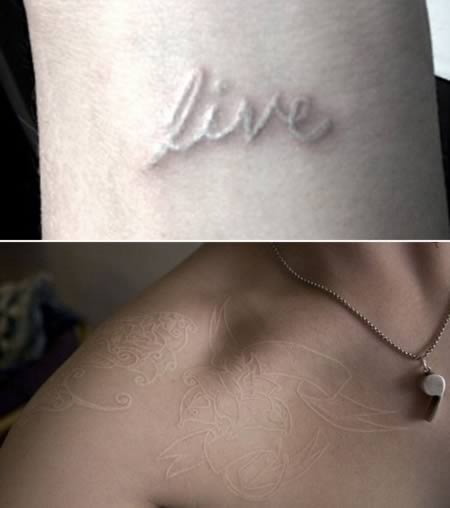 White ink tattoos are a new trend. This new type of tattoo, which is inked exclusively with white pigment, is favored by more and more people. The end result is a tattoo that has a subtle, almost "ghostly," image.
Organ tattoos originally began within the organ transplant industry to ensure that transplant patients got the correct organs, but it has now become an art form.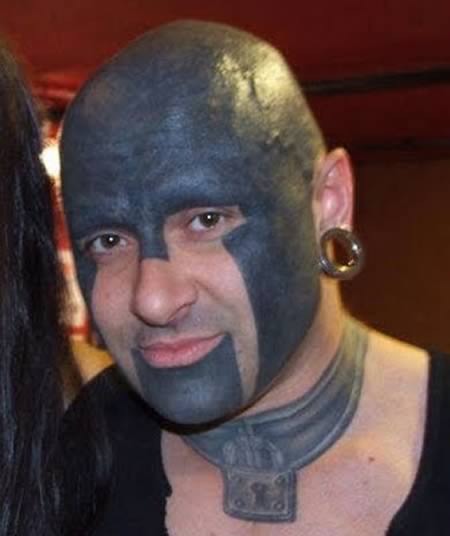 Can't decide what to draw? How about covering half of your face and head with black? Probably one of the most extreme face tattoos ever.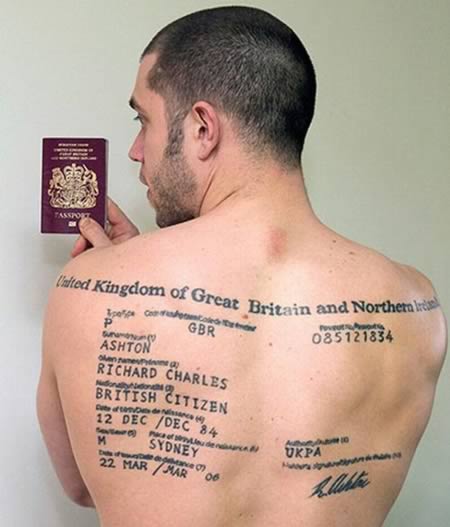 ID tattoo? Well, yes! Richard Ashton from the U.K. always carries his passport. In fact, his passport has become a permanent part of his body since he had it tattooed on his back. Mr. Ashton, 27, a personal trainer from Wandsworth, London, had this done as a memento of a 2005 backpacking holiday in Australia.
Ashton is not allowed to travel overseas brandishing his back as identification, as he is still required to carry a regular passport through customs. However, he revealed that he has used it as an ID in order to make a bank withdrawal, whipping off his shirt in the Australian bank.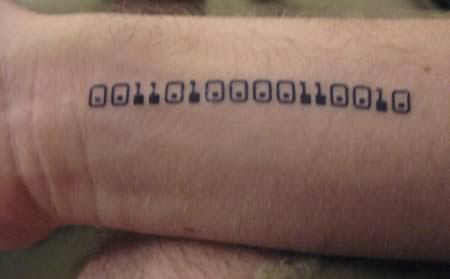 Controlling your diabetes could make you look tough. A special tattoo ink, that changes color based on glucose levels inside the skin, is under development by Massachusetts-based Draper Laboratories. The injectable nanotech ink could eventually free diabetics from painful blood glucose tests.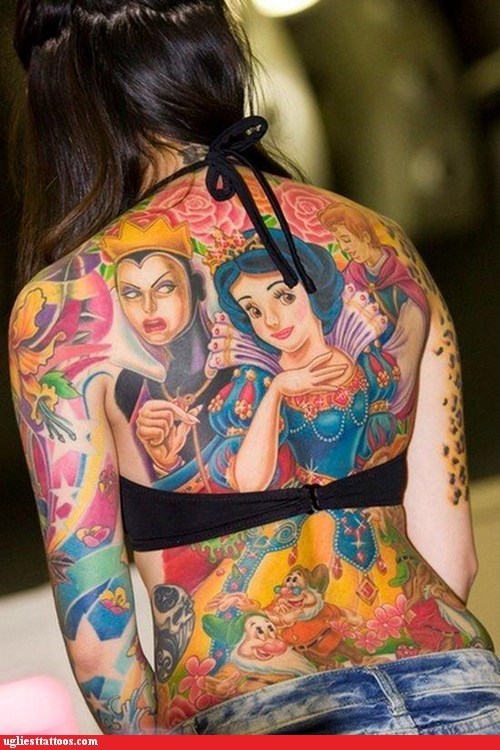 Extreme fan tattoo.
Lots of children love Disney princesses, but most of them kind of grow out of it. But not Annfaye Kao, 27, of Taichung, Taiwan. Annfaye loves Snow White and the Seven Dwarfs so much that she got the entire cast tattooed on her back.