1

Boob Scarf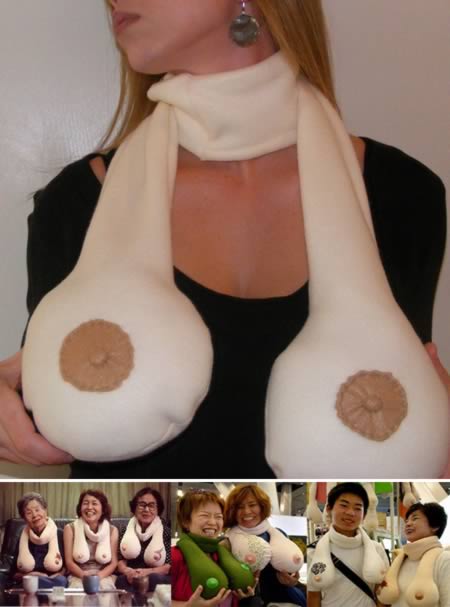 Looking to be the center of attention? Try wearing one of these boob scarves, and you'll be sure to turn heads. This creation just adds to the list of unique inventions that come from Asia. Not only do these scarves keep your neck warm, you also get a hassle-free breast augmentation in seconds!
2

Sushi Roll Scarf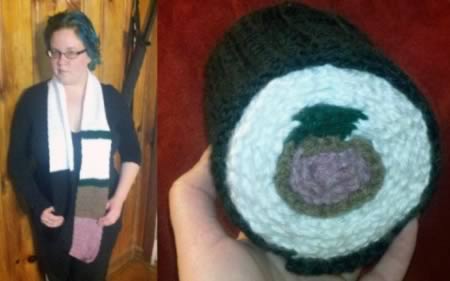 Redditor NoKarmaForKindness crocheted a sushi roll that looks good enough to eat. It doesn't actually smell like fish, but, presumably, it can be altered to do so.
3

Bacon 'n Eggs Scarf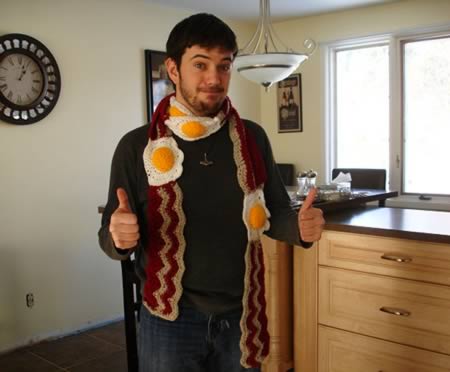 Three Eggs with Bacon - A great breakfast, and a great scarf! Handmade Crochet Scarf by TheHappyCrocheter on Etsy.
4

The Fortune Scarf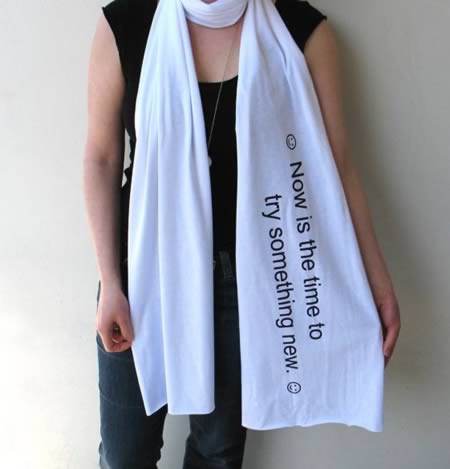 If you are a fan of pop art, and of all things miniature or super-sized, why not a giant fortune then? The perfect gift to help someone remember the important things in life!
5

Pencil Scarf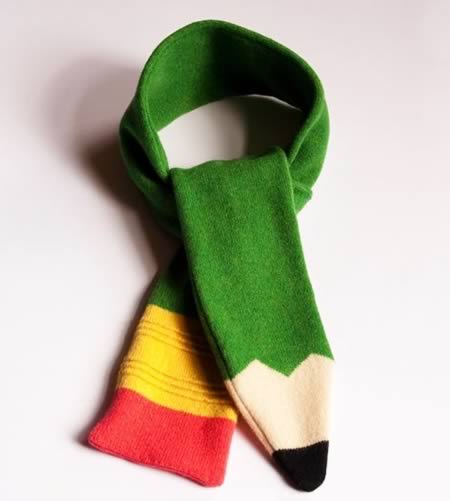 Someone designed and knitted this scarf using 100% lambswool, so it is lovely and soft. The pencil is a beautiful rich green colour. A fun scarf to keep you cozy this winter!
6

Etsy Data Scarf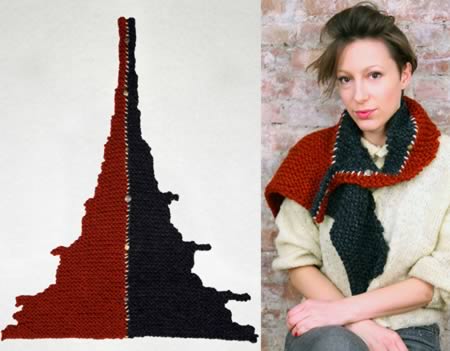 Natalie Rachel has an interesting project going on - she takes raw data from Etsy and knits it into scarves. These Data Scarves are handmade and pretty fashionable when worn. She uses the number of new users and items sold by month from 2005-2011. She processes and graphs the raw data herself. Each of the buttons represents where a year ends on the chart. The scarves (there's 2 of them) are priced more in the art price range than the hand knit scarf price range at $250 and $300 each.
7

Super Mario Piranha Plant Scarf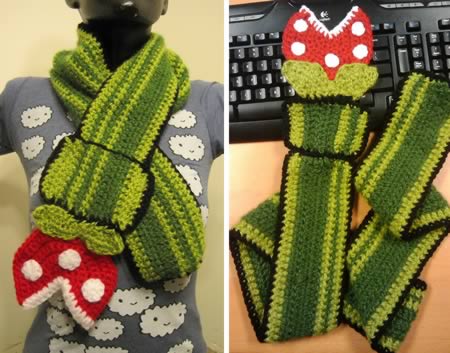 Check out this awesome Super Mario Piranha Plant Scarf handmade by An Enemy Airship (Mindy). It looks like a great way to stay warm and be geeky at the same time this winter. If you're crafty yourself, Mindy has provided the pattern she used to create it with, so get your yarn out.
8

Crime Scene Scarf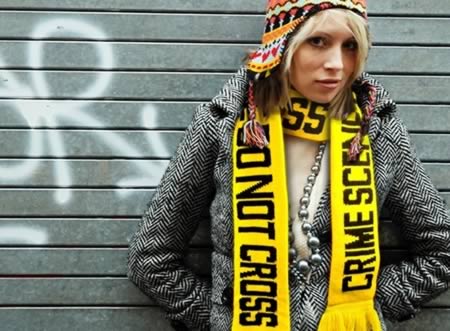 Is your girlfriend so hot, she's practically a criminal? Well, this Fuzz Crime Scene Scarf ($17.95) from the NeatoShop will definitely make her the center of attention while keeping her warm on cold weather days.
9

Pizza Scarf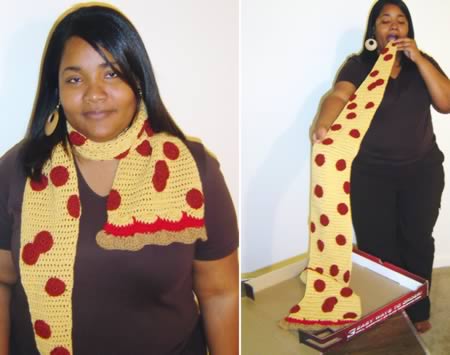 This crochet pizza scarf is not edible, but it's pretty cool.
10

Nyan Cat Scarf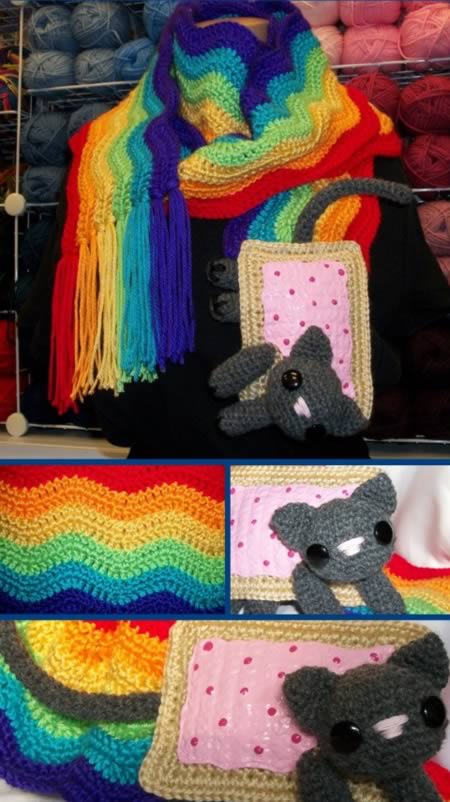 DeviantART member MasterPlanner made a rainbow scarf, complete with a detachable Pop Tart Cat! You can buy one for $75 plus shipping - if there are any left.
11

Power Cord Scarf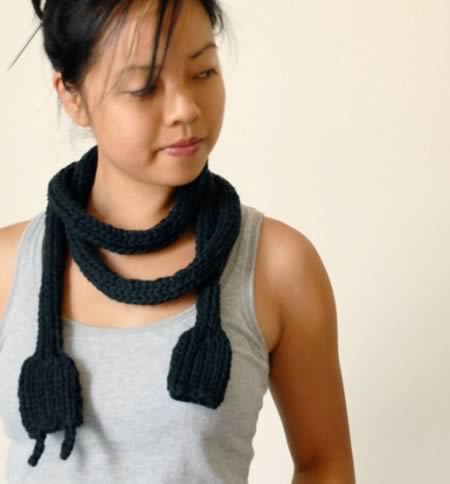 Why are you wearing a plastic insulated electrical cord around your neck? Nguyen Le, a photographer and crafter in Brooklyn, made one out of cotton and wool yarn that is probably a lot more comfortable.
12

Guitar Hero Scarf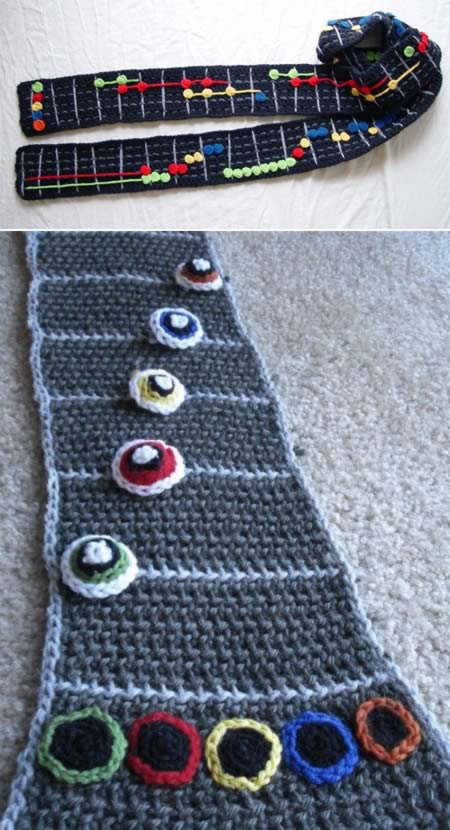 Here's another great, geeky clothing, craft project from the Domestic Scientist - it's a Guitar Hero Scarf. It's still a work in progress, and the Scientist hasn't quite figured out which song to use as a guide for "note" placement on the scarf, but it's pretty easy to get a sense of what it's going to look like. It's hand crocheted, and apparently it shrank slightly, which makes it look more like a medium level game-play difficulty, rather than hard (the level of crocheting still looks hard to me though!).