1

Customized Airline Seat Cover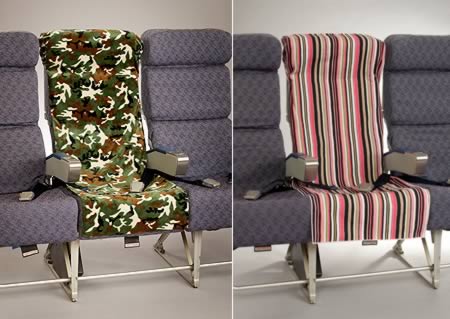 At first this sounds like a joke. Imagine you enter an airplane, find your seat and start stretching your own washable seat cover with leopard print. I'm sure, this looks more than odd, but the manufacturer tries to convince us to buy this cover telling each year more than 500 million people make domestic flights and they use the same seats making them less sanitary. I'm not sure anyone requires this seat cover as the majority think they have their clothes to protect from microbes left by previous passengers. However, if you are a cleanness junkie and are not confused to use this seat cover in an airplane, this gadget can be a nice thing to buy. Attention of all passengers is guaranteed as well as protection from germs, spills or crumbs.
2

Traveller's T-Shirt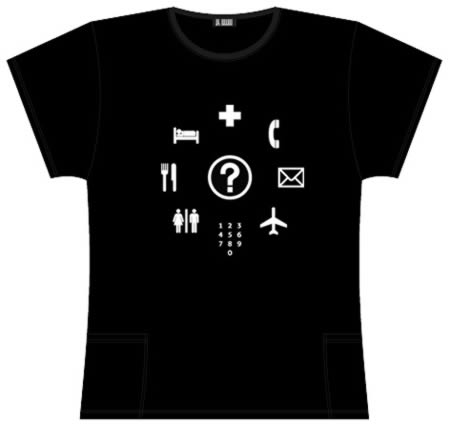 If you're a world traveler heading out to exotic destinations this summer, this Traveler's Phrasebook T-Shirt might be just for you. It uses the same pictograms you see on international signs across the globe, bringing world communication down to its most basic level.
Designed by Artemy Lebedev of Optimus Maximus keyboard fame, it covers the most basic of human needs, and all you have to do is point to whatever it is you're looking for and even the dopiest desk clerk will be able to help you out. Who needs some cumbersome electronic translator when a simple T-shirt will do?
3

One inch Camera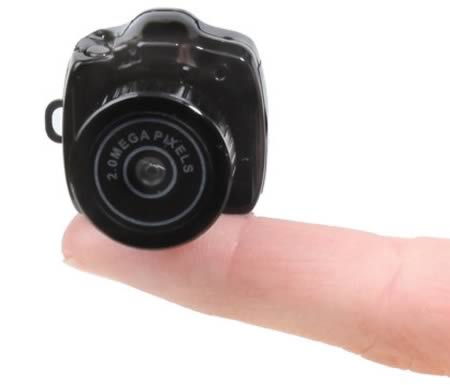 If you are too worried about over packing, this is a good solution for you. Meet the world's smallest digital camera, measuring just over one inch in all dimensions and weighing only half an ounce. Reminiscent of devices employed by Cold War-era operatives for intelligence gathering, the camera appears to require Lilliputian agility, yet its one-button operation provides easy picture taking. After a twist of its tiny lens for manual focus, it uses a 2 MP image sensor that takes still images at 1600 x 1200 resolution and captures video at 30 fps at 640 x 480 resolution.
4

Talking Luggage Scale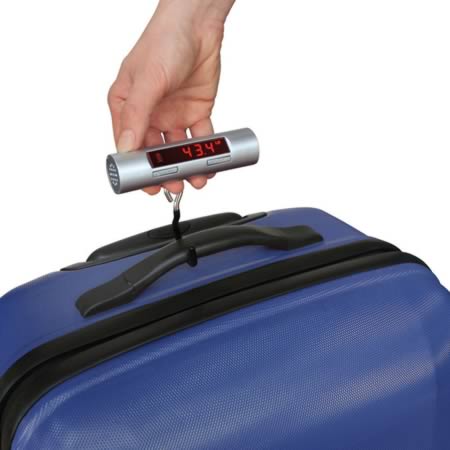 This is the only luggage scale that announces the weight of bags. Ensuring the convenient prevention of airline overweight-baggage fees without requiring even a casual glance of its 3 1/2" backlit LCD, its built-in speaker announces the weight in an easy-to-understand female voice (e.g. "Thirty Eight Pounds"). It weighs up to 110 lbs. (accurate to one-tenth of a pound) and displays readings in pounds or kilograms. The display automatically turns off after 60 seconds of inactivity to preserve power.
5

Flying Pasties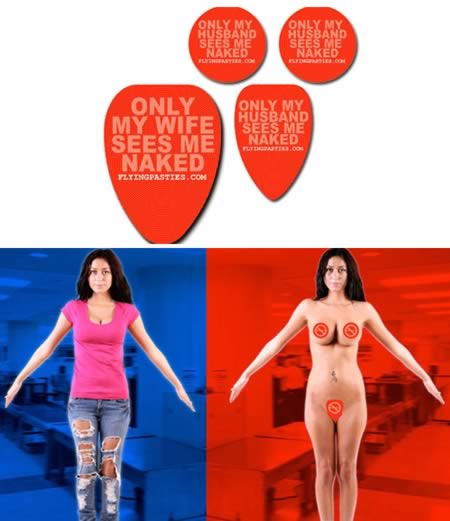 These orange rubber stickers – branded "Flying Pasties" – are designed to be placed inside or on top of a traveller's underwear and obscure their private parts from controversial full-body airport scanners. The company's website features a virtually nude woman wearing the stickers – which are available for about $15 each – but does not provide any evidence to show the product actually works.
Note: The company has been criticized on travel for being ineffective and capitalising on the fears of passengers subjected to the new airport scanners.
6

USB Air Conditioned Shirt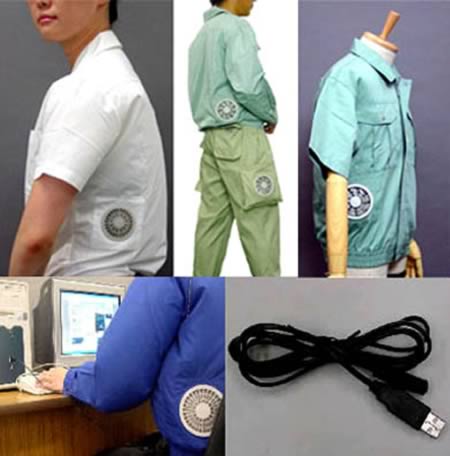 Who doesn't want a shirt that blows cool air across your back and torso during intense heat? Such a shirt sounds perfect if you're planning on sitting outside in the middle of the desert. It would also be great if you were running or exercising in the hotel's fitness room. However, the downfall is that it's connected to a USB. In order to enjoy that nice cool air, you have to be hooked up to your laptop and have a powerful battery.
7

Underwear Stash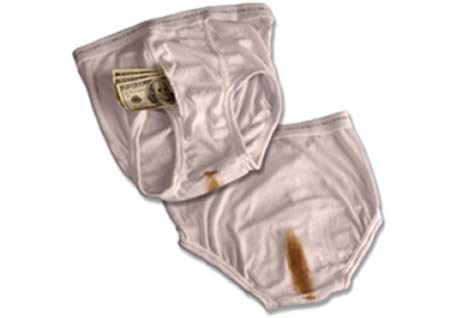 If you're concerned with hiding lots of money in places that are too obvious, consider BriefSafe. It's a pair of nasty-looking, "pre-skid marked" drawers with a hidden pocket for all your cash, passport, etc.
8

Travel bidet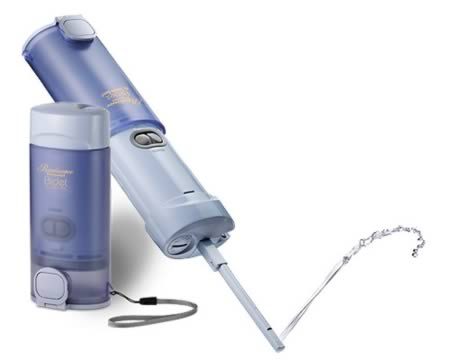 Perfect for cleanness junkie travelers, this pocket-size Travel Bidet was designed for those traveling to (shall we say) less sophisticated countries. Available from Skymall.com for US$44.95.
9

Heated Pet Car Seat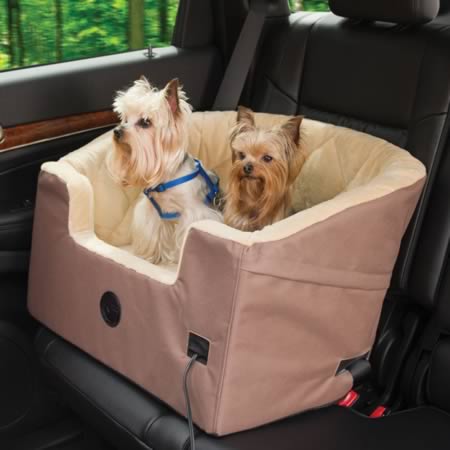 Here's something for folks who love their furkids to bits, and want to provide the very best for them – hence the Heated Pet Car Seat, perfect for those winter moments. This can be touted to be the only kind of pet car seat which is heated to deliver a cozy, warm quarter for pets whenever you travel. There is a 12-volt heater located inside the seat cushion, where it is capable of producing a mild radiant heat up to 15º F above the ambient temperature. The seat cushion itself is filled with 3? of soft, supportive foam, while the interior of the car seat is covered with smooth, plush fleece.
You can string the car's seat belt through the base of the car seat to help it remain stable even when you drive, and as long as Fido doesn't chew through the heating element's plug to the vehicle's DC outlet, the both of you should be better off. Expect to fork out $149.95 for the Heated Pet Car Seat.
10

Wi-Fi Network Detector T-shirt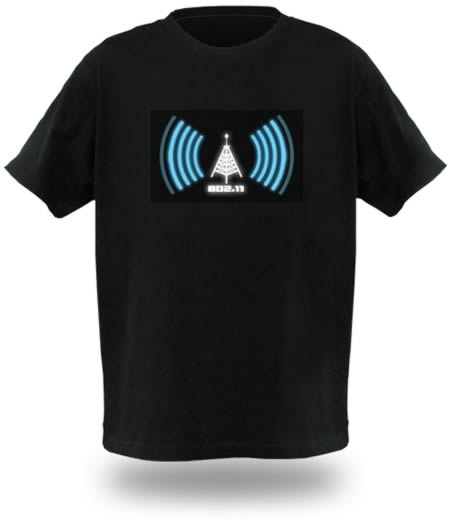 On one hand this gadget is so nice and contains a sparkling idea of showing you and all people around you where the closest Wi-Fi hot spot is. Usually Wi-Fi detectors are tiny gadgets you put in your pocket, but you have to remove them from it and look to see if there is any access available. This T-short has a built Wi-Fi detector and its animated image displays current signal and its strength. The more bars appear on your shirt, the better signal is. This T-shirt shows you're keen on modern technologies, but it also shows that you have a modern laptop or other portable devices worth more than a thousand of dollars. In true, you will attract attention as manufactures says, but I'm afraid this will not be the attention you want to get.