1

Borderlands Videogame Proposal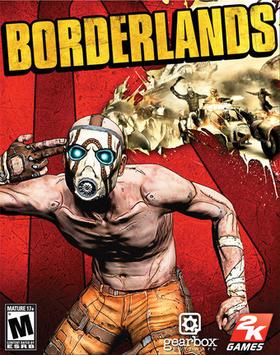 Gamer Ben is a huge fan of Borderlands, the popular FPS/RPG hybrid from Gearbox. So when he met girlfriend Tora, he had to sit her down and explain his guilty secret: he was A GAMER, and his Borderlands addiction may well take up hours of his time. Would Tora be okay with this? Well, err, yeah, because like Ben, Tora is a Borderlands nut. When Ben decided to pop The Question, he decided to take a chance and ask Gearbox for some help. And help they did.
The studio spent a week working on a special Borderlands-themed proposal video for Ben to show Tora, featuring some brilliant close-to-the-knuckle quips from the game's robotic mascot, Claptrap. You can watch this amazing clip below, and Tora's response below that. What an awesome bit of fan-service by Gearbox!
She said yes. Take a look at her reaction:
2

Harry Potter Proposal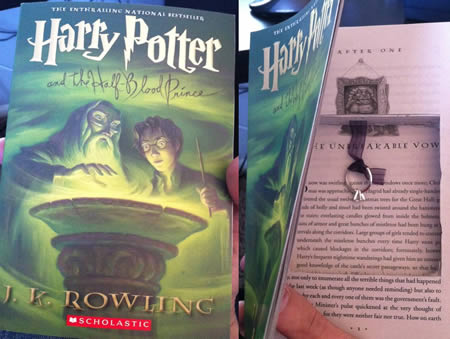 Here's how Reddit user Trehlo proposed to his girlfriend. Oh, and be sure to check out the title of the chapter where the rings sits on (The unbreakable vow). Need some pressure, future wife?
3

Groupon's Proposal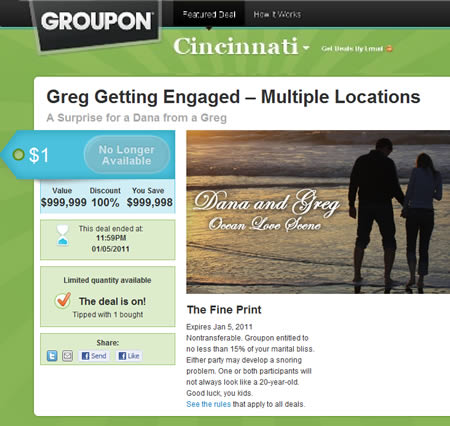 In 2011 on Groupon, Greg H. from Cincinnati proposed to his girlfriend, Dana B, who apparently said yes (it says, the deal is on). Okay, it sounds gimicky, but I have to admit that it's actually pretty cute. The deal is titled "A Surprise for a Dana from a Greg," and by clicking "buy," Dana accepted Greg's proposal for $1 (she got $999,998 off the $999,999 value). What a deal!
Groupon had fun with it and threw in some quirkiness. The Fine Print reads: "Groupon entitled to no less than 15% of your marital bliss. Either party may develop a snoring problem. One or both participants will not always look like a 20-year-old. Good luck, you kids." It also lists The Groupon Guide to: A Successful Marriage, which includes advice like having nacho Thursdays and watching The Negotiator to learn about compromise.
If you were also charmed by Greg and would like to purchase the deal, just click buy and you'll receive the message "Congratulations Dana or Stranger. You are now unofficially obliged to marry Greg!." Good deal!
4

Captain Jean-Luc Picard Proposal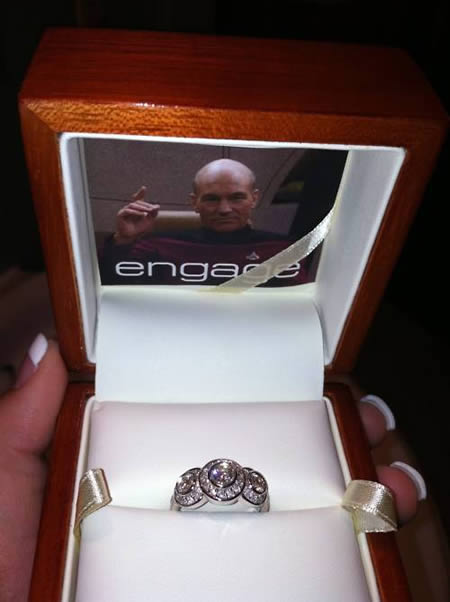 We have no information about this young lady, but it is obvious that she is very fortunate to have found a man of such discerning taste and character. "Aye aye, sir" would be an appropriate response.
5

Treasure Hunt iPhone App Proposal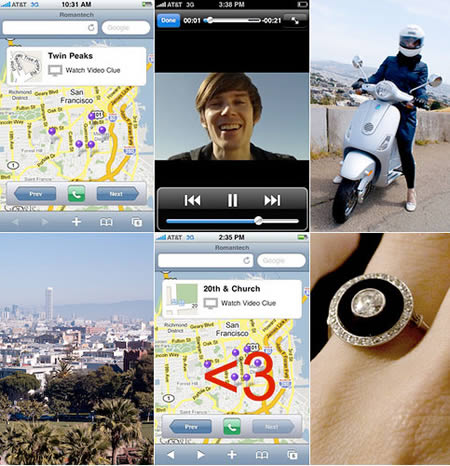 LinkedIn employee Bryan Haggerty coded a custom iPhone application to send his girlfriend Jeannie Chou on a scavenger hunt throughout San Francisco. The web app included a map containing location points, each one accompanied with a video providing clues on where to go next. In the end, the map points connected to form a <3, and the final destination was the top of a hill in Dolores Park, where Haggerty busted out the big question.
6

Pokemon Proposal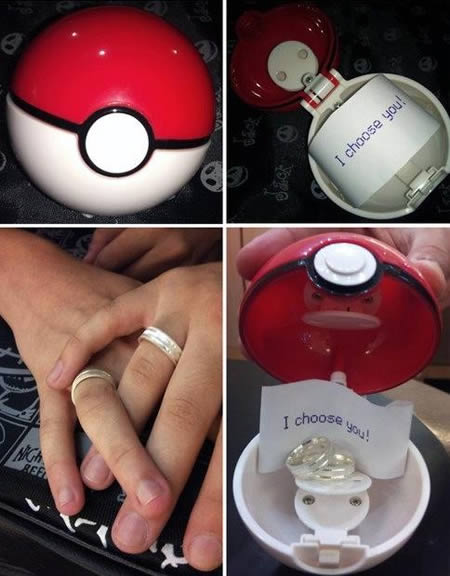 Is there any better way to propose than with a Pokeball ring box? That depends on who you ask. If you ask a Pokemon fan, probably not.
7

Mario Proposal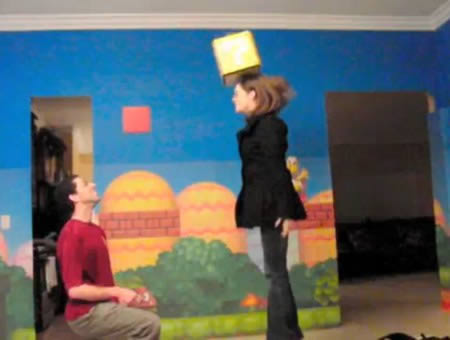 This is a video of a guy proposing to his Mario-loving girlfriend. He decked out his living room to resemble the Mushroom Kingdom, and even had her knock the engagement ring "out" of a question block with her head.
8

Storm Trooper Proposal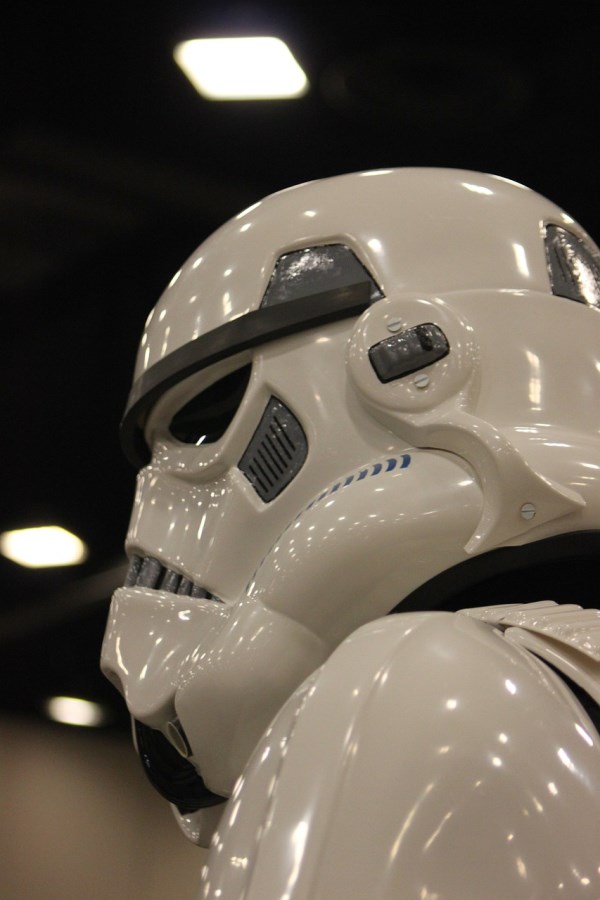 Storm Trooper Proposes at DragonCon in Atlanta.
9

Bejeweled Game Proposal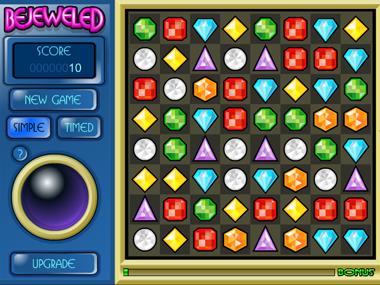 Knowing your girlfriend's favorite hobbies is a great start for planning a proposal. For Bernie Peng, that meant using the game 'Bejeweled' to ask Tammy Li to marry him. Peng, a financial software programmer, spent a month tweaking the game so when Li reached a certain score, a ring and the proposal popped up on the screen.
According to Li, he set a pretty low score; she is now sporting an identical pink sapphire engagement ring. The game manufacturer eventually heard about the story. Instead of being angry that Peng had hacked into their game, company officials were so impressed they offered to pay for part of the wedding.
10

Google Maps Proposal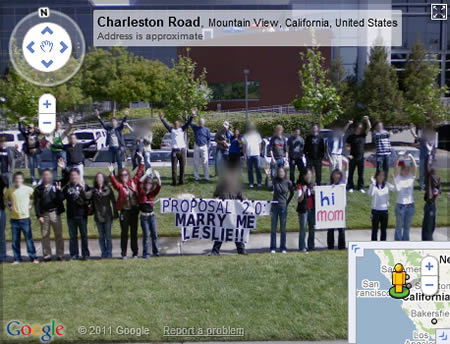 Michael Weiss-Malik, a Google employee, deserves a lot of credit for this one. What better way to show the world your love than displaying it on Google Maps? Weiss-Malik got his buddies on the Street View team to give him a heads-up on the next time the Street View car was coming out to take pictures. And when that day came, he was well-prepared, holding a banner that read "Proposal 2.0: Marry me Leslie!!" (see above) After that, all he had to was lure Leslie into loading Google Maps and zooming in on the precise coordinates of his romantic stunt.
11

Perl Proposal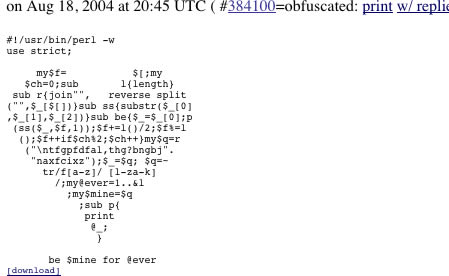 Colin McMillen posted a Perl script to the Obfuscation section of Perl Monks that, when executed, printed "kristen, will you marry me?". The code was arranged to form the shape of a heart with the statement "be $mine for @ever" underneath. The target of this Perl proposal, Kristen Stubbs, replied "$propose++; Yes :)".
12

iPod Proposal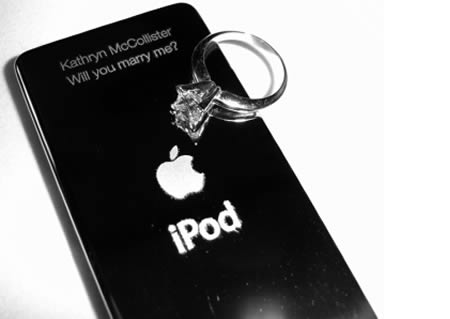 In 2004, a Norwegian man proposed via an engraving on the back of a 20GB iPod.