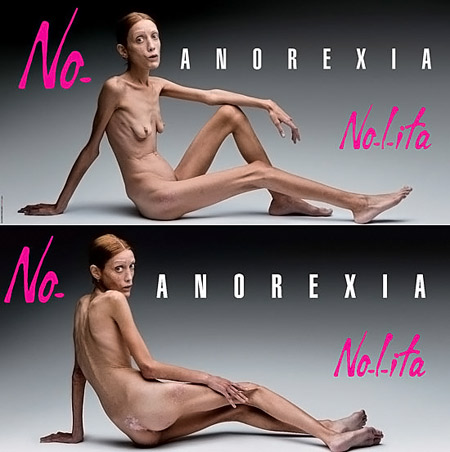 The author of the campaign is famous Italian photographer Oliviero Toscani, for the talian fashion brand Nolita. The campaign is destined to young women in Italy who keep up with fashion and is called to draw public attention to such awful disease as anorexia.
The ads, which are aimed at raising awareness about eating disorders, feature Isabelle Caro, a French woman, who had battled the disease for more than 15 years, shows her exposed breasts and frail, naked body. She had said that she was decided to show her body for people to know and to see how the disease impacts the body.
The advertising campaign is considered to be controversial because there are people who think the photo is too crude. Unfortunately Caro died on 17 November 2010 in France.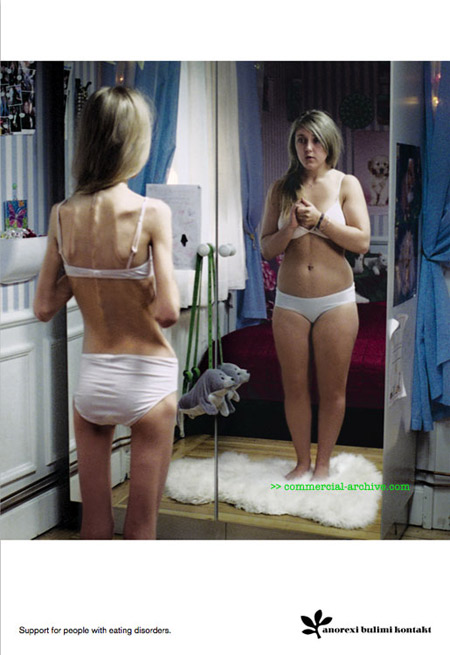 Martin Stadhammar creative director at Grey Stockholm and Oskar Bård Director at Hobbyfilm in Stockholm got together and created a campaign for the national society called Anorexi/Bulimi-contact in hopes of raising awareness about the illness, and gathering donations to the Anorexi/Bulimi-contact society.
The film shows the scene above, normal girl checks her face, thighs and arms with a disapproving sigh in the mirror while the camera pans out to reveal the bony backside of an anorexic and her distorted view of herself.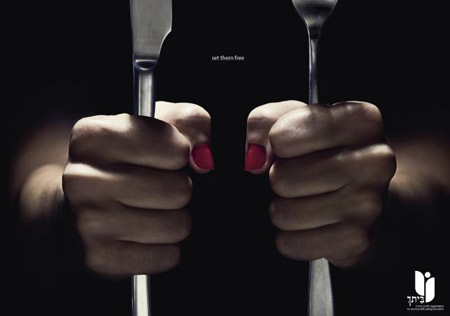 Print Advertising "Set Them Free "made by the advertising agency McCann-Erickson for the product: Campaign Against Anorexia (brand: Beitech) Israel. It was produced in November 2010.

The Outdoor Advert titled "Umbrella" was done by Saatchi & Saatchi Simko advertising agency for product: Anorexia Therapy (brand: ARBEITSGEMEINSCHAFT ESS-STÖRUNGEN) in Switzerland. It was released in April 2007.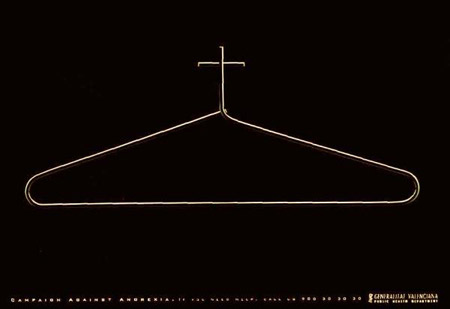 The Print Ad titled "Hanger" was done by Publicis advertising agency for product: Campaign Against Anorexia (brand: Generalitat Valenciana) in Spain. It was released in April 1999.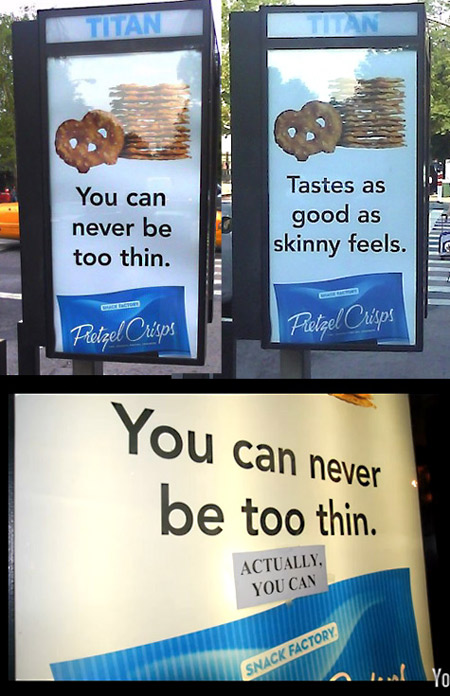 We came across these N.Y.C. bus-shelter ads for Snack Factory Pretzel Crisps on the site Sociological Images. Some found the taglines disturbing. Concerned citizens plastered information about anorexia over the "You can never be too thin" line, adding the words, "Actually, you can."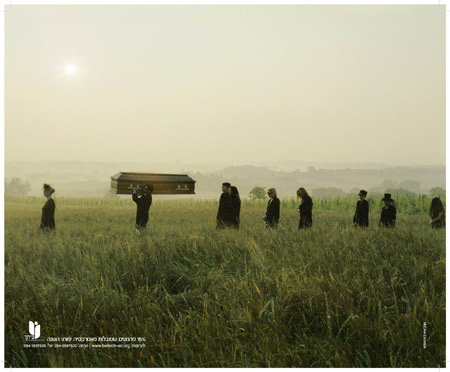 This is the shocking slogan from an Israeli campaign on eating disorders. Bulimia and anorexia are two big conversation topics in the European blogosphere. This sensitive and taboo subject found a great resonance online with discussion groups and personal blogs.
One advert, one message – '15% of women who suffer from anorexia will die this year'. But it is the image, designed exclusively for an independent organization in Israel to spread awareness of Eating Disorders that have attracted (mostly negative) attention from critics all over the world.

This is the latest print advertisement campaign for Forum Crisalide, the Italian association involved in fighting the problem of Bulimia and Anorexia. The ad campaign presents hard hitting visuals to highlight the extent of the effect that can take place due to Bulimia and Anorexia.
The ad has used a comprehensive text in the advertisement to convince young girls that imitating fashion may lead a person to become thinner and thinner and consequently inviting the deadly disease such as Bulimia and Anorexia, prevalent among young girls.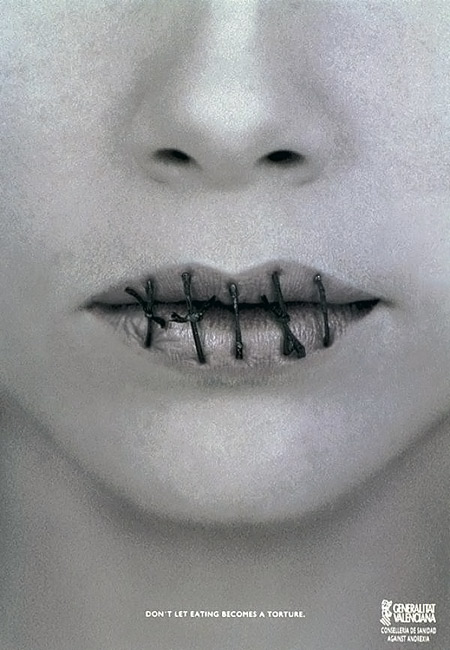 The Print Ad titled "MOUTH" was done by Publicis Espana advertising agency for product: Campaign Against Anorexia (brand: Generalitat Valenciana) in Spain. It was released in April 2001.

Ad's tagline: "Reality doesn't always stare you in the face - Obesity/Anorexia Kills."Ad by: Choices Clinic, Lebanon.