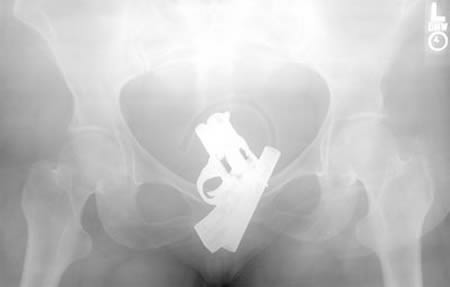 The biggest challenge was to get the gun out without the damn thing discharging. They had to sedate the patient and she was taken to the OR for an exam under anesthesia. They put a bulletproof vest over the patient's body to protect the anesthesiologist in the event the gun went off, and had general surgery standing by. The OB-GYN who did the extraction reported a very tense moment when he perceived that the hammer was cocked and there appeared to be a shell in the chamber. An uneventful removal was followed by a moment of letdown when they realized that the device was not, in fact, a gun, but rather a butane torch/cigarette lighter shaped like a gun.
This actually makes sense when you look at the X-ray and realize that the other item in her vagina is a glass crack pipe and its rubber tubing. What good is a crack pipe without a lighter?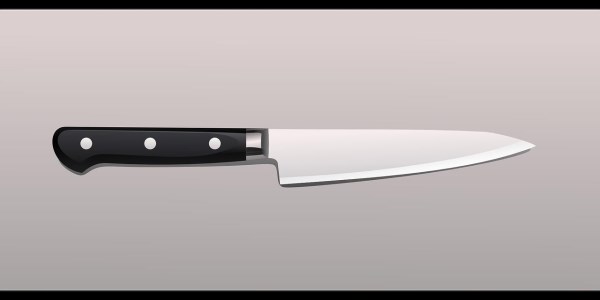 This is the astonishing X-ray belonging to a young boy lucky to be alive after accidentally plunging a knife deep into his face. Astonishingly, the blade entered Ren Hanzhi's left cheek just below his eye at such an angle that it didn't permeate his brain. Doctors were able to remove it successfully - and the 13-year-old is set to make a full recovery.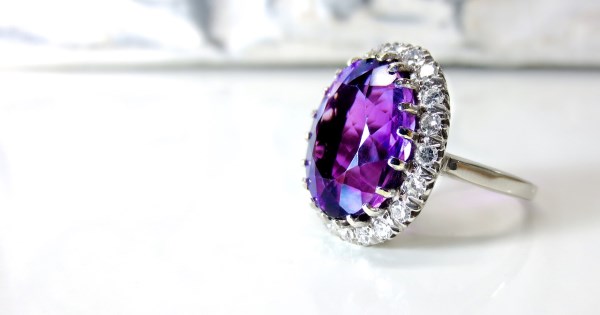 Anxious Karen Woolley used a metal detector to hunt for a missing diamond ring – and found it inside her three month-old puppy, Barney. Ms Woolley, the owner of a bread and breakfast, suspected that her three-month old cocker spaniel-cross pooch had apparently snaffled the family heirloom off a table and scanned him to get a bleeping confirmation. Barney was rushed to a vet and had an operation to remove the 100-year-old diamond encrusted ring, which was big enough to have killed him. 'He was so tiny the ring could kill him as it passed through him,' said Ms Woolley, of Thrumpton, near Nottingham. Barney is now recovering at his home.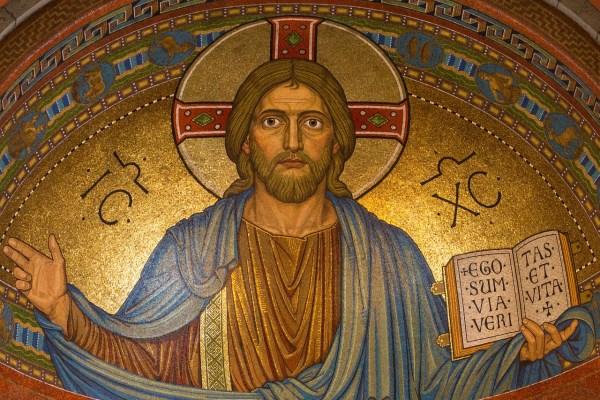 In Arizona, a patient at a dentist's office saw Jesus on an X-ray. The dentist and staff agreed that the X-ray contained an image resembling Jesus.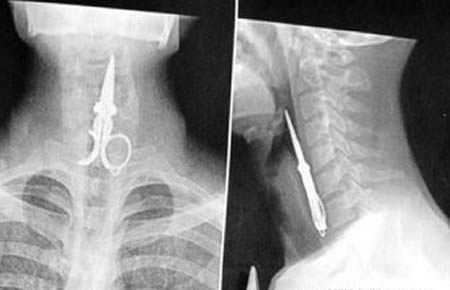 Don't use your scissors as a toothpick.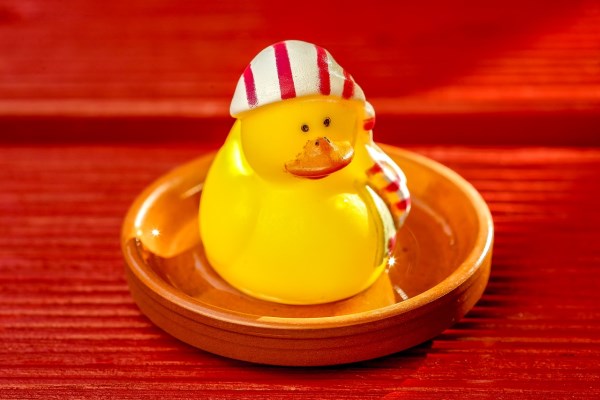 A dog had a £1,000 operation to remove a rubber duck from its gut - 18 months after the bathroom toy vanished. The owners of Spike, the Patterdale terrier were astonished when they took their sick pet to the vet and discovered what had caused the problem. It was only after an X-ray that the truth emerged in the shape of a perfect outline of a rubber duck clearly visible in the dog's small intestine. Mr Smith then recalled how Spike had taken the toy from the bathroom in the summer of 2008.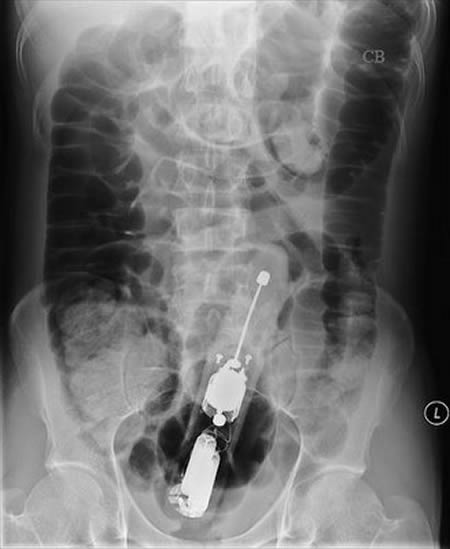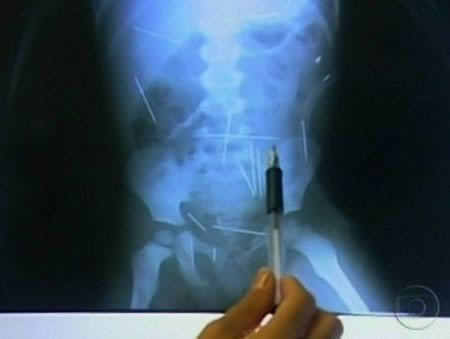 A Brazilian boy, 2, was admitted to the hospital with 42 sewing needles in his body. The needles, some as long as two inches, were inserted as part of a black magic ritual.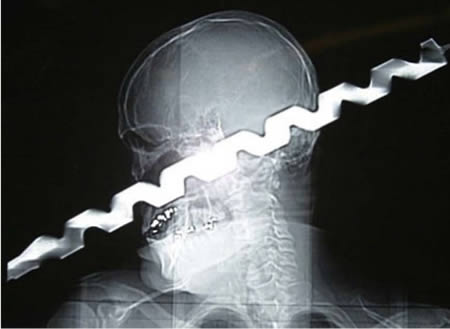 The x-ray of Ron Hunt's skull shows an 18-inch-long drill bit that pierced Hunt's eye socket and went through his head, just nudging his brain. Hunt, a construction worker, fell off a ladder and landed on the drill he was using at a construction site.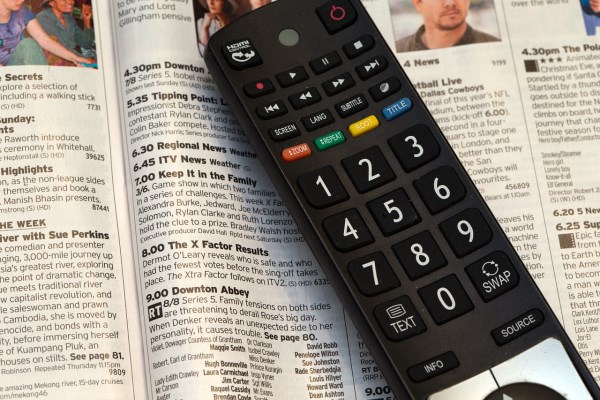 Here's an image of 19-year-old Huang Chen of China, who had the TV remote lodged up his backside by his flatmates after he passed out from a night's drinking. Huang is expected to make a full recovery, although doctors warned him that the remote was probably beyond saving.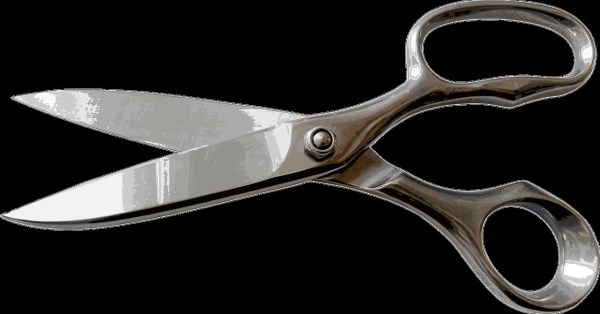 An X-ray showing a 6-1/2-inch pair of surgical scissors in the abdomen of 69-year-old Pat Skinner in Sydney, Australia in 2004. Skinner had an operation in May 2001, but continued to suffer intense pain and it was only when she insisted on an x-ray 18 months later that she discovered the scissors inside.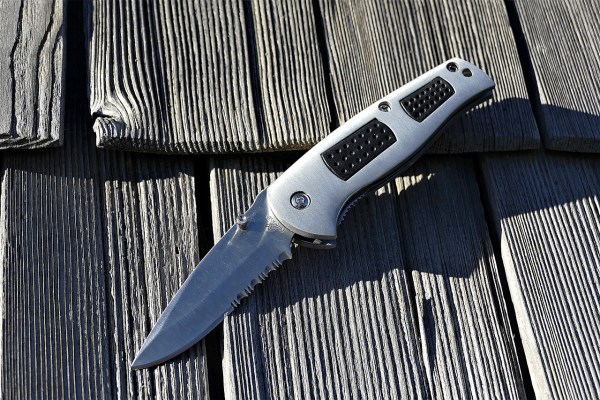 Mugging victim Mir Li suffered terrible headaches for four years – then doctors discovered a 4in blade buried in his skull. Some guys robbed and stabbed 37-year-old Mr Li when he was working as a taxi driver. The knife they used had snapped at the handle and the blade was left embedded – and hidden – between his skull and ear. Mr Li had no idea that it was there but had complained about splitting headaches for years before visiting specialist medics at the Yuxi People's Hospital in Yunnan province, south west China. A spokesman for the hospital said: 'He came to us with a long history of severe head pain and unexplained bleeding from his ears and mouth. As soon as we scanned him it was obvious what was wrong. 'What is astonishing is that it was missed four years ago and that he has survived all this time with it in his head. We've seen needles and small objects buried in a skull but never something this size.