1

Royal Wedding Fridge
Looking for a new fridge? Your search is over as we've found the most perfect fridge ever manufactured by man. Behold, the Royal Wedding Fridge and freezer, which is sold by GDHA, a U.K. distributor of GE appliances, features the more casual of the two official engagement pictures taken by photographer Mario Testino. The refrigerator is 5?9", which means you'd almost be looking at life-size versions of Prince William and Kate Middleton.
Yes. Nothing says "cold" and "sterile" like Will and Kate's unyielding love for each other.
2

Royal Wedding Condoms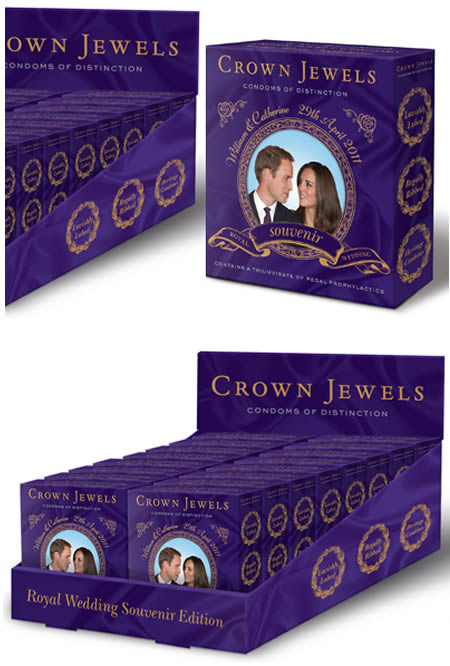 Now there's a way to commemorate the royal wedding and keep your crown jewels safe at the same time. British manufacturer Crown Jewels Condoms of Distinction launched their royal wedding collector's edition condoms to celebrate the April 29 marriage of Kate Middleton and Prince William. Along with the special condoms, the box comes with a pastel souvenir portrait of what the couple might look like on their wedding day.
"Combining the strength of a prince with the yielding sensitivity of a princess-to-be, Crown Jewels Condoms of Distinction promises a royal union of pleasure and style," the release said.
The condoms cost about $8.
3

Royal Wedding Sick Bags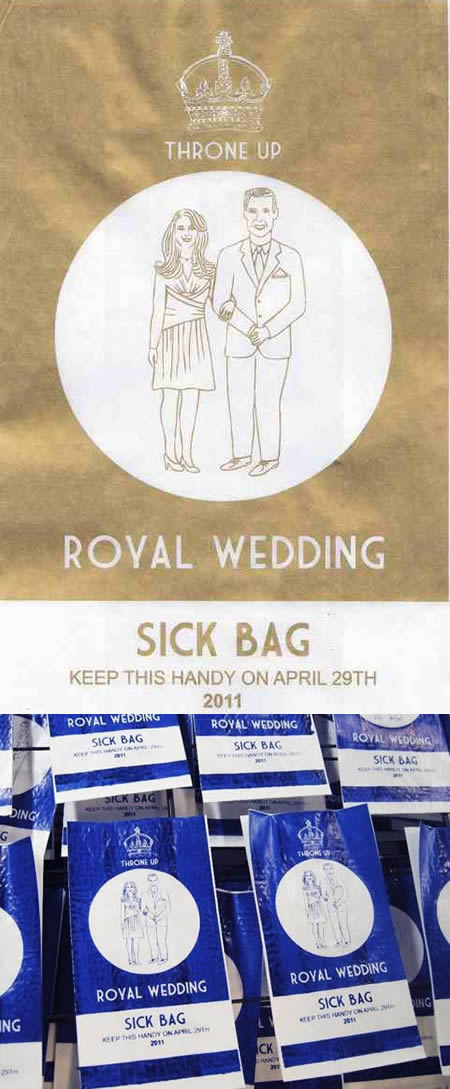 If this whole Royal Wedding 'thing' just ain't your bag, grab one of these stylish sick bags from graphic designer Lydia Leith and vomit away the disgust. Although, technically, you are still buying into the Royal Wedding phenomenon.
4

Royal Wedding Tea Bags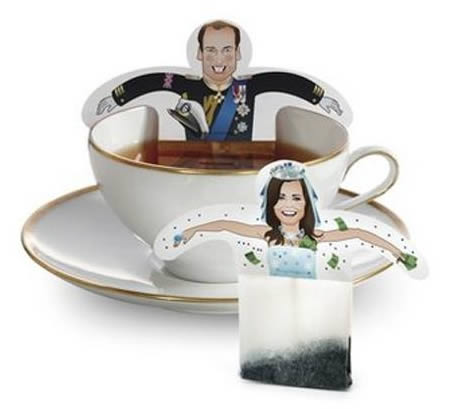 It's supposed to be us Brits who are the great tea drinkers, but a German company has really cornered the market with these Kate and Wills tea bags which hang on to the rim of your cuppa. The bags, affectionately named 'KaTea', contain German-grown black tea and are available as a pair within a greeting card.
5

Kate Middleton Doll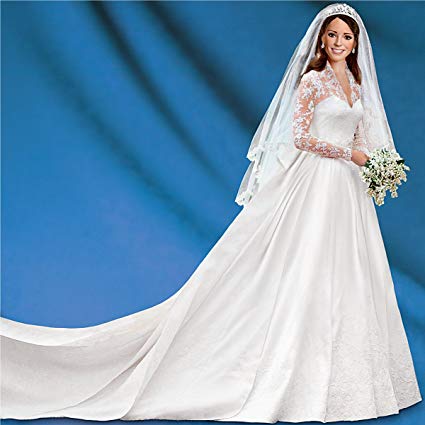 Not satisfied with the royal wedding tea towels, mugs, plates, coins, stamps, cakes... Well, now you can get your hands on a Kate Middleton doll! Toy shop Hamleys has added to the enormous list of royal wedding crazes leading up to the big day by selling a mini version of the future princess. It costs £35 and it comes with accessories like an exact replica of Kate's Eaton clutch bag. And her engagement ring isn't plastic, it's a precious quartz called amethyst.
6

Prince William And Kate Middleton Toilet Seat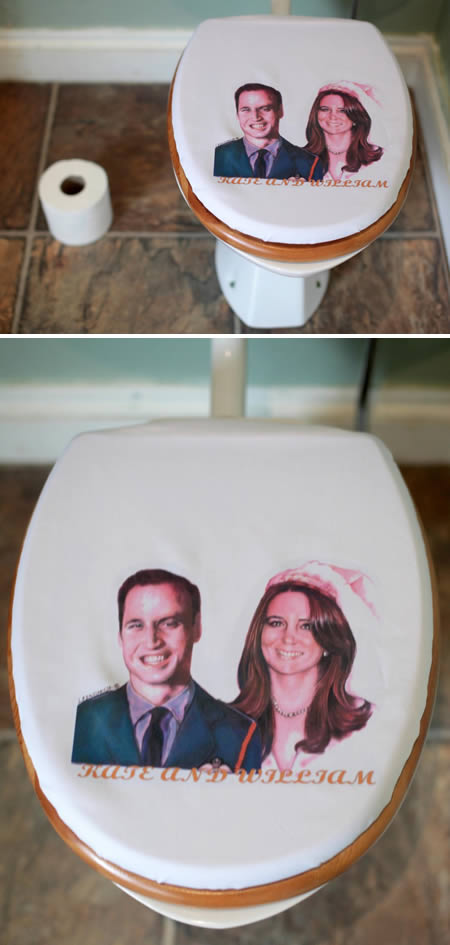 Let's discuss the many ways in which this is a bad idea. While the word "throne" is often used as a term for toilets, there is something distinctly unroyal about them. It's probably that you sh*t in them. That's probably the unroyal thing about them — the sh*t. So, that's issue #1.
Now, issue #2. Is it that hard to draw Prince William and Kate Middleton? Why does the artistic likeness of them look anything like them? What is that? Just trace a magazine cover, for God's sake.
7

William and Kate Dress-up Dolly Book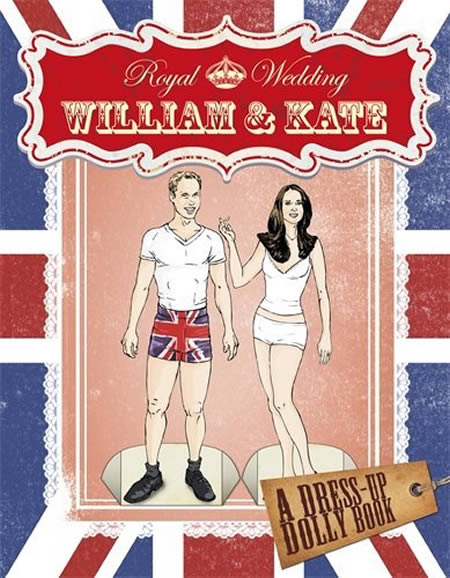 Really, there's nothing weird about adults who play with paper dolls. This set includes garments to outfit the couple for the wedding day, a weekend in the country, a polo match, and more occasions that a young royal couple might go to. Tea tastings? Charity balls? Photo shoots for the inevitable Royal Wedding Stamp?
8

Royal Wedding Beer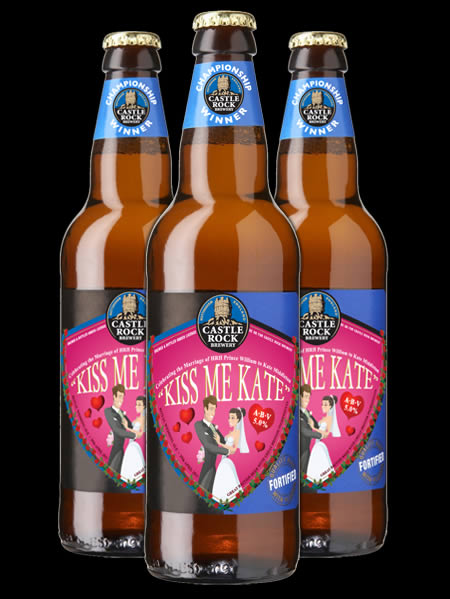 Nottingham's Castle Rock Brewery originally planned to issue a limited stock of its royal wedding inspired Kiss Me Kate real ale. But worldwide press interest spurred soaring demand and supermarket chain Morrisons has ordered 70,000 bottles. We'll drink to that!
9

Royal Wedding Lego Recreation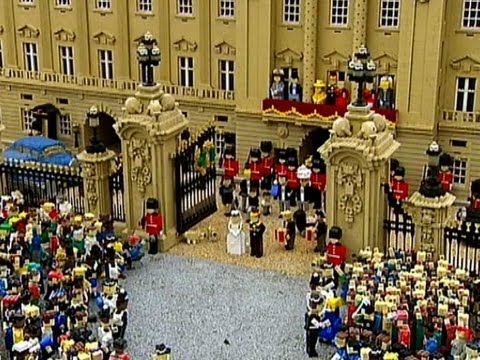 While we've been busy wondering what the royal wedding will look like down to the last detail, the fine folks at Legoland built the entire thing -- from Buckingham Palace to Kate Middleton's gown (and gloves) to guests including pregnant Victoria Beckham, Elton John and Sir Paul McCartney. The exhibition opened at Legoland's Windsor outpost on April 1.
10

Unofficial Royal-Wedding Plates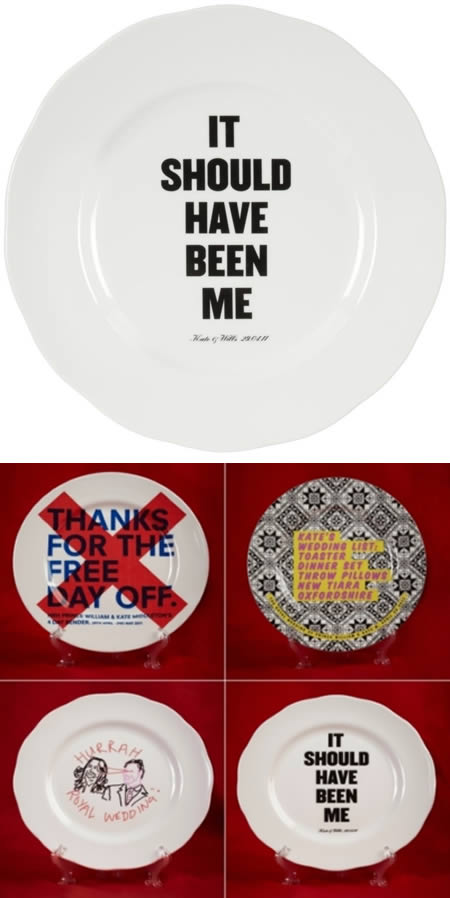 With its doves and 22-karat gilding, the official royal-wedding commemorative china conveys a regal quality. But design enthusiasts, antiroyalists and Britons experiencing wedding fatigue would rather have something rebellious. To answer that call, London's quirky KK Outlet has thrown together a five-piece collection of unofficial royal-wedding plates. A funky pink, yellow and black plate imagines Kate's wedding list: "Toaster, dinner set, throw pillows, new tiara, Oxfordshire." Meanwhile a baby blue dish acts as a foil to all the royal pomp and circumstance: "WILL 4 KATE 4 EVA." Instead of purchasing the entire collection for $120, jealous singletons can order the "It Should Have Been Me" plate — or other individual designs — for $32.
11

Royal Wedding Subway Card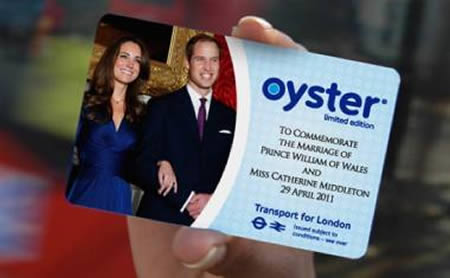 Whether you're a Londoner or are just visiting for the day, you can remember the Royal Wedding forever with this limited edition Oyster card.
Available from all London Underground stations from 21 April. The Royal Wedding Oyster card costs £5 for a deposit with a £5 minimum top-up fee.