1

Steampunk Mouse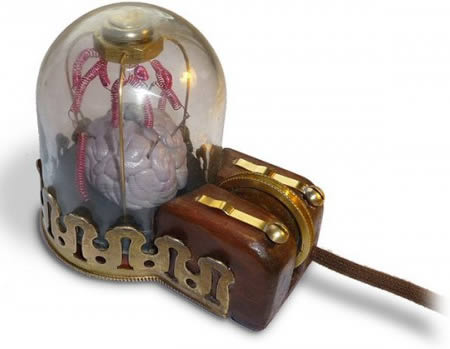 You've probably seen a steampunk mouse before, but none that come with a pre-installed brain! Builder Peter Balch notes that "Every self-respecting Victorian Scientist needs a brain in a jar." Can't argue with that, can I?
2

Nokia Steampunk Cellphone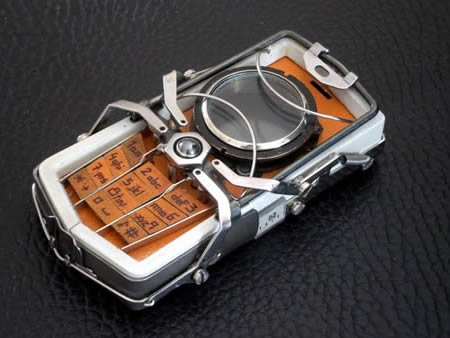 Ivan Mavrovic of Mental Design makes awesome steampunk designs of pens, jewelries, watches and more – but he really impresses us with his steampunk cell phones: the one above is a working Nokia 2330!
3

Steampunk Superheroes
Inspired by the Gotham, Gaslight comic book by Mike Mignola and Brian Augustyn (a Batman comic set in the 1880s), Sillof created a set of steampunk superheroes (famous members of the Justice League set in Victorian Era!).
4

Steampunk Xbox 360 Mod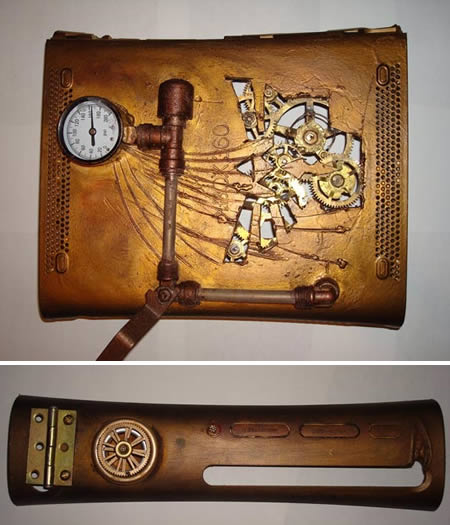 This cool Steampunk Xbox 360 Mod was created by Dopelgunder from deviantArt. Unfortunately not many details are provided about the actual development of this particular Xbox mod. Still, Xbox fans will not be let down with the remarkable depth and details that are seen at every image of this wonderful creation.
5

Steampunk Camera Mod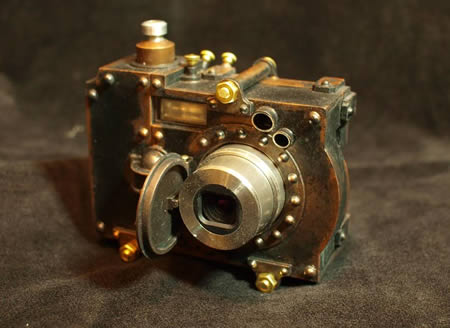 This is just a typical digital camera that's been housed in a very well executed steampunk styled case, created by Herr Döktor. Cool.
6

Steampunk Game Boy Mod
Today's kids are too young to remember when the original classic Game Boy first came out some 20 years ago, but I doubt many will be fooled into thinking that it dates back to the Victorian era. It seems to have been done pretty nicely, and anybody who takes a glance at it will know that the theme is a steampunk one. Besides the exterior morphing, creator Thretris has stuffed in orange LED to replace the good old red colored one, which goes so well with the entire appearance.
7

Steampunk Dr. Who Dalek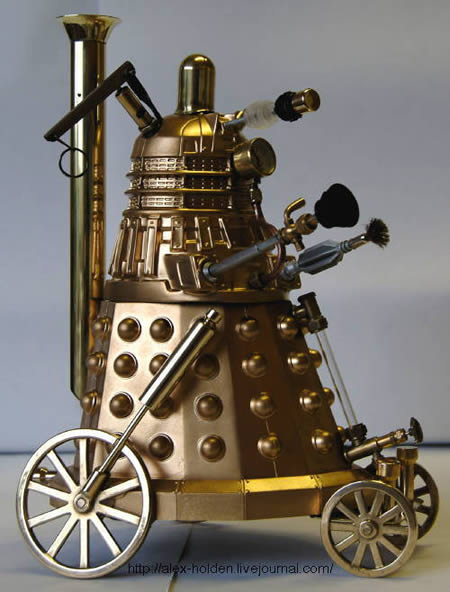 EX-TER-MIN-ATE! If you've never watched Dr. Who we apologize for the missed reference, but allow us to give you some background information. The Dalek race is a fictional organism from the popular British sci-fi show which features a tough tank-like mechanical shell and a tendency to vie for domination of the universe with a piercing electronic scream.
The Daleks are quite the celebrity in the UK and internationally among the sci-fi community, even appearing on a postage stamp in 1999. Though the Dalek has become a symbol of British pop culture, we had yet seen a Dalek piece quite like this. Designed by Alex Holden, the Steampunk Dalek is a scaled model of one of the Dalek life forms, and entered The Great Crystal Cyberdome Exhibition at Orbital 2008 in London.
8

Cigar Box Steampunk Lamp
Check out this cool Steampunk lamp which was made from a cigar box by Michael Pusateri. Michael used an old wooden cigar box, a rheostat, some copper wire and two 60 watt bulbs.
9

Steampunk Etch-a-Sketch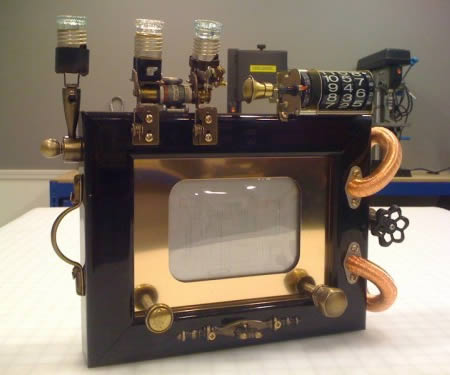 The classic creative kid's toy the Etch-a-Sketch gets the ol' steampunk treatment with this version made by Reddit user Halokitty for a friend for Christmas. Many of the parts came from a 108 year old boiler she just removed from her basement. Although the knobs, hoses and doodads don't really add any sort of functionality to the toy, they do make it look kinda Mad Max badass. Nice job.
10

Steampunk Guitar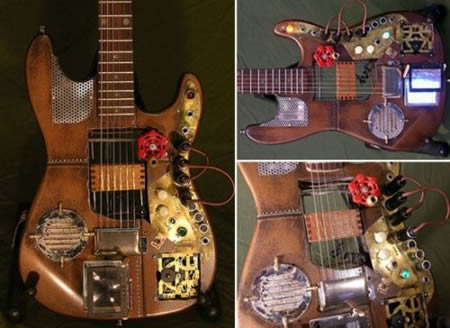 Here's a little something for all Guitar Hero players who wish they featured a Victorian rocker with period guitar. This is what such a guitar might look like. It was built for the 2008 Jersey City Artists Studio Tour by Mark Dalzell, and it's called Organum Insolitus.
It features a television with Fresnel lens magnifier, onboard phaser, an amplifier and uses clockwork gears, hand hammered brass, cloth wire and wood. The guitar can be attached to an external amp with a standard ¼-inch cable, so you can really use this.
11

Steampunk Watch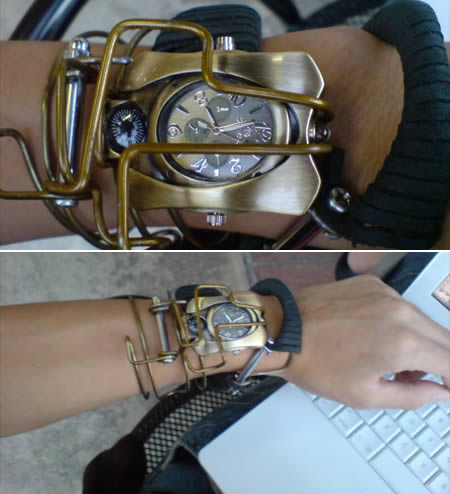 Creative handmade steampunk watch design by koisuruusagi.
12

Steampunk USB Jump Drive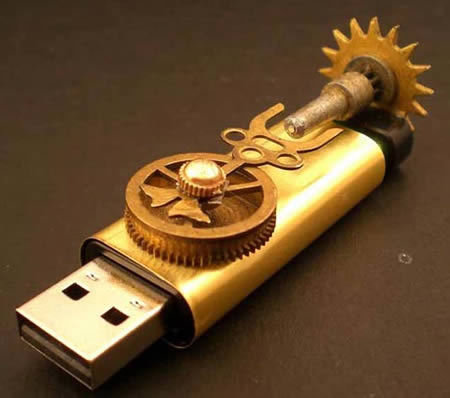 This new Steampunk USB Jump Drive, comes with 2GB of storage, is wrapped in brass and features various parts from a vintage clock, and some gears. It expands to reveal a green light that can be seen through the vintage gears, when it is plugged into your PC. This cool Steampunk USB Jump Drive 2.0 is available for $50.