1

Frida Khalo Doll House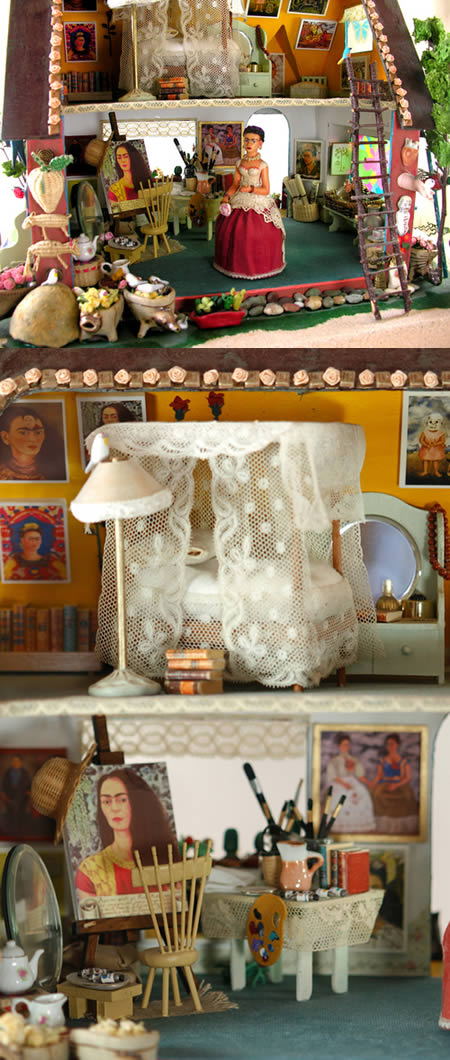 Cuban-American artist Elsa Mora created this lovely miniature doll house featuring artist Frida Kahlo.
2

$82,000 English Doll House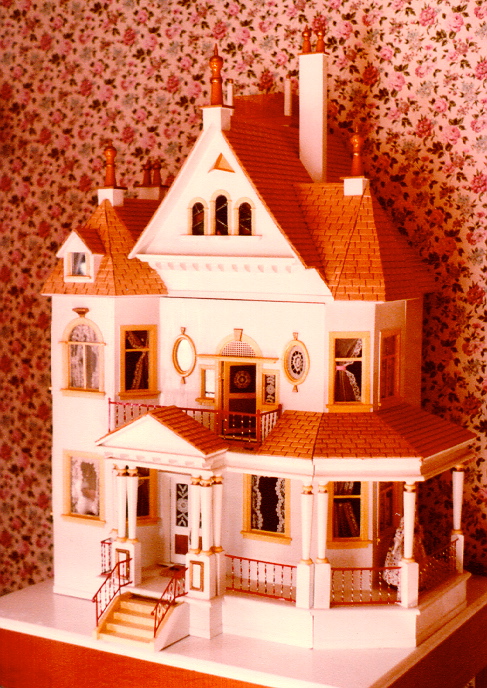 A dollhouse selling for a big sum of $82,000 is bound to create waves in the news world. We hear that the exquisiteness of this stunning toy is such that it will capture the heart of anyone who lays their eyes on it. Complete with the tiniest of detail been taken care of, the scale down version of a well-furnished home took 15 years of labour to be completed.
The doll house resembles a traditional English house complete with all the regular fixtures of a bath, bedroom, dining room, hallway and a living room. Little extravagances like the chandeliers also find their way in here. The maker of this small splendor has made more money than those selling several real homes in the UK.
3

Kaleidoscope Doll House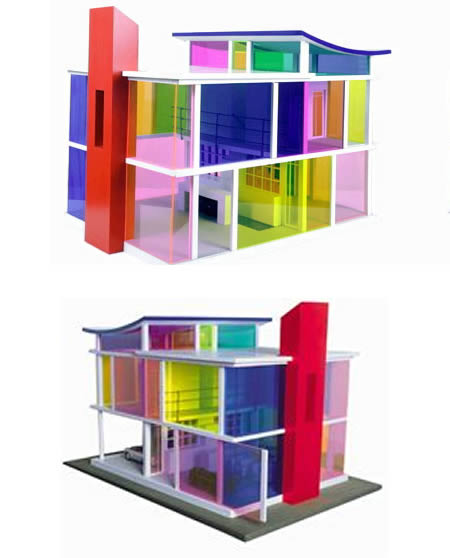 The Bozart Kaleidoscope Dollhouse designed by PMW Architects in 2001 was perhaps the coolest doll house ever. A 1:12 scale multi-level modernist dream, it featured colorful sliding transparent walls that changed cover when overlapped. In addition, modern furniture collections and action figures from well-known designers could be purchased. Now available only on auction sites, they sell quickly for upwards of a $1000.
4

Dust Doll House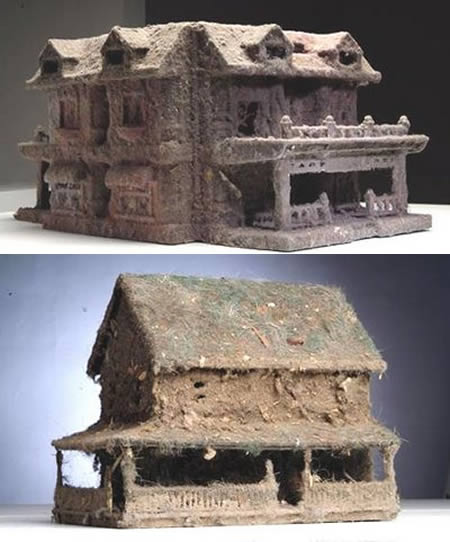 Dust bunnies yes, but dust houses? I don't know about you but this sure is too cool for me!
"Save those dust!" — Maria Adelaida Lopez, a Master's degree in art school, cleaned houses to support herself through the art school, intricately created this unique series of 'Dust Houses' that are doll houses & are covered over in vacuum cleaner lint. At present she is an artist & educator in Miami, no longer cleans houses for others. Well, the dust sure helped!
5

Henry Colbert's Doll House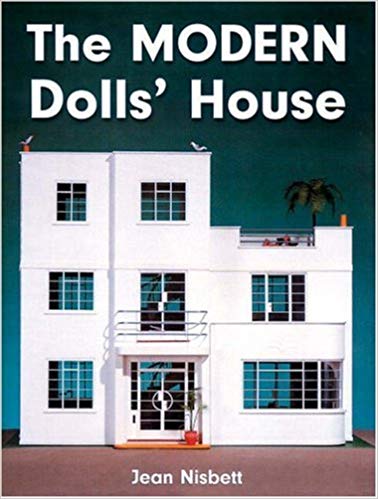 Henry Colbert is the designer of this 1930's Art Deco master piece. He makes a few houses a year and there's a way to get on a waiting list. I've heard that they cost about $6,000 but I'm not sure if that's true. All sold houses have been unique since the customers always wanted to make changes on his design. He's also making bathroom furniture in 1930's style in various colors.
6

Bosdyk Doll House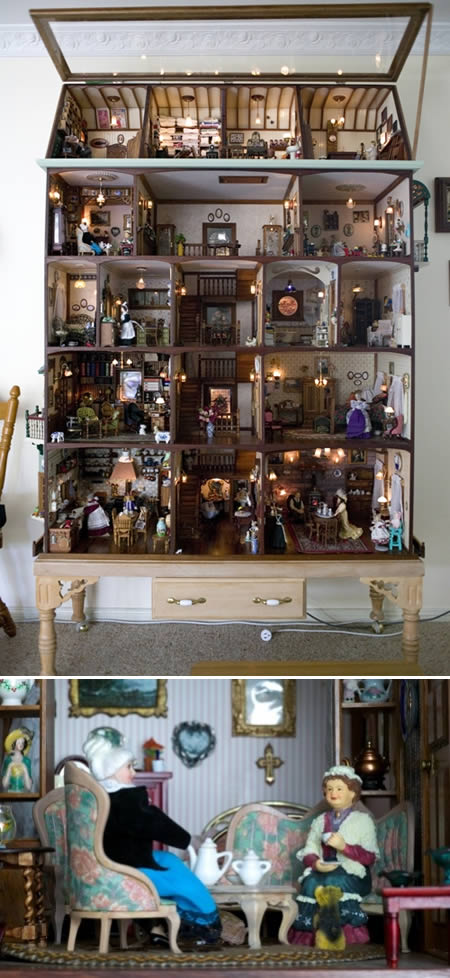 Let me introduce you to one of the latest objects to join the Powerhouse Museum collection, the Bosdyk Dolls House, a unique example of the art of the miniature. The house was built and decorated by Frans and Christina Bosdyk over a period from 1997 to 2006. They estimated that they spent 15,000 hours and many thousands of dollars of materials on the work. Frans is a skilled electrical instrument maker who can turn his hand to any material with great precision, in fact he made most of the furniture inside the doll's house. Christina was closely involved with all construction decisions, sourced miniature items, decided where everything went and chose interior decor, wallpaper and dolls.
The Bosdyk dolls house competes with the very best in the tradition of Dutch dolls' houses, renowned in the seventeenth century for their style and extraordinary attention to detail. That this should have been made in Australia is unusual and the Bosdyk's eight years' dedication to the project is an extraordinary achievement. The story is one of Dutch migrants bringing the very best of their traditional culture and skills to Australia.
7

Eco-friendly Doll House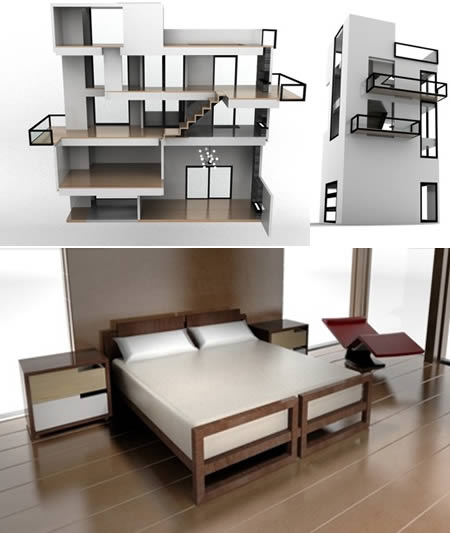 Design company Brinca Dada has an amazing new dollhouse up their sleeve. Set to debut in Spring 2011, the Bennett House is so impressive you'll want to box up your belongings and move in — but, of course in order to do that you'd have to be a mini-you. This breathtaking townhouse-style miniature is influenced by the De Stijl movement of the early 20th century and features lines, squares and rectangles in asymmetrical patterns along with a minimal color scheme.
8

Bag End hobbit hole Doll House
Maddie Chambers went and built herself a super impressive looking Bag End hobbit hole dollhouse. It's amazing. It has so many details you won't believe it.
9

18th Century French Chateau Doll House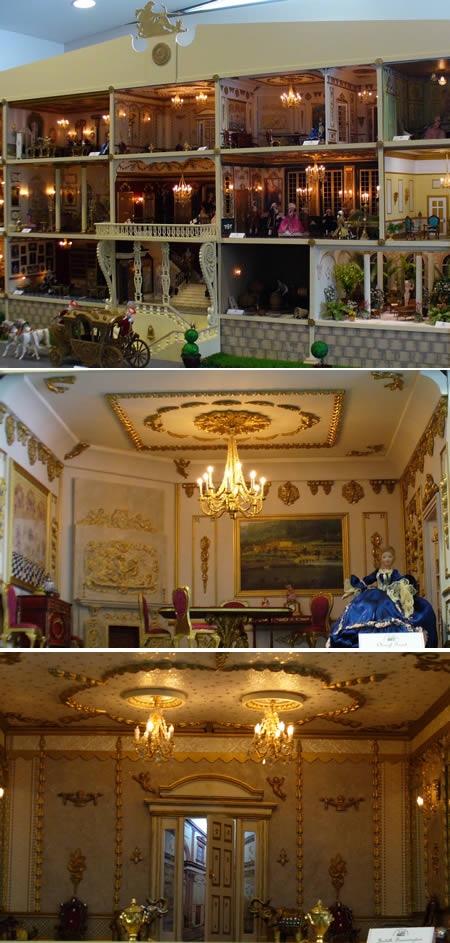 This 18th Century French Chateau is only 1:12 scale (your 6 foot tall liveried footman would be represented as 6 inches tall here). The chateau was the central display in the 2009 South Australian Miniatures Enthusiasts (SAME) Dollhouse and Miniatures Festival. Each room was made separately by club members and put together for the weekend. It represents a year's work. The chateau features servant's quarters, two chapels, bedrooms, music rooms, sitting rooms, dining rooms, a library, and more! A lot of effort went into this group project.
10

Hostel Doll House

The name of all this "Hostel" is U Ulitki. "Size 37 x 15 x 21 cm. It is a painstaking and accurate work! At the same time - the charm and magic of every detail.