1

Facebook Pillow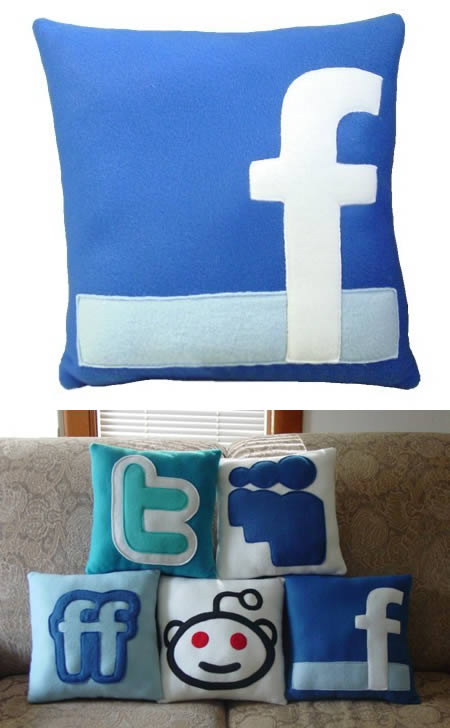 Facebook is hard work, between the friend-ing and poking and tagging and stalking, so it doesn't take very long to get all tuckered out. That's where this comfy icon pillow comes in. Now you can take your pokes offline and onto this perfectly plump Facebook pillow! This is a 100% handcrafted, 12"x12" square pillow, made with the softest fleece and the fluffiest polyester filling, making it firm yet springy.
Whether on your bed or near your computer, it is perfect for snuggling after a productive day of interneting, or to pound your fists into after you've been defriended. Check out the other pillows, they make great gifts.
2

Facebook Like/Dislike Stamps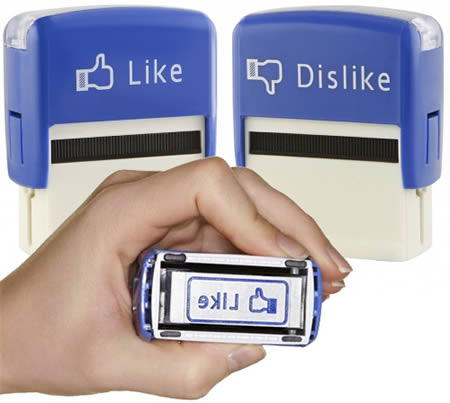 Addicted to Facebook? Can't stop "liking" things all over the net? Wish you could click that little thumbs up on actual paper documents? Well, now you can with the Like and Dislike Stamp Kit, the easiest way to show your co-workers that the financial report they handed is satisfactory or not looking good. Includes the "can't get this on the web" Dislike stamp. The only way to dislike something on the Internet is to print out the screen and then use this stamp to dislike it. Then file the paper. Buy it Here($14) ($10)
3

Mark Zuckerberg Action Figure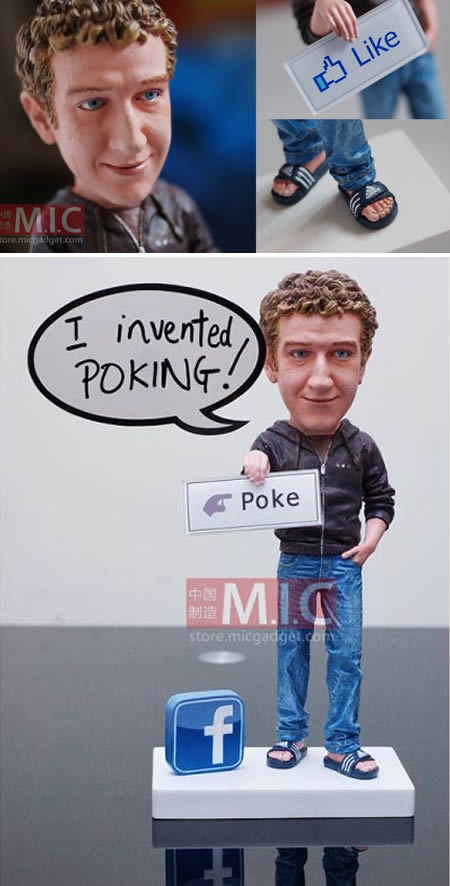 It looks like another tech CEO has been immortalized in plastic, this time it is Facebook's CEO Mark Zuckerberg. This fun Mark Zuckerberg action figure was created by Cyril Chang, who also made the Steve Jobs version, and it is being sold in a limited run of 300. The creators of this fun action figure have called it 'The Pokin Inventor' rather than naming it directly after Zuckerberg, obviously to avoid any communication from Facebook's lawyers. If you want one they are available for $70 from MIC Gadget, I wonder how long it will be before Facebook get them taken down.
4

Facebook Christmas Tree Ornaments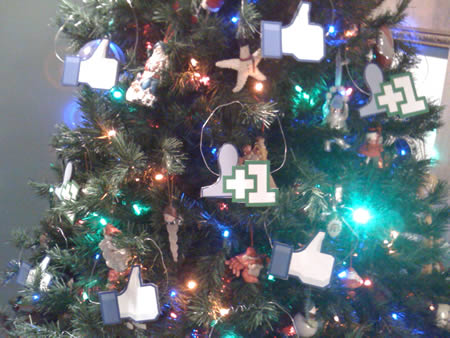 Add many friends the next holiday season and celebrate the things you like with Facebook ornament designs from Social Meteor. Spruce up your Christmas tree with Facebook-inspired "add a friend" and "like" ornaments. These ornaments were for friends by mounting these designs on foam core and inserting a 22.9 m steel hanging wire.
5

USB Mail Box Alerts of Facebook Messages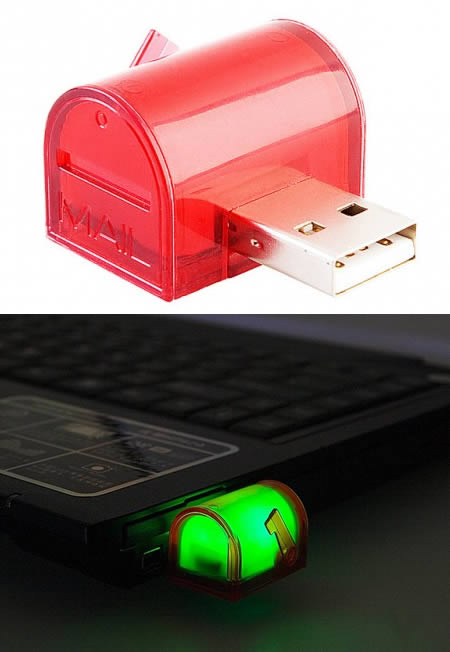 The USB Mail Box Friends Alert is a tiny USB gadget in the form of those typical American mailboxes that monitors all your e-mail and social networking accounts and will light up red or green to notify you of new messages, Tweets or updates. Additionally, you can set an accompanying audio alert and we've heard even the little flag on the side will rise up (even though you're supposed to do that yourself if you have outgoing mail).
6

Facebook Tattoo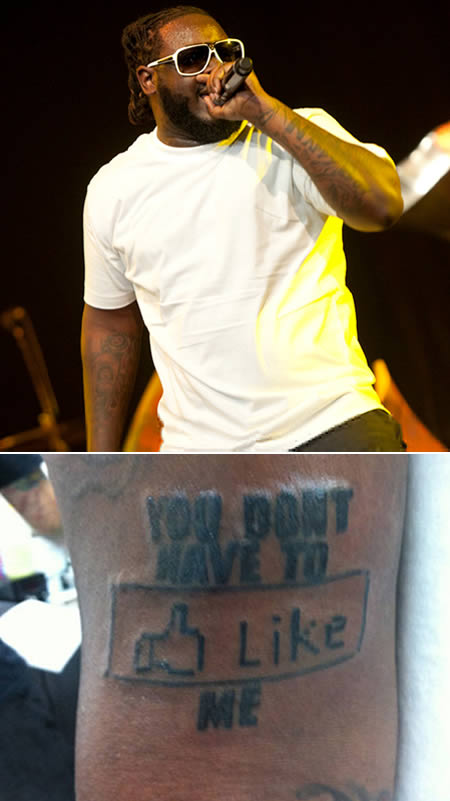 During a trip to Hawaii, the "auto-tune" singer, T-Pain, got a Facebook inspired tattoo inked on his arm for all the haters out there that reads: "You Don't Have to Like Me".
7

Facebook Like Car Spoiler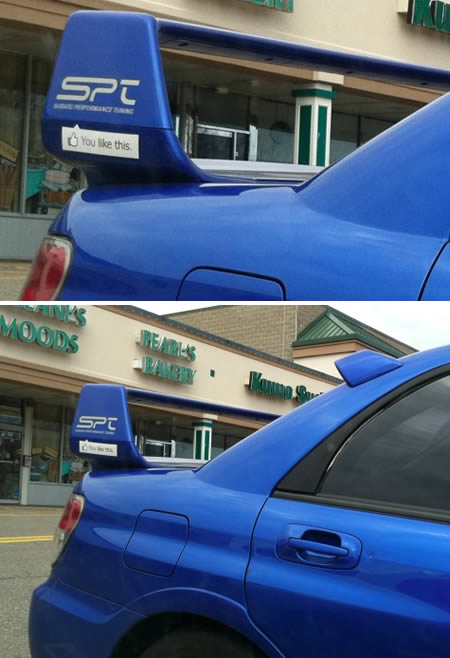 Spoiler alert! Someone spotted this Facebook Like spoiler in New York. Pretty cool.
8

Facebook Status Shirt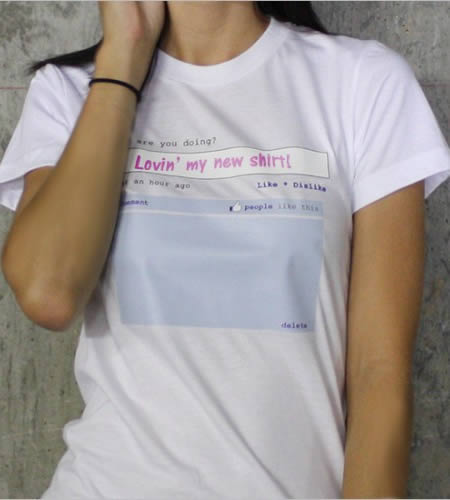 You know when you pick out a shirt in the morning because you're really feeling similar to what the shirt says and then halfway through your day after you get pooped on by a bird, miss your train, get the wrong sandwich order at lunch, and your boss says you have to work late the whole week and come in on Saturday too, and now suddenly you're not really feeling like wearing your unicorn rainbow t-shirt anymore? Well, with the Update Me shirt, you can wear your Facebook status right on your sleeve….err chest.
The shirt uses a special "writable area" made of some sort of super mystery material (we're guessing similar or identical to dry-erase) that is compatible with the included Crayola® Washable Markers or other washable markers. Erase and update your shirt status as often as you'd like. Although it might be a little tricky to update it while you're wearing it, I'm sure you can practice writing upside down. You can even update your real Facebook status to say something like "I'm updating my t-shirt Facebook status right now".
9

Facebook Adidas Shoes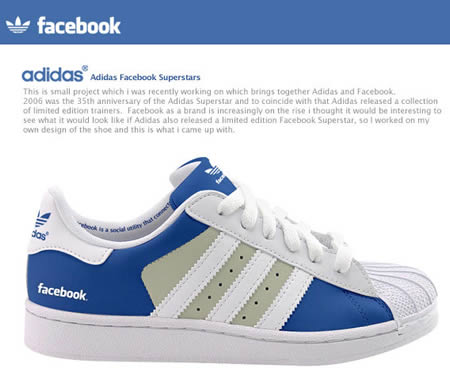 Gerry McKay brought the social network phenomenon to a different kind of apparel when he designed the first pair of Facebook shoes! Apart from the inevitable Facebook and Adidas logos on the shoe's tongue, back and side, there's a slogan printed inside of each trainer. One says "Facebook is a social utility that connects you with people around you" while the other goes "Making the world open and connected." We think it would've been cooler if the buyer could customize these trainers with two of his favorite status updates instead. And now that we're dreaming up new features for these shoes, what about a GPS tracker that lets you check into Places, a pedometer that at the end of each day publishes the total number of steps to your profile, oh, and a "Kick" feature that allows you to take real life revenge on those who poked you.
10

We Met on Facebook Gum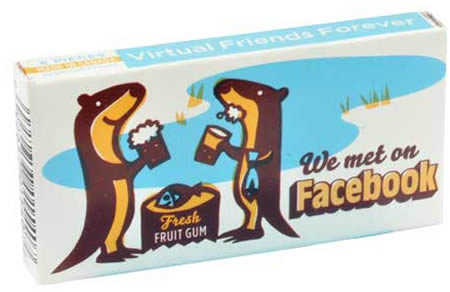 VFF's for life, yo! Years ago there was a stigma about meeting people online but now it's extremely accepted and commonplace. Nothing could be sweeter than showing off your social networking progress than celebrating a new friend with some fresh gum. Superpoke your breath into freshness.