Meet some of the geekiest video game cakes you wouldn't dare to eat.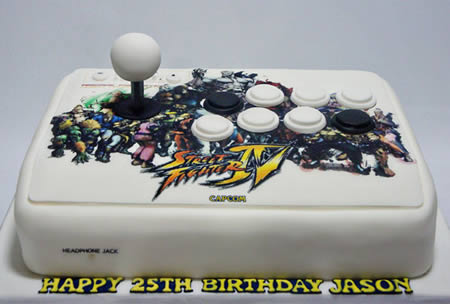 Any Street Fighter IV fan would love to have this cake as their birthday cake. Love & Sugar, creator of some of the most visually astonishing cakes, created this life-like Street Fighter IV special edition arcade fightstick cake out of fondant. We think you'd agree that it'd be hard taking a knife to this masterpiece.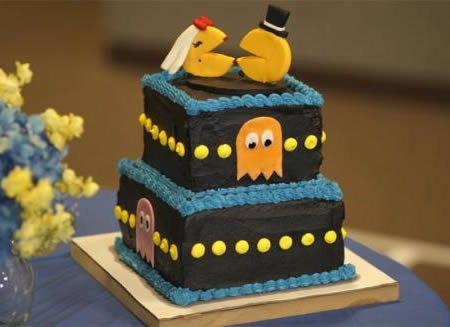 Pac-man game themed wedding cake and topper.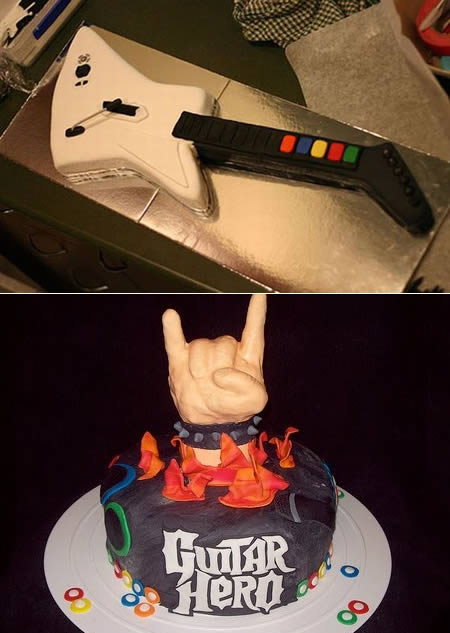 Two cakes inspired by Guitar Hero.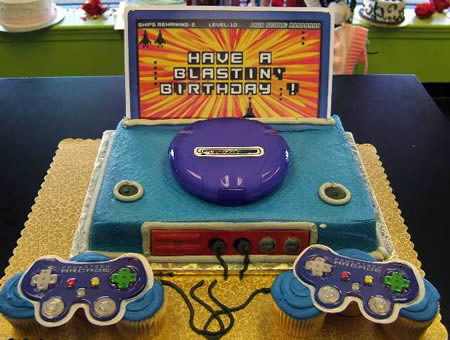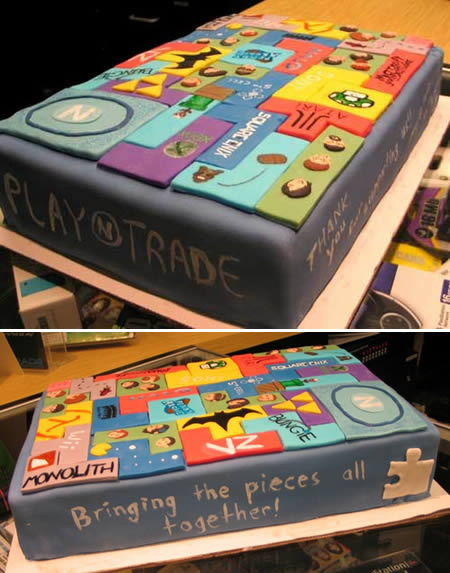 This cake is pretty clever. The baker was asked to make a cake that had a Tetris theme AND a knot to other video games all in one cake. The cake was for a video game store. The solution to merging the ideas was to take the various Tetris pieces and put other video game references on them. It is a clever solution and it allowed for a very customized cake, that I am sure made everyone who worked at the store happy.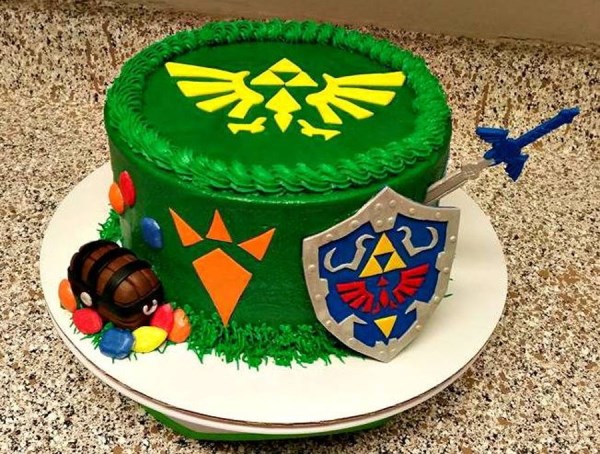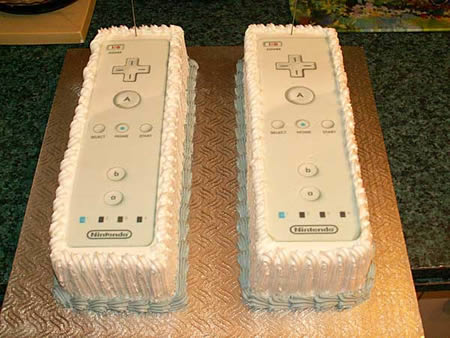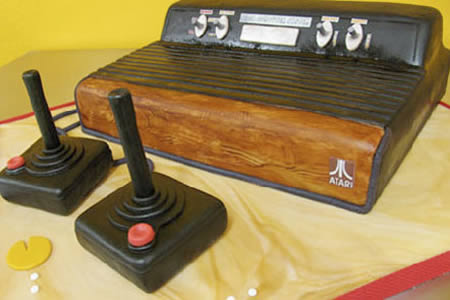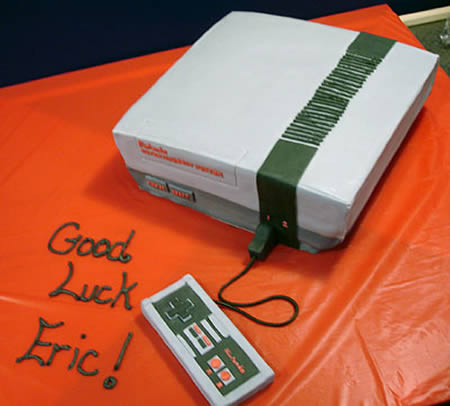 This cake was made for Kotaku reader Eric, whose thoughtful (and detail-oriented) co-workers did him justice with this oven-made send-off. If you're curious, the cake is yellow, the controller is two Hershey bars with nougat between them, connected to the cake by black licorice, and the whole thing is that hard-sugar frosting. (Said sugar frosting, called fondant, is what keeps the shape of the cake from looking like these dodgy Raving Rabbid cupcakes.) They should put candles inside the system so you'll have a reason to blow in it... just like old times.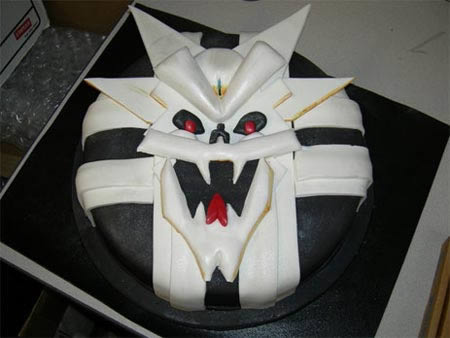 For the uninitiated, Sinistar is the juggernaut villain of the classic arcade game that carries the same name. Once he comes to life in the game, he begins to send warnings your way such as "Beware, I live", "I Hunger", "Run coward!", and a few other lines. Designed by a co-worker of KLOV forum member artisan 2084, this cake is no lie.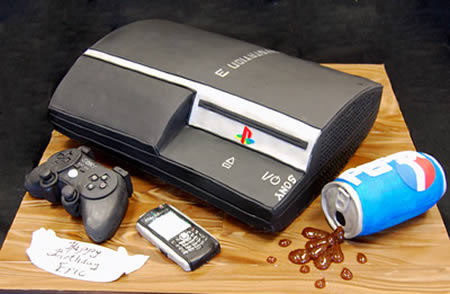 A Sony Playstation cake complete with a spilt soda and blackberry.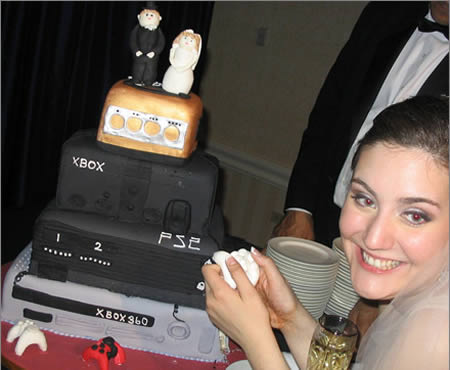 Trying out Microsoft's new fondant controller.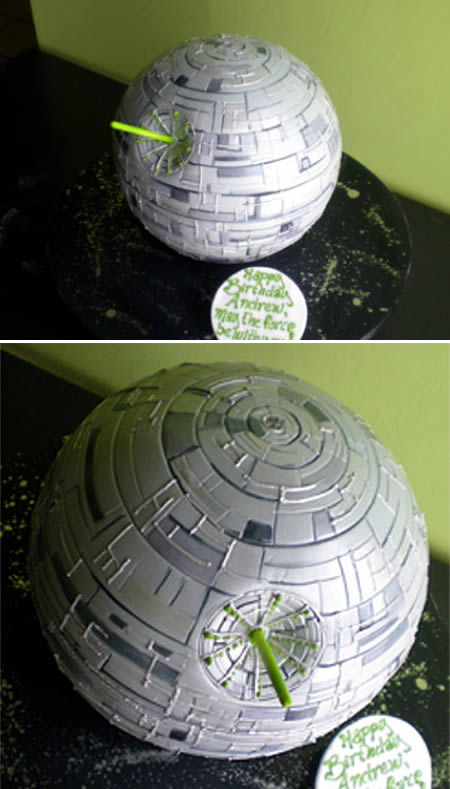 Check out this Geeky Star Wars Death Star cake created for a lucky six year old by Rick Reichart of Cakelava bakery. The detail on this cake is just amazing and the center of fondant and Strawberries Chantilly flavor sounds delicious.