1

McDonald's Crosswalk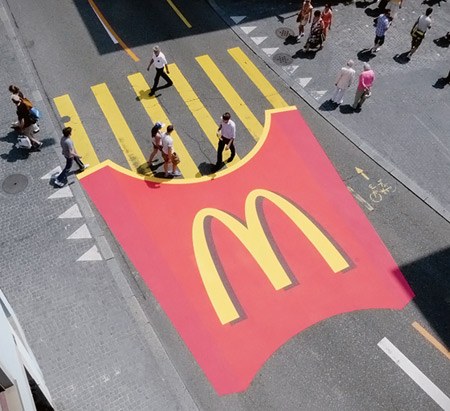 In summer 2010, McDonald's produced this innovative guerrilla marketing campaign during Zurichfest, Switzerland's biggest public festival. During the festival, they turned pedestrian crosswalks in front of their restaurants into giant French fry art.
2

Shopping Curitiba Crosswalk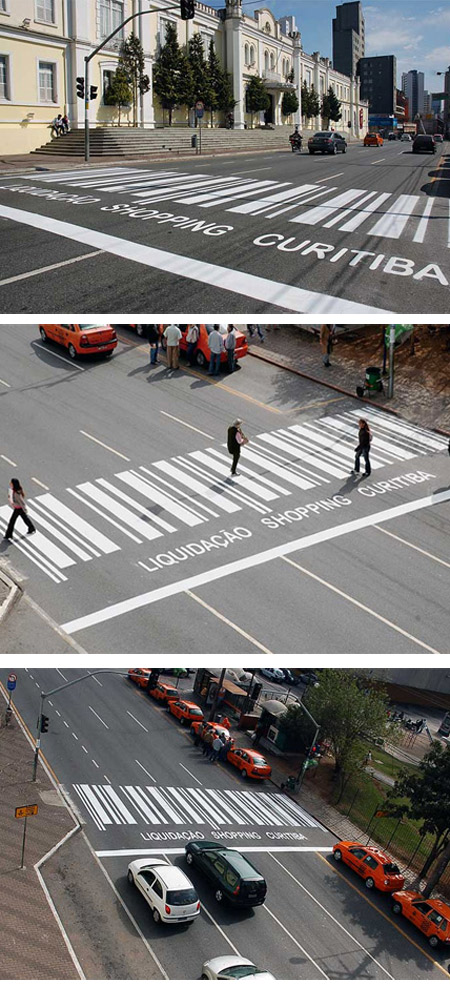 Creative zebra crossing that looks like a bar code was used to promote a sale at Curitiba shopping center in Brazil.
3

Coca-Cola Crosswalk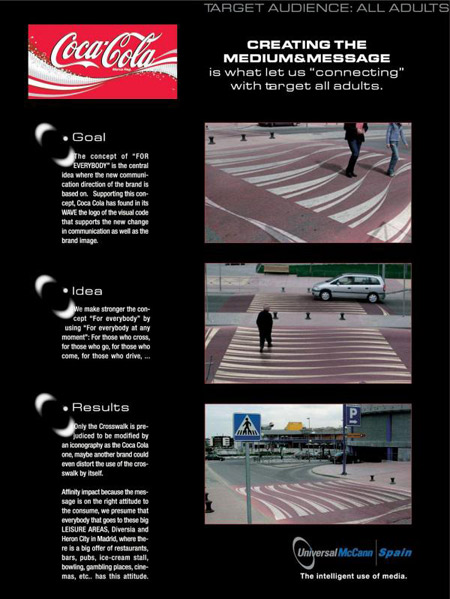 The Print Ad titled Coca Cola Crosswalk was done by Universal Mccann advertising agency Coca-Cola Company (for Coca-Cola Co.) in Spain. It was released in September 2002.
4

Mr. Clean Crosswalk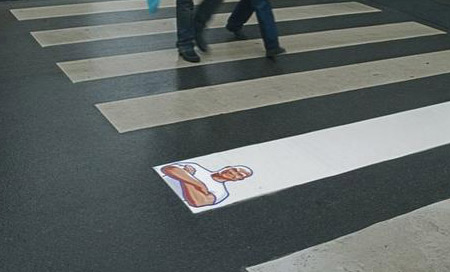 A Mr. Clean crosswalk advertising, showing a cleaner white where the brand logo is placed in comparison to the others.
5

Orthodontics Crosswalk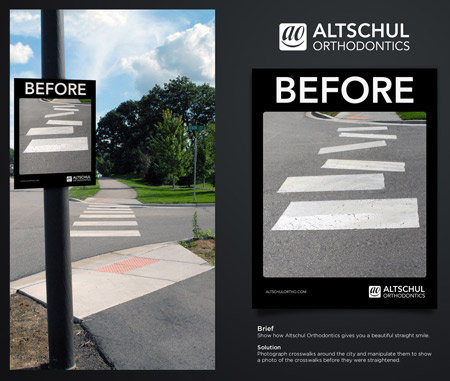 This ad shows how Altschul Orthodontics gives you a beautiful straight smile. The solution: photograph crosswalks around the city and manipulate them to show a photo of the crosswalks before they were straightened.
6

FedEx Kinko's Crosswalk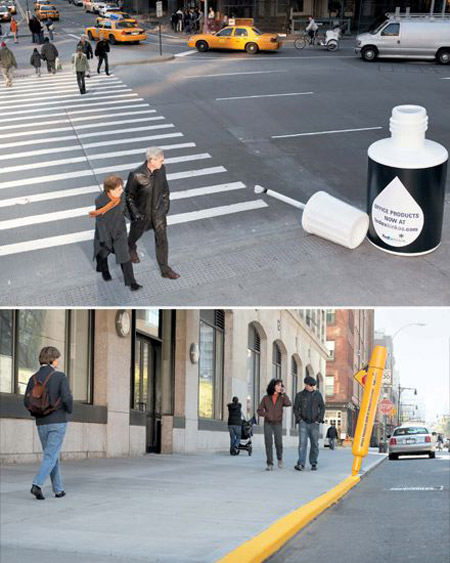 The BBDO agency installed oversized bottles of correction fluid, highlighters, and, in one case, an office lamp, on the city's busy thoroughfares for a couple of days to promote FedEx Kinko's in New York.
7

Consorzio Ceramisti Cavesi Crossing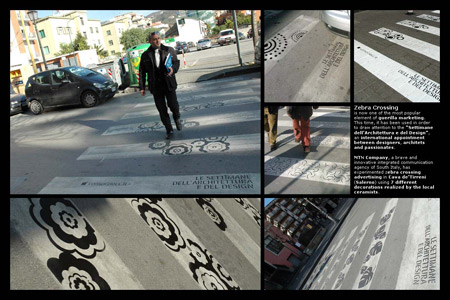 Zebra Crossing is now one of the most popular elements of guerrilla marketing. This time, it has been used in order to draw attention to the "Settimane dell'Architettura e del Design", an international appointment between designers, architects and passionate.
MTN Company, a brave and innovative integrated communication agency of South Italy, has experimented with zebra crossing advertising in Cava de'Tirreni (Salerno) using 7 different decorations created by the local ceramists.
8

Latina Insurance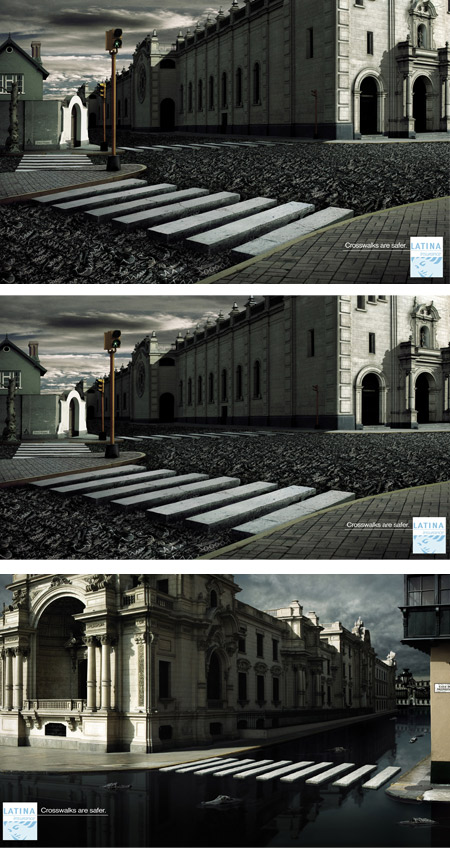 Latina insurance campaign entitled "Crosswalks are safer." Agency: Pragma DDB, Lima, Peru.
9

St. Louis Symphony Crosswalks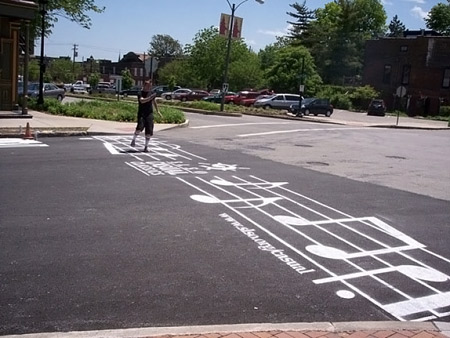 While guerilla marketing is usually associated with hip, edgy brands, the St. Louis Symphony and Drive Agency are out to change that perception. Using massive stencils and some spray chalk, crosswalks all over the city were transformed into sheet music to promote upcoming concerts and attract a new, younger demographic.
Drive Agency is a full-service advertising agency in downtown St. Louis, MO, specializing in non-traditional advertising. At night, it's St. Louis' only commission-free art gallery that supports local and national artists.
10

Hair Salon Comb Crosswalk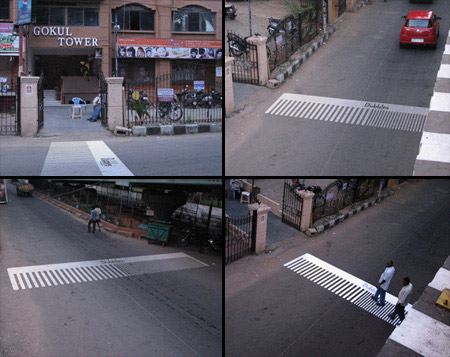 During the weekend, a comb-shaped zebra crossing was created adjacent to the hair salon in India (a temporary transparent sticker). The effect was achieved by sticking a temporary transparent sticker to the road.