Pimp up your parties with these cool liquor dispensers that will get the jokes started even before the very first drink.
1

BaR2-D2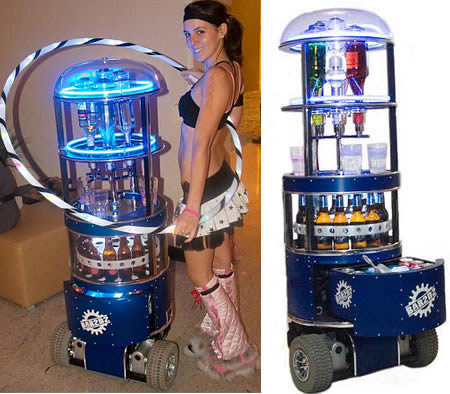 This radio-controlled robotic bar serves you chilled booze with a motorized beer elevator, motorized ice/mixer drawer and six-bottle shot dispenser. The sound and light effects make it even more interesting. "The concept for BaR2D2 was born when a friend showed up to an event with a radio-controlled cooler. We joked about taking the idea to the next level and in the Spring of 2008, construction began," says the creator.
2

Boy Manneken Pis Liquor Dispenser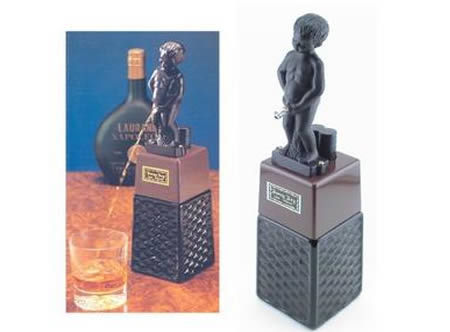 You are sure to be the talk of the party with this unique liquor dispenser. The Bonny Boy ($19.99) is modeled after the famous Manneken Pis fountain in Brussels, Belgium. This Manneken Pis liquor dispenser holds 16 ounces of your favorite drink in its easy to accessible base.
3

Chassis Bartender Robot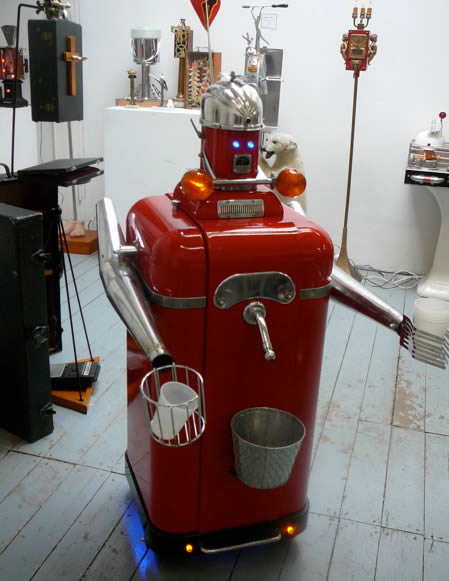 At times when you want another mug of beer, but are too drunk to go get one, wouldn't it be great if a genie could pour endless mugs until you say STOP? Chassis, the beer pouring robot, was built by Jonathan Foote and Al Honig to enjoy your uninterrupted drinking binge. It also has a built-in chrome grill beneath his turn signals which is a speaker for audience interaction. All you have to do is start giving commands with headset and cordless phone transmitter and direct the robot using the remote control. Chassis comes in a fiery red coating.
4

World Globe Liquor Dispenser
Add a touch of worldly class to your next social hour by using our global liquor dispenser. With a polished, silver-plated holder and raised, acrylic globe detail, this drink dispenser maps a perfect pour whatever the occasion… or the continent. Perfect for those seeking world domination and also ideal for serving a variety of party cocktails—just provide all the ingredients and let your guests make and choose the strength of their own drink.
5

Fire Hydrant Drink Dispenser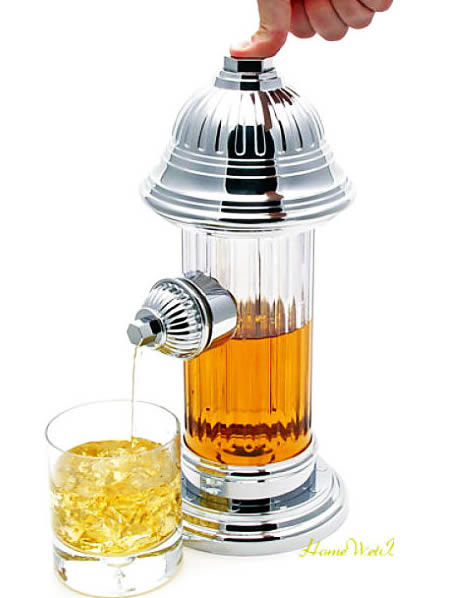 This whimsical fire hydrant drink dispenser is a great way to store your favorite liquors and it also allows your guests to serve themselves! Simply push the top a few times and watch your guests smile in amusement while the liquor is quickly dispensed into their glass.
6

Shots Gun Pump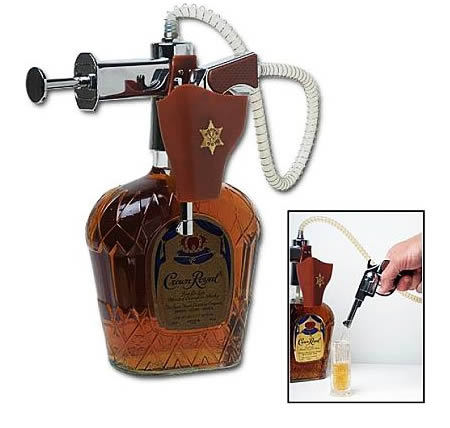 Pump up your favorite drink and fire the Wild West style pistol at will. Holster holds your pistol between "shoot outs." Fits most liquor, wine, and other spirit bottles.
7

Trufill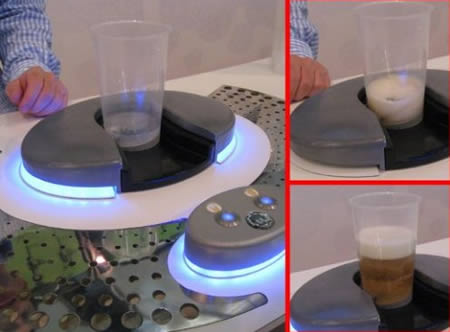 Scotsman Beverage Systems showed off "Trufill" at the Brau Beviale exhibition in Nuremberg. The Trufill concept is fairly unique and able to serve 10 pints of beer in just 10 seconds. That's without spilling a single drop. The coolest part is that the dispenser fills the cups from the bottom. It adds ice from the top, but fills the cups from the bottom. It's a great concept that would surely make the owner more money at say, stadiums, for instance. Think about it, a beer per second, no spillage. That equals less waste and more beers sold in a shorter time. There aren't many details, but it's quite an innovation in the beverage world.
8

MyFountain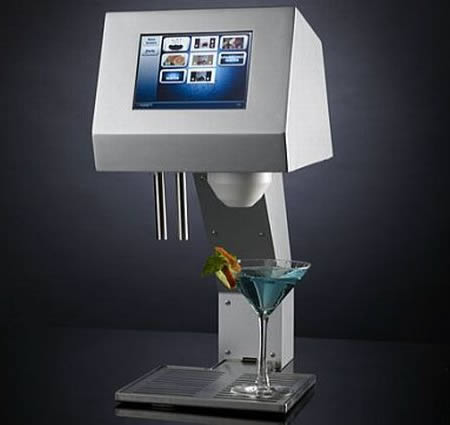 MyFountain robotic bartender takes orders, mixes cocktails, and then cleans up automatically. Underneath the countertop dispenser, you will find a dorm-style refrigerator that houses up to 12 varied types of alcohol and mixers, a water-line link and a carbon-dioxide cartridge for effervesce. The device is 100% customizable depending upon your tastes as you can create any recipe you can think of, and make it available at the touch of the LCD screen. The brain of the system sits at the top of the fridge and it's an Internet-linked Windows XP computer. Users can even limit access via password-protection allowing parents to restrict access to alcoholic beverages. The price range for the MyFountain drink slinger starts at $2,575.
9

The Wine Rack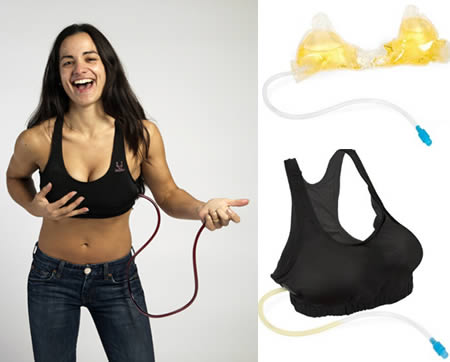 Hide liquor and increase your bust size at the same time with this innovative Wine Rack ($29.99).
10

Slot Liquor Dispenser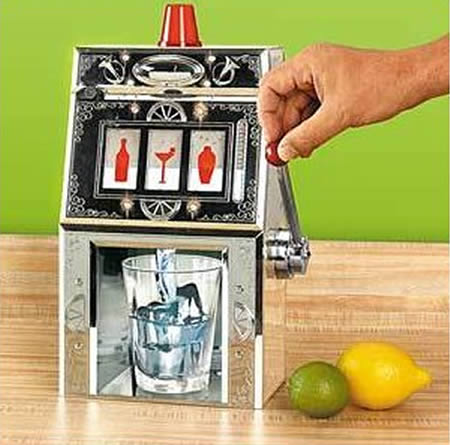 Fill with your favorite type of liquor, and then push down the lever to dispense a shot. As it fills the shot glass it lights up and plays music. Makes pouring shots more fun than taking them!
11

Hospital Booze Liquor Dispenser
Sometimes a shot of drink works better than an epidural.
12

Gas Pump Liquor Dispenser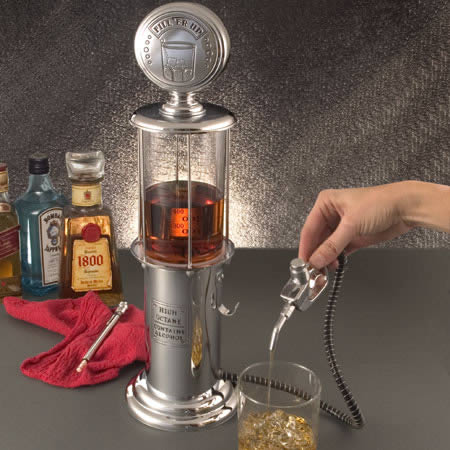 Tired of high prices at the pump? Tired of party guests whining about empty cocktail glasses? Well, your prayers have been answered. With this nifty, retro-cool Gas Pump Drink Dispenser ($27.99), you can set your own "fuel" prices, and tell your lazy guests to "self-serve." And yeah, you can even "top-off."