1

Etch A Sketch iPad Case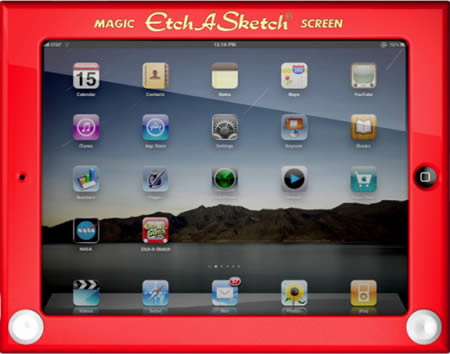 Is your iPad a toy? You betcha! Make it even more fun with a clever case that makes it look like the Etch A Sketch you used as a child. Oh, yeah, it also protects your iPad from scratches and dings.
2

iMaxi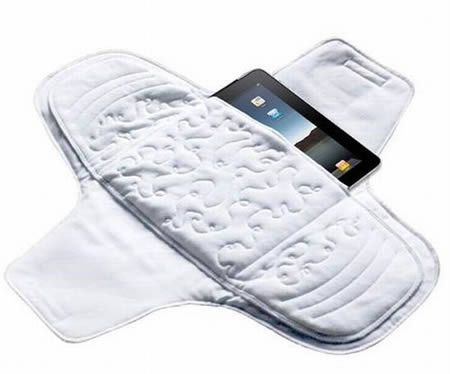 If you were wondering which is the latest and coolest iPad case, you don't need to look too far. There have been several designers already trying to create cases which exemplify the term geek-chic. The Apple iPad has inspired designers to create the iMaxi, which is a cool quilted cotton sleeve. Designer Hiphandmaids conceived the idea of an iMaxi based on personal hygiene napkins. If you have an iPad, and would like to protect it from motherboard leaks and other "accidents" you could go and get yourself this iMaxi. It just makes me think what people might think when you open your iPad. That you had been keeping your iPad in your sanitary pad? I am sure not many people would want to touch your gadgets or even you for that matter! If you do not mind a few giggles and a few disgusted looks, you could go ahead and get yourself the iMaxi.
3

Book Case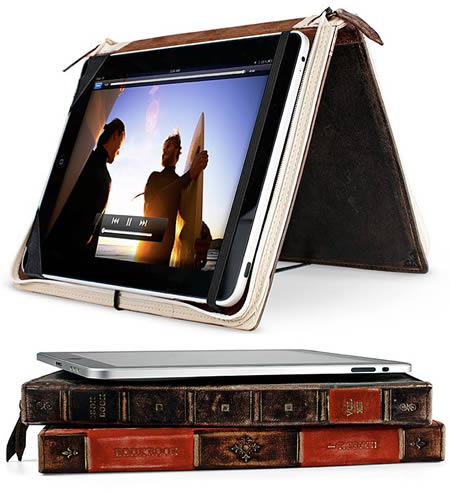 The BookBook has already been released for the MacBook, but now it's making its way to the iPad to make sure that it stays safe as well. The BookBook converts your modern looking gadgets into antique books. It's the perfect case for the gadget lover that still loves the smell and look of antique books. Plus, it might work as a theft deterrent since it looks like nothing more than a simple hardcover book. The cover zips up to keep the iPad inside, plus there are plenty of things inside of the book to make sure that your iPad doesn't shift around. Thanks to the hardcover case, this also doubles as a handy little stand. The case may be mildly bulky, but at least it does double duty. Plus you'll probably very rarely come across anyone with a case quite like this one. There are two different color options for the case, both of which are pictured above.
4

iPad Waterproof Case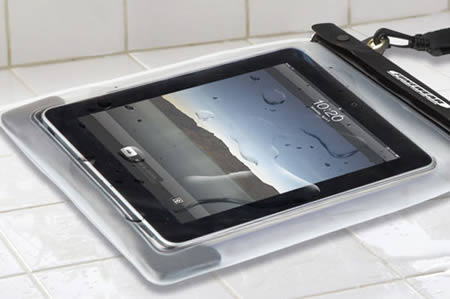 The iPad being the newest obsession for many, it will sure need all of the random accessories that the rest of the Apple products have received. Those of you that like to be around a whole lot of water might want to consider picking up this case. It'll make sure you have full use of your iPad, but it will also make sure that it stays completely dry. The case even has an incredibly attractive strap that can be used to make the iPad hang from your neck. I'm sure you'll pick up even potential partners if you hang this around your neck while you're wearing a bathing suit at your local pool.
5

Steampunk iPad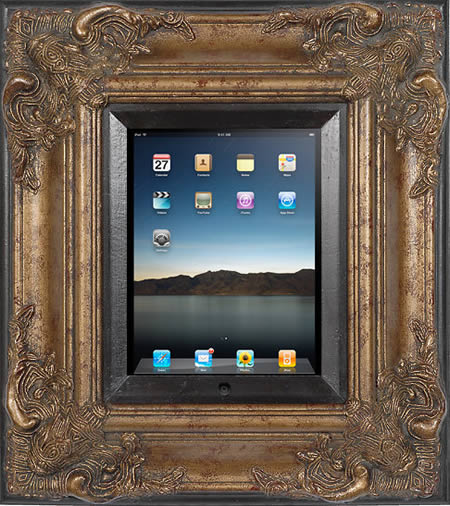 Weighing in at just under 14 pounds and reinforced with solid brass, it's the industrial strength iPad.
6

RibCage iPad case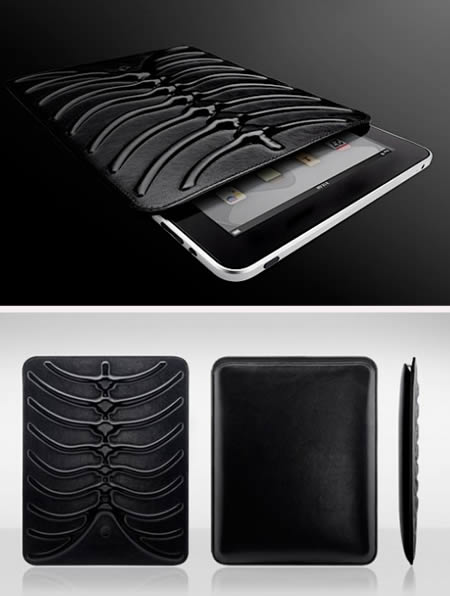 This alien looking case from Switch Easy, offers the iPad owner the chance to keep their precious device in tip top condition, rather than leaving it lying around or putting it down onto surfaces where it is likely to get scratched. The case is made from a faux leather type material with increased protection for the screen; however, the downside is that you have to keep taking the iPad out of the case to use it!
7

Swarovski iPad Case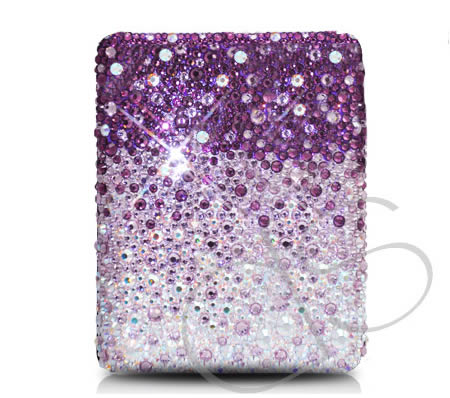 DSstyles is responsible for the creation of the iPad Swarovski case, an entire new series crystallized product from DS. Crystals. The crystallized iPad case adds more than 6000 Swarovski crystals to your latest gadget. This is the eighth product series from DS. Crystals. DS. Crystals is creating new iPad cases after their remarkable success for their Swarovski iPhone case series. The new iPad case series is characterized by its extreme large crystallized surface and shiny crystals effects. The production time for the new iPad case is 6 times more than the iPhone case as it carries more than 6000 Swarovski crystals. The use of different size crystals becomes more challenging as the surface of the iPad is much larger.
8

Retro TV iPad Case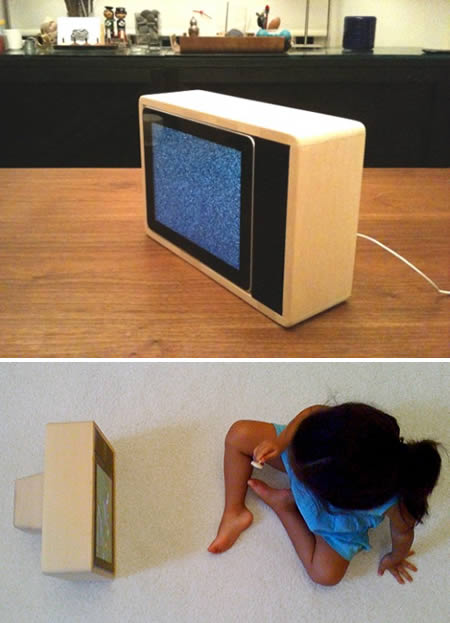 A love for innovative designs and the employing of old and outdated home appliances, are the factors inspiring Jonas Damon's great design. The TV iPad case. The case is made with wood. However, no single thing used for making this wooden case was purchased. Rather, the materials to build it were found lying around in the nooks and crannies of his apartment. The style of the case resembles that of an old-school cathode-ray television which adds a charming retro touch to the whole thing. The overall look of the case is completed with his use of the screensaver depicting an 50's grainy television snow. It's a truly brilliant tribute to the TV days of yesteryear.
9

Bacon iPad case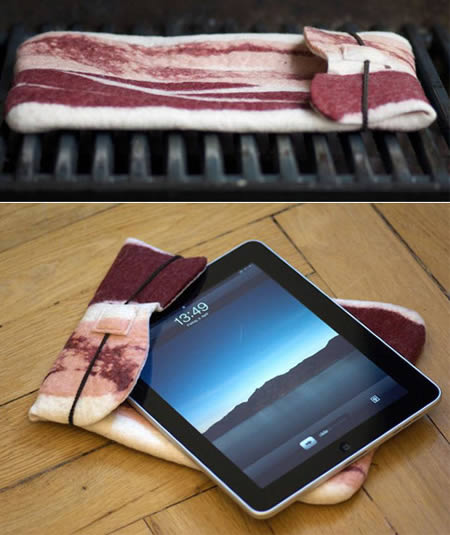 Bacon and Apple products go together like peas and carrots. Or lamb and tuna fish. They're both the perfect byproducts of their respective categories. Pimp your iPad with pork with the custom made Bacon iPad case. It might not be actual bacon, but its realistic design is enough to make you wish you had a side of eggs to go with your balanced breakfast of pork and tablet. Created by Etsy merchant Antjes, for about $60 you can have your very own Bacon iPad Case. The perfect greasy side dish to match the high fiber intake of your Apple tablet.
10

iArm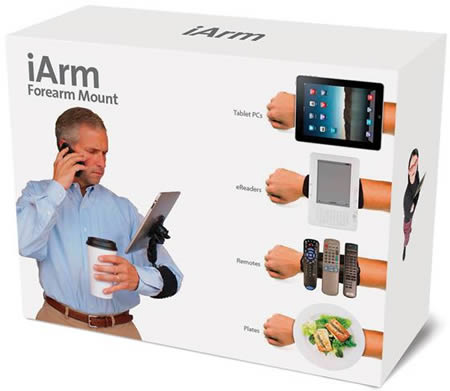 Are you the life of the company, as well as the resident joker? Well, if you happen to own an iPad or tablet device, then you might be interested to check out what the iArm could do for you. Potentially being one of the more interesting Apple accessories out there, this forearm mount will "empower" you with an additional arm. Capable of attaching to iPads, tablet PCs, eReaders, cell phones, and others, the iArm tips the scales at a mere 4.5 lbs. and is fully adjustable, The iArm itself will let you tote your favorite device with you, where the optional "multi-mount" allows you to secure up to three more items simultaneously.
The only problem is that the iArm is a fake product, depicted on a Prank Pack, on a prank gift box that are used to fool a gift recipient into thinking they just got the stupidest gift ever – until they open the prank box and see their real gift.
11

Wooden iPad Case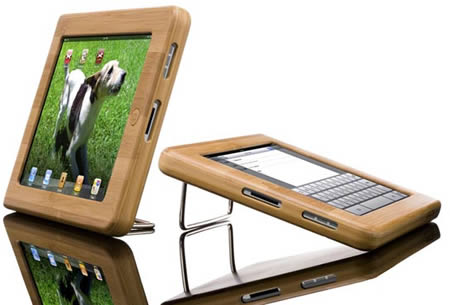 Want to protect your fresh iPad in an eco-friendly way? No doubt, an iPad wooden case is the obvious choice such as the Vers iPad case.
12

Domo Kun iPad Case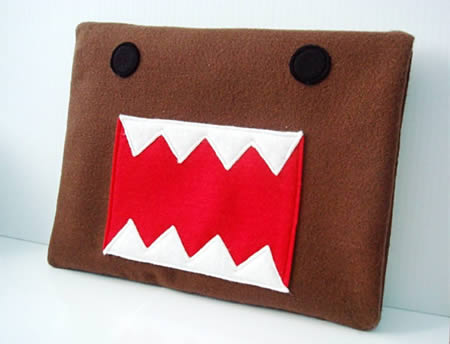 Fancy something a little different to protect your iPad with? Then check out this fun Domo Kun Case. This little critter is sure to keep your iPad snug with its 2 layers of cozy felt. All features such as his pearly whites and his beady eyes are machine sewn. The inside is lined with brown felt and there are no visible seams, so your i-gadget will glide in nicely.