1

The man who divorced his wife after running into her in a Brothel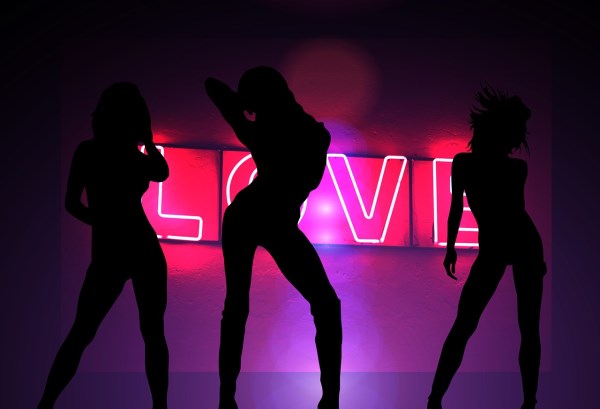 A Polish man got the shock of his life when he visited a brothel and spotted his wife among the establishment's employees. The woman had been making some extra money on the side while telling her husband she worked at a store in a nearby town. Needless to say, the couple, married for 14 years, are now divorcing.
2

The man who bought a porn DVD only to find out his wife and best friend were starring in the film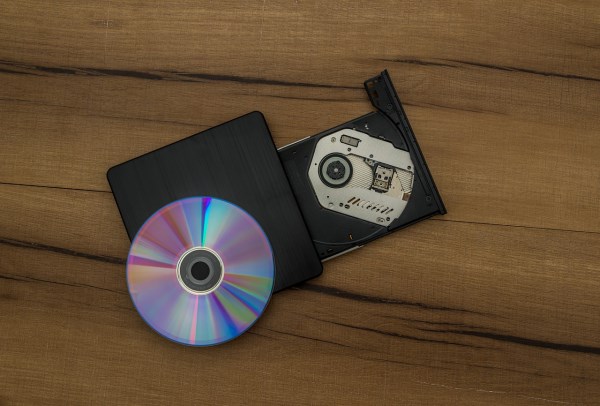 A Taiwan carpenter bought a porn DVD only to find secretly taped motel footage of his wife having sex with his friend, whom the husband later stabbed. The husband, identified only by his surname Lee, discovered the illicit sex on the DVD in 2002. The sexual acts apparently had been recorded using a hidden camera and were on a pornographic DVD, titled Affairs with Others' Wives, which the husband bought from a vendor to watch at home. Lee, who lives in Taoyuan County near Taipei, divorced his wife after viewing the DVD. His friend, a butcher, fled their village. In August 2008, Lee spotted the butcher in Chungli City, returned with a knife and stabbed his former friend in the thigh. The butcher sued Lee for causing bodily harm. Lee fought but was unable to countersue the butcher for adultery, because of a five-year statute of limitations.
3

The man who left his wife while she went to the airport's bathroom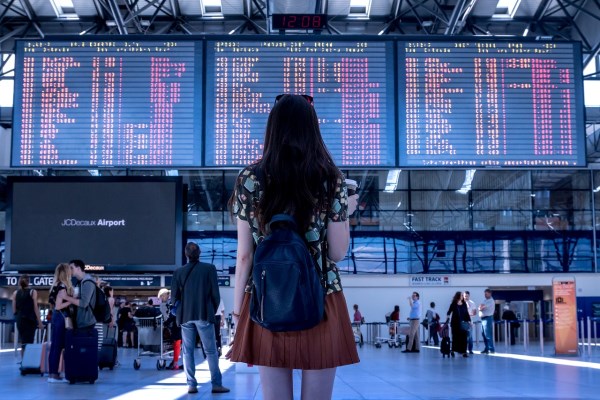 When a husband found out that his new wife took too long in the airport restroom, he decided to get on the plane without her! The woman in question, a teacher, had gone to use the facilities at the airport before boarding a flight back to Saudi Arabia. Exactly how long she stayed in the toilet remains unclear. What is certain is that she emerged to discover her husband had vanished without trace. The woman, who had paid for the holiday, began a desperate search of the airport and grew increasingly concerned that something terrible had happened to him. When he arrived at his destination, he calmly told relatives his new wife was still in Malaysia. His bride was not so calm about his behavior. She demanded an immediate divorce.
4

The guy who hit on a fake Facebook profile created by his (now ex) girlfriend

A classic from the virtual era.
5

The film director who broke up with his wife after she found out he was having an affair with their adopted child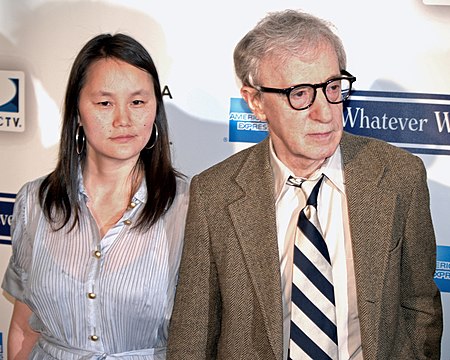 Though they never actually tied the knot, the breakup of Woody Allen and Mia Farrow's ten-year union took the tabloids by storm with its unique mix of adultery, cradle-robbing, and creepiness. The details: It was revealed that Allen was having an affair with Farrow's 21-year-old adopted daughter, Soon-Yi Previn. Accusations of bad parenting flew from both parties, and a bitter battle ensued over their blended brood of adopted and biological children from their union and Farrow's pre-Allen days. Farrow received custody of the children, as well as support from ex-husbands Andre Previn and Frank Sinatra, the latter of whom helpfully offered to break Allen's legs.
6

The jealous wife who set husband's boat on fire after argument over Jennifer Lopez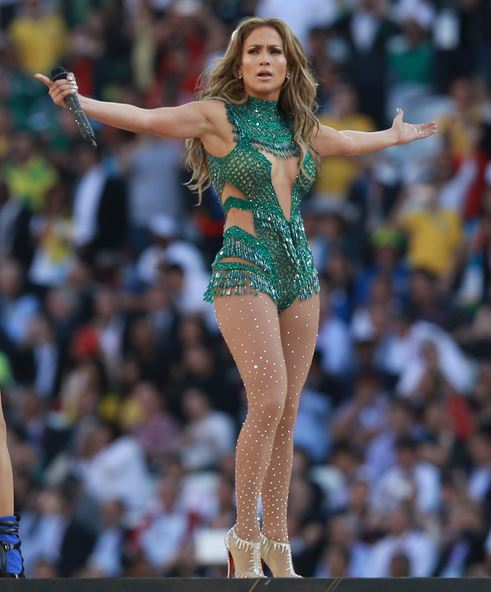 A jealous Florida woman was accused of burning her husband's boat, go-kart and Jacuzzi after an argument over a Jennifer Lopez movie! Shannon Wriska, a 34-year-old mother of three, was arrested on first-degree battery charge and arson charges following an argument about the actress at their Milton trailer. The suspect's husband Robert, told police that she was jealous of the curvy actress and she did not like him seeing her in the movie they were watching. He said they began to argue about Jennifer Lopez, and then they both went to bed. But things soon turned heated again when Robert asked Shannon to move over in their bed. He said she yelled at him: "So you're saying I've got a fat ass?" She then left the house fuming. The next day, Robert was at a neighbor's home when his wife pulled up in her car, saw him and became furious. That's when she set his go-kart on fire, but Robert was able to extinguish it. Next, she packed her car with his dogs and told him she was going to "put them to sleep," and punched him. Then the woman left the scene. While Robert was at his neighbor's house, she set his Jacuzzi and boat on fire, then took off. Shannon was later apprehended without incident. Incredibly, she denies all charges and says her husband set the blaze himself. The incident is now under investigation.
7

The girl who forgot her BF was traveling and sent him several nasty emails thinking he was avoiding her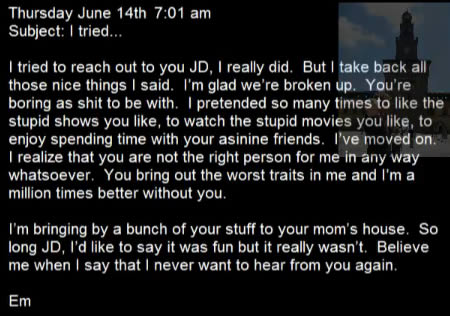 Most of us at some point in our lives have sent an email or text in the heat of an angry moment that we later regretted. In the summer of 2007, a girl named Em didn't have an angry moment, she had an angry two weeks, during which time she sent a slew of bitter emails to the boyfriend that she thought was avoiding her. By the time she learned he wasn't really ignoring her, but was actually traveling through Europe — something he'd mentioned many times to her before he left — it was too late. The emails had been sent, the damage had been done, and now this little video of her big mistake has been put together so we can all feel so much better about any communication snafus we've made in the past.
8

The guy who decided to breakup with his girlfriend by setting her wardrobe on fire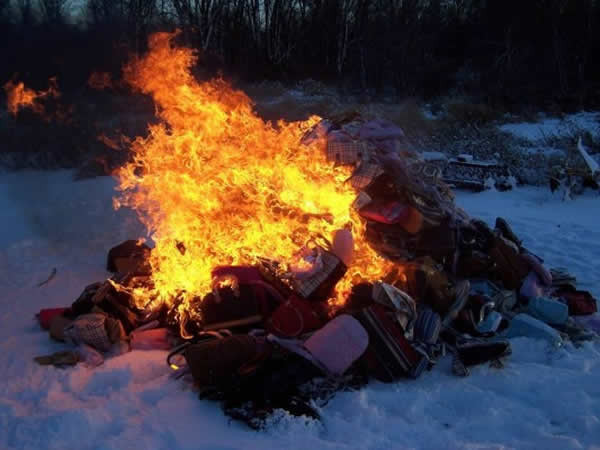 A Montrose-area man is charged with arson after his 4th of July celebration ended with a homemade fireworks display consisting of his girlfriend's entire wardrobe. After getting wasted with his girlfriend and another couple at a Houston-area club, 30 year-old Albert Briede proceeded to drive home drunk, which took hours. When he finally got there, he broke his apartment's locked door "completely off its frame," and screamed at his sleeping girlfriend (she'd wisely taken a cab home), "Why did you make me do that?" The girlfriend called the cops, whereupon Briede decided to set fire to her shirts, causing their entire closet to go up in flames. Luckily a sprinkler system saved their building from total immolation, but Briede faces up to 10 years in prison and, presumably, the dissolution of his relationship.