From fishing to boxing, crazy soocer goal celebrations from around the world.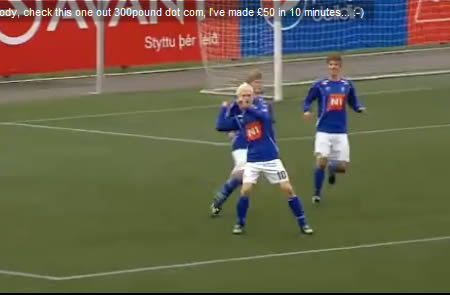 When Halldor Orri scores a great goal he decides to go fishing and catch on his mate Johann Laxdal or Johann the salmon. The game was Stjarnan against Fylkir in the top league in Iceland and the goal was the winning goal in extra time.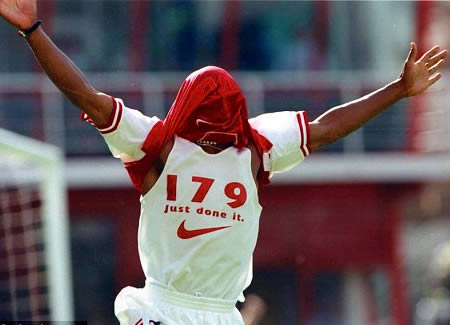 During a Premiership game against Bolton, Arsenal F.C. player Ian Wright scored a goal, and, believing he had beat Cliff Bastin's record of 178 goals for Arsenal, took his shirt off to reveal a vest bearing the words "Just Done It". However, he had merely tied the record, but was able to redeem himself 5 minutes later by scoring another goal, after which he correctly exposed his vest.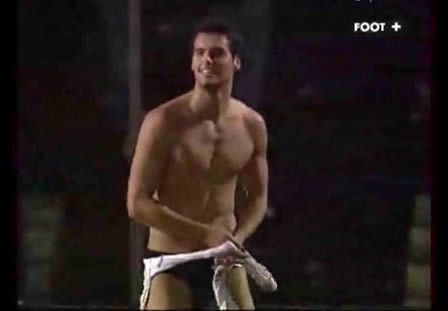 The strapping young lad you see in this video is Youann Gourcuff, the latest incarnation of "Zinedine Zidane in training". But the AC Milan player is a bit more puzzling than Zidane when it comes to celebrations. Take this one, for example. Stripping down to underwear and dancing around the pitch, in the middle of a game. Talk about crazy goal celebrations!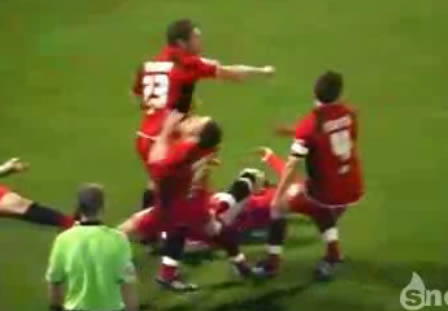 AFC Bournemouth`s Lee Bradbury celebrates his first goal against Grimsby with a new boxing routine.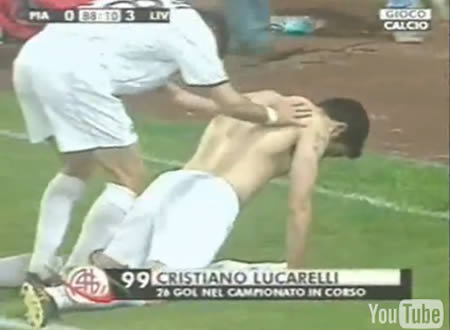 Cristiano Lucarelli's passion for politics or his club Livorno cannot be doubted and is probably best shown by this bizarre goal celebration that saw him rip off his shirt, throw it on the floor and then proceed to make sweet sweet love to it. Whatever rocks your boat Cristiano.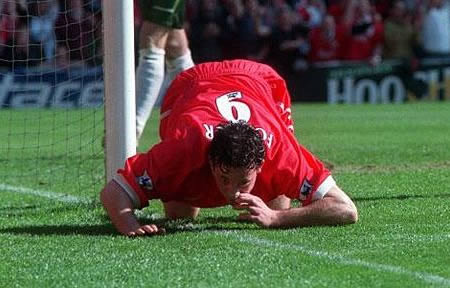 Robbie Fowler, the former Liverpool striker, created a huge controversy and was fined $90,000 by his club and the Football Association for having celebrated his penalty against Everton by getting down to his hands and knees and miming the snorting of cocaine off the white touchline.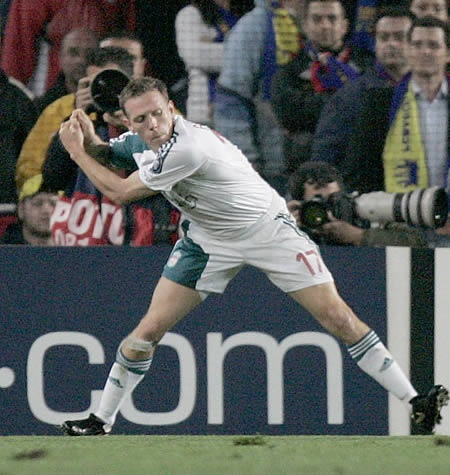 Facing allegations that he threatened his then Liverpool team-mate John Arne Riise, with a golf club, Craig Bellamy scored in a match against Barcelona and celebrated by acting out a golf swing.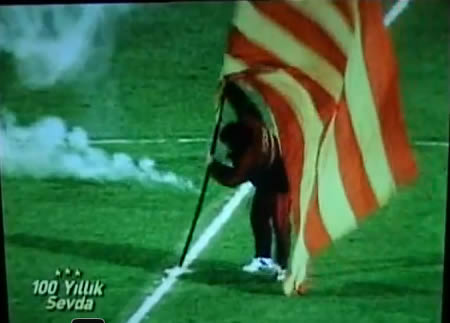 A domestic cup final between Turkey's bitter rivals is always a lively affair, without Souness adding his own brand of malice. Having won the first leg 1-0 at home, Gala travelled to Fenerbahce for the second meeting, and the hosts soon leveled the scores. But Galatasaray sealed victory with an extra-time goal from Dean Saunders, prompting Souness to grab a Gala, run on to the field and plant it slap bang in the middle of the centre circle - sparking a riot in the process.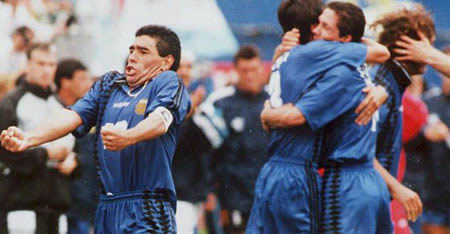 Arguably the best player ever, Maradona did not have the best of times at the 1994 World Cup. But his celebration after his goal against Greece will live long in the memory. He screamed at the camera as if he was on drugs - and in fact he was.
Amr Zaki got injured in a friendly game against Oman. He got 6 stitches after he celebrated the goal of team mate Aboutraika. He run into another mate and got the worst part of it.