People sometimes don't pay much attention, but a bathroom is the most important room in a building. Meet ten amazing and seriously cool bathrooms we've found.
1

Aquarium Bathroom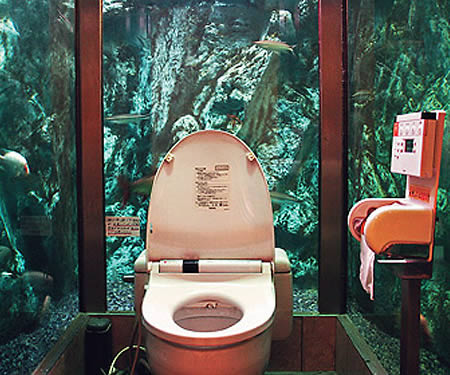 Like many beach-side bathrooms, the Mumin Papa Café in Akashi, Japan, is decorated with deep-sea creatures. But the live three-wall aquarium envelops the stall one-ups standard wallpaper by a large margin. The underwater restroom costs $270,000 to build and is ladies-only, except for the giant sea turtle swimming around. The surrounding aquarium was designed to mimic the feeling of relieving yourself while swimming in the ocean.
2

Vertigo Bathroom
Try to avoid this bathroom if you are afraid of heights. Its vertigo looking wallpaper makes you feel trapped among buildings.
3

One-Way Glass Bathroom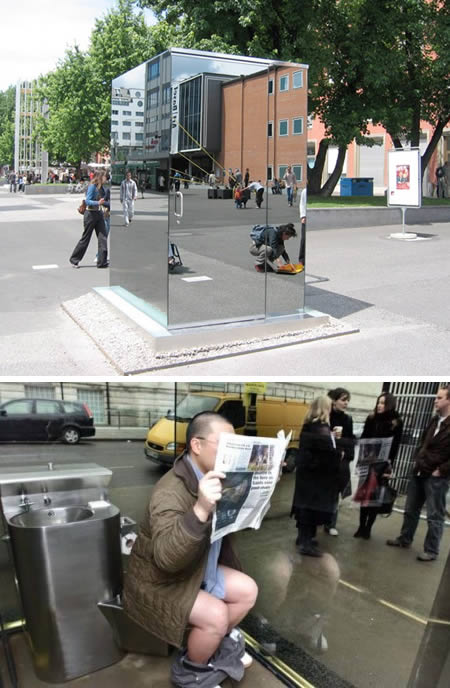 Artist Monica Bonvicini created this minimalist glass cube containing a usable loo to stand opposite the Tate Britain gallery in London.The work, called Don't Miss A Sec, is made out of one-way glass which means you can see out but not in. The public sculpture was exposed at the former Royal Army Medical College in Millbank, and was meant for public use. A spokeswoman for the project said: "It will arouse curiosity because people can just come and use it, although there is a question of whether people will feel comfortable doing so." The toilet was also exhibited at the Messeplatz in Basel, Switzerland, in 2004.
4

Mountainous Brook (natural bathroom for the city)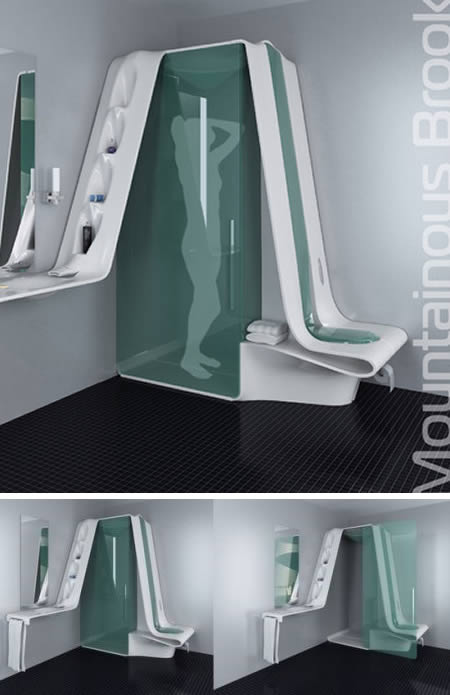 'Mountainous Brook', just as its name implies, is an innovative bathroom suite designed to create natural atmosphere inside urban buildings. The Redo Studio has drawn the inspiration from the nature, and therefore the design features several natural elements like the mountains and the spring. Combining a basin, a shower and the toilet in one single unit, 'Mountainous Brook' has successfully achieved its goal to save up the limited space of urban departments.
5

Pure Gold Bathroom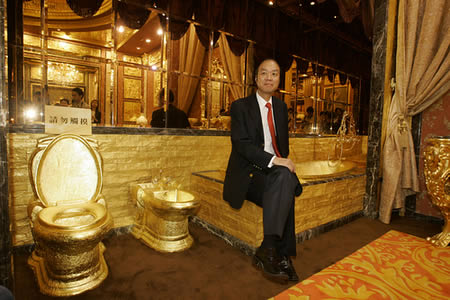 World's priciest toilet is located in Hong Kong. The Swisshorn Gold Palace was built in 2001 by Chinese jewelry mogul Lam Sai-wing. The entire washroom required 380 kg of pure gold and 6,200 gemstones. Even the fixtures were made of gold. It cost HK $38 million. In 2008 all the place was melted down, except for the golden throne.
6

Tetris Bathroom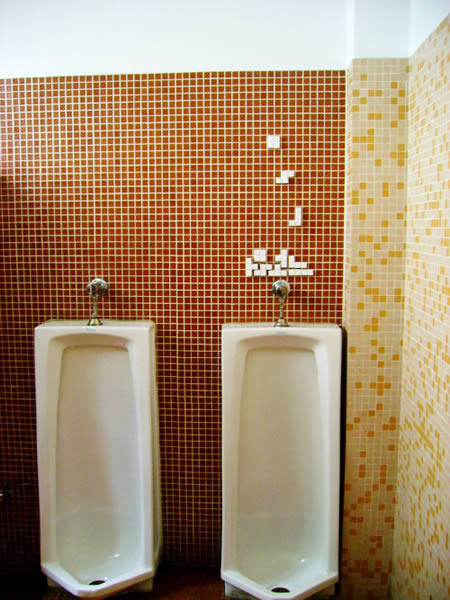 Did you always feel the only bad thing about urinals is that you can't read anything because you are standing? Well, in this bathroom installed in a university in Brazil, you won't be able to read but at least you will play one of the coolest games ever.
7

£9,000 'Swiss Army knife' Bathroom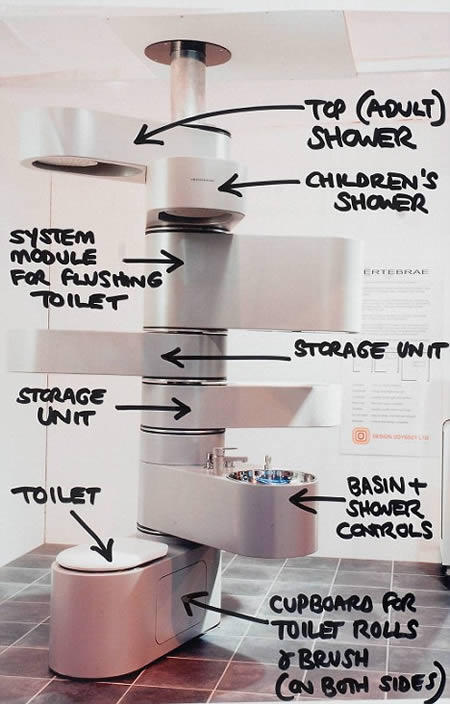 It looks like an art installation inspired by a hi-tech corkscrew or Swiss army penknife.
But this is no ornament or sculpture. It is, in fact, the world's first fold-up vertical bathroom. Called the Vertebrae, it stacks a toilet, sink, water cistern and two showers into one 8ft-tall steel column. It has a price tag of £9,000 and is aimed at space-conscious householders who struggle to fit a traditional shower, sink and toilet into their bathroom space. The Vertebrae is the brainchild of award-winning designer Paul Hernon, of Huddersfield, who created it with small apartments in mind.
8

PacMan Bathroom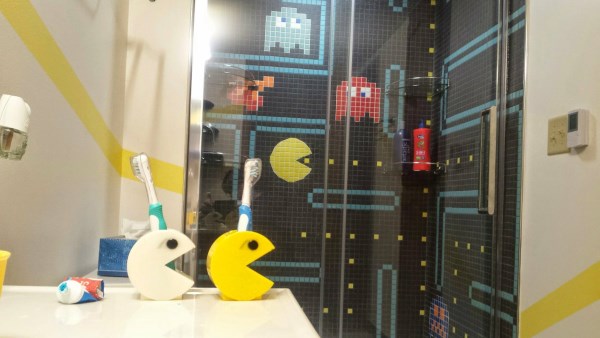 Just like the Tetris concept, here is another retro game themed bathroom.
9

Viewing Platform Bathroom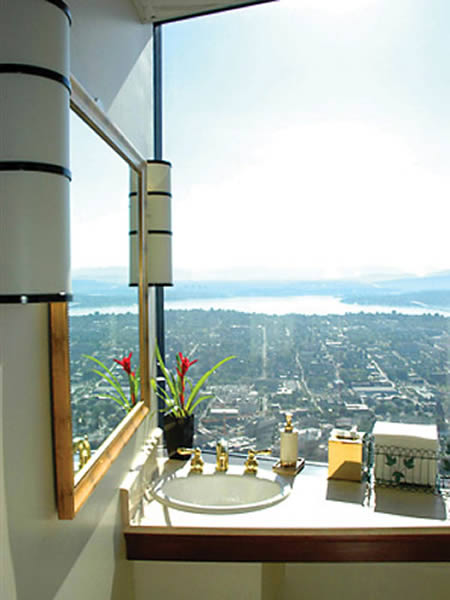 The bathrooms at Columbia Tower are some of the tallest in the world, and each 76th-floor stall has its own view of the Seattle skyline. Aside from the stunning view, each stall has marble floors, marble counters and solid brass fixtures and contains its own sink. Although the bathroom is technically women-only (Columbia Tower likes to think of the restroom as a "tranquil escape for any woman's busy day"), it acquires frequent male visitors eager to check out the view.
10

Compact Bathroom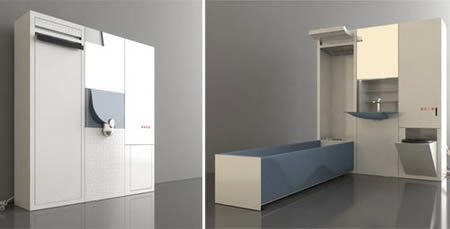 Who would ever imagine that a bathroom could be hidden in a cabinet? But the Compact Bathroom presented here has proven that is possible. Just open the cabinet, pull out each module and you'll find a bathtub, a basin and other articles commonly needed in the whole unit. Wow, that's a clever way to save limited space.