1

Chain Wine Bottle Holder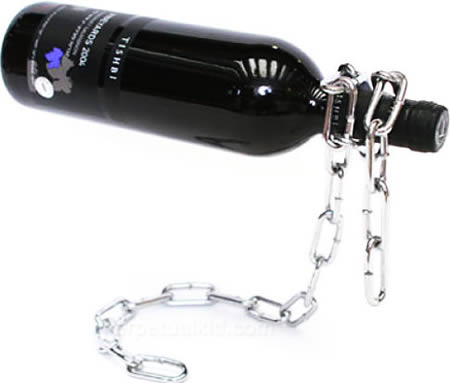 This fun Chain Wine Bottle Holder uses the principle of balance to create a magical floating illusion. If your friends can't figure out how it works… it might just be time to cut them off from drinking for the rest of the night.
2

Gaping Hole Costume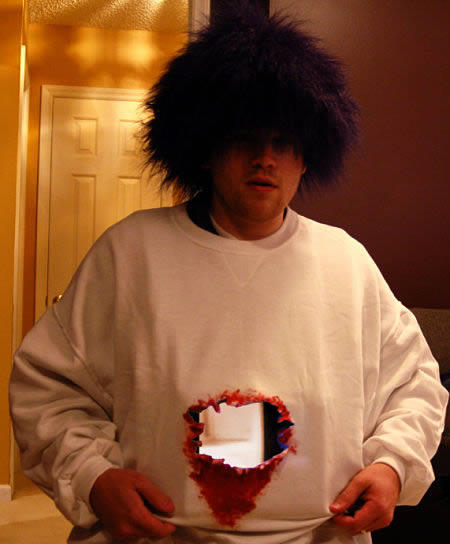 By using a travel DVD player strapped to his stomach, with video coming from a digital camera strapped to his back, it creates the illusion that this guy has a very large hole in his stomach.
3

Mountain Couch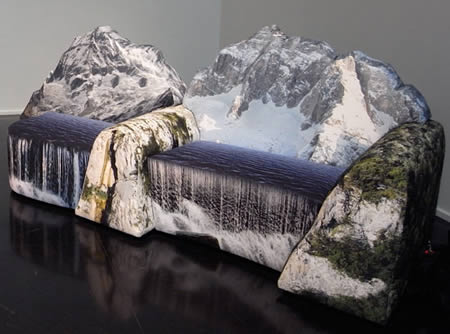 This has got to be one of the coolest themed couches ever created. Montanara by Gaetano Pesce creates the illusion of a mountain scene right in your living room, including cushion waterfalls and jagged support peaks of doom.
4

3D Illusion T-Shirt
A great t-shirt to give to your "significant other" when you want to keep a hold on them.
5

Grand Illusion Table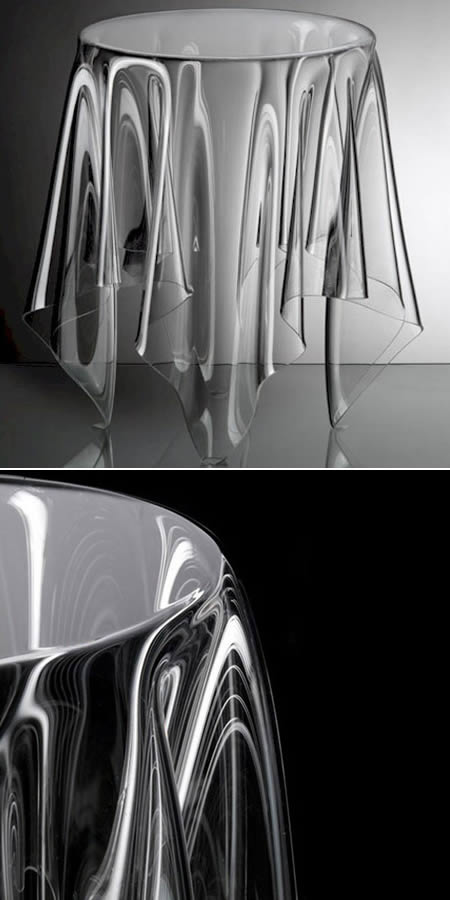 The cool new Grand Illusion Table looks like a table cloth covering a table, but without the table. This amazing table of illusion is handmade with 4mm thick PMMA acrylic by designer John Brauer, so each table is individual and unique. It uses the structural strength of the folded acrylic to maintain its shape and can support up to 55 lbs. The magical design of this table will not only stir up conversation, it's sure to cause head-scratch pondering and double-takes as well.
6

Pipeless Sink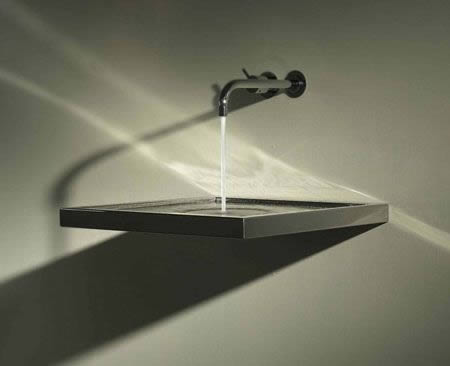 This sink from Axolute will totally revolutionize your bathroom design. The Axolute sink takes minimalism to such extremes that it completely does away with the drainpipe. The stunning polished stainless sink features the HIS system, which replaces the traditional drain pipe usually visible underneath basins. The lack of pipes underneath makes these designs particularly effective when mounted by themselves, as well as highly convenient to be fitted over a vanity unit.
7

Illusion Curtains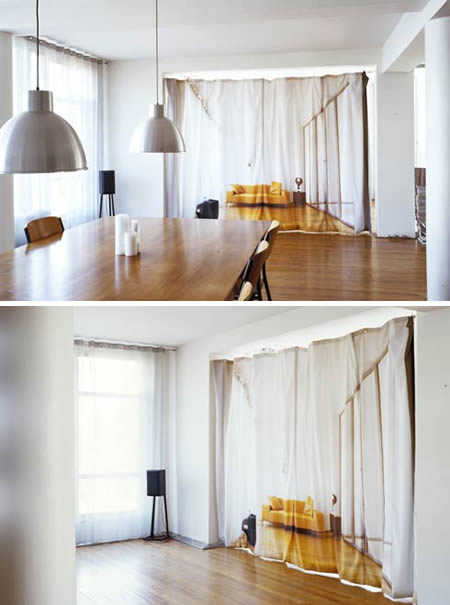 Designed by Bauke Knottnerus, this curtain is a great piece of conversation that can also create the illusion of more space in any room. I'm pretty sure that your new guests will be pretty impressed by a curtain like this and who knows maybe some people will be inspired by the design and maybe they will create something even more creative.
8

Stop: Motion Chair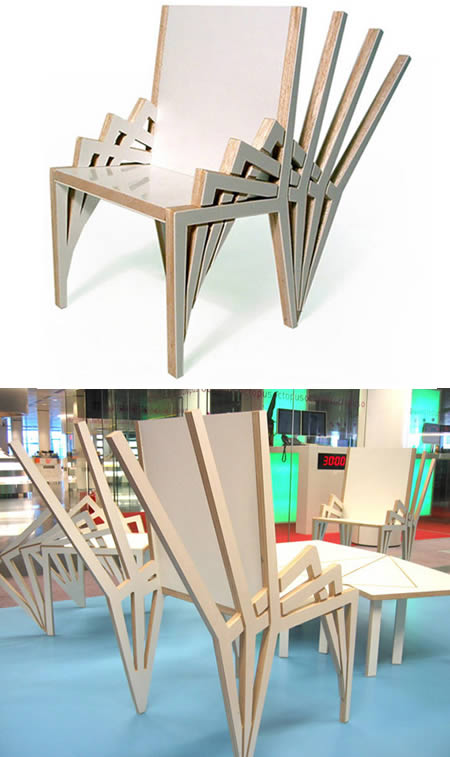 Stop: Motion creates an environment where movement has been playfully paused. It has been captured with grooves on the surface of each piece. This provides an illusion of falling or moving furniture. When looking at the chairs in profile, they look like they are falling, paused in mid-air.
9

Cracked Dresser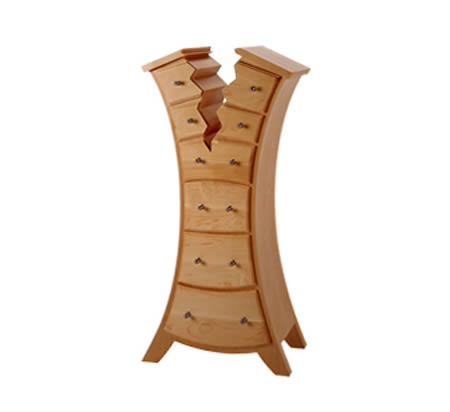 Have you seen a cracked cabinet or dresser? You could have seen it if it was damaged or may be subjected to wear and tear. This crack "effect" of a dresser has been beautifully reproduced into one such exclusive furniture called the Cracked Dresser, which gives the illusion of a dresser that has been cracked from within. It's a clever piece of furniture that can add thrill to any room. The cracked part is not just a show but very much functional.
10

Surrealism Wallpaper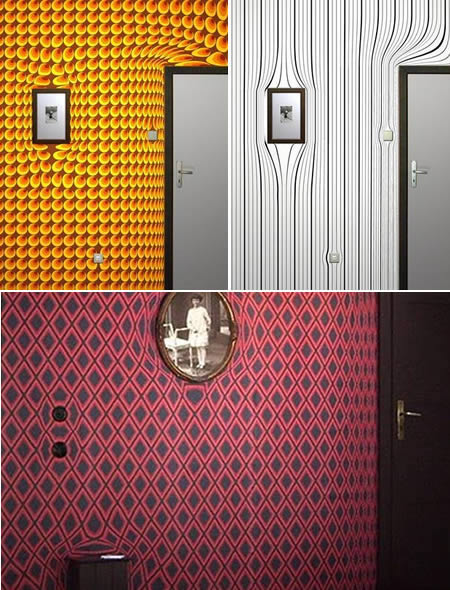 A German company called Surrealien customizes your wallpaper to look like its warping around your paintings and decoration. Must be hard to randomly rearrange after this.