1

Human Skin Rug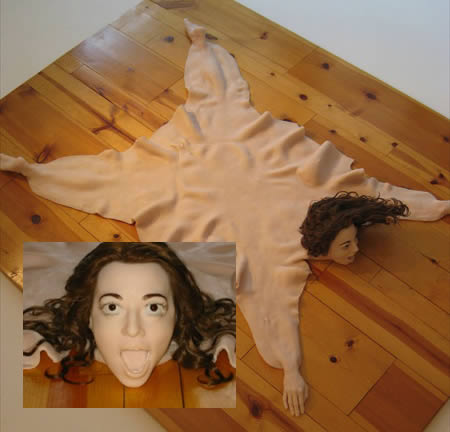 The Chrissy Skin Rug resembles an animal fur rug (or a slaughtered blow-up doll) and has a personal connection with the artist, Chrissy Conant. Yes, this is a very controversial piece of art, but why should bears get the only attention in living rooms?
2

Egg Rug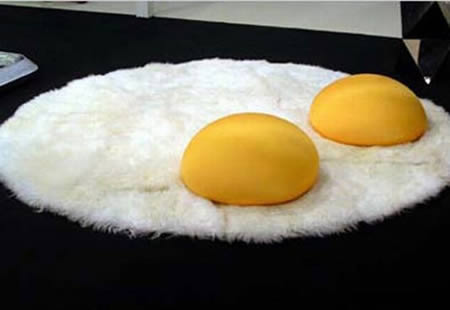 Egg has broken new ground as it has taken the shape of a rug! If modern and innovative home design catches your fancy, then you have to check out the groovy Sunny Side Up Shag Rug from designer Valentina Audrito! The whimsical rug is a luxurious shag with two leather pillows resembling egg yolks. It's pretty damn silly, but don't those golden yolks look comfy? This egg rug with the yolks serving as head cushions are perfect for lounging on the floor and watching TV in true comfort.
3

Star Wars Wampa Rug
Up until now your Star Wars collection has been relegated to the walls and cabinets of your home. But now you can put some Star Wars on your floor with this sweet rug featuring the infamous snow beast from Empire Strikes Back. It's important to note that Slave Leia is NOT included.
4

Pimento Loaf Rug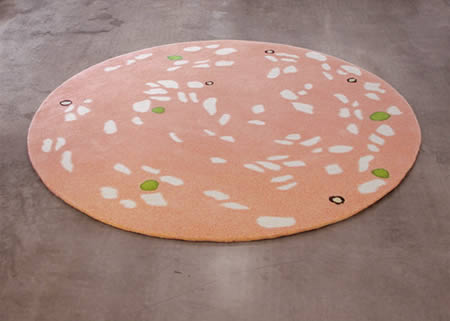 How about having a meat rug in your floor? Yes, floor rugs that look like sandwich meat. How freaking cool is that? Here's the Pimento Loaf floor rug, but they also have Summer Sausage and Bologna, too.
5

Band Aid Rug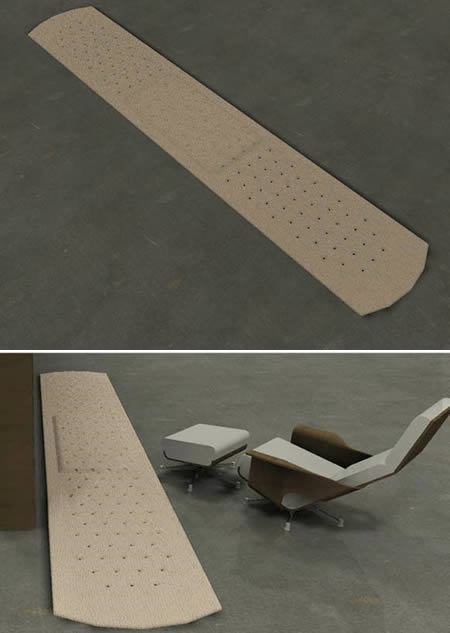 The Band Aid Rug by Ricardo Garza Marcos.
6

Global Warming Rug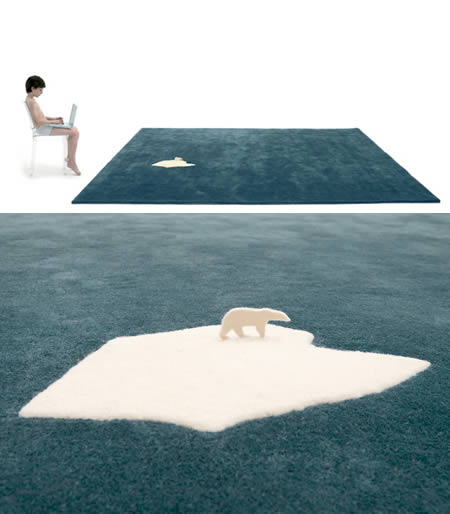 The "Global Warming" rug, created by the Barcelona-based rug company Nanimaquina and the Mexican design collective NEL, was shown at 2008 "International Furniture Festival" in Valencia, Spain.
7

Pac Man Rug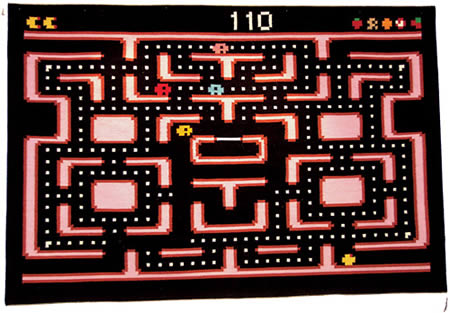 The motto for the wonderful Swedish design firm Our Children's Gorilla is, "The children's imagination is our inspiration." In this case, "the children" are "the children who spent the 80's in dark video arcades, pumping every spare kroner into Pac-Man and its spin-offs." Those children are now grown and having kids of their own. One of those children will soon be playing with his children on this sweet, wool Pac Man carpet, hand-woven in Portugal. The carpet is big, 7x10 ft [210x310cm], and the landscape format, maze color and bitrates makes me think it's inspired by a handheld version of Ms. Pac-Man.
8

Moss Rug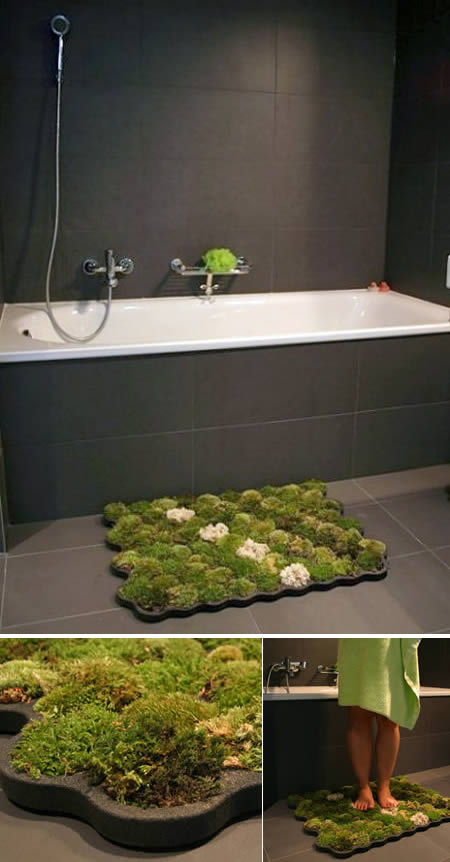 They say walking on fresh grass increases your blood circulation; I can't vouch for that! Anyways, it is a reason to get going to the nearest park, remove your expensive Jimmy Choo's and prance around. The Moss Carpet, created by Nguyen La Chanh, looks at getting the grass to your feet, and that too in your loo! Made from imputrescible foam called plastazote, the mat includes ball moss, island moss and forest moss. The humidity of the bathroom ensures that the mosses thrive. And that's why you need to place it there and not anywhere else. Little gnomes not included.
9

Undy Rug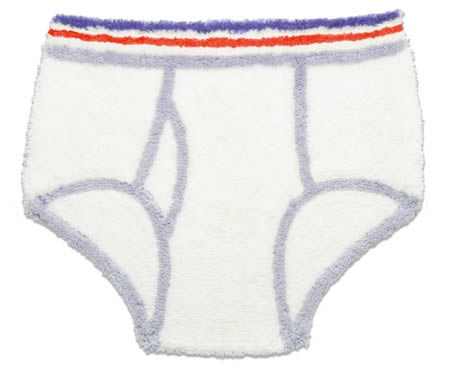 This is one pair of knickers that actually belongs on your floor! A fun and quirky rug perfect for your bathroom, dorm, or wherever underwear aficionados gather!
10

Snake Rug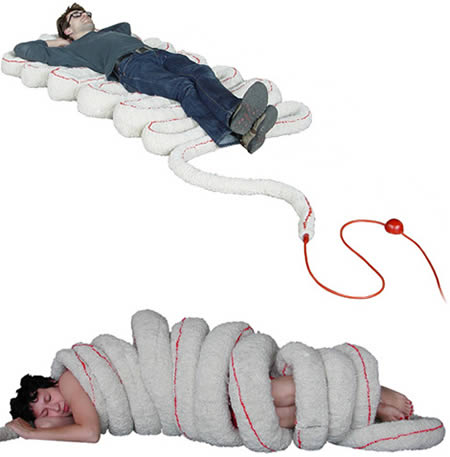 A handknotted snake shaped rug, hides a cable that heats up, warming a cold floor. Buttons on the side make it possible to fix the snake in different positions.
11

Persian Puzzle Rug

Katrin Sonnleitner created this extremely modular flooring: a Persian rug called PuzzlePerser, made out of thousands of individual puzzle pieces!
12

Glow Rug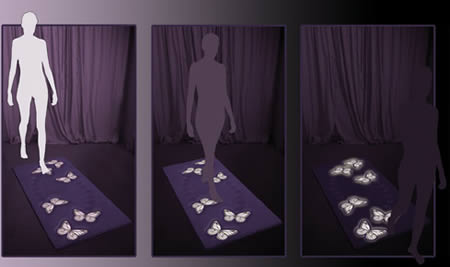 This much-talked about carpet or electroluminescent rug is the powerful creation by two engineering students, co-founders of Zolo Designs at London South Bank University. To be more precise, the carpet shines in the form of feet after every twist you make on it. So, better walk like a sensuous cat and not hefty elephant. The rug features touch-sensitive electroluminescence that shines as and when any load falls on it. Electroluminescence actively functions by passing current via light-emitting material that is electrified (powdered phosphorous). When energized, it generates a decipherable green-cyan blaze that is generally visible in LCD wristwatches or nightlights. Equipped with rechargeable batteries, illumination of the glow rug resides in the roots of concept only.
13

Crime Scene Rug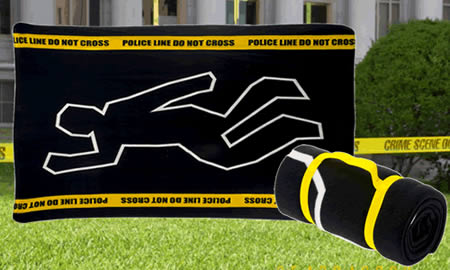 There's been a murder! Or so it might seem after you find the chalk outlines of where the body came to rest on your floor. The Crime Scene Rug is a rug with a difference. Create your own crime scene each time you lay your rug. Use it as a blanket, towel or anything else you can think of. Just unroll it and there you have it, a novel soft surface with which to sit, sleep or picnic on, the choice is yours. The rug comes with an attachable/detachable Velcro handle for carrying and storing.