1

Jurassic Park Bed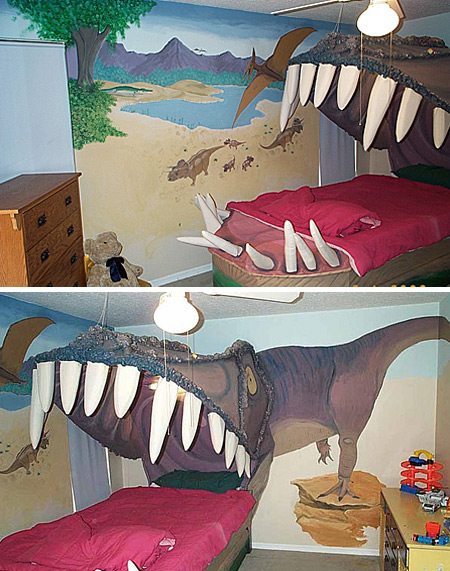 Kids are special human beings, therefore, you should ensure your kids' bedroom designs are also that much special. But have you ever tought of a Jurassic Park themed bedroom ?.The bottom jaw of the dinosaur hangs to reveal a built in toy box, and the in the bedroom reflect the dinosaur theme.
2

Apple Tree Bed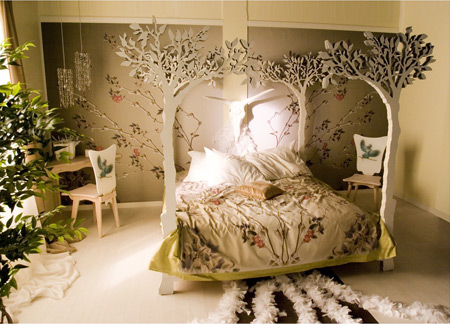 Priced at $9,600, this bed takes its leaves from Scandinavian design. It represents apple trees (in the bedroom!) and it really offers the consumers a different outlook for the bedroom.
3

Crazy Horse Free Form Bed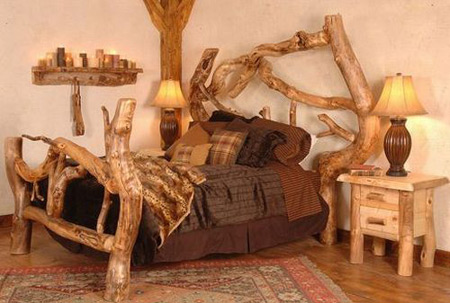 The Crazy Horse Free Form Bed will adorn your bedroom with adventurous and rustic characteristics for years to come. Each bed is a one-of-a-kind art piece, sure to bring a lifetime of enjoyment. The Crazy Horse Free Form Bed is available in all sizes ranging from Twin to California King. Several additional options are also available for this truly unique bed.
4

Bookcase Bed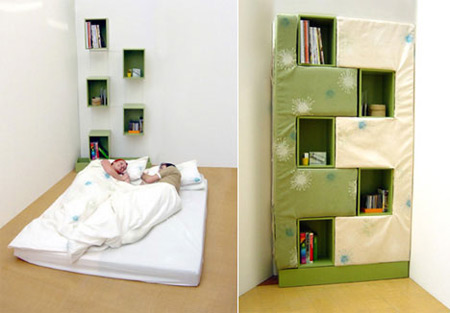 The idea is basically to convert the mattress into a bookcase by making it stand upright. The bed has five storage shelves which are suspended in mid-air by a wall mounted frame and the design is reminiscent of Tetris, don't you think? This concept was designed by Karen Babel and was made for those who need a larger space in their small room.
5

Single/Double in Seconds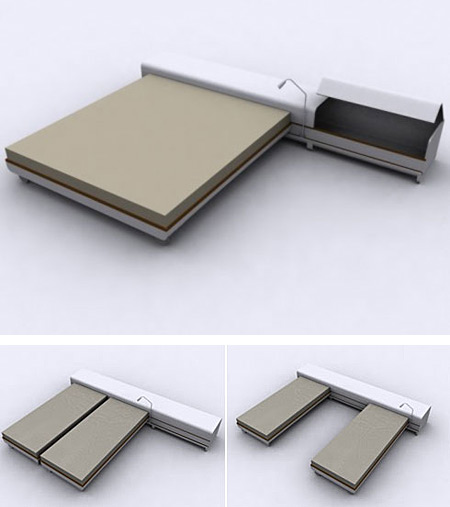 Addressing the home owner's ultimate dilemma, this fancy new modular bed design by Swedish designer Marcia Hanvey Isaksson lets you instantly split your double bed into two singles without having to spend your back for it. The design is basically composed of two single beds attached at the head with a rail in the headboard. When a guest arrives or when you need to have two beds to accommodate more people, just slide the beds apart and you're ready to go. Since the headboard also features storage space, this modular bed becomes just the perfect bit of furniture for the kids' room or even for the guests.
6

Hi-Can Bed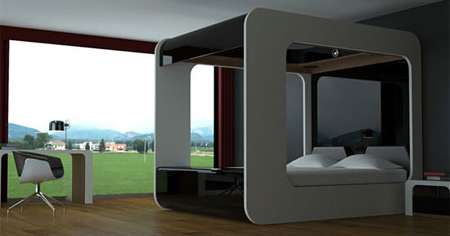 The Hi-Can Bed allows you to surf the web, watch movies, listen to music and play games while you are in bed. A Really neat concept, it's the ultimate geek dream!
7

Starry Bed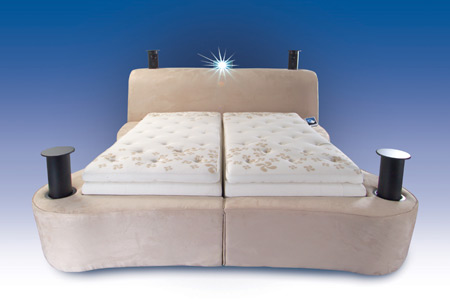 This creation by Leggett & Platt is an elite one specially designed for geeks who want to relax in a geeky way.
It is packed with a vibration sensor, load cell technologies that can tap the number of turns that happen during the night along with a count of your moves in the bed. It does not only detects snoring but it also helps the snorer to overcome this issue.
For those folks who can't imagine a life away from the computer, this beauty offers wireless internet connectivity along with a wireless keyboard.
The price? It's retailed at $20,000 to $50,000 considering the features demanded.
8

Illuminated Bed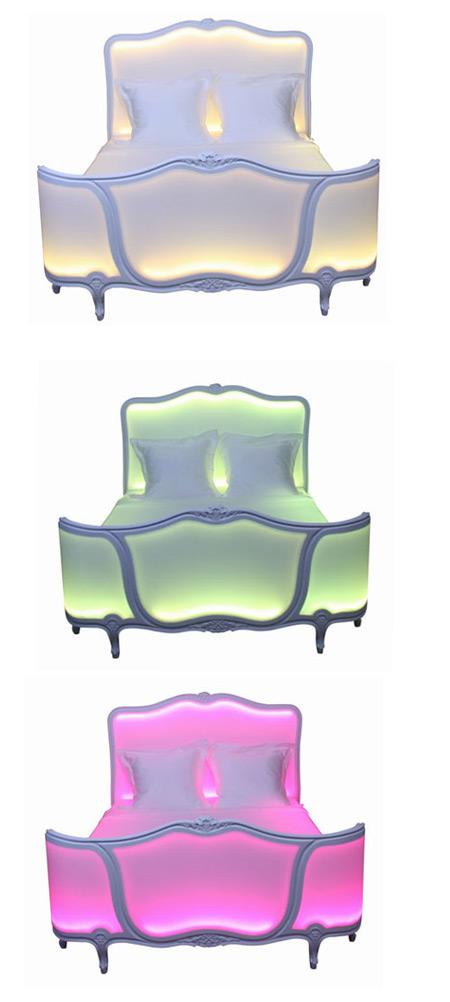 Created by Philippe Boulet, this bed keeps on changing colours and can be fixed on the one of your choice. You can wake up with your favourite colours by programming the lighting of the bed at the time of your choice. In 2005, the bed was nominated at "Déco d'Or" headed by Philippe Starck. In 2006, Boulet got the "Medal of Ministry dedicated to small and medium companies" at International Concours Lépine and was recognised in the 2006 Inventories Dictionary.
9

Contemporary Bed

The French have done it again. What a scintillating piece of bedroom furniture!! This unusual contemporary bed is hand made in France.