When all a model has to do is walk, you would expect her to nail it... well, apparently not! Meet fifteen catwalk oops.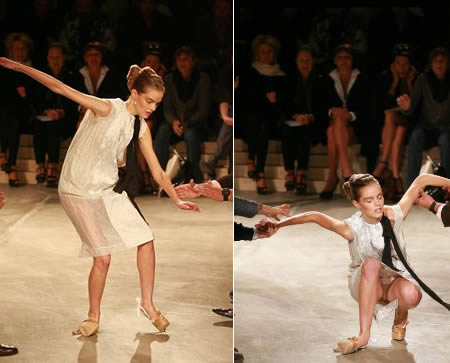 Strutting down the catwalk in supersize six-inch heels can be a perilous sport - just ask the clumsy clothes horse who came a cropper, at Milan Fashion Week. Let's face it, we girls are head over heels about shoes, but put one foot wrong and those sexy skyscrapers can become a girl's worst nightmare.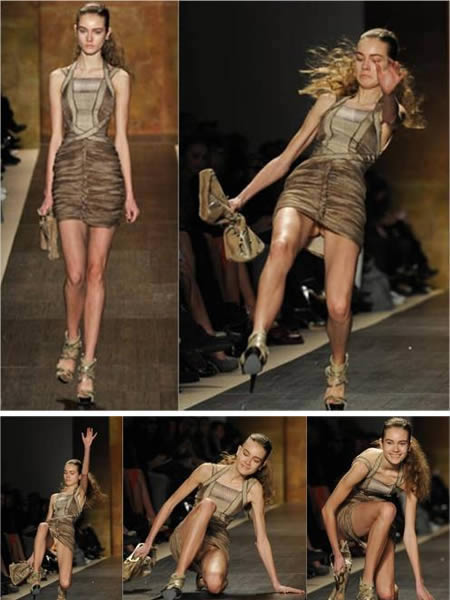 Now if this isn't the worse thing that can happen on the runway, tell me what is? Fashion runway oops!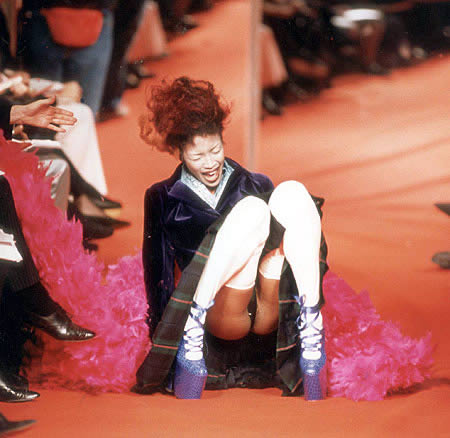 Another notable catwalk oops. In 1993, a giggling Campbell falls off 10-inch platform boots at Vivienne Westwood's runway show in Paris. The lace-up boots go on display in London's Victoria & Albert Museum, and Campbell uses another pair as a doorstopper in her London flat.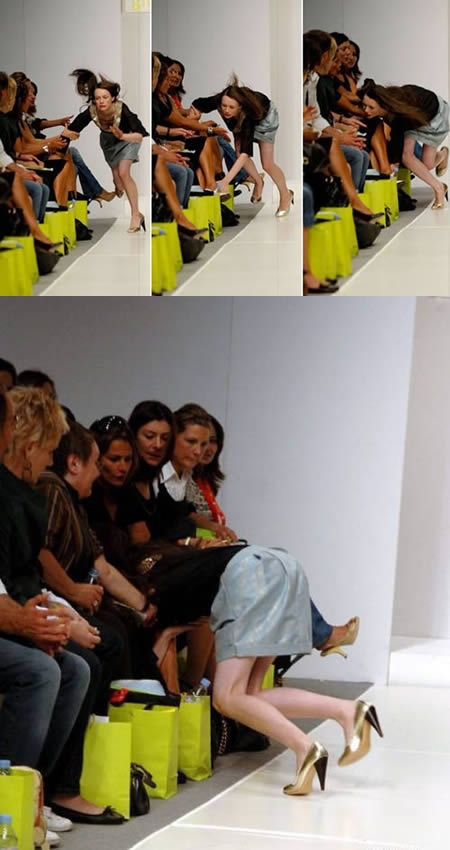 The picture is not what it appears to be. Alas, it is not photographic evidence of an exciting new trend in audience servicing. Rather, it's a model falling off the catwalk. But a fellow can fantasize, can't he?

Famous people fall, too. It's just surprising how rarely we catch them doing so. You'll especially love the part where Electra blows a kiss to the crowd, sashays backstage and then bites it. But wait, there's more: A would-be rescuer makes her own trip to the ground.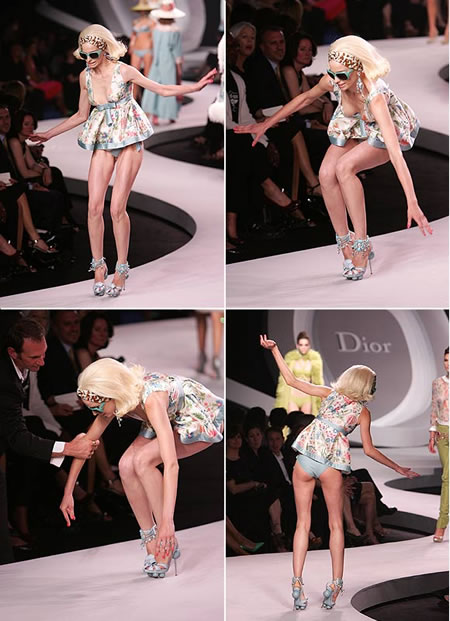 Right dress, right sunglasses, wrong shoes! This model takes a fall after walking onto the catwalk at the Dior 2008 show, with extremely uncomfortable high inch heels.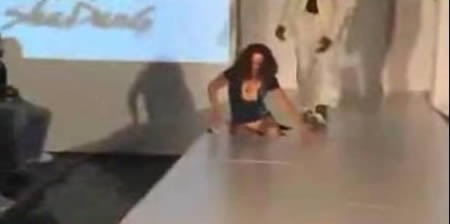 In a case of subpar infrastructure, the stage of the Sha Dang show during L.A. Fashion Week 2007 couldn't quite withstand the pressure of an acrobatic martial arts display before the fashion walks began. Now former TV Bachelor Sarah Welch is sueing the company responsable for the event.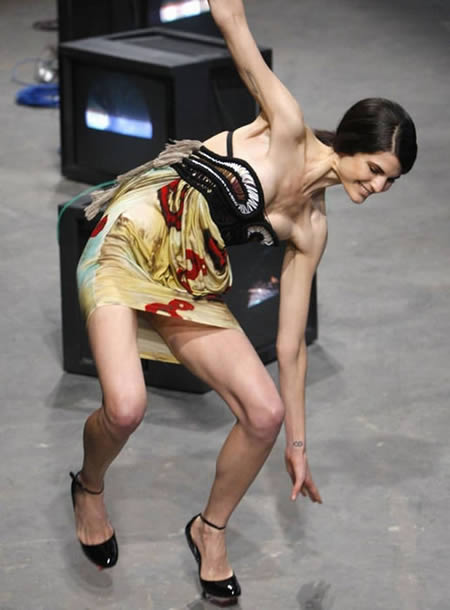 There are basic moves to do this dance: Pinwheel both arms, sending the right arm up and the left arm down as you dip towards the ground. Freeze. Smile like you know what you're doing. Push out your chest as if you're on the verge of a nip-slip. On tiptoe, spread your legs slightly, but do not flash your panties. Stand up. Do it again. Try it and good luck!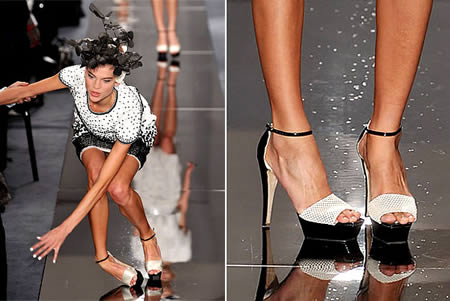 Alexandra Tomlinson took a spill on the Chanel Couture runway in Paris on 1/27/09. Grazia reports that a member of the front row helped her up. A play-by-play of the fall hasn't yet surfaced, since, sadly, they don't broadcast the couture shows like hockey games. But the shoes are pretty high so perhaps they're to blame.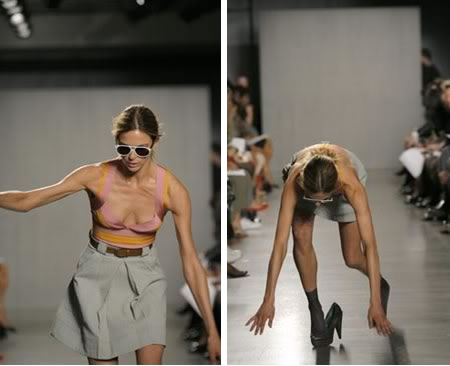 When the only skill required to be a runway model is walking, you'd think they'd excel at it. Guess not.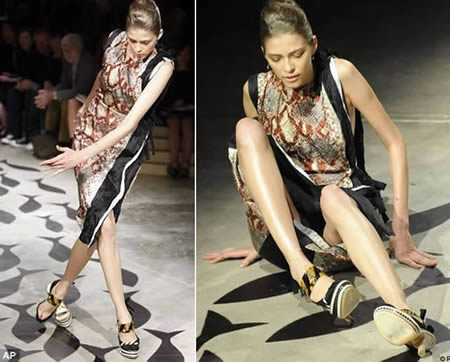 Two models fell down during a fashion event. According to Miuccia Prada, "these falls made my show at Milan Fashion Week (2009 Spring Collection) last September memorable". But one beauty said: "I was having a panic attack, my hands were shaking. The heels were so high." Some of the girls were so scared they were crying backstage. While Miuccia was enjoying the success, her models were terrified about walking out in those skyscraper-heels.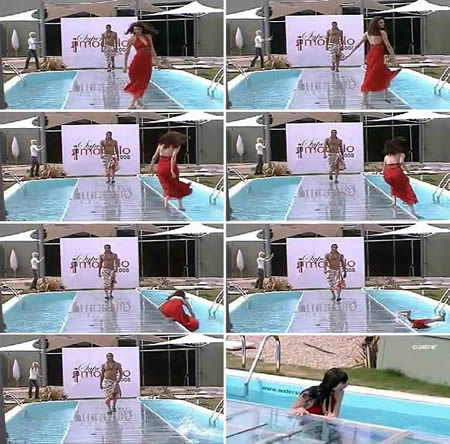 Everyone knew this brunette girl was going to make a big splash in the world of fashion someday…