1

Pope Leo XIII & Mariani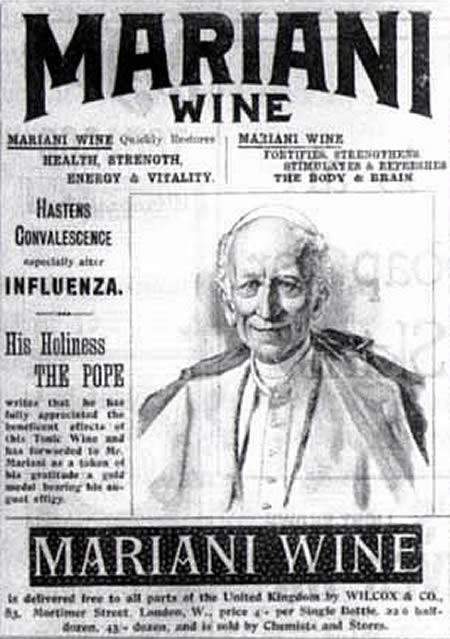 In the 1880s, Pope Leo XIII, Queen Victoria and Pope Saint Pius X praised Vin Mariani, a popular drink made from Bordeaux wine laced with cocaine from coca leaves! Pope Leo XIII even awarded a gold medal to the drink and appeared in a poster endorsing it. The ad stated, "His Holiness the Pope writes that he has fully appreciated the beneficent effects of this Tonic Wine and has forwarded to Mr. Mariani as a token of his gratitude a gold medal bearing his august effigy." The drink was the inspiration for a carbonated version called Coca-Cola.
2

Ozzy Osbourne & I Can't Believe It's Not Butter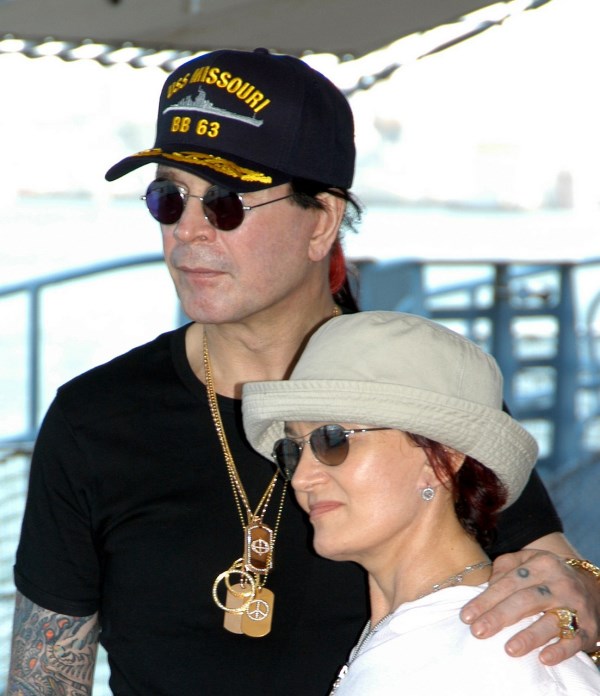 I can't belive it's… Ozzy Osbourne! Probably the last person you would expect to air a commercial promoting I Can't Believe It's Not Butter in a kitchen while baking fairy cakes.
3

Gorbachev & Louis Vuitton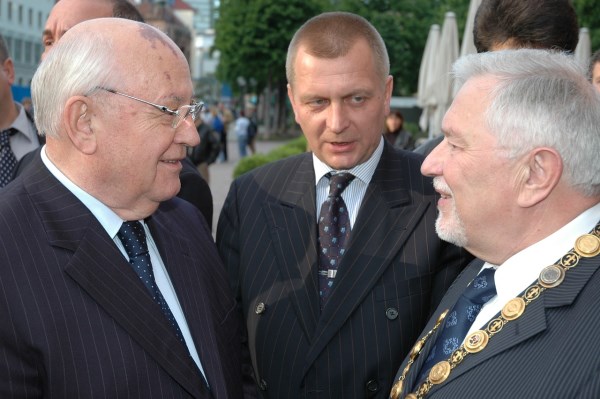 Even if you don't read Russian, a recent print ad for Louis Vuitton is something of a visual joke: Mikhail S. Gorbachev, the last leader of the old Soviet Union, sits in a limousine as it passes a remaining part of the Berlin Wall, an open Louis Vuitton bag beside him.
4

Mr. T & Flavor Wave Oven Turbo

Mr. T, star of the 1980s TV show The A-Team, hosted an interesting commercial for Flavor Wave Oven Turbo. I guess Mr. T agreed to do an infomercial because he didn't think his persona had become cheesy enough already. The lines "And of course it had to be low fat" and "I pity the fool that keeps Mr. T waiting" are just priceless.

5

Joe Namath & Beautymist pantyhose

American football Hall of Fame quarterback Joe Namath once plugged (and wore!) a line of Beautymist pantyhose in 1974. The camera pans up a pair of long, pantyhose-clad legs to reveal the not so manly football player. The voiceover explains the point of the ad: "This commercial will prove to the women of America that Beautymist pantyhose can make any legs look like a million dollars." Often overlooked is the tacked-on ending shot of a woman kissing the famed quarterback, thus reaffirming his heterosexuality.
6

The Olsen Twins & Got Milk?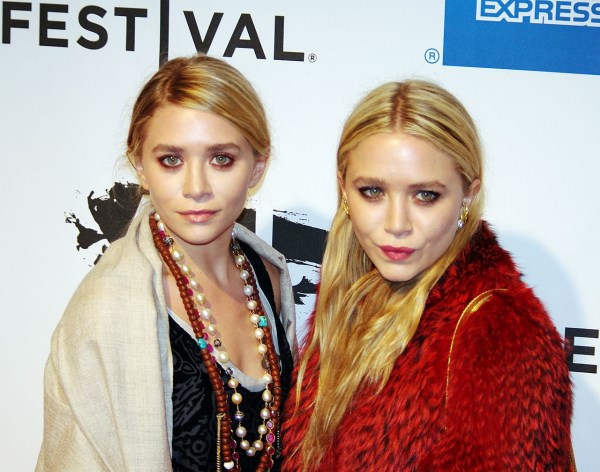 In 2004 a "Got Milk?" photo advertisement featuring the Olsen twins was pulled following the revelation that Mary-Kate Olsen was being treated for an eating disorder. Apparently, despite of the moustache, the twin was not getting enough milk.
7

OJ Simpson & Hertz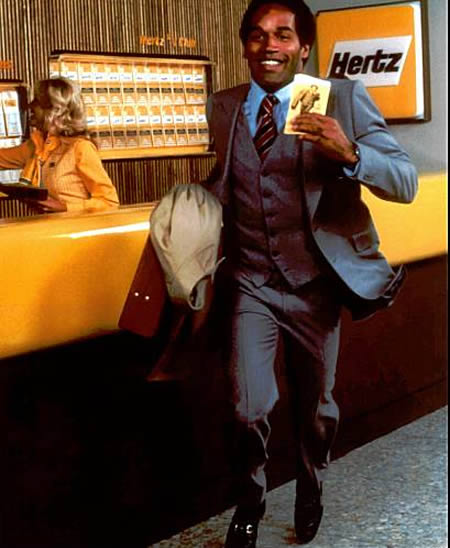 Perhaps the worst ever celebrity endorsement was car rental company Hertz's choice for a spokesman: OJ Simpson. Simpson was the most famous pitchman ever for Hertz rental cars. He became a household name in their commercials, where the former Buffalo Bills star running back would dash through airports. But after the infamous OJ Simpson murder case in 1994 (and countless "it hertz" bad jokes), Hertz was stuck with the unsavory link to Simpson. I have to ask, was he using a rented car during the infamous persecution?
8

Ben Stiller & Chu Hi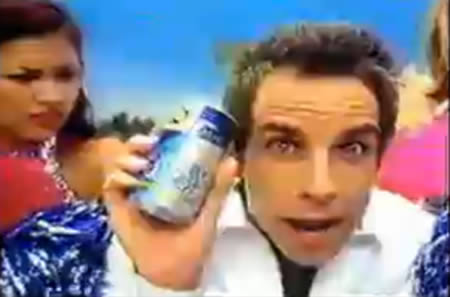 Ben Stiller was selling alcoholic drinks to Japanese viewers. Chu Hi is a mixed drink with shochu as its base and various fruit flavors added for that sickening sweet touch. I bet Ben only accepted this work because it was at the other side of the world and no one would see the shaming commercial.
9

Paris Hilton & Tipsy Elephants Cause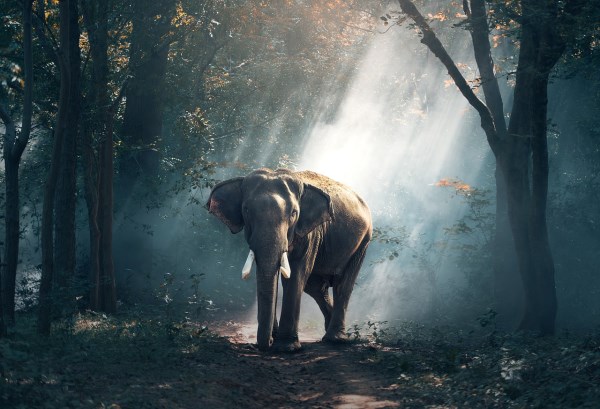 Paris Hilton is being praised by conservationists for highlighting the problem of binge-drinking elephants in northeastern India. Last month, six wild elephants that broke into a farm in the state of Meghalaya were electrocuted after drinking the potent brew and then uprooting an electricity pole. "The elephants get drunk all the time. It is becoming really dangerous. We need to stop making alcohol available to them," the 26-year-old socialite said in a report posted on World Entertainment News Network's Web site.
We'll leave it to readers to comment on exactly who should be deprived of alcohol on safety grounds, but we should note that Ms Hilton's comments have genuinely been welcomed by conservationists. Sangeeta Goswami, head of People for Animals, endorsed: "I am indeed happy Hilton has taken note of recent incidents of wild elephants in north-east India going berserk after drinking homemade rice beer and getting killed."
10

Kiss $ Kiss Kasket

Rock group Kiss is known for pimping their image on everything from dolls to clocks to comic books, but the pièce de résistance has to be the Kiss Kasket, an actual coffin emblazoned with images of the band members and the words "Kiss forever". No longer available for sale, the coffin retailed for $4,700 and, as suggested by the band's official site, could alternately be used as a "giant Kiss cooler, enabling fans and their friends to enjoy ice-cold sodas and beer served directly from the ice-filled, completely waterproof Kiss Kasket."