After our article of the 12 Coolest Faucets we decided to make a list of the most creative sinks. Thanks to our reader, Teddi L.B., who sent us the idea!
1

Aquarium sink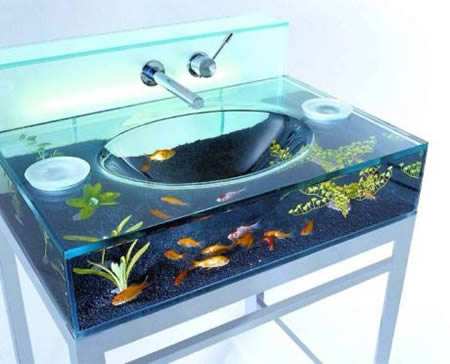 Fish tanks are usually made from transparent material, glass is an example, and so it is a good innovative element which could be integrated into other furniture. The Moody Aquarium Sink comes with a sand bed, built-in lighting and filtration to keep your fish happy and healthy. Absolutely, you will be happy and healthy too. The price? $4700.
2

FolloMe Sink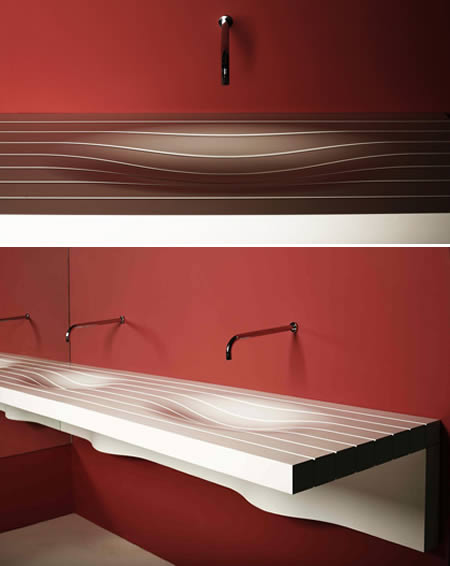 This sink features no visible pipes and a self draining surface. The linear design aspect contains both a visual and physical function. Designed by Will MacCormac, the curve of this sink is very slight so it can reduce splashing effectively, and the slots are used to guide water into the hole.
3

Erosion Sink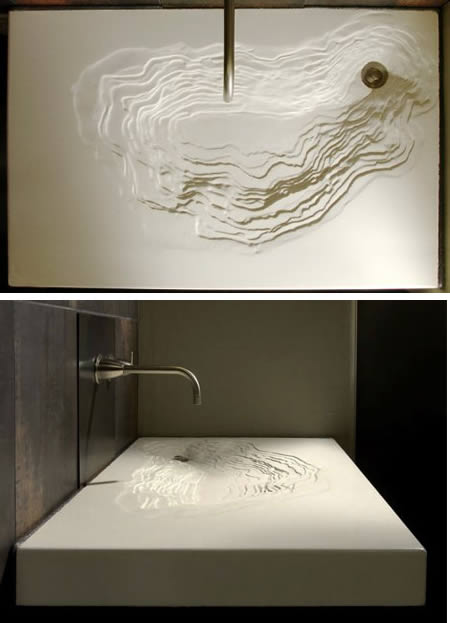 Gore Design Co. specializes in designing and creating eco-friendly concrete products using a proprietary blend of reclaimed materials and industrial byproducts they call "Recycrete." The "Erosion Sink," pictured above, has an organic design clearly inspired by what happens when water runs its natural course, and it would make quite a statement in a residence or business.
4

Abisko Sink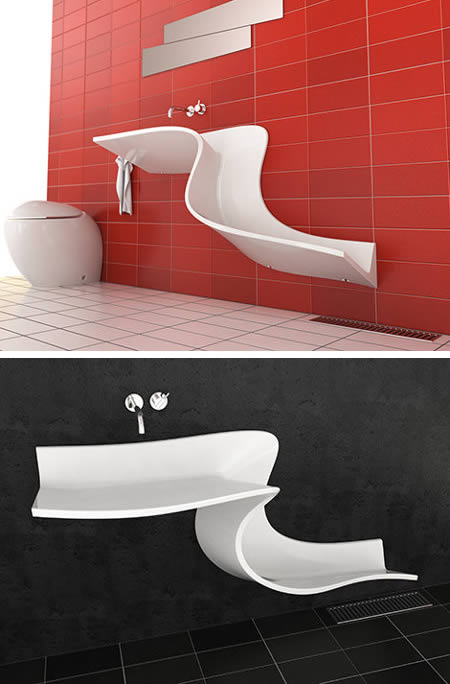 Forget filling up the sink with water — this Abisko Washbasin from Eumar is more a water flume than a sink. Turn on the faucet, and the water flows all the way down its undulating shape, draining through a strategically placed grate. There's also a version that turns the mini-river you create into a waterfall. We'd like to see something in between, turning your wastewater into whitewater rapids. No pricing info was available, but this is cool enough to sacrifice a bit of money down the drain.
5

Sexy Sink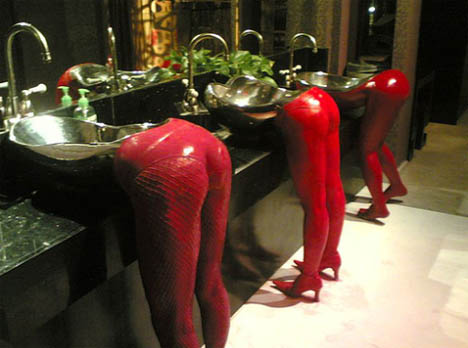 In this sink each piece was clearly individually sculpted. The surrounding decor suggests an elegant setting – so really, it may have been a bold move to include such sexy (or at least scandalous) bathroom sinks in whatever location this may be.
6

Pipeless Sink

Although you may think that this is only a decoration, I will tell you that it is a real sink. Traditional drain pipes are usually visible under the basins. But in this innovative design, the water flows along the slot of the front of the basin and back into the wall connection, so you won't see any drain pipe.
7

Spiral Sink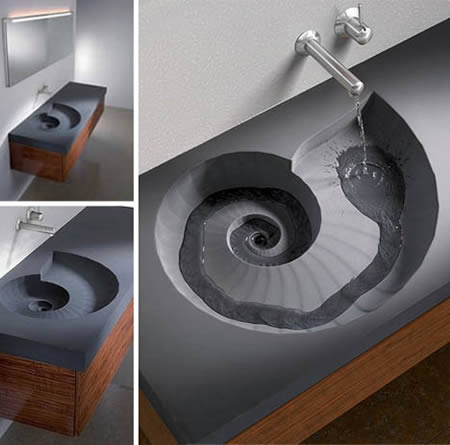 Water follows the coriolis effect and spirals into the drain on its own – this clever sink design just helps it along and accentuates the process in a dynamic and elegant way. Shaped like the imprint of the shell, the curves of this sleek sink are at once organic and the product of design. The splash patterns as the water flows, and after it is turned off it becomes part of the design, ever-changing with the speed and duration of the flow. All in all, this sink could be the centerpiece of an interior design itself rather than an afterthought as so many wash basin designs are.
8

Mystic Flowing Sink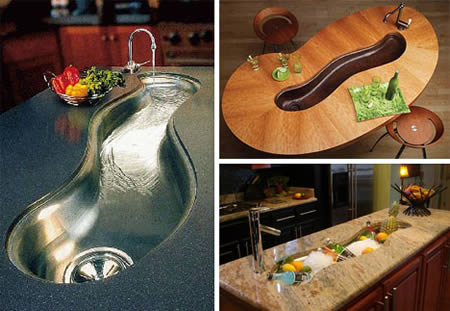 Take a look at the Mystic Flowing Sink by Elkay! It's like a babbling brook flowing through your kitchen. Who wouldn't love this? Who cares that it might be a little bit of extra trouble to clean? It's great to see innovative goods for the house, designs that have never been attempted before. But then, that makes them expensive.
9

Premium Unit Sink
Artist Tetsuya Nakamura's Premium Unit Series of curvaceous, luxury bathroom fixtures — a tub, a pair of sinks, a step designed for insertion into a stairwell, and a decorative column — are sculpted from fiber-reinforced plastic and painted with colorful, fluid patterns meant to evoke a sense of speed. The sink costs over $ 8,000.
10

Zen Garden Sink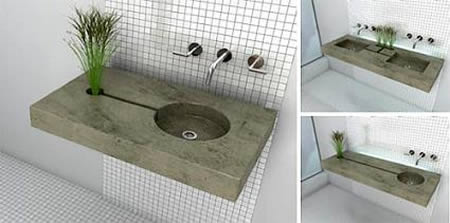 This eco-friendly sink uses the wasted water to grow you a little garden.
11

Squish Flexible Rubber Sink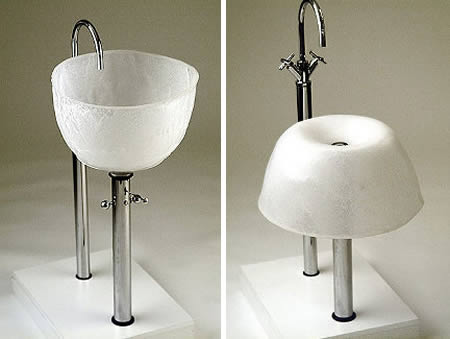 The Squish rubber sink is made from a silicone rubber allowing the sides to be flexible. They can be 'rolled' up or down to change the depth of the basin. This sink not only brings more fun and interactivity into the bathroom but it provides for a safer environment for kids and adults alike by not having any hard edges or corners. It is easily cleaned as silicone is virtually inert and very little sticks to it.
12

Combo Sink+Toilet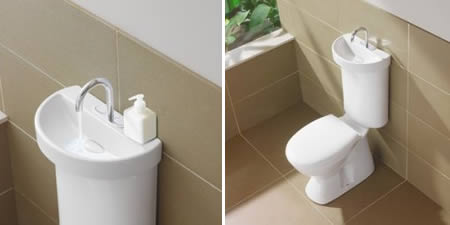 Profile™ is the first of its kind to feature a unique, dual-flush push button and spout arrangement that saves the water normally used when hands are washed in a separate basin. The flush cycle activation controls the flow of fresh water through the basin spout, allowing time for thorough hand washing before the same water fills the cistern tank. Award-winning Smartflush® technology is also built-in for ultra low 4.5/3L flushing.
13

Heart Shaped Sink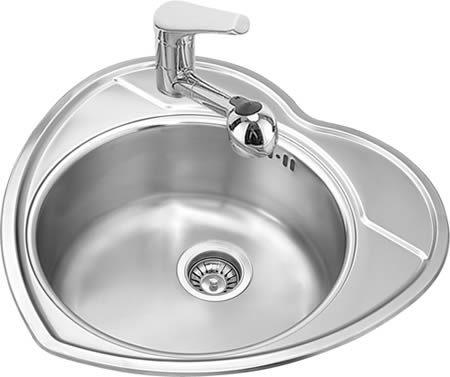 They do say the way to the heart is through the kitchen, so might as well make sure your kitchen expresses your loving tendencies from cooking to clean-up. Imagine, four hands under running water, framed in the shape of the stainless still heart below. The EDDA Love Sink is the perfect gesture to let your loved one know you're still thinking of them, even after the meal is over.
14

Pebble Sink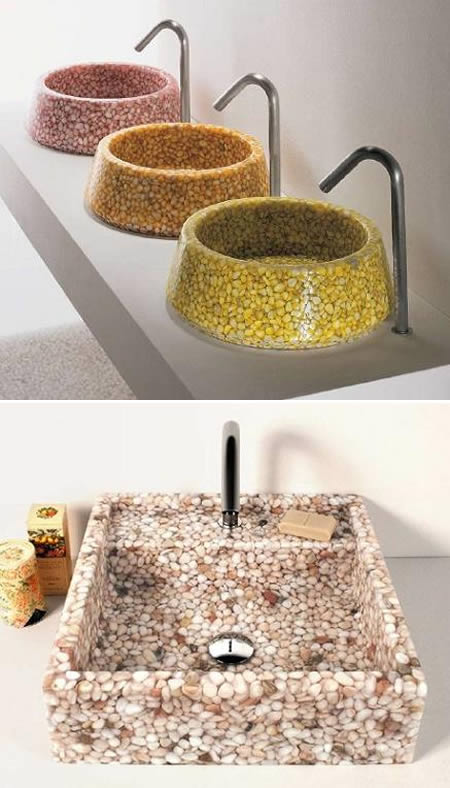 This sink is made of pebbles bound together within a transparent resin. Therefore, the pebbled surface is smooth and easy to clean.