1

Motorcycle Faucet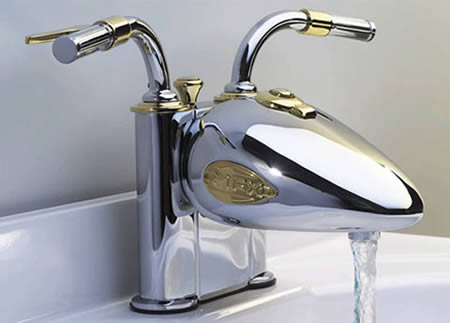 If you are a rider fan, you wouldn't want to miss this awesome chrome motorcycle faucet made by MFX. It can be yours for $279.
2

Color-Changing Faucet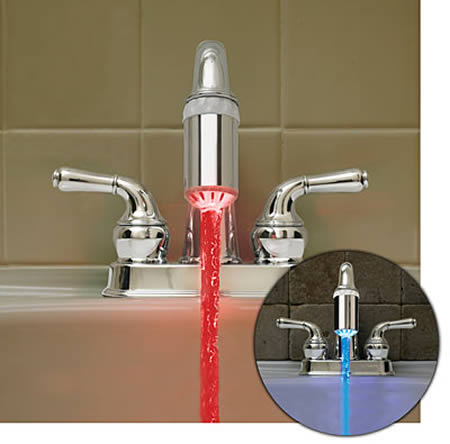 If you want to add something interesting to your bathroom you can start with a color-changing faucet. This will make your bathroom more alive, and with a futuristic aspect. The faucet will stream blue water normally, but turns red as soon as it hits 89 degrees. And the interesting part is that this futuristic bathroom gadget can be purchased just for $19.99.
3

SmartFaucet, with face recognition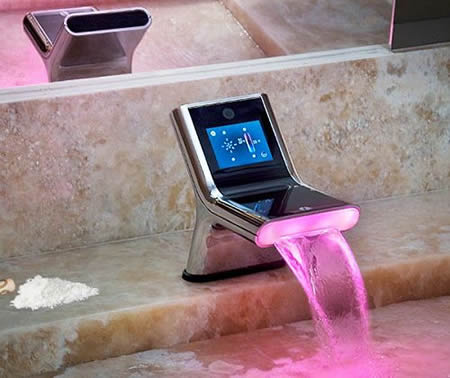 Ready for the ultimate in convergence overkill? Meet the SmartFaucet from iHouse; a tap with built-in face recognition technology that automatically adjusts the water pressure and temperature to your preferred settings. The touchscreen display even features widgets for at-a-glance access to eMail, appointments, and the outside temperature while LEDs illuminate the flow with temperature matching colors.
4

Ceiling-Mounted Faucet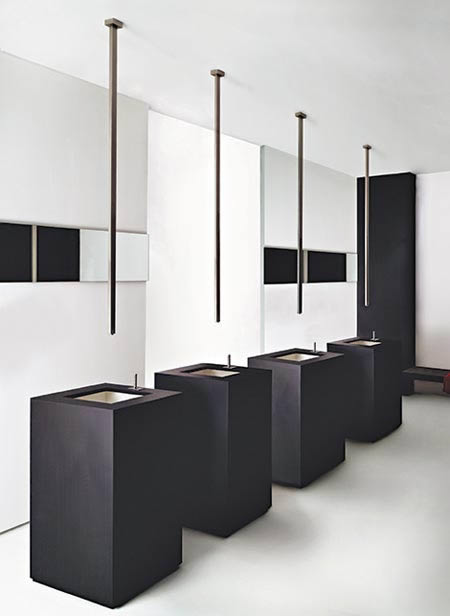 The Gessi ceiling-mounted faucet looks very cool indeed. It pumps water straight down a pipe from the ceiling and the flow is controlled via joystick or an optional remote control. It looks very different, but I have a feeling that it would grow on you. They probably cost a fortune, especially if you don't have water pipes running in your ceiling.
5

Swarovski X-Sense Faucet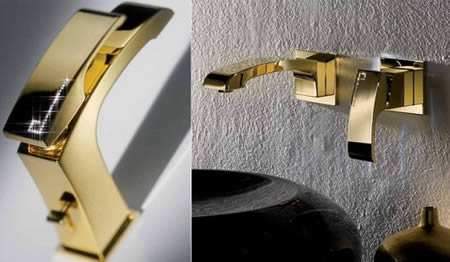 For the filthy rich who bathe in a luxurious bathroom, nothing less than a Swarovski-studded faucet would be the perfect thing. The new X-Sense Limited Edition gold faucets from Newform are festooned with embedded Swarovski crystals. The sparkle of the precious stones complements perfectly the gold finish of the taps. The X-Sense Limited Edition faucet is a sensational thing to buy for those who are pretty serious about making an everlasting impression. Grab one and just show off!
6

Absens Concealed Faucet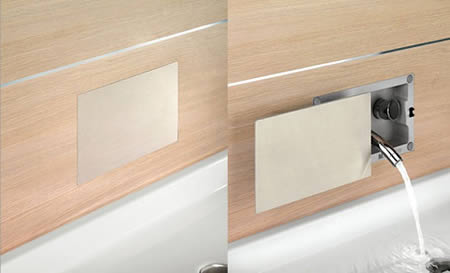 For the mischievous host who wants to completely flummox his houseguests, this Absens Concealed Faucet will conceal all plumbing from view. A light touch on the faucet's stainless steel cover exposes the fixture and its minimalist controls, and when you're done, another push returns it to its hiding place where no one's the wiser. This concept is also available for your shower, bidet or bathtub, switching that stainless steel cover for one that matches your bathroom's tile, walls, or unique finishes.
7

Hidden Tap Faucet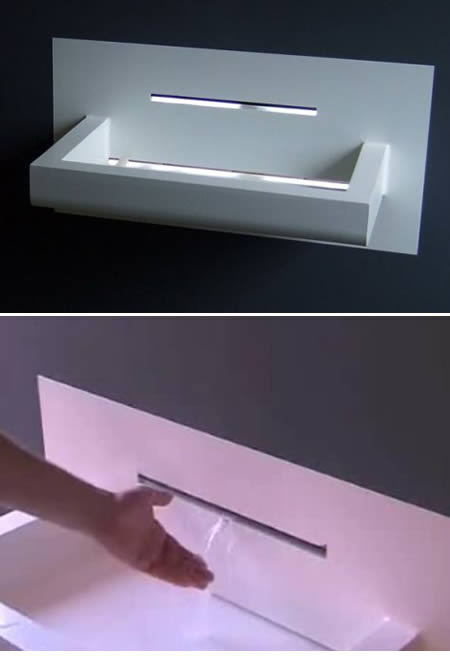 Sensors inside this faucet detect your hands' presence and position, and the water follows your hands as they move from side to side. Designed by Jalmer Moorman, it looks amazing.
8

Faucet+Vase Combination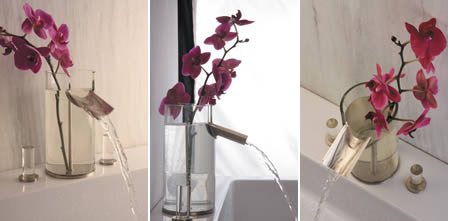 This faucet shapes like a vase and can really hold flower in it. Water gushes to fill the vase, and then cascades down the wide spout. Smelling flower and touching the waterfall, wow, this experience is pretty amazing.
9

Touchless Faucet
Designed by Miscea this innovative modern faucet called Sensor Activated Faucet doesn't need to be touched, you only need to bring your hand close to the buttons. The touch free interface is both hygienic and convenient. It also has the ability to dispense both soap as well as a choice of disinfectant or lotion, all without touching the faucet. It is also environment-friendly as it saves up to 70% amount of water used each time you wash your hands.
10

Circle Faucet

Although faucets can be made into many different patterns, there's a common factor that each of them has an outlet which is easy to be found, especially in public bathrooms. This circle faucet, designed by Carlo Casagrande, is exactly the opposite. It seems like a metal ring attached on edge of the sink making the outlet hard to find at first glance. But you only need to put your hand under the metal circle to be detected by the sensor to get the water.
11

Shifter Faucet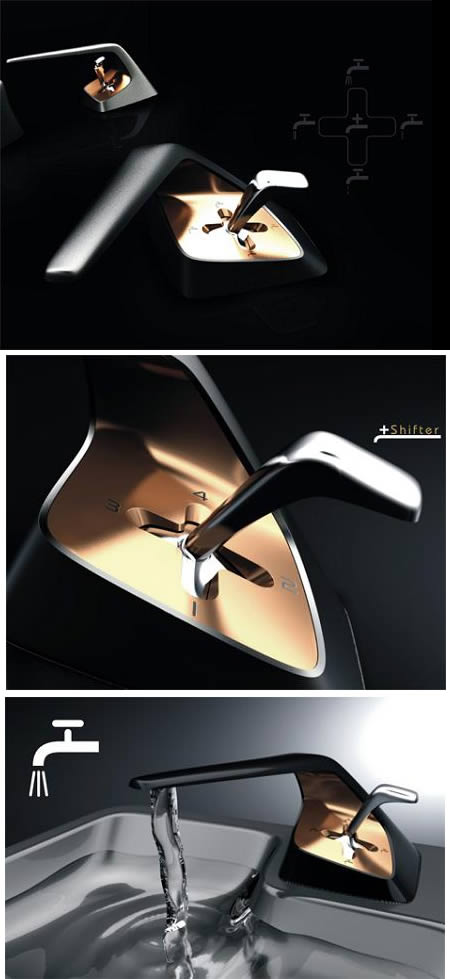 If you are a car enthusiast, you will like this faucet made by Shen Di. This design uses the perception of a car gearbox to change the water flow. Each position correlates to how much water we use. Oh, it seems there's lack of reverse gear.
12

Water Ball Ripples Faucet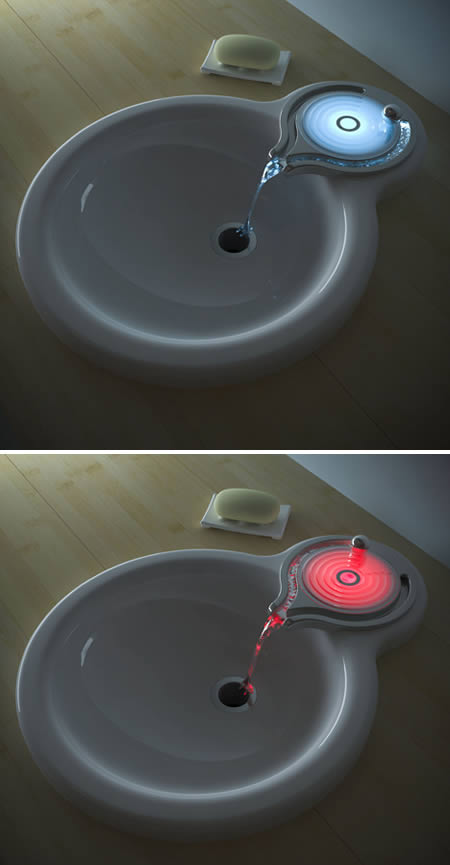 Drawing inspiration from surface ripples, the Water Ball Ripples Faucet creates a strong visual relationship between the two. On top of the frosted ripple surface sits a metal ball. An array of electromagnetic sensors detects that ball's position. Moving the ball in or out from the center controls water pressure. Moving it around controls temperature. The surface glows red or blue to denote how hot or cold it is. The two separate channels combine the hot and cold water to get the perfect mix. Designed by Smith Newnam & Touch360 Studio.