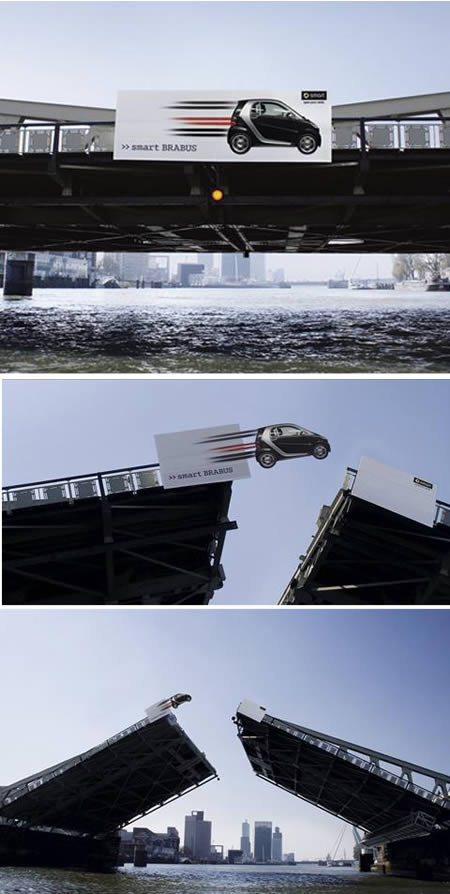 This banner for the new Smart Brabus cars was placed quite smartly on a bridge. It shows off nicely that that new Smart Brabus has got some extra power.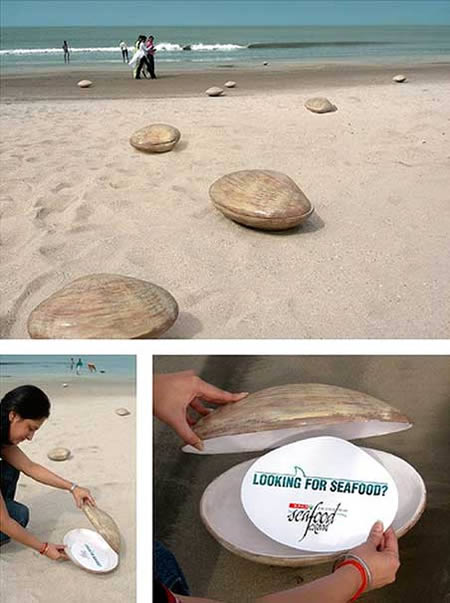 An ad to promote a restaurant named Spar placed artificial clams on the beaches of Mumbai, India. When you open the clams there´s a text inside saying: "Looking for seafood? Spars Seafood festival"
To promote the 2004 global-warming film "The Day After Tomorrow," Indian ad agency Contract created this dramatic outdoor billboard which is submerged underwater.
The title and release date of the film was just visible above the water, adding to the effect is what looks like an empire state building in the background. The idea of this billboard was to mimic the film's story of Manhattan being submerged under water.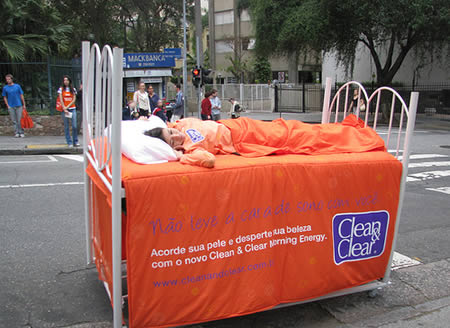 Guerrilla Stunt made this campaign for Clean & Clear Morning Energy, where five "walking" beds just went around the Brazilian city of São Paulo. In each bed was a girl sleeping, and would wake up in strategic places such as universities and schools, around 7 am, the beggining of classes. In their bed was written: " Dont take a sleepy face with you. Wake up your skin for beauty."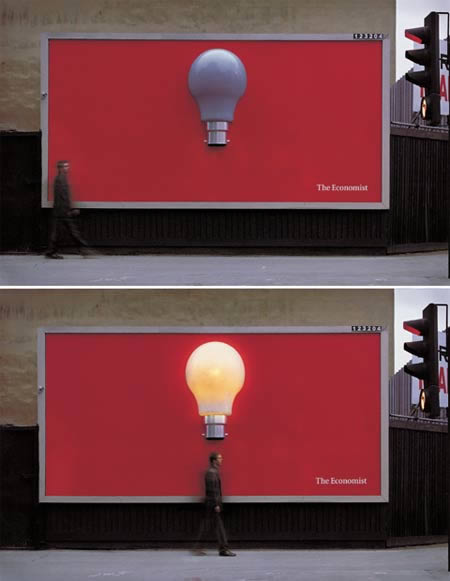 This ad from The Economist recently won a prize at the London International Advertising Awards for their bright concept. Created by Abbott Mead Vickers BBDO, this billboard shows a light bulb that illuminates whenever someone walks under it by hooking some electric motion sensors under the sign. Althought it's a brilliant idea, let's just hope it doesn't rain.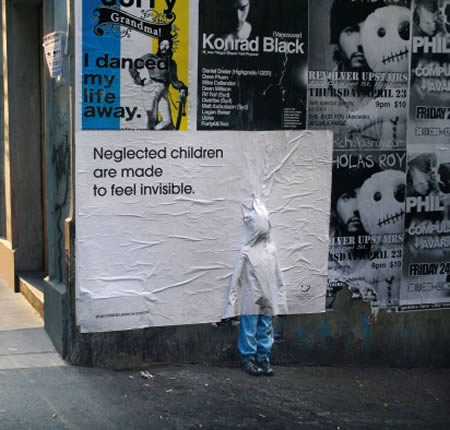 This provoking street campaign for the Australian Childhood Foundation can be seen right now in Melbourne. For their ongoing campaign "Stop Child Abuse Now", they used child size mannequins to represent children suffering neglect. The mannequins were placed in high traffic locations around the city and then a billposter was pasted over the top of the figure so only the feet and legs could be seen. Words on the poster read, "Neglected Children are made to feel invisible."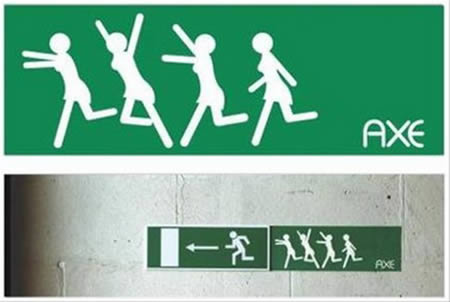 This creative Axe ad was placed next to an exit sign.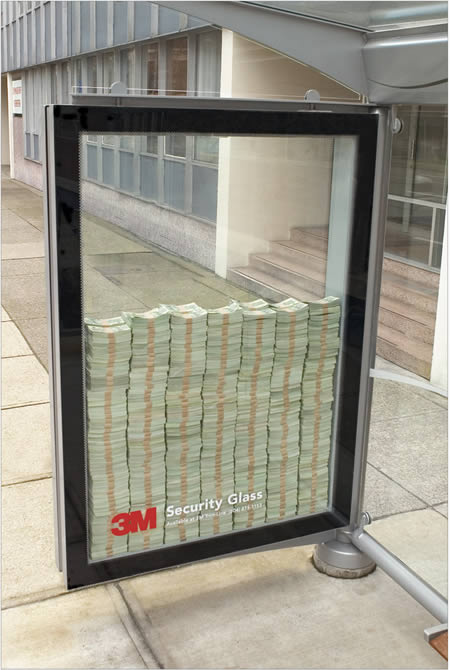 3M was so sure their Security Glass was unbreakable, they put a large stack of cash behind it and shoved it in a bus stop. Actually, it was only $500 of real currency stacked on top of fake money, and people could only use their feet to try to break it. A security guard was present to make sure no one broke the rules and that people couldn't get to keep the money if they broke it. Nevertheless, a glass that can stand a double-footed kick from a man with a 30 foot head start is impressive.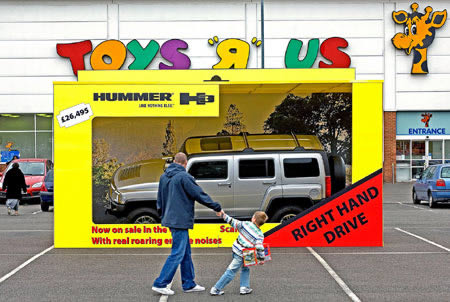 Hummer UK recently launched the first right-hand drive version of the H3. To do so, they created a giant toy box and placed it in front of a TOYS R US store.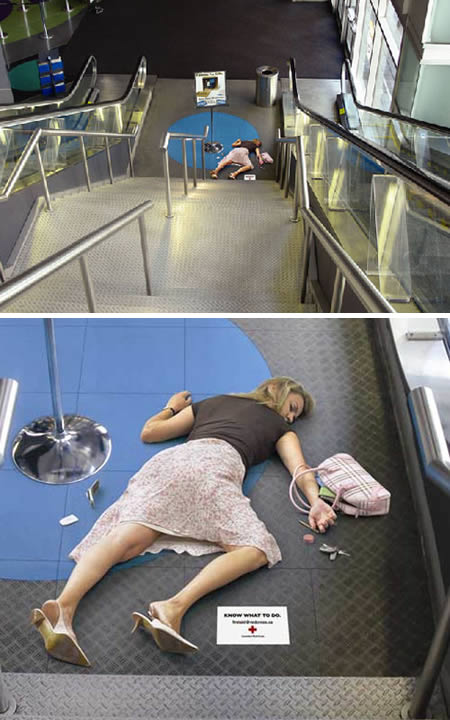 What better way to make people wonder how prepared they are for an emergency situation? Just imagine: you are walking along, look down before walking a few flights of stairs, and at the bottom is what appears to be an injured person. What do you first? How would you help?
Red Cross created this very cool guerrilla advertising campaign to raise awareness of various key issues around the world.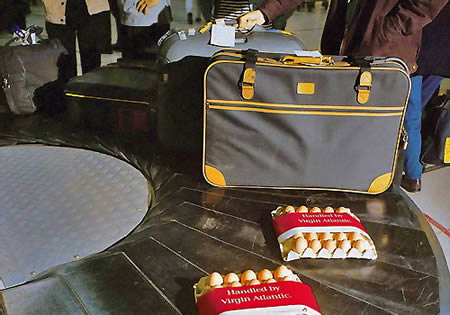 Virgin Atlantic used fragile eggs in a guerrilla-ad campaign a few years ago in Johannesburg, South Africa. Agency Net#work BBDO surreptitiously placed open cartons of eggs on an airport baggage carousel, partially encased in a wrapper that said "Handled by Virgin Atlantic." Luckily, the eggs didn't break.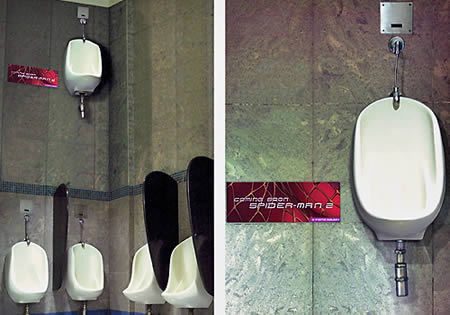 To celebrate the launch of Spiderman an advertising campaign placed a cubicle near the ceiling inside men's toilets. Who would use that cubicle? Well... Spiderman, of course.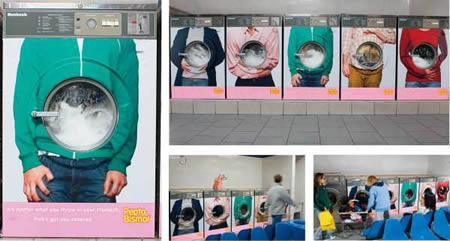 This creative guerrilla campaign promotes the heartburn medicine, Pepto-Bismol. The campaign uses washing machines at laundromats to show the midsection of various people suffering from heartburn pain, with the washing machine window forming their tummy. The image is coupled with the slogan, "No matter what you throw in your stomach, Pink's got you covered."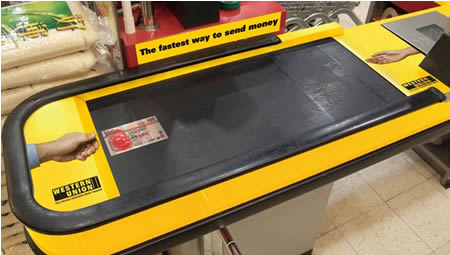 Western Unions customers in Hong Kong are mainly domestic helpers who send money home to the Philippines or Indonesia - so why not get them the messages while they're at work?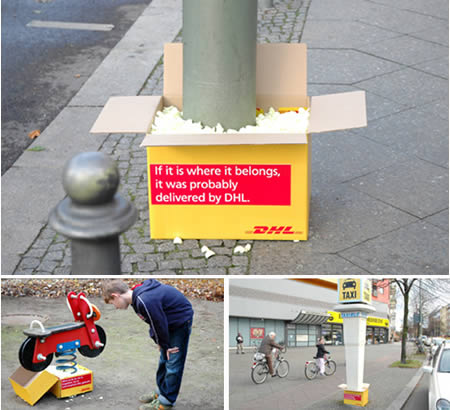 A very nicely executed guerrilla marketing idea for DHL. "If it is where it belongs, it was probably delivered by DHL." Simple and effective.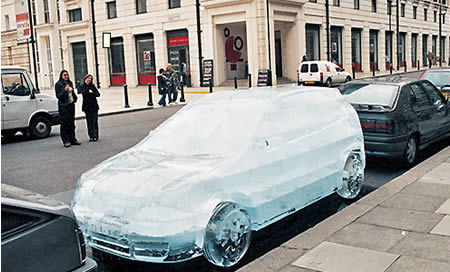 In 2004, a ghostly car was parked on London's Belvedere Road — a full-sized Volkswagen Polo Twist, rendered in ice. Sculptors had spent 350 hours chiseling a nine-ton block of frozen water to create the VW. Conceived by the DDB London ad agency, the ice car melted away in just 12 hours, but it generated four weeks' worth of press in Britain, and invaluable buzz among Londoners.