1

A lakehouse in upstate NY is completely covered in ice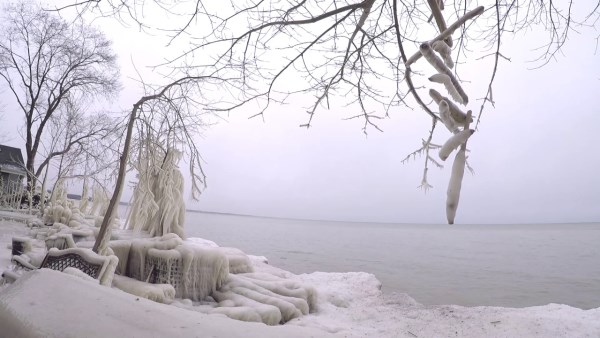 As we've seen this photo go viral the past few days, we've also seen cries of "fake news" and "Photoshopped," but we're here to tell you, the above is 100% real. This summer home is located in the town of Webster, near Rochester, New York. The area is one of the snowiest in the country, thanks to freezing winter temperatures and the moisture of Lake Ontario. High winds, reaching 80 miles mph, sprayed the house (which sits only a few feet from shore) with waves from the lake.
You may notice the house next to it looks completely unscathed. Photographer John Kucko, who found the ice house, says it's because that residence has a retaining wall to prevent slippery situations exactly like this one.
2

A car parked on the shores of Lake Erie becomes an ice sculpture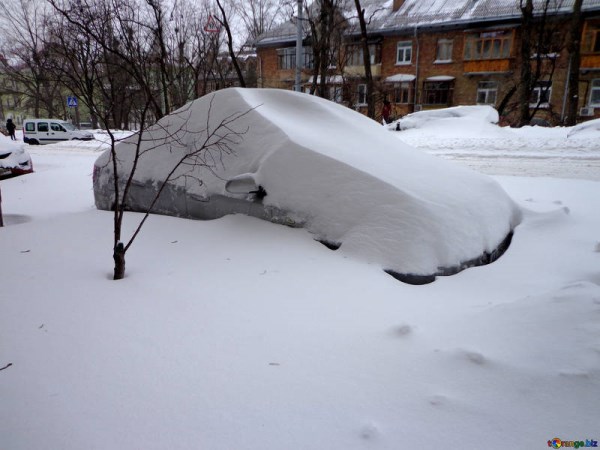 Last year's ice house in Rochester, New York was a car in Buffalo, which turned into a giant icicle after being completely frozen over in January 2016.
High winds and freezing temperatures transformed the sedan into a temporary ice sculpture. With winds roaring at up to 47 mph, waves from Lake Erie surged onto Buffalo's streets, freezing the soaked car as temperatures plunged. The ground surrounding it also turned into a temporary ice rink.
3

Washington's cherry blossoms are threatened after being encased in ice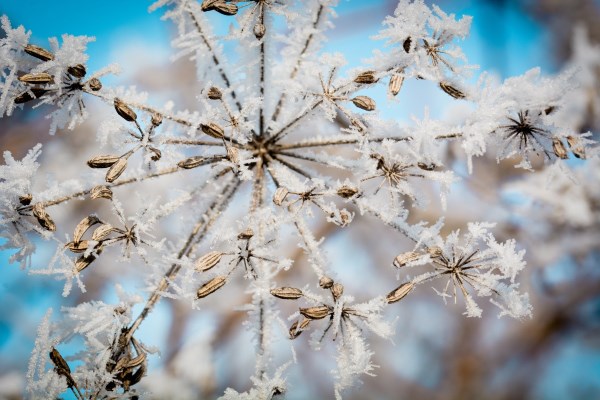 Washington's cherry blossoms are on life support—they were encased in ice during a mid-March 2017 snowfall, and now, low temperatures expected over the next few days will be more dangerous for the blooms.
The National Cherry Blossom Festival is still on as of this writing, but the opening date of the welcome area and ANA Performance Stage has been pushed back. Organizers cited "setup delays caused by the storm."
The closer the trees are to being in bloom, the more at risk of damage the blossoms are. If the blossoms are still tight in buds, they're "hopefully" still protected. Fingers crossed!
4

A historic boat is encased in ice in Racine, Wisconsin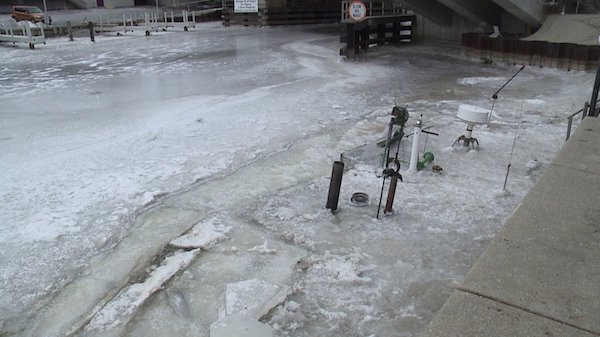 A piece of Racine, Wisconsin's history has sunk and is encased in ice, submerged in the Root River.
The historic Palmer was built in Sturgeon Bay in 1926. When the SS Milwaukee sank in 1929, one of the greatest disasters in the Great Lakes history, the Palmer helped look for survivors.
Attempts by a salvage company to retrieve the Palmer failed, and if the boat is not removed in the 30 days since it sank, the owner will be handed out a nearly $300 fine per day until it's removed.
5

A photographer captures otherworldly ice-covered trees in the Siberian wilderness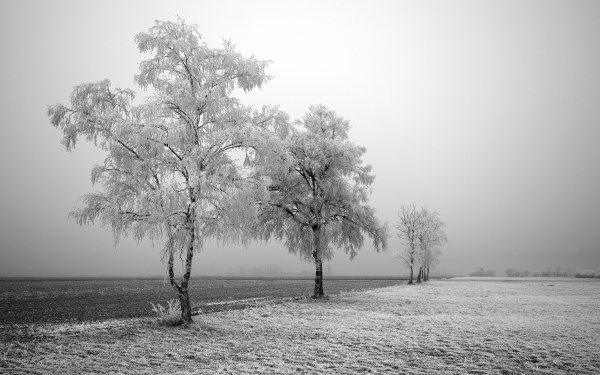 Nature photographer Sergey Makurin captured thsi breathtaking photo of frozen trees in a remote part of Western Russia where the temperature drops to a chilling -35C.
Makurin traveled to the Ural Mountains, which extend south from the coast of the Arctic Ocean, and trekked through sub-zero temperatures to access an area with very few human inhabitants for miles around. The photographer, who has a ongoing fascination with the region, said, "When I was 12 years old I got to see the Ural Mountains for the first time and I was amazed. I felt I had to share this incredible region with the rest of the world. The trees do look eerie and knowing that you are in a very isolated area can sometimes be a little unnerving."
6

Vehicles are encased in ice after a warehouse fire
What happens when you put out a fire in subzero temps? Well, this!
Cars and motorcycles were encased in ice in Brooklyn in 2015 after firefighters used a substantial amount of water to put out a blaze at a warehouse. 275 first responders were at the scene of the seven-alarm fire in Williamsburg, where they faced wind and cold temperatures so severe that ice formed on their helmets.
7

A lighthouse becomes a frozen ice sculpture in Cleveland Harbor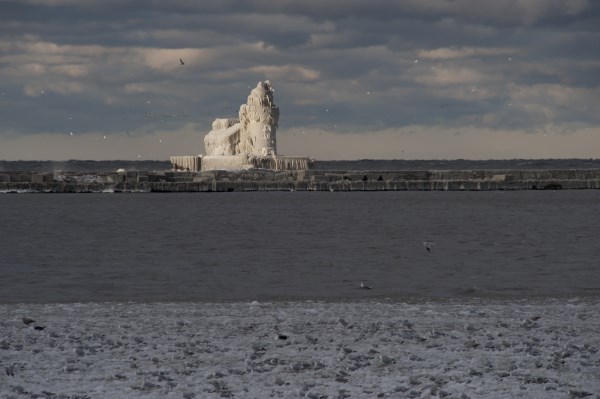 In 2010, a Cleveland Harbor lighthouse was completely encrusted in ice. The incredible sculpture was created by layers of frost encrusted on the walls of the structure which sits on the shores of Lake Erie.
Sub-zero air temperatures caused the water to freeze in multiple layers, coating the entire building in ice, which made it virtually impossible for seafarers to see the light.
8

A truck's cab is a frozen monument to sub-zero temps in Chicago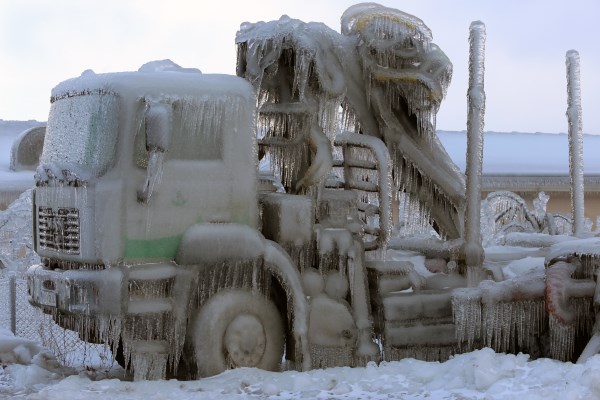 In 2013, this truck was an ice-covered casualty when a huge, vacant warehouse on Chicago's South Side went up in flames. One-third of all Chicago firefighters were on the scene at one point or another trying to put out the flames. Complicating things was the weather—temperatures were well below freezing and the spray from the fire hoses encased everything below in ice, including buildings, vehicles, and some firefighting gear.
9

A microorganism is reanimated after being encased in ice for over three decades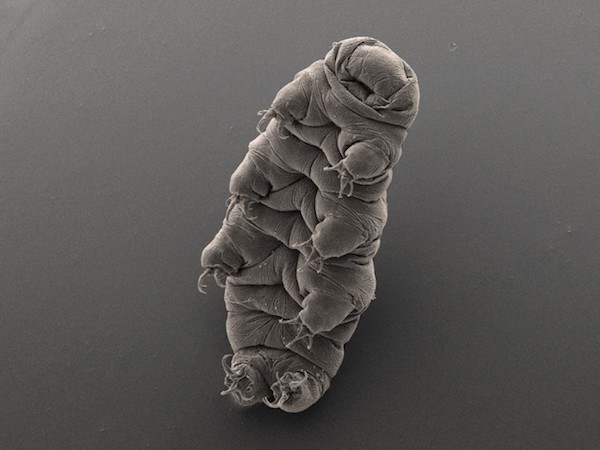 They're cute, cuddly, and can be reanimated—even after 30 years.
Itty-bitty tardigrades (or water bears) were lying in some frozen moss when a team of Japanese researchers discovered them on a trip to the Antarctic in 1983. Rather than warming up the micro-sized creatures, they were locked in a box of ice, shipped to Japan and stuck in a lab for more than three decades. Just a day after a separate team finally pulled the microorganisms out of their frozen cell, they were poked with pipettes and soaked in a nutrient bath. Lo and behold, one of them started wiggling.
"Sleeping Beauty 1? was scampering around its petri dish, even laying eggs. A second tardigrade, "Sleeping Beauty 2?, also began to revive, when an egg that had been found alongside them started to hatch.
Dig 'em up, freeze 'em, abandon 'em for a generation—tardigrades can take it all. The cockroach wishes it was this sturdy!
10

A Game of Thrones Facebook stunt was the ultimate icy fail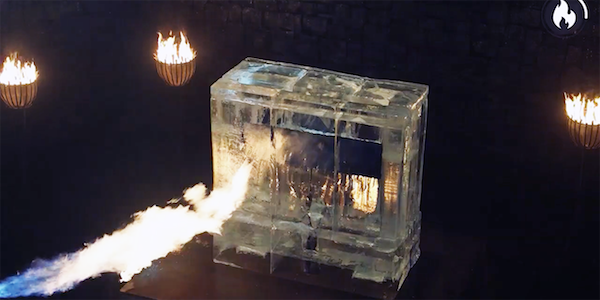 "Winter is coming"—on Facebook, that is.
The new season of Game of Thrones debuts later this year. In March 2017, HBO spent 69 minutes melting a giant block of ice on Facebook Live—a stunt gone wrong, given that the livestream was interrupted twice and stretched for more than an hour—to reveal that Season 7 of the show will debut on July 16.
As the livestream started, users were asked to type "FIRE" in the comments to help melt the block of ice and reveal the premiere date encased in it. However, 15 minutes later, the livestream ended with no premiere date revealed. The network started another Facebook Live feed 15 minutes later, explaining, "The fire in the realm was overpowering, but we're back." That video also ended after 15 minutes.
Eventually, on the third try, the date was revealed, but not before fans took to Twitter to air their grievances:
I haven't seen Game of Thrones botch something this bad since the Dorne storyline.

— Sopan Deb (@SopanDeb) March 9, 2017
I now hate ice more than anything I've ever encountered.

— Eric Goldman (@TheEricGoldman) March 9, 2017